Ten linebackers saw the field for the Ohio State defense through the first half of the regular season.
Eight of them played more than Palaie Gaoteote, and three of them got more reps than Steele Chambers. Neither Chambers nor Gaoteote were among the three Buckeye linebackers that started during the first six games of the year, but they could be the two players in the position room that stand to see their snap counts increase the most in the homestretch.
"We expect big things out of both those guys," linebackers coach Al Washington said at Tuesday's press conference.
Chambers' emergence has been a revelation for the Buckeye defense in recent weeks, with the former running back earning defensive player of the game honors for his efforts against Maryland. Chambers led the team with six solo tackles, finishing with seven total, and he recorded the first sack of his collegiate career to boot.
Defensive coordinator Kerry Coombs praised Chambers last week for his "he sees it, he goes" approach, and Ryan Day left little room for interpretation when asked if the third-year Buckeye would see more time in the second half of the season.
"Yes," was Day's response, after remarking that Chambers has already exceeded expectations to this point.
Day has been outspoken in touting Chambers' potential at the position since the Georgia native officially made the move in the preseason. But the short timeframe in which Chambers has made an impact has caught even his vocal supporters a bit off guard.
"Steele made the transition over from running back and so to say last spring we would expect him to be playing linebacker as much as he has, yeah, I would say he's a pleasant surprise," Day said.
Chambers played just 35 snaps in the first three games of the season, but increased his workload to 82 snaps in the next three, with a season-high 39 against Maryland. Chambers leads all linebackers with two pass breakups and is tied for second in the position group, behind Teradja Mitchell, with two tackles for loss.
Washington said Chambers' instincts have only gotten better as the season has worn on and he expects that to continue moving forward.
"Every rep he's out there he's getting better, and he is becoming more of a leader," Washington said. "I think he's starting to feel more comfortable, which is very important. He would be the first to tell you there's things that he wants to attack. Like our single focus right now is improving every day, and really putting everything else out of our mind. He's a guy that in time, he's gonna be a very, very good player, as you all can see."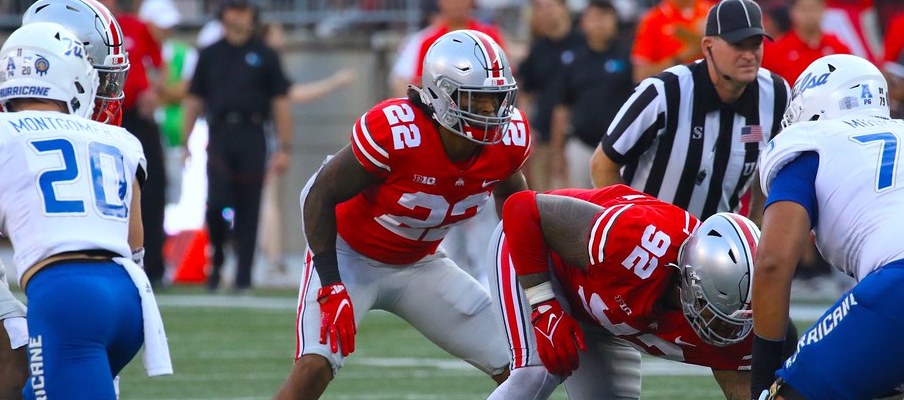 Chambers hasn't exactly risen up out of nowhere, as Washington said he began to show indications of what he could eventually become early in the preseason.
"Early on we had a scrimmage, I can recall the scrimmage this summer. It was his first reps out there, and man, he shot through the gap, made a big play," Washington said. "You just said to yourself, 'Man, he was able to identify that quick and pull the trigger.' Athletically he flashes, he moves well, but you feel good about where he's going based on how he is, how he conducts himself and naturally how he's performing. I would say to you early on we kind of had an idea he'd be a good player."
If Chambers is making the position switch look easy, that isn't because it has been. When asked if the move has felt seamless after the Buckeyes' Oct. 9 win over Maryland, Chambers said, "Definitely not, no. It's hard."
He's not the only Ohio State linebacker who has made a challenging transition over the last few months, as Gaoteote had to appeal to the NCAA for eligibility and has also battled an undisclosed injury since arriving at Ohio State as a USC transfer over the summer.
No Palaie Gaoteote today for Ohio State: pic.twitter.com/QrAF2tQx53

— Griffin Strom (@GriffinStrom3) October 2, 2021
With only 23 snaps played so far during his fourth season of college football, Gaoteote has not occupied the type of role that most envisioned for the former five-star recruit at Ohio State. Part of that is due to the time it's taken to adjust following an offseason of uncertainties, but Washington said Gaoteote could begin to see more time on the field in the second half of the season.
"He came in in the middle of the summer, really not knowing what his future would be. And as a result, you can't dedicate as many reps as you'd like to, because those reps may be better served somewhere else," Washington said. "He's really done a great job of picking everything up, from the scheme to the way we handle business. He had a hiccup early on just in terms of getting his body back together, but we expect him to continue to increase his role as this second half goes."
The improvement of the Buckeyes' linebacker corps has been key in turning around their defensive play in their past three games. Mitchell and Cody Simon appear to have solidified themselves as starters, but Chambers may be pushing Tommy Eichenberg as the third man in the rotation.
Where Gaoteote fits into things is more of a mystery. But as depth in the position room has thinned out with the transfer of Dallas Gant and dismissal of K'Vaughan Pope, Washington may need as many bodies as he can get as Ohio State enters a gauntlet run in which it will face many of the Big Ten's best teams.