At the midseason mark of Ohio State's regular-season schedule, the 2021 season has brought forth surprises aplenty for the Buckeyes, both pleasant and otherwise.
Ohio State's rude awakening on defense and Week 2 loss to Oregon fall in the latter category, but the breakout success of several new stars – and many in their first or second years – is an undeniably promising sign for the future.
Slip-ups aside, Buckeyes young and old have stepped up and surpassed expectations through the first six games, and we're highlighting a dozen of them during the bye week.
Offense
RB TreVeyon Henderson
Many thought this five-star recruit was the running back of the future for the Buckeyes. Many even thought TreVeyon Henderson could be Ohio State's starter at some point in 2021.
Fewer foresaw the Hopewell, Virginia, native vaulting himself onto a shortlist of Heisman Trophy contenders by the halfway point of his true freshman season, having already broken one of Archie Griffin's records by rushing for 270 yards in a single game during his first year in the program. (Note: The box score for the Tulsa game initially listed Henderson as rushing for 277 yards against the Golden Hurricane, but was later corrected to 270.)
With only four starts on his resume, Henderson has already racked up 605 rushing yards on 69 carries, 766 yards from scrimmage and 11 total touchdowns. As our own Dan Hope pointed out recently, Henderson's 8.77 yards per carry average would be an all-time program record if he maintained it through the end of the season. Henderson is also on pace (assuming he keeps his current pace and the Buckeyes play 14 or more games) to match another all-time Ohio State record with a projected 26 total touchdowns.
There's a long way to go and Henderson has only just begun. But the fact that he's even in the conversation with all-time Buckeye legends six games into his career goes to show he has surpassed expectations thus far.
RT Dawand Jones
Any player capable of shifting both a preseason All-American (Thayer Munford) and a 2020 second-team All-Big Ten tackle (Nicholas Petit-Frere) from their natural positions to make way for his emergence is going to be held to a high standard.
Dawand Jones has lived up to that standard and more through six games, as his Pro Football Focus grade of 86.4 stands at eighth-best in the country among offensive tackles entering Saturday. In fact, the only tackle in the Big Ten conference with a higher grade is Petit-Frere, who has had no trouble transitioning from right to left tackle in 2021.
With a run blocking grade of 90.0, the third-year Buckeye who was a three-star recruit is among the top four tackles in the country in that category, and Jones has the pancake blocks on his highlight reel to prove it.
The size difference. pic.twitter.com/MY435ovYeI

— Josh Poloha (@JorshP) September 26, 2021
At 6-foot-8 and 360 pounds, Jones is both the tallest and heaviest player among the 60 tackles with the highest PFF grades this season, and Ohio State's decision to insert him into the starting lineup before the year looks like it's paying off big time.
LG Matthew Jones
Not securing a full-time starting spot ahead of his fourth year at Ohio State was a disappointment for Matthew Jones. When he has gotten on the field, though, Jones has done anything but underwhelm.
Despite playing special teams only in the first two weeks, Jones has the highest PFF grade in the country among all guards at 86.5. While Munford has dealt with injuries, Jones has filled in without missing a step, and one could argue the latter has actually outperformed the Lombardi Award semifinalist thus far.
Munford's own PFF grade puts him just inside the top 50 guards in America, but both Jones and sophomore Paris Johnson Jr. hold higher marks than the Buckeyes' longtime starting left tackle so far this year.
FB/TE Mitch Rossi
Of all the weapons at the disposal of the Ohio State offense, a hybrid fullback-tight end that wasn't even on scholarship until the preseason probably had the dimmest prospects at making a real impact on the team.
But Mitch Rossi has carved out a niche for himself and earned real playing time for the Buckeyes in his fifth season in the program.
Rossi's talents have been oft-employed in goal-to-go packages for Ohio State through the first six games of the year, and the Tennessee native caught a touchdown pass from one yard out against Rutgers on a play designed for him.
Who had @mitch_rossi5 scoring a TD early in the 2Q? pic.twitter.com/Ru76ZCPbiG

— Ohio State on BTN (@OhioStateOnBTN) October 2, 2021
With 49 snaps in six games, Rossi has played the third-most snaps among tight ends behind Jeremy Ruckert and Cade Stover. If you prefer to think of the former walk-on as a fullback, though, he's the clear-cut No. 1.
C Luke Wypler
Luke Wypler may have already been ahead of schedule just by vying for first-team reps at center at all during the offseason. But not only has the redshirt freshman started all six games for the Buckeyes so far, he's actually led the entire Ohio State roster in snaps played this season.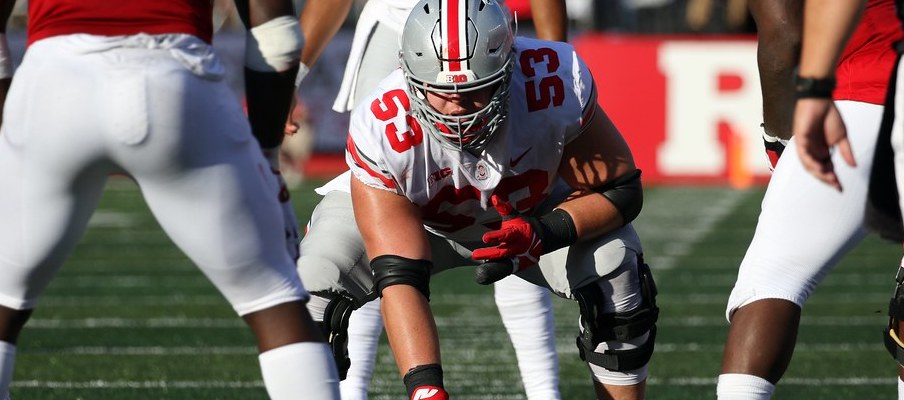 Harry Miller missing time with an injury, which held him out of the first four games entirely, undoubtedly buoyed Wypler to the top of the depth chart. Still, the New Jersey native doesn't appear any closer to losing his job now that Miller has been eased back into the mix on the offensive line. In fact, Ryan Day said this past week that Miller will be more of a "swing guy" in terms of position moving forward, which would seem to suggest Wypler's starting status is safe for the moment.
Wypler has struggled at times in his first year as a starter, but his 72.5 PFF grade still puts him among the top 25 centers in the country.
Defense
CB Denzel Burke
Denzel Burke received an inordinate amount of praise from coaches and teammates in the preseason for a true freshman, but there was no real inkling that he would actually start for Ohio State until the team's status report was released hours before the season opener.
Injuries to Sevyn Banks and Cameron Brown may have provided the opening for Burke, but he has quickly established himself – as shocking as it might be – as the team's No. 1 cornerback just six games into his collegiate career.
Ohio State true freshman CB Denzel Burke this season
176 coverage snaps
29 targets (12 catches)
0 TDs allowed
1 INT pic.twitter.com/1C06eH4Chq

— PFF College (@PFF_College) October 6, 2021
Burke's 350 snaps played are the most on the Buckeye defense, and he's one of just two defenders (alongside Ronnie Hickman) to start all six games for Ohio State. Burke's seven passes defended lead the team, and he racked up six of those in the first three games of the season alone. The true freshman already has a pick-six to his credit as well, returning an interception 23 yards to the end zone against Rutgers on Oct. 2.
Denzel Burkes first career interception goes for six. pic.twitter.com/5nIhwN8wap

— Eleven Warriors (@11W) October 2, 2021
For a high school wideout that was just a fringe top-200 recruit out of high school, Burke has long since soared past any preseason expectations.
LB Steele Chambers
The former running back is proving a preseason position switch may not be so daunting after all.
A member of Tony Alford's position room as recently as this past spring, Steele Chambers' return to linebacker – a spot he excelled at in high school – continues to look like a home run as the season wears on.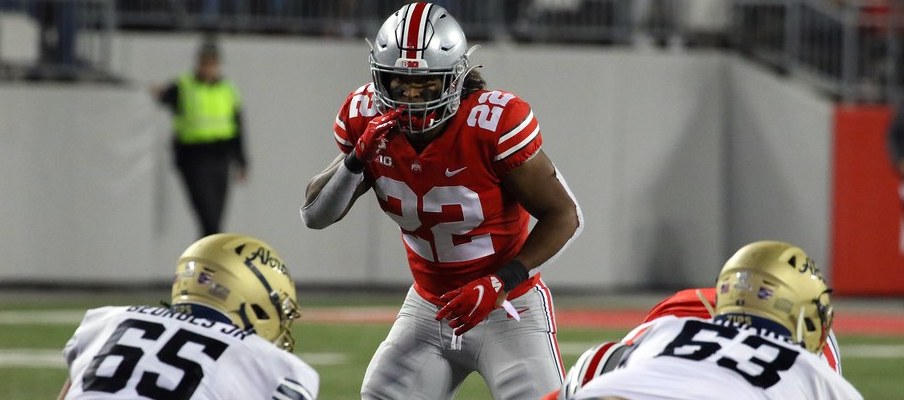 Although Cody Simon and Teradja Mitchell have been Ohio State's starters as of late, Chambers may now be the No. 3 linebacker in Al Washington's room after a seven-tackle, one-sack performance against Maryland earned him defensive player of the game honors for the Buckeyes.
Mitchell and Hickman are the only Buckeyes with more solo tackles than Chambers' 12 on the season, and his 19 total tackles are sixth-most on the team. Both of those stats are more impressive when considering that Chambers has played more than 100 fewer snaps than Simon, Mitchell or Tommy Eichenberg through six games.
S Ronnie Hickman
From relative obscurity to Ohio State's midseason defensive MVP, it's safe to say Ronnie Hickman's third year with the Buckeyes has gone better than expected.
Promise of the bullet position's long-awaited arrival meant Hickman had a shot to be a starter for the Buckeyes this season, but it wasn't widely projected that the 2019 four-star recruit would become perhaps the foremost breakout star on the Ohio State defense.
Intercepted!

Ronnie Hickman was all over this one for @OhioStateFB pic.twitter.com/6gZKPFAhBu

— FOX College Football (@CFBONFOX) September 18, 2021
Even as his role as bullet has morphed into that of a Cover 2 strong safety, Hickman has continued to rack up tackles at a breakneck rate, pacing the Buckeyes with 50 total tackles through six games. That number is 17 more than the next best Ohio State defender has, and Hickman's 32 solo tackles are more than twice as many as any other Buckeye can claim.
Hickman is also tied for the team lead in interceptions (two), and one of them went for a 46-yard touchdown return against Akron. Hickman has done it all for the Ohio State defense this year, and his emergence wasn't prophesied by many before the season.
Still not over this play @asvprocket_ #GoBucks pic.twitter.com/plZ8vRgRZf

— Ohio State Football (@OhioStateFB) September 27, 2021
S Cameron Martinez
The talent was obvious, but exactly how Cameron Martinez would fit into the Ohio State secondary's rotation was not. At least not until the second-year Buckeye safety was turned loose against Tulsa.
The former high school quarterback showed he still knows what to do with the ball in his hands when he returned his first career interception for a 61-yard touchdown, and the big play helped earn Martinez the starting job at cover safety for the next two games.
Will a Pick - ever stop giving us chills?

The answer is no.

Cameron Martinez (@C_Mart1k) with the 4th quarter PICK - 6 for @OhioStateFB . pic.twitter.com/psO9bmK040

— Ohio State on BTN (@OhioStateOnBTN) September 18, 2021
Martinez also had three pass breakups against the Golden Hurricane, and his four for the season rank behind only Burke and Brown. Fifth-year senior Marcus Williamson started at cover safety in Ohio State's most recent game against Maryland, but odds are he and Martinez will compete for the job on a week-to-week basis moving forward.
DE Jack Sawyer
To say that Jack Sawyer has vastly exceeded expectations through six games would probably be a stretch, but only because the five-star freshman set the bar for himself through the roof with a four-sack showing in the 2021 spring game.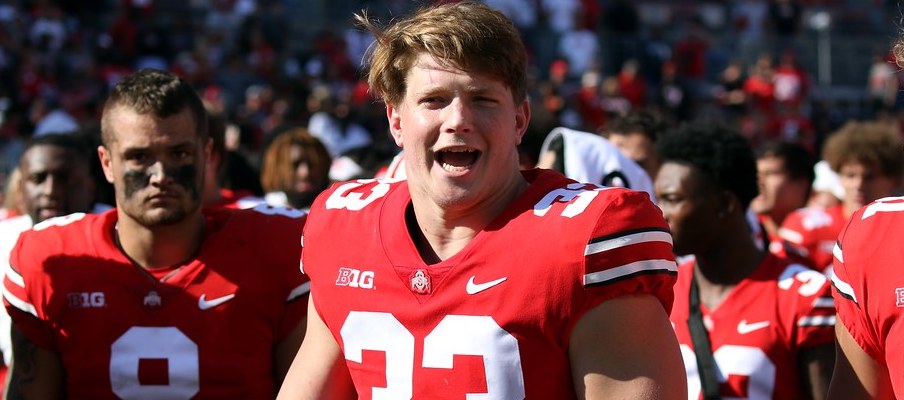 Even if Sawyer has yet to start a game in scarlet and gray, the simple fact that he leads all Ohio State defensive ends in sacks through the first half of the season is reason enough to make him a worthy inclusion on this list.
In fact, Sawyer has more sacks (two) than Zach Harrison, Tyreke Smith and Javontae Jean-Baptiste combined (1.5) through six games. The Pickerington, Ohio, native has logged 54 fewer snaps than J.T. Tuimoloau, but he's played at least 17 snaps in each of the past four contests and made the most of those opportunities.
Sawyer seems to be picking up steam, as both of his sacks came in the past three games, and his latest performance included a strip sack in conference play against Maryland.
DE J.T. Tuimoloau
Much like fellow five-star prospects Henderson and Sawyer, Tuimoloau had his work cut out for him if he hoped to outperform the astronomical expectations that followed him into the program.
The No. 4 player in the class of 2021 parachuted into Ohio State just weeks before the start of preseason camp, but a couple months later, he's already started multiple games in a Buckeye uniform. As lofty as the expectations were for the Washington native, not even he expected to be starting in conference games this early on.
Tuimoloau has the same number of sacks (one) and tackles for loss (two) as Harrison halfway through the season, and only three defensive linemen (Harrison, Haskell Garrett and Antwuan Jackson) have played more snaps than the true freshman.
Injuries to Harrison, Smith and Jean-Baptsite have helped Tuimoloau's cause in terms of playing time, but he's been just as productive – if not more so – than some of those veterans thus far.
DT Tyleik Williams
Surely with Garrett returning, Taron Vincent poised for a breakout season and fifth and sixth-year veterans like Jerron Cage and Jackson vying for time, the defensive tackle rotation would be a difficult one to crack at Ohio State in 2021.
Nobody seems to have informed Tyleik Williams of that notion, as the true freshman is Ohio State's sacks leader halfway through the season.
HIT. STICK. @OhioStateFB's Tyleik Williams with the forced fumble. pic.twitter.com/LWTt3RIIrP

— FOX College Football (@CFBONFOX) October 2, 2021
Williams' four sacks are made more impressive by the fact that he played just three snaps in the first two games of the season combined and has yet to start or even log 30 reps in a game. The 6-foot-3, 315-pound force of nature makes an impact no matter how many snaps he receives, and Williams' 4.5 tackles for loss, one pass breakup and a forced fumble are all evidence of that.