Before each Ohio State game, Eleven Warriors catches up with a media member who covers the opposing team to get his or her perspective on the Buckeyes' upcoming opponent.
As Tulsa prepares to make the trip to Columbus to face Ohio State this week, we caught up with Kelly Hines, who covers Tulsa sports for the Tulsa World, to learn more about the Golden Hurricane, who have yet to win a game this season.
Tulsa suffered a 19-17 loss to a Football Championship Subdivision school, UC Davis, in its season opener, but was at least competitive while going against a Power 5 school last weekend, when it was beat 28-23 by Oklahoma State. It would be a massive upset if the Golden Hurricane beat Ohio State on Saturday, but considering that the Buckeyes are coming off a loss of their own against Oregon, they can't completely look past any opponent right now.
Hines explains why Tulsa shouldn't necessarily be judged by its season-opening loss to an FCS school, why their offense has potential though it's still a work in progress and why the Golden Hurricane have almost nothing to lose on Saturday.
Tulsa was upset by an FCS school, UC Davis, in its season opener. What went wrong for the Golden Hurricane in that game?

Hines: The biggest issue for Tulsa was having nine players suspended for at least a half because of last year's postgame bowl brawl with Mississippi State. In particular, the defense was hit hard by suspensions. Offensively, the Hurricane struggled to get into a rhythm under first-year starting quarterback Davis Brin.

How do you think this year's team compares to the Tulsa team that went 6-3 last year? What are realistic expectations for the rest of the season?
Hines: I think the offense has potential to be better than last year's offense, but it probably won't happen in September. Defensively, Tulsa is down three starters including the nation's top defensive player a year ago (Zaven Collins) and two four-year cornerbacks who transferred to Missouri after the spring. Weathering this early stretch is tough, but the schedule gets more feasible from there.

Phillip Montgomery has had just two winning seasons in six years at Tulsa. How would you evaluate his tenure with the program so far?
Hines: ​It probably appears unimpressive from the outside looking in, but that doesn't take everything into account – being the smallest FBS school, dealing with high academic standards, etc. There have been quite a few close losses, making it seem as if this program isn't that far off, and last year Tulsa finally broke through and had success. This is an important season to show that 2020 wasn't a fluke.

Ohio State's defense has struggled in its first two games this season. Do you think Tulsa is capable of taking advantage? What are the Golden Hurricane's strengths and weaknesses on offense?

Hines: Tulsa's offense remains a work in progress, and that makes Saturday a challenge especially considering Ohio State is probably re-evaluating everything defensively. The strength for the Hurricane is going to be on the ground, led by at least two capable running backs and a veteran offensive line. The weakness is more of a lack of experience, with Brin still early in his time as a starter and needing more games to settle in.
Who are Tulsa's best players that Ohio State fans should know about?
Hines: On offense, running back Deneric Prince is a player to watch. He transferred from Texas A&M and has that SEC speed, and he's becoming a prominently featured piece of Tulsa's attack. Defensively, Jaxon Player anchors things up front and can be disruptive despite double teams that inevitably come as part of the 3-3-5 alignment.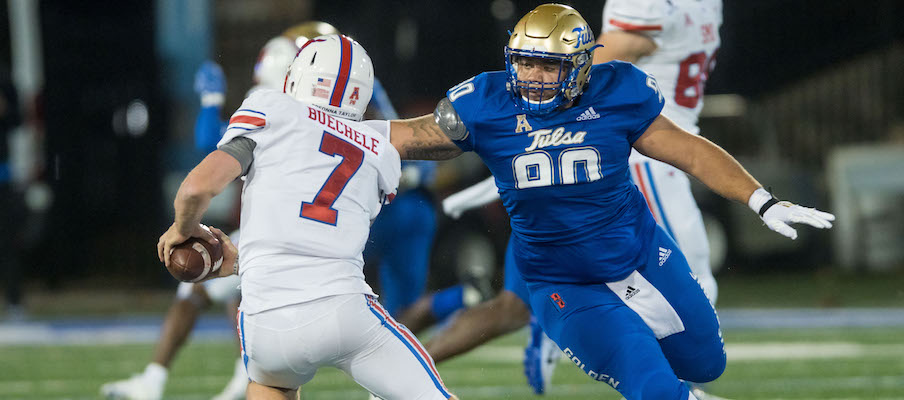 Ohio State opened as a 31-point favorite for Saturday's game, though the line has since dropped to 24.5 points. Do you think Tulsa can keep this game competitive? What would you consider to be a good outcome for Tulsa in this game?
Hines: Aside from leaving Columbus with major injuries that could jeopardize the rest of the season, Tulsa doesn't have much to lose. The athletic department gets a $1 million paycheck and the Hurricane gets to play on a big stage in front of 100,000 people. I think there's the chance for the game to be interesting in the early going, but Ohio State coming off a disappointing performance probably makes it more formidable.