Week 2 is in the books, and with it came no shortage of surprising twists and turns in the world of college football.
Not least of which were the happenings at Ohio Stadium, where the third-ranked Buckeyes suffered a setback with a 35-28 loss to No. 12 Oregon.
Our weekly stock report doesn't stop there though, as we survey both the Big Ten and the national landscape altogether to get a read on who (and what) is trending up, and which players, coaches and programs might be headed fast in the opposite direction.
Stock Up
Jaxon Smith-Njigba
There weren't many positive takeaways from Saturday's Ohio State loss, but one undeniable silver lining was the emergence of sophomore Jaxon Smith-Njigba as a star wideout of the present and future for the Buckeyes.
The former five-star recruit has long been expected to become a fixture of the Ohio State offense, with Garrett Wilson calling Smith-Njigba "the best I've ever seen" in the preseason, but the Rockwall, Texas, native finally had the breakout performance that confirmed his potential on Saturday.
His 11 targets still came third on the team, as C.J. Stroud attempted 54 passes on the day, but Smith-Njigba hauled in a game-high 145 yards – more than Chris Olave has ever had in a game – with two touchdowns on seven receptions.
On 4th down @jaxon_smith1 and @CJ7Stroud come up with a HUGE touchdown for @OhioStateFB

We have a one score game in Columbus pic.twitter.com/apj6fkCA8x

— FOX College Football (@CFBONFOX) September 11, 2021
Smith-Njigba kept the Buckeyes within striking distance of the Ducks in the second half, snagging a 26-yard touchdown pass from Stroud in the third quarter to make it 21-14, and his 15-yard fourth-quarter score cut the Oregon lead to 35-28.
It wasn't enough to earn a win, but Ohio State's loaded 2020 wide receiver class has now seen its first big-time success in the program after the show Smith-Njigba put on in a losing effort on Saturday.
Iowa
With back-to-back wins by two scores or more against top-20 opponents to start the season, Iowa appears to be the class of the Big Ten after Week 2, and the Hawkeyes' latest ranking in the AP Top 25 Poll only underscores that claim.
Kirk Ferentz and company are now the No. 5 team in the country, their highest peak since 2015, with wins over then-No. 17 Indiana and then-No. 9 Iowa State to show off after this weekend. Iowa's 28-point win over the Hoosiers was a surprise, but they proved it was no fluke against Matt Campbell's team on Saturday, turning the Cyclones over four times in a 27-17 win.
Iowa's total defense and run defense both rank in the top 32 in the country, and only four teams in the country have caused more turnovers through two games. In fact, both starting quarterbacks that have faced the Hawkeyes to start the year – no slouches in Michael Penix Jr. and Brock Purdy – have thrown for three interceptions apiece.
Big win for @HawkeyeFootball and Kirk Ferentz pic.twitter.com/OSC7Qy3aIG

— Holly Rowe (@sportsiren) September 12, 2021
If there's a knock on the Hawkeyes, it's clearly the offense, which has produced neither a 100-yard rusher nor a 150-yard passer in either of its two otherwise impressive wins. That's right, Spencer Petras threw for 145 yards and no touchdowns in Week 1, and just 106 yards and one score this past weekend. Iowa has the fifth-worst total offense in FBS football, and it hasn't mattered a lick so far.
Michigan
It may be a strange sight to behold given their respective trajectories in recent years, but it's hard to deny that Michigan has more momentum behind it than the Buckeyes do following the second week of the season.
The Wolverines haven't played quite the same level of competition, but they've looked good in commanding wins over Western Michigan and Washington to start the year, giving up no more than 14 points in both games after transitioning to a 3-4 base defense this offseason. 
Much to the dismay of Ohio State fans, who watched their team get trampled over in the run game against Oregon, Michigan now has the fourth-best rushing attack in the country through two week, averaging a whopping 339 yards on the ground.
Cade McNamara only had to complete seven passes for 44 yards in the 31-10 win over the Huskies this past weekend, as running backs Hassan Haskins and Blake Corum combined for 326 yards and three touchdowns on the ground alone.
Corum for 6 pic.twitter.com/ozKoFQIVnu

— Wolverine Corner (@WolverineCorner) September 12, 2021
The Wolverines are now ranked in the AP Poll, albeit at No. 25, and with Northern Illinois and Rutgers next up on the docket, it seems highly likely that they will only continue picking up steam here early in the season.
Oregon
Buckeye fans won't want to hear it after Saturday's loss, but the Ducks climbed more than a few rungs on the college football ladder at Ohio State's expense.
Oregon moved up to No. 4 in the country, spring-boarding eight places in the AP Poll as a result of handing Ohio State its first home loss in four seasons. The Duck win doubled as Ryan Day's first-ever regular-season loss, and Mario Cristobal and the Pac-12 now have a signature win to point to when Power Five conference supremacy is debated.
You won't need any reminders about how things went down this past weekend at Ohio Stadium, and we'll spare you from getting into the nitty gritty right here and now. Besides, we'll get to all of that in the stock down section.
Stock Down
Kerry Coombs
It's not hyperbole to say Kerry Coombs is Public Enemy No. 1 when it comes to sports in the city of Columbus at the moment, and if Twitter were a town square, the mob would be wielding torches and pitchforks.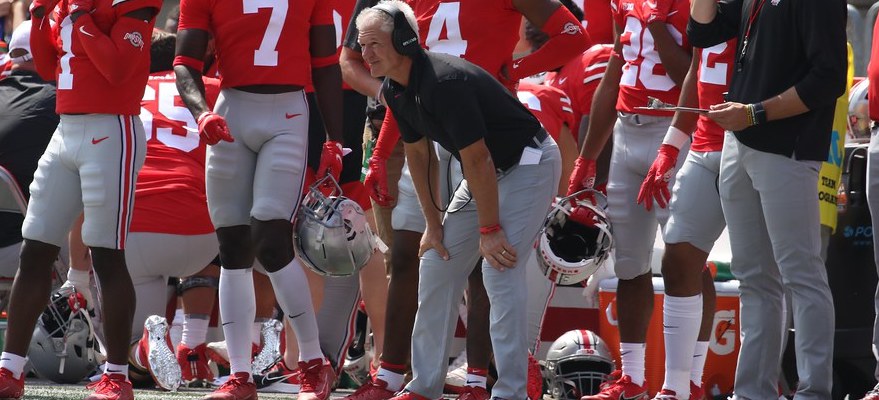 After a full offseason of questions surrounding a Buckeye defense that was exposed in every sense of the word in the national championship game, Saturday seemed to prove that few meaningful adjustments have been made, whether that be from one season to the next or during Saturday's game itself.
With 35 points given up to the Ducks, Ohio State has allowed 118 points in the past three games dating back to last season – something that has not happened since the 19th century. The statistics have been historically bad under Coombs as of late, and after Oregon scored three touchdowns on essentially the same play on Saturday, his coaching credentials have come into question as his seat has gotten exceedingly hot at Ohio State.
Buckeye run defense
It'd be a blatant oversight on behalf of the stock report if the Ohio State defense was not represented at least twice in this section.
The Buckeye pass defense was supposed to be the most problematic unit for Coombs and company this season, but as it turns out, Ohio State's defensive line and linebacker play was even worse against Oregon.
The Ducks ran for close to 300 yards and three touchdowns, including a 77-yard score that might have sealed the Buckeyes' fate for all intents and purposes on the third play of the second half.
HAVE A DAY, CJ VERDELL
23 touches
195 yards
3 TDs#CFB pic.twitter.com/Tl49COYyyD

— PFF College (@PFF_College) September 11, 2021
Ohio State's pass rush came up with zero sacks, the linebackers looked lost and the Buckeyes' safeties and corners struggled mightily in defending the run as well. All three levels of the Ohio State defense appeared outschemed and unprepared, and exactly why that is will continue to be parsed out in the coming days.
Florida State
Ohio State won't have to grapple with having the worst loss of the weekend in college football though, as that distinction belongs to Florida State, which dropped to FCS opponent Jacksonville State on Saturday.
The 20-17 defeat is something of a new low for a storied program that was contending for – and even winning – national titles less than 10 years ago, and head coach Mike Norvell now sits with a 3-8 record at the helm in Tallahassee.
JACKSONVILLE STATE PULLS OFF THE UPSET AT FLORIDA STATE WITH A LAST SECOND 59 YARD TD!!!!! COLLEGE FOOTBALL!!!!!!!!!!!!!!! pic.twitter.com/kNX3Dyg0ZA

— (@FTBVids_YT) September 12, 2021
Just six days after nearly knocking off then-No. 9 Notre Dame, the Seminoles were sunk by an FCS team they were favored to blow out by 27.
Clay Helton and USC
Hard to separate the two, although the USC program quite literally did exactly that on Monday.
USC fired Clay Helton just two days after a disappointing two-touchdown loss to unranked Stanford at home, giving the seventh-year head coach just a 46-24 record in Los Angeles. 
We are making a change in the leadership of our football program. #FightOn pic.twitter.com/xChL8xi0oG

— Mike Bohn (@USC_mikebohn) September 13, 2021
Helton's tenure looked promising in 2016 and '17, securing double-digit wins in both seasons with a Pac-12 championship to boot, but USC is 19-14 since then, with just one appearance in the final AP Poll in the past three years.
Texas
They're back!
Or not.
Not this time. pic.twitter.com/tWRzlZuFh8

— Arkansas Razorback Football (@RazorbackFB) September 12, 2021
The Steve Sarkisian era got off to an auspicious start with a 20-point Week 1 win over then-No. 23 Louisiana, but Texas came crashing back down to reality with a 19-point loss to unranked Arkansas on Saturday.
The Longhorns dropped out of the AP poll entirely after coming in at No. 15 the week prior, and it looks like Texas is still likely a ways away from a real return to the upper echelon of the sport.