There was a brief moment in time when I was incredibly stoked for a football rematch against the Washington Huskies.
Not necessarily because I expected it to be some marquee matchup between titans of the sport, though. It was more because Seattle seems pretty dope and I wanted more memories like this one:
And "YA GOTTA BEAT THE BEST TO BE THE BEST" posturing aside (that isn't how college football works during the regular season), that's really the goal for me. Watch the Buckeyes throw down in some storied and/or cool-looking location, hopefully win, and then watch YouTube highlights of it happening on my deathbed sometime in the 2060's as those medical robots from Star Wars tend to my injuries sustained in the fourth Great Bog War.
But because the universe is a weird and mercurial place, these big time out of conference games are scheduled tens of millions of years in advance, and in the interim between the games being scheduled and the games actually happening anything can change. Ohio State, for its part, seems to be a universal college football constant; a mathematical proof used to compare all other teams against.
The rest of the football world, well... we'll see. Here's the status of some select future OOC opponents at the time they were scheduled and how I expect them to perform when the game finally happens. If it happens.
OREGON, 2021
The Ducks were gangbusters in 2012, when this game was originally scheduled. Well, "games," but you know. Things happened. Led by Marcus Mariota at quarterback and Kenjon Barner at tailback, they were the kind of high-powered offensive team from a nontraditional power that Ohio State fans tend to salivate over beating the hell out of. The 2012 Ducks finished the season 12-1 with a Fiesta Bowl win and a No. 2 ranking in the polls.
The 2021 Ducks won't be as dominant, but they'll still be a contender for another Pac-12 title. The fun part is that they get to come to Columbus, presumably, to take their medicine in a game that ultimately won't mean much for their season overall.
NOTRE DAME, 2022-23
What's funny to me about Notre Dame is that the jokes about their consistency under Brian Kelly haven't changed that much since 2014 when these games were scheduled. I mean, yes, the Irish are more consistent during the regular season (they were a robust 8-5 in 2014 and would go 4-8 a few seasons after that), but every time Kelly's team makes the postseason we all kind of twiddle our thumbs as we wait for their inevitable collapse against Stiff Wind U.
All of which doesn't tell us too much about Notre Dame's chances against the Buckeyes in a few seasons. Their recruiting has been extremely Notre Dame-ish as of late, meaning a ton of four star kids and hovering around Michigan's level. And "competent Michigan" isn't a terrible moniker to have, but it will make it hard to compete against the death machine that Ryan Day and his crew are assembling.
WASHINGTON, 2024-25
The revenge tour home and home against Ohio State was scheduled in 2017, with Very Good Coach Chris Petersen leading the Huskies back to national semi-prominence and multiple ten win seasons. But Petersen resigned since then, and while new coach Jimmy Lake led Washington to an extremely successful uhhhh 3-1 season last year (good Lord 2020 was a mess), it remains to be seen if he can sustain Petersen's success and also if Mt. Rainier can avoid erupting in the meantime.
TEXAS, 2025-26
Folks, Texas is ass and hasn't been good good for a while. The Longhorns have one ten-win season since 2010, and this series was scheduled in 2012 when they went 9-4 and all of those losses came in conference games. So while it's tempting to pat Ohio State on the back for scheduling a traditional college football power at some far-flung future date in which Texas would theoretically not be booty, they've got about four years to get into shape to justify the hype.
Frankly I'm okay with them not being great, because my secret trauma from the 2009 Fiesta Bowl still needs to be resolved.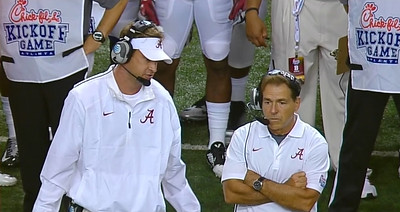 ALABAMA, 2027-28
This series was scheduled last June, and then Alabama went ahead and won another national title, beating Ohio State and giving the Buckeyes motivation to take down the Cyberdemon version of Nick Saban that will undoubtedly still be coaching the five years running undefeated Tide six years from now.
But, actually, the funnier way to think about it is to consider the possibility that a Saban-less Alabama might in fact be terrible by then. Mike Shula is only 55 and personally I think he's primed for another crack at the job. You know, for jokes.
GEORGIA, 2030-31
Ohio State, cowards that they are, ran scared from their initial scheduled matchup against the Bulldogs that was slated to begin in 2020. Instead, the Buckeyes meekly pushed back the games a decade with the hopes that Georgia would no longer be the semi-marquee opponent that they've been for teams in the last few years.
Jokes on them though because the flag-based version of football everyone will be playing in the 2030's lends itself perfectly to Ryan Day's brand of pinball that he's cleverly laying the groundwork for as we speak. Bucks by 50.
BOSTON COLLEGE, ????
Haha this game is never happening. Sorry Jeff.
As hard as it is to predict what a team will look like or how strong a brand might be a decade in advance, it is in fact pretty kickass that the Buckeyes have made it their mission to take on the blue bloods of college football in the coming years. Not only is it fun for fans, it also creates a fun bit of narrative momentum in any given year, assuming the Buckeyes remain consistently good.
And hey: if UConn decides to go ahead and win three national championships between now and 2025, all the better! Ohio Stadium should be known as the home of gigantic college games, and props to the powers that be for making that a reality.