Take a look at college football's most recent national champions, and one constant among them has been that they've had elite wide receiver units.
Alabama's offensive juggernaut this past season was led by DeVonta Smith, who became the first wide receiver to win the Heisman Trophy in nearly 30 years, while Jaylen Waddle will also soon be a first-round pick and John Metchie III also emerged as one of college football's best young wideouts.
LSU's dominant offense two seasons ago featured a spectacular trio of wideouts in Ja'Marr Chase (the 2019 Biletnikoff Award winner and a soon-to-be top-10 NFL draft pick), Justin Jefferson (who went on to be a Pro Bowler in his first NFL season) and Terrance Marshall (who is projected to be a first- or second-round pick in this year's draft).
Clemson's 2018 receiving corps was also arguably the best in college football that season, with a quartet of productive stars in Justyn Ross, Tee Higgins, Amari Rodgers and Hunter Renfrow. Alabama's 2017 receiver room produced four future first-round draft picks, as Smith will soon join Calvin Ridley, Jerry Jeudy and Henry Ruggs III in that distinction.
All of that is to say this: It's a big deal that Ohio State should have the best wide receiver unit in college football in 2021.
Right now, that's not really even up for debate after Chris Olave opted to return to Ohio State for the 2021 season. Paired with Garrett Wilson, the Buckeyes have the best returning duo of wide receivers in college football. Pro Football Focus recently ranked them as the two best individual returning receivers in college football, slotting Olave at No. 1 and Wilson at No. 2.
Chris Olave & Garrett Wilson pic.twitter.com/R9AF9CDBmj

— PFF Draft (@PFF_College) February 13, 2021
If Olave and Wilson can continue to build on the elite play they've already delivered in their Ohio State careers – which makes both of them potential first-round picks in the 2022 NFL draft – that will be enough by itself to give Ohio State one of college football's best receiver units. What gives the Buckeyes the potential to have a scary good receiver unit, though, is all of the other talent they have at the position.
They're all still mostly unproven, but between Jaxon Smith-Njigba, Julian Fleming, Jameson Williams, Gee Scott Jr., Kamryn Babb, Emeka Egbuka, Jayden Ballard and Marvin Harrison Jr. – who were all ranked in the top 100 of their respective recruiting classes – it would be a surprise, and quite frankly a disappointment, if at least one or two of them don't have breakthrough seasons in 2021.
As talented as those receivers are, the real question isn't whether Ohio State will be loaded with playmakers at the position in 2021, but how the Buckeyes will divide up playing time and targets among them.
While the Buckeyes will certainly be looking for more production from the rest of their receivers, do they want that to come at the expense of playing time and targets for Olave and Wilson? With so many talented receivers, how many receivers will be in the rotation and how will they decide who's in and who's out? It's probable the Buckeyes will use more three-receiver sets now that Jeremy Ruckert is the only returning tight end with substantial playing experience. Might we also see some four-wideout packages in 2021?
Figuring out how to get so many talented receivers involved will be a challenge, but that's a terrific problem for Brian Hartline to have.
The other major question, of course, is whether Ohio State's new starting quarterback will enable them to maximize their abilities. The aforementioned national champions all had great quarterbacks, too – Alabama's Mac Jones won the Davey O'Brien Award this past season, LSU's Joe Burrow won the Heisman in his national championship season and Trevor Lawrence was already passing like a future No. 1 overall pick in leading Clemson to the title as a true freshman – and Justin Fields won't be back with the Buckeyes this fall.
But it will certainly make the new starting quarterback's job easier to have so many talented pass-catchers. Olave and Wilson have both proven they can get open consistently and make plays on passes that aren't thrown perfectly, and Smith-Njigba and Fleming are just a couple of many candidates to develop into receivers who can do the same in 2021.
Historically, wide receivers haven't necessarily been considered as important to a championship-caliber team as having a great quarterback, a strong offensive line, a disruptive pass-rush and shutdown cornerbacks. Recent evidence, though, suggests that having elite wide receivers has become a core component of winning a national championship. And the emphasis Ohio State has placed on recruiting the position suggests the Buckeyes believe that, too.
"I think that the emergence of 7-on-7 has increased the skill level of a lot of receivers and quarterbacks, and they get the ball on the perimeter a lot faster than maybe they did 10 or 20 years ago, spreading the field horizontally and vertically. And we're always looking for ways to create explosives, and the easiest way to create an explosive is to throw the football," Ryan Day said when asked about the importance of the wide receiver position before the national championship game.
Alabama coach Nick Saban, who knows more about winning national championships than anyone else in college football, agrees that the evolution of football has made elite receiver play more important.
"I think the advent of the spread offense, more spread formations, four-open kind of formations spreads the field, which gives players on the perimeter a much better chance to make plays," Saban said before the national championship game.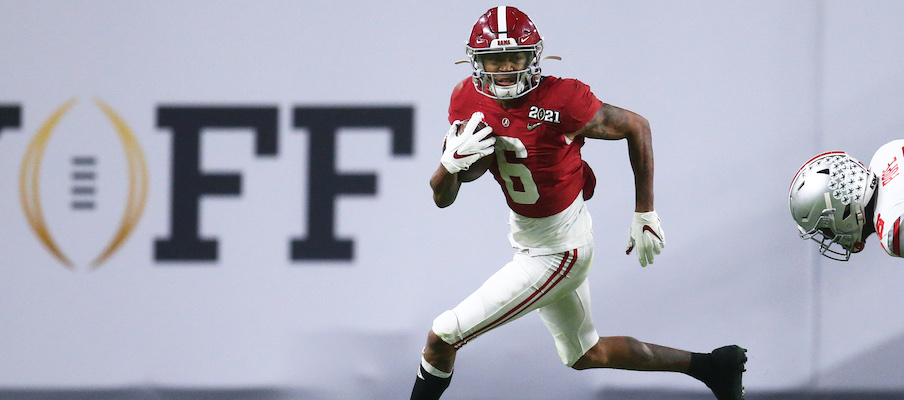 Even the best secondaries are often overmatched against top-flight wide receivers, and when you have a multitude of them like Ohio State should in 2021, that can make a passing offense extremely difficult to stop.
There are plenty of questions Ohio State must answer to be a championship team in 2021, from who will start at quarterback and running back to whether its defense can get back to playing at an elite level. If the past few years have been any indication, though, the Buckeyes' loaded receiver room might be the biggest reason to believe they'll be a title contender.