To evaluate a defensive end's pass-rushing prowess, you have to go beyond simply looking at sack totals.
"You're not always going to get to a quarterback and get a sack or a hit to get pressure," Zach Harrison said a couple of months ago. "You can get pressure by getting hands in his face. Getting bodies around him makes quarterbacks uneasy."
He's correct. Sacks are just one part – albeit an important part – of what make up a standout pass rusher. Pressures and quarterback hits can make a quarterback uncomfortable. They might lead to off-target tosses, throws on the run, happy feet in the pocket and skittishness from the quarterback position where comfortability leads to peak performance.
But accumulating sacks still is, of course, a part of what defines the best pass-rushers. And it's what Ohio State needs more of in the fall from a duo of defensive ends – Harrison and Tyreke Smith – seemingly poised to start in 2021 whose careers thus far have been more defined by their potential than their production.
Harrison, in his two years as a Buckeye, has accounted for 5.5 sacks. Smith, now entering his senior season, has recorded five sacks in three years. 
The sophomore version of Harrison and junior version of Smith combined for only four sacks – two from the Olentangy native and two from the Cleveland Heights graduate – during the course of the 2020 season, and they largely weren't exactly the types of sacks traditionally imagined for defensive ends.
On one of Smith's biggest plays of the season, he beat Michigan State's left tackle around the edge and drilled Rocky Lombardi for a sack that also knocked him out of the game. His second sack came in the Sugar Bowl on a designed Trevor Lawrence run when Tommy Togiai had the quarterback wrapped up but the defensive end came in and drilled him to force a fumble. 
Harrison's only full sack was in the fourth quarter of the Nebraska game, when Jonathon Cooper forced Adrian Martinez to scramble and the then-sophomore tackled him just before he crossed the line of scrimmage. Harrison also picked up a half-sack when Haskell Garrett's pressure led Penn State's Sean Clifford to evade him by running straight into Harrison's arms, and he recorded another 1/2 of a sack when Michigan State's Payton Thorne saw a hole and took off but was completely swallowed up by Jerron Cage before Harrison joined in with a late bear hug.
In short: Only one of their sacks all season was the type where a defensive end beats an offensive lineman and hits a quarterback looking to pass, and on that play where Smith knocked a quarterback out of the game, it was quite evident how important those are for a lineman.
Yes, Smith and Harrison got some pressure when they didn't get home for sacks. Yes, they hit quarterbacks several other times. Yes, sacks don't tell the whole story.
But they tell enough of a story. Luckily for them, it's also a story without an ending yet.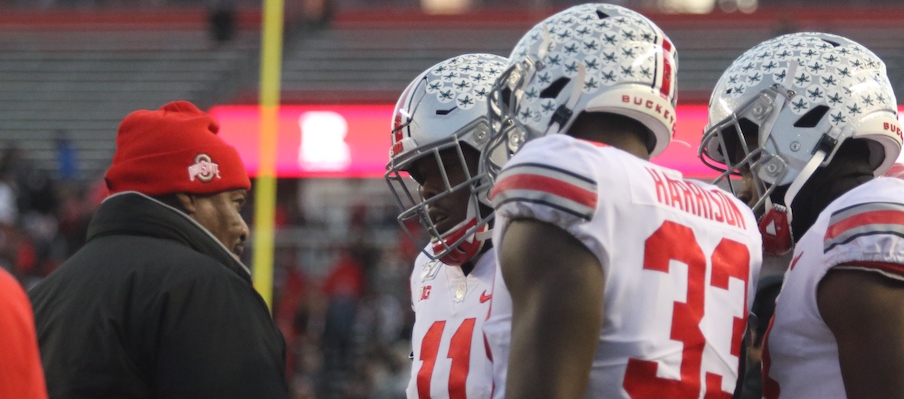 In 2021, both Harrison and Smith will chase the breakout seasons some thought would come last fall. Ohio State, which loses outgoing senior Jonathon Cooper and lacks star power on its defense, would benefit to a massive degree if the pair of physical marvels who were both highly coveted recruits and still have first-round NFL talent can turn into a dynamic duo at defensive end this fall.
Harrison, in particular, gets people's imagination going.
Stories of him chasing down running backs at Ohio State practices popped up as early as his freshman year. Few people can move as fast at 6-foot-6 and 265 pounds as Harrison, once the No. 12 overall recruit in the 2019 cycle. Defensive line coach Larry Johnson did nothing but to stop the hype train before last season, saying Harrison "certainly has the potential to be that" when asked if he could turn into the next Chase Young or Bosa brother.
Harrison appeared to be on that trajectory, especially after starting in a College Football Playoff semifinal as a true freshman. Yet a two-sack sophomore season, even accounting for it being shortened, puts him behind where Young and the Bosas were production-wise at this point in their careers.
"Zach's best football's ahead of him," Ryan Day said in mid-November. "He came in last year, I thought hadn't really played a lot of defensive end and came in last year and did a nice job. Now he's into Year 2. He's working hard. He's getting some good work in there in practice and getting better. And I think as we keep rotating and we keep playing games more, he'll just keep getting better."
Smith didn't have quite the recruiting cache of Harrison, but he was close. Landing the No. 34 overall prospect following a recruiting battle with Penn State was a coup for the Buckeyes' recruiting class of 2018.
So far, though, he has maxed out at three sacks in a season with five sacks in his career. Now a senior, he'll want to double that total.
"He's got a lot of talent," Day said on his radio show in mid-December. "He always has had the ability to make plays. Now you're starting to see him make some plays. That's great because, especially with the defensive line at Ohio State, it's always like, 'Who's the next guy that's going to do that?' He's poised to do that."
Both Smith and Harrison have had people wonder for years whether they're the next-in-line star pass rushers. Ohio State has a storied history of studs in that spot.
Later this year, along with fellow veteran defensive ends Tyler Friday and Javontae Jean-Baptiste, they'll get prime opportunities for breakthroughs on a defense that needs them to reach the next level as edge rushers.