Before each week's Ohio State game, Eleven Warriors catches up with a media member who covers the opposing team to get his or her perspective on the Buckeyes' upcoming opponent.

MICHIGAN STATE SPARTANS
2-3
ROSTER / SCHEDULE
---
NOON – SATURDAY, DEC. 5
SPARTAN STADIUM
EAST LANSING, MICHIGAN
---
ABC
WatchESPN
As Michigan State awaits Ohio State's arrival this weekend, we bring in Matt Wenzel, who covers the Spartans for MLive.com, to get his insight on the Buckeyes' hosts in East Lansing, who enter this week's game with a 2-3 record but are coming off an upset win over previously unbeaten Northwestern.
Why have the Spartans been so inconsistent this season, can Mel Tucker make them a Big Ten contender again, what are their strengths and weaknesses and players to watch and do they have what it takes to upset a top-10 team for a second week in a row? We get those answers below.
Michigan State got blown out by Iowa and Indiana, then proceeded to upset Northwestern. Why do you think Michigan State's results have varied as much as they have from one week to the next?
Wenzel: A February coaching change, not a single spring practice, two weeks of summer workouts lost due to a team quarantine and a fall camp that lasted five days. Mel Tucker and his staff didn't have their first padded practice until Sept. 30, and that was with a team that already lost half its starters from last season.
Tucker's debut leading the Spartans was always going to be a challenge with the deck stacked against them. He continually stresses the need for consistency but the uneven results aren't unexpected given significant personnel changes and new coordinators in all three phases of the game.
What's been the biggest key to Michigan State's success in its wins, and what's been its biggest problem in its losses?
Wenzel: It starts with taking care of the ball. In Michigan State's three losses, its turnover margin is minus-9 combined (5-14), and that includes a ridiculous seven-turnover performance in a season-opening loss against Rutgers. In their two wins, the Spartans are plus-3 in turnover margin (4-1), including creating a season-high four in last week's victory against Northwestern.
Attacking vertically has been the team's biggest offensive strength, which was basically nonexistent in recent years. Quarterback Rocky Lombardi and receivers exploited Michigan's secondary to key the win in Ann Arbor and that has been on display at other times this season, including with a 75-yard touchdown pass from Lombardi to Jalen Nailor last week. The rushing game has mostly continued to struggle, but racked up a season-high 195 yards against Northwestern.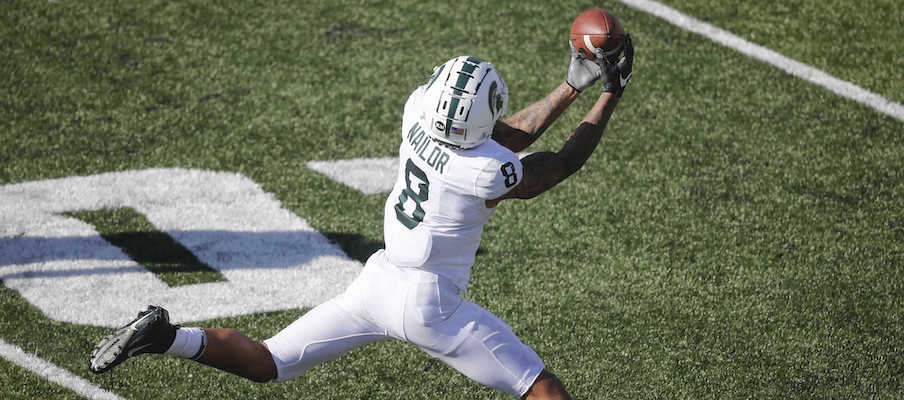 It's been just five years since Michigan State won the Big Ten title and made the College Football Playoff, but the Spartans don't appear to be close to that level right now. What does Mel Tucker need to do to get Michigan State back to that level, and do you think he can?
Wenzel: The Spartans obviously aren't as close to the same level as the Buckeyes as a half-decade ago. Mark Dantonio took the program to new heights, but it regressed at the end of his tenure, and it's now up to Tucker to build it back. It clearly starts with recruiting, and that's something Tucker has placed a heavy emphasis on. It will be interesting to see how that transpires when they get a full cycle and the dead period ends.
There's also the process of continuing to evaluate the current roster to figure out who fits with the future. Tucker recently sent a public message to his team by saying "this is compete to play, compete to stay," and anticipates plenty of turnover. That's expected for a first-year staff, and we'll see how much different this team looks by next fall.
I don't know if Tucker – or anyone – can accomplish what Dantonio did with a trio of Big Ten titles and a combined record of 36-5 from 2013-15, capped by a trip to the College Football Playoff. That was completely unexpected. But Tucker has an impressive resume, is a Nick Saban disciple, has been on the staff of two national championship teams and has a decade of experience in the NFL. He's got a shot but, like every team in the Big Ten East Division that doesn't call Columbus home, competing for a conference championship remains an uphill climb.
Who are some Michigan State players that Ohio State and its fans should be aware of entering this week's game?
Wenzel: Offensively, you obviously start with Lombardi, who will be making his first start against Ohio State. He has been inconsistent this season and made poor decisions while throwing eight interceptions, but also shown the ability to put the ball on the money deep at times. That takes us to their biggest playmakers in receivers Jalen Nailor, Jayden Reed and Ricky White. Nailor, a former state champion sprinter from Las Vegas, has the speed to get behind defenses. Reed was a Freshman All-American at Western Michigan in 2018. White is a true freshman who gutted the Wolverines, but was out last week and it's unclear if he will be available on Saturday.
On the other side of the ball, Michigan State's defense starts with senior linebacker Antjuan Simmons, a one-time Ohio State commit. He's their best defender and the heart of the team. Up front, defensive tackle Naquan Jones checks in at 6-foot-4 and 340 pounds, leads a four-man rotation in the middle and will be key in trying to disrupt the Buckeyes' rushing game.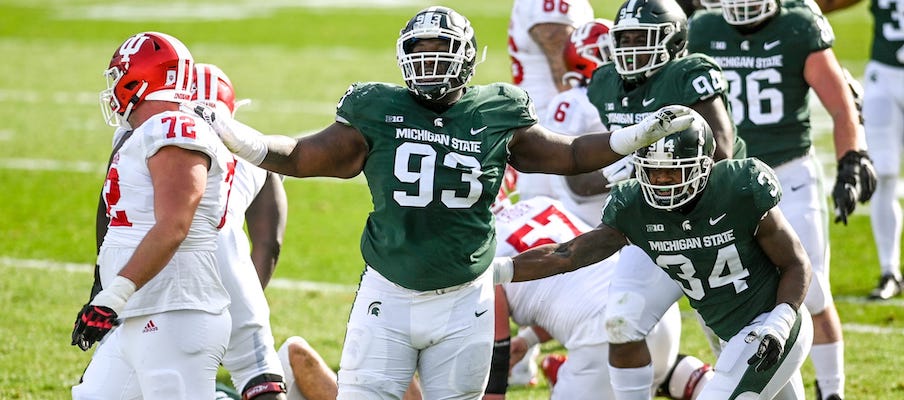 Shakur Brown, who started the first two games at nickelback in a new 4-2-5 scheme, returned to cornerback the last three games and is tied for first in the nation with five interceptions. Junior safety Xavier Henderson, from Pickerington Central High School, will also be key in defending Justin Fields in the deep part of the field. True freshman Angelo Grose, a former three-star prospect from Mansfield High School who got interest but not an offer from Ohio State late in the recruiting process, started at nickelback the last two games and was impressive against Northwestern with six tackles and a pass breakup. He could be one of Dantonio's last great steals from Ohio.
What must go right for Michigan State to pull off another upset this week, and how do you see the game ultimately playing out?
Wenzel: Two of Michigan State's last three games against Ohio State were basically over at halftime. The Buckeyes racked up explosive plays and cruised to wins. Obviously the Spartans will have to limit those and create turnovers if they're going to be in the game in the second half. And even though the running game improved last week, I don't think that's going to carry over against Ohio State, so Lombardi and the receivers will have to try to find a way to attack the secondary in a similar way as Indiana. (I know Lombardi is not Michael Penix Jr.)
I spent about 20 seconds making my initial prediction on Wednesday morning – Ohio State 37, Michigan State 24 – and will stick with it as usual. Maybe that's because we don't know which players will be out for Ohio State or the caffeine hadn't kicked in yet. Either way, I think the Spartans find a way of keeping it close for a while but the Buckeyes simply have more talent and probably always will.