Despite temporarily pausing team activities less than one week ago due to positive COVID-19 tests within the program, Ohio State is set to travel to East Lansing to play Michigan State this weekend.

MICHIGAN STATE SPARTANS
2-3
ROSTER / SCHEDULE
---
NOON – SATURDAY, DEC. 5
SPARTAN STADIUM
EAST LANSING, MICHIGAN
---
ABC
WatchESPN
As we learned last week, when Ohio State canceled its trip to Illinois after 10 p.m. Friday night, nothing is guaranteed in 2020 until the teams are actually on the field. But unless the Buckeyes run into any setbacks with their final rounds of COVID-19 before they fly up to East Lansing on Friday night, they're on track to get back on the field on Saturday at noon and play Michigan State for their fifth game of the regular season.
"There was some concern about this week, but we got some of these PCR tests back early in the week, and gotten a lot of good news," Ryan Day said Thursday. "So we were excited to get back on the field on Tuesday and then had a real good practice yesterday. And so looking forward to getting back in there today, cleaning some things up and get ready to take the trip to East Lansing."
Day won't be making the trip to Michigan State himself, as he was among those who tested positive last week. Ohio State will also be without some players – though those players haven't been identified yet, as the Buckeyes are waiting until Saturday morning to release their status report of unavailable players – who tested positive last week. 
But the Buckeyes are grateful just to have the opportunity to play this week – assuming Saturday's game happens, Ohio State will be the first Big Ten team not to miss back-to-back games after canceling a game due to a COVID-19 outbreak – and it's important that they do, as they need to play on Saturday to keep themselves eligible for the Big Ten Championship Game and in position to make the College Football Playoff.
The Headlines
Next Man Up
Because Ohio State won't have its full staff or roster available for this weekend's trip to East Lansing, it's going to need both coaches and players to be ready to take on bigger roles on Saturday.
That starts with Larry Johnson, who will serve as acting head coach in Ryan Day's place this week. The rest of the staff will also play a part in making up for Day's absence, particularly Kevin Wilson, who will take the lead on offensive play calling duties with Day at home.
While Day said it will "probably be the hardest three hours of my life" as he watches the team from afar, he's confident in his assistants' ability to man the ship without him.
"At all positions, whether it's staff or players, we've had to really plan ahead and be ready to put these contingency plans in place, and we have a very veteran coaching staff," Day said.
We won't know exactly which players need to step up until 10 a.m. Saturday, when Ohio State will release its availability report, soon after which the Buckeyes will arrive at Spartan Stadium and we'll see which players made the trip. But Ohio State has been preparing all season for the possibility of losing players for three weeks at a time due to positive COVID-19 tests; Day said the Buckeyes have not only had to have Plan A and Plan B, but even Plan C and Plan D.
Some of those contingency plans will be put to the test for the first time when the Buckeyes play their first game in two weeks on Saturday.
Can't Waste an Opportunity
Expecting Ohio State to look like a team that can beat Alabama, Notre Dame or Clemson on Saturday probably shouldn't be the expectation for this week's game. Given everything that Ohio State has had to go through over the past nine days since the uptick in COVID-19 cases inside the Woody Hayes Athletic Center arose last Wednesday, just playing the game at Michigan State and coming home with a win should be enough.
Yet because Ohio State has only played four games this year, and will now play a maximum of seven games before the College Football Playoff field is chosen on Dec. 20, it's become more important for the Buckeyes to not only win, but look good doing it. Simply winning out might be enough for the Buckeyes to hold onto a playoff spot, but it might not – especially if they have any more games canceled, which remains a very real threat now that Michigan has paused team activities due to its own COVID-19 issues – if they don't look like one of the four best teams in college football in the process.
Ohio State can't be focused on what could happen with the College Football Playoff when it's on the field on Saturday, but it's reality that the selection committee will be watching to see how the Buckeyes look. The Buckeyes should go into Saturday's game understanding that there's no guarantee they'll get another chance to show what they can do next week if they don't put their best foot forward this week.
Spartans Surging?
With a first-year head coach and a disjointed offseason due to the pandemic, Michigan State was expected to have some growing pains this season. The Spartans certainly did, losing three of their first four games, including a season-opening 38-27 loss to Rutgers and blowout November losses to Iowa (49-7) and Indiana (24-0).
They had their best performance of the year to date this past weekend, though, earning a 29-20 win over a Northwestern team that was 5-0 and eighth in the College Football Playoff rankings. 
Can the Spartans, led by a head coach in Mel Tucker who knows Justin Fields well from their time together at Georgia, push for another upset win for an undefeated top-10 team this week? They'll be facing a major talent differential against Ohio State that they didn't face against Northwestern, but Day will certainly be cautioning the Buckeyes against thinking they're in for an easy win.
"I think they're a team that's gotten stronger as the season's gone on," Day said. "I think with a new system in place and no spring ball and no preseason the first couple games, they were still trying to understand the new system and then as they played more and more football, I think they've gotten much more comfortable with what they're trying to get done.
"So I think if we don't play really, really well and take care of the ball, like any time we play against Michigan State, then we'll be in a dogfight in the fourth quarter. And being down some guys, we're going to have to do a great job of taking care of the little things and follow the plan to win."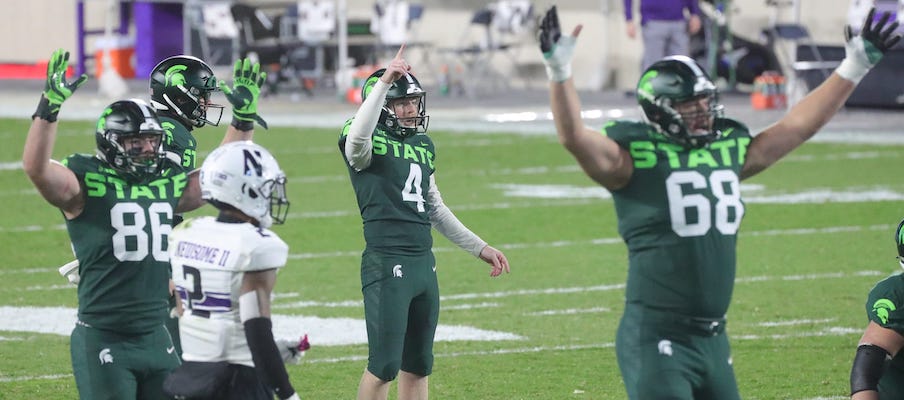 Keep An Eye on These Guys
WR Jalen Nailor
Michigan State's offense has been one of the Big Ten's worst this season, but the Spartans have shown the ability to make big plays through the air. The Spartans led the Big Ten in passing plays of 40-plus yards (seven) and rank second in passing plays of 30-plus yards (10) this season, and Nailor has been on the receiving end of many of those plays.
Nailor has only caught 16 passes this season, but he leads the Big Ten in average yards per catch (23.7) and receptions of 40-plus yards (four), including a 75-yard touchdown in last weekend's win against Northwestern.
Jalen Nailor is a baller. Before this play NW was only giving up a nation best 4.91 YPA #Devy pic.twitter.com/lyXFkiJ9Th

— Greg Brandt (@devywarehouse) November 28, 2020
Given the troubles Ohio State had with giving up long passing plays in the last game it played against Indiana, its secondary will need to do a better job covering Nailor to prevent more of the same this weekend.
LB Antjuan Simmons
Projected Starters
OHIO STATE
POS
MICHIGAN STATE
OFFENSE
JUSTIN FIELDS
QB
ROCKY LOMBARDI
MASTER TEAGUE
RB
CONNOR HEYWARD
CHRIS OLAVE
WR
JALEN NAILOR
GARRETT WILSON
WR
JAYDEN REED
JEREMY RUCKERT
TE/WR
RICKY WHITE
LUKE FARRELL
TE
TRENTON GILLISON
THAYER MUNFORD
LT
AJ ARCURI
HARRY MILLER
LG
J.D. DUPLAIN
JOSH MYERS
C
NICK SAMAC
WYATT DAVIS
RG
MATT CARRICK
NICHOLAS PETIT-FRERE
RT
KEVIN JARVIS
DEFENSE
JONATHON COOPER
DE
JACUB PANASIUK
TYREKE SMITH
DE
DREW BEESLEY
TOMMY TOGIAI
NT
NAQUAN JONES
HASKELL GARRETT
DT
JACOB SLADE
PETE WERNER
WLB
ANTJUAN SIMMONS
TUF BORLAND
MLB
NOAH HARVEY
BARON BROWNING
SLB/NB
ANGELO GROSE
SHAUN WADE
CB
SHAKUR BROWN
SEVYN BANKS
CB
KALON GERVIN
JOSH PROCTOR
CB/SS
XAVIER HENDERSON
MARCUS HOOKER
FS
TRE PERSON
An Ann Arbor native who originally committed to Ohio State before eventually heading to East Lansing, the now-senior linebacker has developed into the star of the Spartans' defense. He leads the Spartans with 53 total tackles and 6.5 tackles for loss this season, including 13 tackles for loss with two tackles for loss and a sack in the win over Northwestern, for which he earned Big Ten Defensive Player of the Week honors.
Against Ohio State's explosive offense, the Spartans will need Simmons to make a big impact once again to have a chance to slow Justin Fields and the Buckeyes down.
S Xavier Henderson
Shakur Brown has been the breakout star of Michigan State's secondary this season, racking up five interceptions (tied for the most in the Football Bowl Subdivision) including four in the last two games, but the leader of the back end of the Spartans' defense is Henderson, a Reynoldsburg native who's now a second-year starter at safety for MSU.
A key player in both pass coverage and run support for the Spartans, Henderson currently ranks third on the Spartans with 28 total tackles, and he's widely regarded as one of Michigan State's most reliable veterans.
Henderson didn't get an offer from Ohio State out of Pickerington Central High School, but he was a top-10 prospect in the state of Ohio in his recruiting class, and he's probably a player who could make the Buckeyes' struggling secondary better right now. He'll look to prove that he is on Saturday, saying earlier this week that the chip on his shoulder "might grow even more this week" knowing that he's playing against his hometown school.
Game Week Talk
"If you're strong, you just keep working forward. You just keep putting one day in front of another, and you just stay positive … And I'll just tell you right now: We have a strong team."– Ryan Day
Day has fully acknowledged that this past week has been a tough week for his team after the Buckeyes had a game canceled for the second time in three weeks, but he's proud of the resiliency they've shown as they "keep working toward a final goal of winning a championship," as he said Thursday.
"If 2020 taught us anything, it taught us none of this is promised. Nobody's feeling sorry for us. We gotta cherish this. We ain't got too many opportunities left."– Ohio State linebacker Baron Browning
Ohio State players didn't meet with the media this week, but the football program did share some quotes from its players on its official Twitter account Thursday night, including this one from Browning, which expresses his understanding that the Buckeyes need to make the most of every game they get to play in this abbreviated season.
"Everybody who came here came here to play the best team in the Big Ten. We didn't come here to beat out the worst team in the Big Ten, we came here to beat the top dogs and compete with the best in the country, so this is a good opportunity."– Michigan State quarterback Rocky Lombardi
The Spartans haven't had much success against Ohio State in Lombardi's first three years in East Lansing – Ohio State won 48-3 in 2017, 26-6 in 2018 and 34-10 last year – but Michigan State's signal-caller didn't lack confidence during his interview session with reporters earlier this week, saying his team is "excited to go out there and play and show the country what we're about."
Get Smart
After losing three out of five games against Michigan State from 2011-15, Ohio State has won its last four consecutive games against the Spartans, increasing the Buckeyes' all-time series lead to 33-15.
Ohio State has won its last seven games at Spartan Stadium dating back to 2004.
Saturday's game will be Ohio State's first regular-season December game since 1891.
Michigan State's roster includes 28 players from the state of Ohio. Notable players among them include starting offensive linemen A.J. Arcuri, J.D. Duplain, Nick Samac and Matt Carrick, tight ends Matt Dotson and Trenton Gillison, defensive tackle Jacob Slade, defensive backs Henderson and Angelo Grose and kicker Matt Coghlin.
Mel Tucker, a native of Cleveland, was an assistant coach at Ohio State from 2001-04, coaching defensive backs and also serving as co-defensive coordinator in his final year with the Buckeyes.
How It Plays Out
Line: Ohio State -24, O/U 59.5
Realistically, it's difficult to predict how Saturday's game will play out without knowing who all will be available for the Buckeyes, and that was reflected in the predictions our staff submitted. While all Eleven Warriors writers expect the Buckeyes to beat the Spartans, our predictions ranged from Ohio State winning this game by just 10 points to the Buckeyes winning 56-3.
Both outcomes are within the realm of reality. On paper, Michigan State's offense shouldn't pose a major threat to Ohio State's defense, while the Buckeyes' offense could overwhelm the Spartans' defense. If Ohio State plays up to its ability, Michigan State is more likely in for another lopsided defeat than another upset win.
But with so many unknown variables going into this game – who will be out, how the Buckeyes will respond to the absences of those players and their head coach, whether they'll be rusty after playing just one game in the last three weeks and even the potential for bad weather in East Lansing – it shouldn't come as a shock if Ohio State hits some bumps in this game that allow Michigan State to keep it competitive.
Based on our composite staff score prediction, the spread and over/under for Saturday's contest appear to be right where they should be. But while it would come as a surprise if Michigan State beat Ohio State on Saturday, the uncertainties surrounding the Buckeyes make it tough to forecast whether this game will be a rout or a battle.
Eleven Warriors Staff Prediction
42
 
17