Ohio State already had a first-hand look at what a COVID-19 outbreak could do to a football team when Maryland canceled a game between the two teams intended to kick off 13 days ago.
Now, the issues stem from within the program.
What the athletic department defined as an "increased number of positive tests this week for the coronavirus" put Saturday's game at Illinois in jeopardy of not being played but ultimately did not meet the thresholds put in place by the Big Ten, meaning it'll kick off at noon as scheduled. However, the Buckeyes will have defensive line coach and assistant head coach Larry Johnson acting as the head coach this weekend with Ryan Day away from the team due to a positive COVID-19 test.
Johnson will join Luke Fickell and Day as Ohio State's third interim head coach in the past decade, and as long as Day gets coronavirus-free quickly, will have the shortest tenure of the three. He's expected to coach either one or two games, depending on when Day can return.
Naturally, the latest Ohio State news has sparked many questions about the football team and how it proceeds as it enters the weekend looking to remain unbeaten, so we're here to try to answer five of them.
Why Did Larry Johnson Get The Nod?
Most people, if they had to predict, would have guessed Kevin Wilson would serve as acting head coach if Day ever missed a game. Having led Indiana's football program for five years in the early 2010s, he has more Power Five head coaching experience – which notably came at a Big Ten school – than anybody else on Day's coaching staff. None of the other assistants have ever been full-time college football head coaches.
But Wilson didn't get the nod. And neither did Greg Mattison, Kerry Coombs, Brian Hartline or anyone else. Johnson did.
Why? We'll have to wait until Day speaks publicly about the decision to find out for sure. But there are several reasons that could help explain why the Buckeyes went with their highly regarded defensive line coach.
Ohio State might not have wanted to name Wilson as the interim head coach considering the additional responsibility he'll have on the offensive side of the ball without Day. He and offensive line coach Greg Studrawa are the only two assistants with offensive coordinator experience. On defense, Mattison and Coombs have plenty of work to accomplish after that side of the ball's poor showing last weekend. Plus, neither coordinator has ever been a college head coach anyway.
Johnson, whose defensive linemen revere him, is viewed as a legend in the coaching profession and has the respect of the entire team. He also is technically the assistant head coach. Only running backs coach Tony Alford – assistant head coach for offense – has a similar title.
Though Johnson hasn't ever been a full-time football head coach since working at T. C. Williams High School in 1993, he was an interim head coach at Penn State between the tenures of Bill O'Brien and James Franklin.
Why Are They Still Playing This Game?
This one has a fairly simple answer: Ohio State didn't meet the Big Ten's mark necessitating a cancellation and, quite clearly, still feels comfortable enough with the spread within the team to send the team to Champaign, Illinois.
From the press release announcing the news on Friday: "The increased number does not reach the threshold for Ohio State to have to cancel the game this week, according to Big Ten Conference protocols."
The athletic department appears to be doing everything within its power to play this weekend's game. It'll have the team fly into town on Saturday morning instead of Friday evening. It also plans to have every coach, player and support staffer to undergo PCR testing on Friday afternoon before leaving.
Also motivating the Buckeyes, of course, is their desire to reach the Big Ten championship. If Ohio State didn't play this weekend, it would have been one cancellation away from becoming ineligible to participate in the conference title game, which requires a six-game minimum in the regular season.
Who Will Call Plays On Offense?
This will be a full-blown Wilson-led offense on Saturday.
Day, of course, had a big hand in the game-planning and preparation, coaching the team in practices through Thursday. But once the game kicks off, it'll be Wilson who has the most control. He's worked side-by-side with Day ever since Urban Meyer them both as co-offensive coordinators in January 2017 to replace Tim Beck and Ed Warinner.
Wilson has decades of experience running offenses. He broke into college coaching as an offensive assistant coach with Miami (Ohio) in the 1990s before Northwestern snatched him up as its offensive coordinator in 1999. Oklahoma hired him in 2002, and he was either a co-coordinator or full-blown offensive coordinator there until Indiana hired him as its head coach in 2011. 
Alford, Studrawa, Hartline, Corey Dennis and several other staffers – including Keenan Bailey, Billy Fessler and Kennedy Cook – will assist Wilson.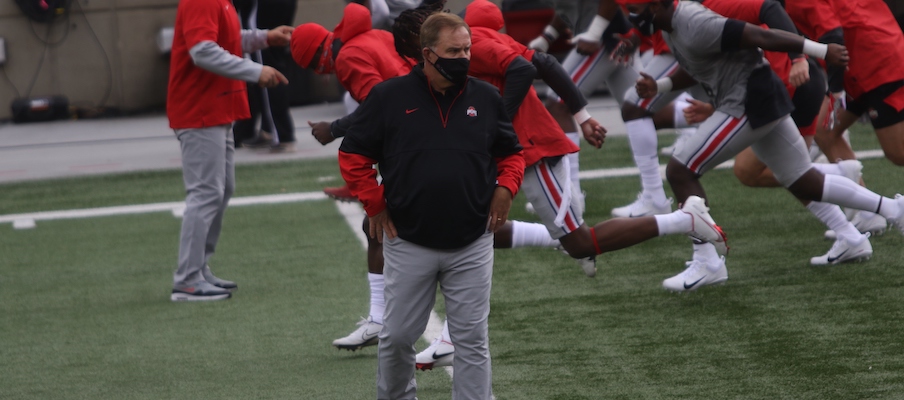 How Does This Affect Ohio State's Title Dreams?
It doesn't. At least, it shouldn't.
As long as the Buckeyes win this weekend's game – and they're still four-touchdown favorites, per Bovada – then this hiccup shouldn't alter them off of their course. 
All of the team's ultimate goals that remain on the table. The Michigan game is still slated to take place at Ohio Stadium in 15 days. Big Ten championship eligibility remains intact as long as the Buckeyes play two of the three remaining regular season games. They were among the top-four teams in Tuesday's initial College Football Playoff rankings reveal.
If Ohio State plays and wins on Saturday, everything the team wants to achieve will still be doable.
How Will This Week Affect The On-Field Product?
Nobody can pretend that this week was anything close to normal.
By mid-week, word of numerous positive COVID-19 tests began leaking out of the program. The team went through a walk-through that day as opposed to a full-blown practice. Players had a Thanksgiving meal at the Woody Hayes Athletic Center on Thursday. Day was announced to have tested positive for COVID-19, along with several other players, on Friday afternoon. Everybody within the program will undergo additional coronavirus testing on Friday. The team will fly to Illinois the day of the game and its head coach and an unannounced number of players won't be with them.
So, how does all of that affect the Buckeyes' performance on Saturday? Your guess it as good as anyone's.