Despite taking a 35-7 lead on the opening drive of the second half, Ohio State needed its starters to play all 60 minutes against Indiana.
For the third game in a row, the Buckeyes got outscored in the second half, and this time they came dangerously close to losing their entire lead, as Indiana scored 28 of the game's final 35 points and had the ball in the final minute before Ohio State ultimately finished with a 42-35 win.
As a result, Ohio State's starters never came out of the game, and only 58 Buckeyes – the lowest total of the season to date – saw any playing time against the Hoosiers. Justin Fields and each of his five starting offensive linemen played every snap on offense, Shaun Wade, Sevyn Banks and Marcus Hooker all played every snap in Ohio State's secondary and many other first-teamers also played their highest snap counts of the year as the Buckeyes ran 82 offensive plays while the Hoosiers ran 68.
For the most part, the same players who saw the most playing time at their respective positions in their first three games were the ones who played the most against Indiana – Ohio State's fourth game of the season, and its first in two weeks, after the Maryland game was canceled – though two Buckeyes (fifth-year senior offensive lineman Gavin Cupp and freshman cornerback Cameron Martinez) made their season debuts.
We took a look at how many snaps each of those 58 Buckeyes played and what roles they played against Indiana.
Per usual, all snap counts were compiled by Eleven Warriors and should be considered unofficial. Only offensive and defensive snaps are counted in the totals, though participants on each special teams unit are listed at the bottom of the article. 
Quarterbacks
Justin Fields: 82
Fields threw three interceptions against Indiana, matching the total of interceptions he had thrown in his entire Ohio State career before Saturday, but he still threw for 300 yards and two touchdowns and ran for 78 yards and another touchdown. He played every snap at quarterback for the second time this season, playing a season-high 82 snaps, the third-highest total in his 18 games as a Buckeye.
Running Backs
Master Teague: 57
Trey Sermon: 24
Steele Chambers: Special teams only
Xavier Johnson: Special teams only
After Teague and Sermon alternated mostly evenly in Ohio State's first three games, the Buckeyes made Teague their feature back against Indiana, handing him 26 carries which he took for 169 yards on 57 snaps, all career-highs. Notably, Teague played 28 of the Buckeyes' final 31 offensive snaps, leaving for three plays only on the final series after turning his ankle and briefly coming out of the game, though he returned for the Buckeyes' final two offensive plays.
With Teague playing more than two-thirds of the snaps, Sermon played his lowest snap total in his four games as a Buckeye so far and had just nine carries – also a season-low – though he had his most efficient game of the season to date, running for 60 yards on those nine carries and also gaining 13 yards on a catch out of the backfield.
As was the case in Ohio State's previously most competitive game of the season against Penn State, Teague and Sermon were the only Buckeyes to line up at running back against Indiana.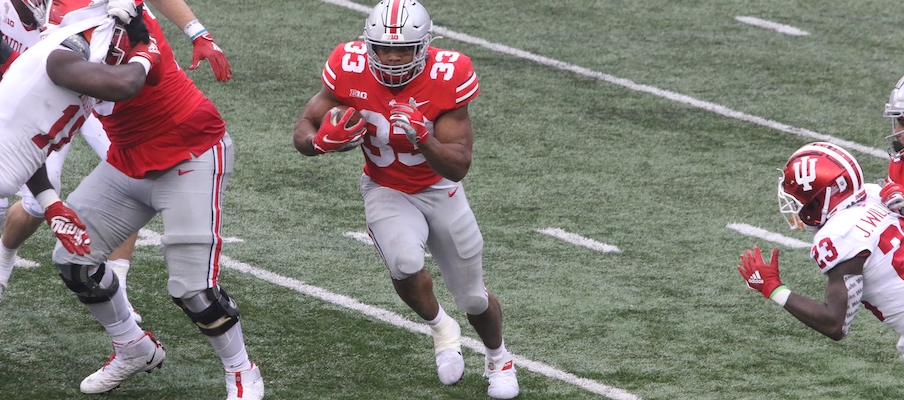 Wide Receivers
Chris Olave: 76
Garrett Wilson: 67
Jameson Williams: 40
Jaxon Smith-Njigba: 24
Julian Fleming: 6
Demario McCall: 1
Kamryn Babb: Special teams only
Chris Booker: Special teams only
Olave was on the field for all but six of Ohio State's offensive snaps – all in the second half, with Fleming taking his place in the lineup for those plays – against Indiana. Wilson, who caught seven passes for career-highs of 169 yards and two touchdowns against the Hoosiers, was on the field for all but 15 snaps, with Smith-Njigba occasionally taking his place in the lineup as a slot receiver in three-receiver formations and as an outside receiver in two-receiver packages.
Williams didn't play in any two-receiver formations against Indiana, but he was on the field for all but 10 plays when the Buckeyes had three or more receivers on the field. The Buckeyes lined up with four receivers on just one play, when McCall checked into the game in place of Teague for a third-down play and lined up as a second slot receiver.
Tight Ends
Luke Farrell: 63
Jeremy Ruckert: 51
Mitch Rossi: 1
Cade Stover: Special teams only
Farrell played his highest single-game snap count since 2018 as he was on the field for all but 19 of the Buckeyes' offensive plays against Indiana. Ruckert played more than 50 snaps for the second time this season as he and Farrell were both on the field together for 32 plays. Rossi joined Farrell and Ruckert in the lineup for one goal-line play with three tight ends on the field, on which Teague ran for a 2-yard touchdown.
Offensive Linemen
Thayer Munford: 82
Harry Miller: 82
Josh Myers: 82
Wyatt Davis: 82
Nicholas Petit-Frere: 82
Gavin Cupp: Special teams only
Paris Johnson Jr.: Special teams only
Dawand Jones: Special teams only
Matthew Jones: Special teams only
Max Wray: Special teams only
For the second time this season, all five starting offensive linemen played every snap of the game with Munford at left tackle, Miller at left guard, Myers at center, Davis at right guard and Petit-Frere at right tackle all on the field for a season-high 82 plays.
Defensive Ends
Jonathon Cooper: 51
Zach Harrison: 31
Tyreke Smith: 29
Tyler Friday: 24
Javontae Jean-Baptiste: 12
Cooper started his fourth consecutive game to begin the year and played the most snaps of any Ohio State defensive end for the third time this season, as he was the only individual Buckeye at the position that was on the field for more than half of the scarlet and gray's defensive snaps against Indiana.
Smith made his first start of the season opposite Cooper, becoming the last of Ohio State's top five defensive ends to make a start this year, but Harrison ended up playing slightly more snaps over the course of the game. All of Harrison, Smith, Friday and Jean-Baptiste played snaps opposite Cooper at times over the course of the Indiana game, though Harrison and Friday were the two defensive ends on the field for most plays when Cooper was on the sidelines.
Cooper, Harrison, Smith and Friday were all on the field together, with Smith and Friday playing defensive tackle, for four snaps in their "Rushmen" package on Ohio State's final defensive series of the game. Cooper and Smith were the two defensive ends on the field for most plays when the Buckeyes had their 3-3-5 nickel defense on the field, with Tommy Togiai playing nose tackle between them for most of the game but Harrison taking on that field for the game's final two plays.
Defensive Tackles
Tommy Togiai: 44
Haskell Garrett: 37
Taron Vincent: 18
Antwuan Jackson: 13
Jerron Cage: 4
Togiai played a career-high 44 snaps against Indiana and the most snaps among all defensive tackles for a fourth consecutive game to start the season, as he played the majority of snaps at nose tackle in both the base defense and in three-man fronts. Garrett started at 3-technique tackle and played the most snaps at that spot for a third straight game, as Garrett and Togiai continued to form a disruptive duo in the middle of Ohio State's interior defensive line.
Vincent mixed into the lineup as Garrett's backup while Jackson and Cage both played backup snaps at nose tackle, though Jackson played his lowest snap total of the season to date while Cage's snaps all come on one series in the early second quarter.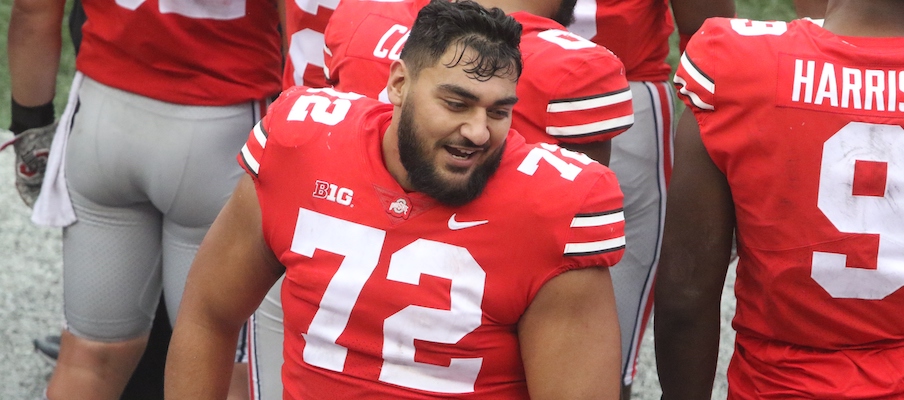 Linebackers
Pete Werner: 65
Baron Browning: 55
Tuf Borland: 44
Justin Hilliard: 13
Teradja Mitchell: 12
Dallas Gant: Special teams only
Cade Kacherski: Special teams only
Craig Young: Special teams only
Werner played the most snaps among all Ohio State linebackers for the second game in a row as he left the field for just three defensive plays against his home-state school. Both Werner and Browning remained mainstays on Ohio State's defense against Indiana – with both of them lining all the way outside at cornerback at times as Indiana's offense spread the Buckeyes out – and were on the field in both base and nickel packages, though Hilliard also rotated in for 13 snaps at Sam linebacker while Mitchell rotated in for three snaps at Will linebacker.
Borland, per usual, played every snap at Mike linebacker in the base defense but came out of the game in nickel situations, with Mitchell taking his place in the lineup in the Buckeyes' 3-3-5 nickel defense, in which Ohio State often had at least one or two of its linebackers playing up on the line of scrimmage alongside the defensive linemen against Indiana.
Cornerbacks
Shaun Wade: 68
Sevyn Banks: 68
Marcus Williamson: 46
Ronnie Hickman: Special teams only
Cameron Martinez: Special teams only
Lathan Ransom: Special teams only
Ryan Watts: Special teams only
Even though both of them had their share of struggles as Indiana quarterback Michael Penix Jr. threw for 491 yards on Saturday, Wade and Banks never came off the field against the Hoosiers, as both of them played every defensive snap of the game as Ohio State's top two outside cornerbacks, with Banks playing a new career-high in snaps in the process.
Williamson continued to play the majority of snaps at slot cornerback against Indiana, though he played only half of the snaps in the Buckeyes' base defense, with Josh Proctor taking his place at slot corner for the other 22. They were both on the field together in all nickel packages with Williamson lining up at slot cornerback and Proctor lining up at safety.
Beyond those four, no other defensive back played any snaps at cornerback against the Hoosiers.
Safeties
Marcus Hooker: 68
Josh Proctor: 46
Hooker set a new career-high in snaps played for a fourth straight game to begin the season as he played all 68 of Ohio State's defensive snaps at deep safety. Proctor also played a career-high in snaps against the Hoosiers as he split snaps with Williamson in the base defense while playing as a second safety in nickel packages.
Field Goals/Extra Points
Jake Seibert (kicker)
Drue Chrisman (holder)
Bradley Robinson (long snapper)
Jeremy Ruckert (wing)
Matthew Jones (rocker)
Paris Johnson Jr. (tackle)
Dawand Jones (guard)
Jerron Cage (guard)
Gavin Cupp (tackle)
Max Wray (rocker)
Luke Farrell (wing)
After missing the first three games of the year due to injury, Cupp made his season debut as a member of the field goal unit against Indiana. He took the place of younger guard Enokk Vimahi, who did not play in any capacity against the Hoosiers. The rest of the field goal/extra point unit was unchanged from the previous game against Rutgers, with Seibert – playing in place of Blake Haubeil, who's missed the last two games with a groin injury – making all six of his extra point attempts but missing his first career field goal attempt from 44 yards out.
Kickoffs
Dominic DiMaccio (kicker)
Josh Proctor (gunner)
Justin Hilliard (gunner)
Teradja Mitchell (gunner)
Ronnie Hickman (gunner)
Xavier Johnson (gunner)
Cade Kacherski (gunner)
Jameson Williams or Lathan Ransom (gunner)
Chris Booker (gunner)
Marcus Hooker (gunner)
Marcus Williamson (gunner)
Williamson rejoined the kickoff coverage unit against Indiana, replacing Cade Stover. Otherwise, the kickoff unit featured the same players from who were on the field for kickoffs against Rutgers.
Kickoff Returns
Demario McCall (returner)
Xavier Johnson (blocker)
Steele Chambers (blocker)
Cade Stover (blocker)
Mitch Rossi (blocker)
Cade Kacherski (blocker)
Dallas Gant (blocker)
Kamryn Babb (blocker)
Ronnie Hickman (blocker)
Chris Booker (blocker)
Ryan Watts (blocker)
Watts – who had to wear No. 65 to avoid sharing a number with Stover when both were on the field together – made his debut on the kickoff return unit against Indiana, replacing fellow freshman Gee Scott Jr., who didn't play in any capacity against the Hoosiers. The rest of the kickoff return lineup was unchanged from the Rutgers game.
Punts
Drue Chrisman (punter)
Bradley Robinson (long snapper)
Tuf Borland (upback)
Mitch Rossi (upback)
Luke Farrell (upback/tackle)
Justin Hilliard (tackle)
Baron Browning (guard)
Dallas Gant (guard)
Kamryn Babb (wing/gunner)
Chris Olave or Jaxon Smith-Njigba (gunner)
Josh Proctor or Julian Fleming (gunner)
Babb made his debut on the punting unit against Indiana, replacing Xavier Johnson in the lineup. Fleming also made his debut on the punt team against the Hoosiers, lining up opposite fellow freshman receiver Smith-Njigba as the gunners on Ohio State's second-to-last punt, as the Buckeyes had at least two outside gunners on the field for all of their punts on Saturday.
Punt Blocks/Returns
Garrett Wilson (returner)
Chris Olave (lineman)
Kamryn Babb (lineman)
Steele Chambers (lineman)
Dallas Gant (lineman)
Xavier Johnson (lineman)
Chris Booker (lineman)
Lathan Ransom (linebacker)
Shaun Wade or Ryan Watts (cornerback)
Sevyn Banks or Cameron Martinez (cornerback)
Josh Proctor (safety)
Martinez saw his first playing time as a Buckeye as a member of the punt block/return team against Indiana on Saturday. Fellow freshman Ransom was also a new addition to the punt return team against the Hoosiers, while Olave saw his first action on the punt blocking unit this season as a rusher off the edge.
Extra Point Block
Shaun Wade (lineman)
Teradja Mitchell (lineman)
Zach Harrison (lineman)
Haskell Garrett (lineman)
Tommy Togiai (lineman)
Pete Werner (lineman)
Jonathon Cooper (lineman)
Sevyn Banks (lineman)
Marcus Hooker (safety)
Tuf Borland (safety)
Josh Proctor (safety)
Ohio State had the same 11 defenders on the field for all of Indiana's extra points on Saturday as it did for all of Rutgers' field goals and extra points two weeks prior.
Snap Tracker: Offense

| POS | PLAYER | NEB | PSU | RU | IU | TOTAL |
| --- | --- | --- | --- | --- | --- | --- |
| QB | JUSTIN FIELDS | 65 | 81 | 70 | 82 | 298 |
| QB | JACK MILLER III | 6 | DNP | DNP | DNP | 6 |
| QB | C.J. STROUD | DNP | DNP | 1 | DNP | 1 |
| RB | MASTER TEAGUE | 30 | 44 | 34 | 57 | 165 |
| RB | TREY SERMON | 28 | 37 | 27 | 24 | 116 |
| RB | STEELE CHAMBERS | 7 | ST | 7 | ST | 14 |
| RB | XAVIER JOHNSON | 6 | ST | ST | ST | 6 |
| RB/WR | DEMARIO McCALL | ST | ST | 4 | 1 | 5 |
| RB | MIYAN WILLIAMS | DNP | DNP | 1 | DNP | 1 |
| WR | CHRIS OLAVE | 52 | 80 | 58 | 76 | 266 |
| WR | GARRETT WILSON | 48 | 70 | 48 | 67 | 233 |
| WR | JAMESON WILLIAMS | 48 | 36 | 29 | 40 | 153 |
| WR | JAXON SMITH-NJIGBA | 17 | 23 | 27 | 24 | 91 |
| WR | JULIAN FLEMING | 19 | 1 | 12 | 6 | 38 |
| WR | KAMRYN BABB | 6 | ST | 6 | ST | 12 |
| WR | GEE SCOTT JR. | 4 | ST | 8 | DNP | 12 |
| WR | CHRIS BOOKER | ST | ST | ST | ST | ST |
| WR | SAM WIGLUSZ | ST | DNP | DNP | DNP | ST |
| TE | LUKE FARRELL | 40 | 44 | 42 | 63 | 189 |
| TE | JEREMY RUCKERT | 33 | 55 | 40 | 51 | 179 |
| TE | JAKE HAUSMANN | 9 | 15 | DNP | DNP | 24 |
| TE | MITCH ROSSI | 7 | ST | 10 | 1 | 18 |
| TE | CADE STOVER | 1 | ST | 2 | ST | 3 |
| OL | WYATT DAVIS | 65 | 81 | 70 | 82 | 298 |
| OL | THAYER MUNFORD | 65 | 81 | 70 | 82 | 298 |
| OL | JOSH MYERS | 65 | 81 | 70 | 82 | 298 |
| OL | NICHOLAS PETIT-FRERE | 65 | 81 | 70 | 82 | 298 |
| OL | HARRY MILLER | 61 | 81 | 70 | 82 | 294 |
| OL | MATTHEW JONES | 10 | ST | ST | DNP | 10 |
| OL | PARIS JOHNSON JR. | 6 | ST | 1 | ST | 7 |
| OL | DAWAND JONES | 6 | ST | 1 | ST | 7 |
| OL | ENOKK VIMAHI | 6 | ST | 1 | DNP | 7 |
| OL | LUKE WYPLER | 6 | DNP | 1 | DNP | 7 |
| OL | MAX WRAY | ST | ST | 1 | ST | 1 |
| OL | GAVIN CUPP | DNP | DNP | DNP | ST | ST |
| K | DOMINIC DiMACCIO | ST | ST | ST | ST | ST |
| K | BLAKE HAUBEIL | ST | ST | DNP | DNP | ST |
| K | JAKE SEIBERT | DNP | DNP | ST | ST | ST |
Snap Tracker: Defense

| POS | PLAYER | NEB | PSU | RU | IU | TOTAL |
| --- | --- | --- | --- | --- | --- | --- |
| DE | JONATHON COOPER | 31 | 35 | 35 | 51 | 152 |
| DE | TYREKE SMITH | 21 | 28 | 38 | 29 | 116 |
| DE | TYLER FRIDAY | 26 | 27 | 34 | 24 | 111 |
| DE | ZACH HARRISON | 15 | 28 | 25 | 31 | 99 |
| DE | JAVONTAE JEAN-BAPTISTE | 19 | 10 | 32 | 12 | 73 |
| DE | NOAH POTTER | 2 | DNP | 7 | DNP | 9 |
| DE | DARRION HENRY-YOUNG | 2 | DNP | 2 | DNP | 4 |
| DE | CORMONTAE HAMILTON | DNP | DNP | 3 | DNP | 3 |
| DT | TOMMY TOGIAI | 41 | 42 | 41 | 44 | 168 |
| DT | HASKELL GARRETT | 23 | 33 | 37 | 37 | 130 |
| DT | ANTWUAN JACKSON | 30 | 16 | 28 | 13 | 87 |
| DT | TARON VINCENT | DNP | 11 | 28 | 18 | 57 |
| DT | JERRON CAGE | 15 | 3 | 27 | 4 | 49 |
| DT | TY HAMILTON | 5 | DNP | 13 | DNP | 18 |
| DT | ZAID HAMDAN | 2 | DNP | 4 | DNP | 6 |
| LB | PETE WERNER | 42 | 62 | 50 | 65 | 219 |
| LB | BARON BROWNING | 47 | 62 | 34 | 55 | 198 |
| LB | TUF BORLAND | 34 | 41 | 45 | 44 | 164 |
| LB | TERADJA MITCHELL | 16 | 15 | 33 | 12 | 76 |
| LB | DALLAS GANT | 18 | ST | 38 | ST | 56 |
| LB | JUSTIN HILLIARD | DNP | DNP | 26 | 13 | 39 |
| LB | CRAIG YOUNG | 9 | 1 | 29 | ST | 39 |
| LB | K'VAUGHAN POPE | 2 | ST | 5 | DNP | 7 |
| LB | CODY SIMON | ST | ST | 5 | DNP | 5 |
| LB | CADE KACHERSKI | ST | ST | ST | ST | ST |
| LB | RYAN BATSCH | ST | DNP | DNP | DNP | ST |
| LB | MITCHELL MELTON | ST | DNP | DNP | DNP | ST |
| LB | BEN SCHMIESING | ST | DNP | DNP | DNP | ST |
| LB | TRAYVON WILBURN | ST | DNP | DNP | DNP | ST |
| CB | SHAUN WADE | 47 | 62 | 66 | 68 | 243 |
| CB | SEVYN BANKS | 39 | 53 | 37 | 68 | 197 |
| CB/S | MARCUS WILLIAMSON | 41 | 39 | 47 | 46 | 173 |
| CB | TYREKE JOHNSON | 9 | DNP | 50 | DNP | 59 |
| CB | CAMERON BROWN | 23 | 16 | DNP | DNP | 39 |
| CB | RONNIE HICKMAN | 9 | ST | 16 | ST | 25 |
| CB | RYAN WATTS | DNP | DNP | 22 | ST | 22 |
| CB | LATHAN RANSOM | 2 | 9 | ST | ST | 11 |
| CB | LLOYD McFARQUHAR | 2 | DNP | DNP | DNP | 2 |
| CB | DARRYL SINCLAIR | 2 | DNP | DNP | DNP | 2 |
| CB | CAMERON MARTINEZ | DNP | DNP | DNP | ST | ST |
| S | MARCUS HOOKER | 35 | 62 | 65 | 68 | 230 |
| S/CB | JOSH PROCTOR | 24 | 27 | 30 | 46 | 127 |
| S | BRYSON SHAW | 5 | ST | 16 | DNP | 21 |
| S | KEVIN DEVER | ST | DNP | DNP | DNP | ST |
| P | DRUE CHRISMAN | ST | ST | ST | ST | ST |
| LS | BRADLEY ROBINSON | ST | ST | ST | ST | ST |