Kerry Coombs has coached a number of great secondaries during his 38 years in the business.

This year's vintage is not one of them.
Though it has played just four games in 2020, Ohio State sits 115th nationally in pass defense - exactly 114 places below where it finished the 2019 season. Indiana torched Coombs' defensive backfield to the tune of 491 yards through the air last Saturday, further exposing a unit that had already shown signs of weakness.
As my colleague Dan Hope detailed shortly afterward, the performance was the fourth-highest total ever surrendered by an Ohio State defense. But unlike their adventure in State College a few weeks ago, the Buckeyes weren't just the victim of a few circus catches. Rather, the Hoosiers found success thanks to a multitude of factors.
"Any time you have a problem like that, it's one of three things," Ryan Day said after the game. "You say to yourself, do you have the right personnel there? So you look at who's doing it. Then the second thing is, what is the scheme? Does the scheme give our guys the right opportunity to be successful? And then if both of those boxes get checked, then it goes to coaching. Are we coaching it correctly? So I think that's when you're trying to fix something, you have to identify one of these three things that need to get addressed, or maybe a little bit of each."
Needless to say, the Buckeyes won't be bringing home any hardware in January unless the pass defense improves. But, as Day outlined, in order to address the problems at hand, they must first be identified.
Before going any further, though, credit where it's due. The Indiana game plan was well designed and incorporated many of the same tactics Ryan Day has used to exploit opponents in Ohio State's favor.
For instance, on the game's opening drive, the Hoosiers split the tight end, Peyton Hendershot (#86), all the way out to the numbers. When linebacker Baron Browning followed him out there - signaling the defense was in man-coverage - the entire IU offense looked to the sideline and received the call to run a smash-fade concept with Ty Fryfogle taking off from the slot.
Given that Michael Penix Jr. and the rest of the Indiana offense knew what coverage to expect, the quarterback could easily time up a back-shoulder throw for a big early gain. 
Throughout the entire game, the Hoosiers would use their formations to manipulate the Buckeyes into revealing their hand. One tactic seen quite often was motioning David Ellis (#10), a speedy running back and kick returner, out from the backfield and sending him deep on vertical routes against those Buckeye linebackers.
While Browning and Pete Werner are great athletes, they had no chance of keeping up with Ellis in a foot race. 
It wasn't until the fourth quarter that Ohio State consistently lined up in a true, 4-2-5 nickel package with safety Josh Proctor replacing the SAM linebacker that the threat of Ellis running unabated down the sideline was thwarted.
Coombs' insistence on remaining in the base, 4-3 personnel throughout a contest in which his opponent threw the ball 51 times is questionable, at best.
Based on 11W research, the Buckeyes lined up in a nickel package with five true DBs on the field just 20 times on Saturday, compared to 45 snaps of the base 4-3. Of those 20 snaps in a 5-DB set, 14 came in the fourth quarter.
Since Cameron Brown's achilles injury against Penn State left Coombs with one less reliable DB, the OSU defensive coordinator has been hesitant to remove one of his linebackers. Against Rutgers, the unit played just five snaps with nickel personnel.
While the veteran linebacker corps has been more reliable than the secondary, mismatches like the ones above were apparent all afternoon; especially in the second half as the Hoosiers rallied from a 35-7 deficit to make it a one-score game. One of the most egregious examples came on a 4th-&-10 which resulted in an IU touchdown, as the Buckeyes fell prey to both scheme and execution.
With Ellis split out wide right and Browning lined up like a cornerback, the Hoosiers knew, once again, that the Buckeyes would be in man-coverage. This time, though, OSU aligned with two safeties in Hooker and Proctor, each of whom manned a deep zone behind the five underneath defenders in man, such as Browning.
As Day has done to countless opponents over the past few years, Ellis darted across the field underneath a host of teammates who picked the chasing linebacker. No Buckeye defender was within five yards of the shifty back as he strode into the end zone, making such a low-probability conversion look routine.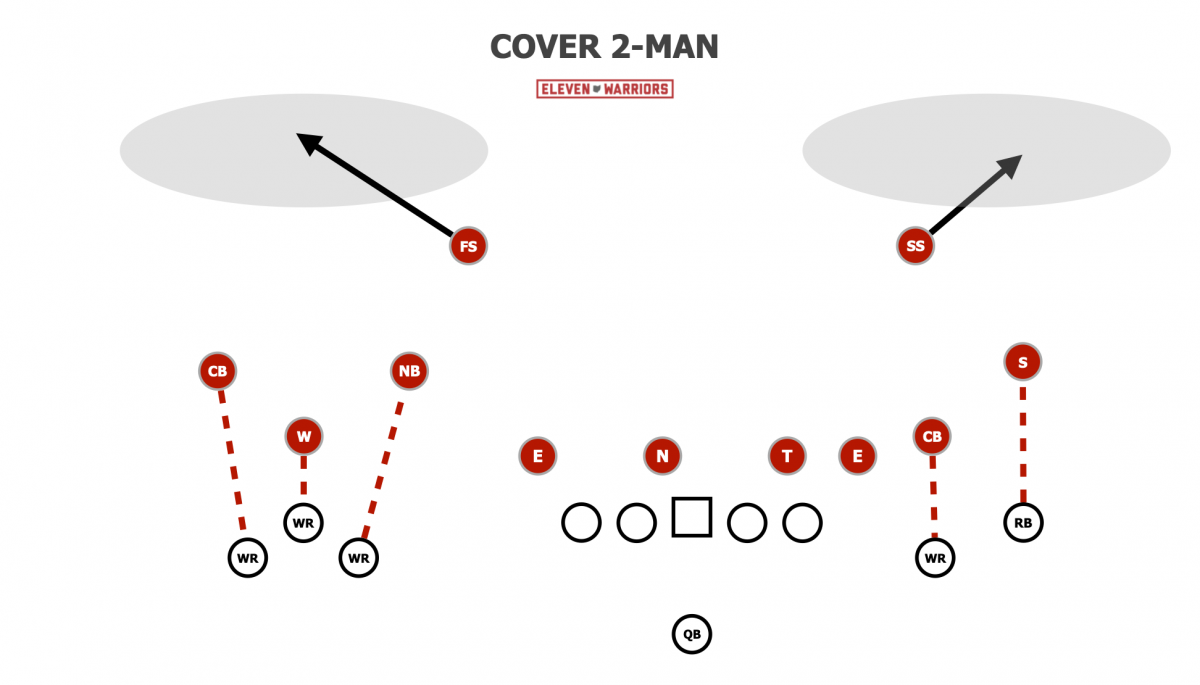 This coverage, known as 2-Man, is a common defense in such long to-go situations and is typically considered a safe one. Though Browning never had a chance on this play, the coverage should have allowed for his teammates to help - but only if it's executed properly. 
Despite being responsible for only one half of the field, Hooker quickly tries to cut off a crossing route and finds himself on the opposite hash as Ellis walks into the end zone - just a few steps from where he lined up at the snap. These kinds of mistakes are emblematic of a unit that is still learning, not one who is ready to compete for a championship.
Perhaps that's because Coombs has decided that Cover-1 (man-free coverage) is his unit's base coverage. Despite all the focus from this writer and many others on OSU's spot-drop Cover-3 zone, Jeff Hafley's defense played man-coverage more than all but three other teams in the nation last fall.
But unlike his predecessor, or even in his previous stint on the OSU coaching staff, Coombs doesn't appear to have a pair of first-round cornerbacks who can lock up opposing receivers in one-on-one situations. Rather, we continually see instances like this...
Wade does a good job mirroring Fryfogle in his press alignment but never seems to recognize when the ball is coming or adjust his body to make a play on it. This is far from the first time that this lack of technique has been apparent for a preseason Thorpe award finalist. 
On the opposite side of the field, we see this...
While many fans were quick to blame Hooker for jumping this deep crossing route instead of bailing deep, Banks was caught flat-footed and let the receiver run right by him. Not only did he then fail to grab a piece of his opponent, but the corner also failed to track the ball in mid-air, losing more ground. 
Rarely are the mistakes made by Buckeye DBs physical, though. Much like Hooker's mistake on the 4th-&-10 shown above, members of the OSU secondary looked unsure of their assignments on many occasions.
When Coombs finally tried to counter Ellis' motion out of the backfield by trailing him with a linebacker, yet then playing zone post-snap, something went awry. Though all 11 defenders appear to know they're playing a Cover-3 zone, Ellis easily picked up 50 yards before a defender even touched him.
Similarly, Fryfogle's first touchdown came off a blown assignment. With three Hoosiers in a tight bunch, both Banks and Williamson focused on the deep out route from the outside receiver, leaving no one to run with Fryfogle. 
How do I know this? Because when Indiana ran the exact same concept the other way later in the game, Williamson took away the deep seam route, forcing Penix to work back to the deep out. This time, Wade was ready to pick it off and take it to the house.
This play alone should give Buckeye fans hope for the rest of the season. Not because it shows that members of the secondary are talented (they clearly are), but because Coombs and his staff were quickly diagnosing these small errors, and the players adjusted quickly.
Though it took a while for Coombs to give up on his initial game plan, things began improving on the final two drives. With the game in the balance, the Buckeyes not only seemed capable of covering Fryfogle, Ellis, and Whop Philyor but they began blitzing more as well.
On those final two drives, when the defense needed to step up most, it held Penix to just 3-9 passing with a sack. Though it took surrendering 450 yards first, Coombs' pass defense finally held up with the game in the balance. That's a good thing.
The other good news for Buckeye fans is the fact that these issues are not entirely systematic. Unlike 2018, the whole playbook need not be scrapped, as the front seven has been terrific against the run, ranking 12th nationally in rushing ypg allowed.
While mixing in more two-deep looks may weaken the run defense, it's a trade-off Coombs may be forced to accept, given his porous secondary. The veteran coach is in a tough spot, however, as he's effectively been asked to run Hafley's system without him. That doesn't mean Hafley invented man-free coverage or that Coombs has never coached it, but rather, the former OSU DC already had answers for the kinds of problems Coombs is now facing, given Hafley's prior experience working in this system.
But as we've seen, solving these issues isn't as simple as calling different plays. There are issues in personnel and game-planning by the coaches, issues with communication among the players on the field, and flat-out failures in technique.
"Usually, when you assess something like that, it's not like, OK, it's only this," Day added after the game. "It's usually a little bit of this, a lot of this, maybe a little bit here or there. And if you tighten up all three of those areas, usually you see improvement."