Here at Eleven Warriors, we've already written how great Ohio State's offensive line could be this season, with the potential to even be the best in the country. As Ohio State offensive line coach Greg Studrawa talked about his unit on Tuesday, four days ahead of the Buckeyes' season opener, he didn't say anything to slow down that hype train.
"I was so proud of the guys last year because that was one of the best lines in the country and how they played last year. And I think these guys, I told them the other day, I said, 'I think you guys can be better,'" Studrawa said. "And that's our goal. Our goal is to take what we did last year and be better."
Even with the departures of first-team All-Big Ten left guard Jonah Jackson and second-team All-Big Ten right tackle Branden Bowen from last season, when Ohio State's offensive line was a finalist for the Joe Moore Award, the pieces appear to be in place for this year's offensive line to be even better. Left tackle Thayer Munford, center Josh Myers and right guard Wyatt Davis are all back this season to lead the offensive line, and the now-confirmed new starters at left guard and right tackle – Harry Miller and Nicholas Petit-Frere – were both five-star recruits.
Davis, Myers and Munford are already established stars up front – Davis is widely considered to be college football's best guard, Myers could be college football's best center and Munford has been a strong left tackle when healthy – and Studrawa says they've been all great leaders this offseason. Even though they've been successful in the past, Studrawa has continued to work with them on getting better.
"We sat and we looked at the reports that the general managers had sent on him about the draft, and I took what those guys said, what they saw as strengths and weaknesses, and I sat down and I said, 'OK, here we go, here's what they think you're really good at … OK, how can we enhance it and make you better? And then here's what they think you're weak at; OK, let's attack this problem,'" Studrawa said. "And so we found three or four things in each of those guys' games and we've been doing drills and technique things since the summer to try to make them better at those things."
Miller, who was seemingly always expected to be the new starting left guard this year, has impressed Ohio State's coaches since he arrived on campus two summers ago as a true freshman. But after Miller spent last season as the backup center, Studrawa and Ryan Day both said he's gotten stronger going into his sophomore season to be ready to take on a starting role at guard.
"He did a great job in the offseason, changing his body and getting stronger," Day said Tuesday. "And in the last couple months, he's done a good job of stepping in there and making sure that his game is where it needs to be in terms of playing for a Big Ten championship."
Petit-Frere wasn't handed the starting right tackle job, but he was able to fend off freshman Paris Johnson Jr. and sophomore Dawand Jones to earn his spot in the lineup by making the developmental strides that Studrawa and Day were expecting to see from him entering his redshirt sophomore season.
"He's done a great job during this pandemic," Studrawa said. "He is stronger, he's bigger, he's 315 pounds now. He's as strong as he ever has been, and his offseason, his development, has really pushed him to the top of that position."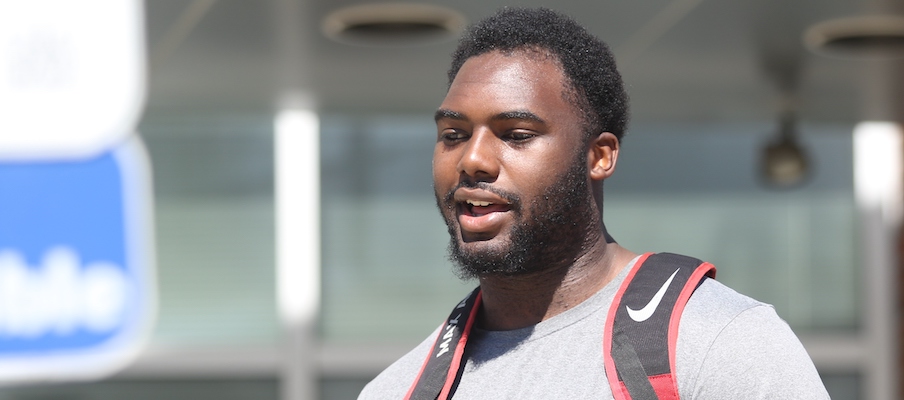 Out of all the positions on a football team, the offensive line was perhaps the one that had the potential to be most negatively affected by the restrictions the Buckeyes faced this offseason due to the COVID-19 pandemic. Spring practices are typically a crucial time for offensive lines to break in new starters and build cohesiveness, and they weren't able to hold any padded practices until last month, which makes it difficult to develop players at a position that's all about blocking other players and being tough and physical.
Studrawa is pleased with how the offensive line has come together despite those challenges, though, and says many of his linemen did a great job during the months they were away from campus in continuing to develop both physically and mentally even though they didn't have the resources of the Woody Hayes Athletic Center at their disposal.
"Instead of (the time away from campus) being a weakness, when you look at Harry and you look at Nick and you look at Matt Jones and you look at Enokk (Vimahi) and those kids, they come back and they're bigger and stronger during this thing, it worked out being the greatest thing in the world for us," Studrawa said.
Beyond the starting five, Studrawa is also confident in his offensive line's depth, which could be more important than ever this year due to the possibility of players missing at least three games if they test positive for COVID-19. Ohio State's second-team offensive line currently consists of Johnson and Dawand Jones at tackle, redshirt sophomore Matthew Jones and redshirt freshman Vimahi at guard and true freshman Luke Wypler at center, and Studrawa likes what he's been seeing from all five of them.
"Inside, Matt Jones and Enokk have been really, really good … they're bigger, they're stronger, they've got a better understanding of the game," Studrawa said. "Outside, we've got Paris and Dawand at tackle, who are both outstanding, talented young men, they're just still picking things up and learning things on the run, but they're doing a great job. So those four right there, and then at center, Luke Wypler, much like Harry last year, it's almost a mimic of Harry. He's a really smart, intelligent football kid. He's tough. He's picked things up there at the center spot. He's been running the No. 2 center for a long time now. So all five of those guys, I think, are continuing to grow as we move forward."
Projected Offensive Line Depth Chart

| Left Tackle | Left Guard | Center | Right Guard | Right Tackle |
| --- | --- | --- | --- | --- |
| THAYER MUNFORD | HARRY MILLER | JOSH MYERS | WYATT DAVIS | NICHOLAS PETIT-FRERE |
| PARIS JOHNSON JR. | MATTHEW JONES | LUKE WYPLER | ENOKK VIMAHI | DAWAND JONES |
Ohio State was able to play its second-team offensive line in 10 games last season, and Studrawa hopes the Buckeyes will be able to get them in games as much as possible again this year, knowing any of those backups could be needed if COVID-19 cases or injuries hit.
"At any minute, you may lose a guy … so the development of those second guys has been more critical this year, and we've worked at it," Studrawa said. "Those young guys have to develop a little bit faster, in my opinion, than they normally would because of the circumstances we're in, and I think we're right on track. They're not there yet. They got a ways to go. But their ability and what they've done so far, how they've worked, how they've picked things up in this situation has been really good. So I wouldn't be hesitant to play any of them, and I hope that we can play them and get them in there as much as we can."
Altogether, Studrawa said he is "extremely confident they're gonna play really well" this season. But the time for preseason hype is over, and the time for Ohio State's offensive line to start proving it can actually live up to the hype begins Saturday, when the Buckeyes will face off with what Studrawa described as a "big, strong" Nebraska defensive front that he has a lot of respect for.
"The potential for this group to be a great offensive line is right there. Now they gotta go out and they gotta do what last year's group did," Studrawa said. "You take it game by game, you go out there and you give everything you can for that game and then let's move on to the next one, one game at a time. And so far that's what they're doing."