Justin Fields doesn't have to do any of this.
Justin Fields, some could reasonably argue, shouldn't do any of this.
Seven months stand between today and the 2021 NFL Draft. If he decided not to play one more snap for Ohio State, nobody who put down their scarlet-and-gray-tinted glasses could possibly argue with his decision. Already, he's a lock of a first-round draft pick. Many view him as a top-five or top-10 selection. He could sit out the upcoming season to preserve his NFL draft status while not risking injury by playing football games without getting paychecks for them, knowing he'd ink an eight-figure rookie contract and a seven-figure signing bonus in the spring without ever suiting up in his Buckeye uniform again.
Yet he's not going that route. Not after all this effort to get Ohio State onto the field again this fall to chase a national championship and avenge its College Football Playoff semifinal loss to Clemson in December.
Fields dove head-first into the effort to save the season. Taking a leadership role among players across the conference, he made it abundantly clear to anyone willing to listen that he's planning to play for the Buckeyes this fall, planning to take a second shot at a Heisman Trophy after finishing in third in voting last year, and planning to go after a national title.
The long-awaited Wednesday announcement didn't happen solely at the behest of Fields, who lived Ryan Day's mantra of "fight" for the past five or six weeks. Nobody's asserting that it did. But he made sure his voice and the voices of other players throughout the conference were heard by those who mattered both by using his widely followed social media platforms and creating an online petition signed by more than 300,000 supporters of the Big Ten playing football this fall.
Fields just wanted a chance to ball once more as a Buckeye, and the Big Ten will give it to him.
He already might be the most talented quarterback to ever take a snap in Columbus. Now, after his effort to save a fall season and while putting preparation for his NFL career on hold to chase rings and trophies, he'll have a chance to cement himself as a certified legend in an Ohio State football program rich with tradition.
"What can you say about Justin Fields?" Day said on Wednesday morning. "The way that he's gone about his business, the way that he's spoken up and been classy about it, his work ethic this offseason – if you ever get the chance to ask coach Mick (Marotti) about it, it's been off the charts. He's changed his diet, he's put extra work in and just to see his leadership and the way he's handled it, I can't say enough about who he is."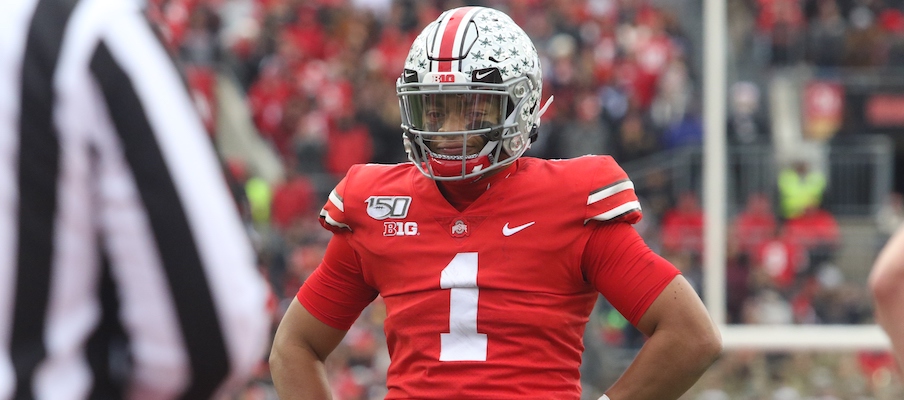 For Ohio State, last year he was money. The first-time starter put up a 41-touchdown, three-interception season along with 484 rushing yards and 10 touchdown carries. A legendary campaign in its own right? One could certainly argue it, even though Fields fell a bit short of both the Heisman Trophy and a national title.
The on-field abilities of Fields, of course, weren't ever in question. Nineteen months ago, Day and his staff knew all about the talent that made him the second-ranked recruit in the country and the Elite 11 MVP. Thirteen months ago, offensive coordinator Kevin Wilson said his "skill set is probably as high as I've been around" before the 6-foot-3, 228-pound physical specimen ever took an in-game snap at Ohio State. 
They clearly had an inkling they'd landed a monster on the field when he announced his transfer from Georgia on Jan. 4, 2019, and it paid off in the fall of 2019. 
Fields, the human being, was more of a mystery at the time to Day and his coaching staff rather than Fields, the quarterback, when they added him to their roster.
Since they hadn't recruited him hard while he attended Georgia's Harrison High School, couldn't get him to Columbus for an in-person visit when trying to land him as a transfer and only had a few weeks to talk with him before he made up his mind, they didn't have an unimpeachable view on him as a person in December of 2018. They lacked the long-term relationship many coaches have with quarterbacks.
The match made sense, though.
Ohio State wanted a potential star quarterback, and Fields wanted to go to the NFL as a first-round pick the same way Dwayne Haskins was set to do.
"They didn't really have to (sell me) that much, just going based off what Dwayne did last year and how much success he had in this offense," Fields said on Feb. 4, 2019. "I felt like I could come in and hopefully do the same thing that he did."
His connection with the Buckeyes, at the time, felt flimsy. Fields straight-up called the transfer a "business decision" in his first comments to local media. They were his shuttle sending him on a two-year ride before launching him to the NFL. 
A year-and-a-half later, his bond with Ohio State, Day and his teammates sent him front and center fighting for their right to play football this fall and compete for a championship. It helped turn him into one of the front-facing superstars of college football as he gears up to start an abbreviated season that nobody's forcing him to play. 
"I think my family has provided me with everything I've needed. So getting to the money as fast as I can isn't really a priority for me," Fields said last month. "Just playing with my teammates and grinding every day with Coach Mick, just during workouts and just playing and stuff like that, that's what I'm cherishing the most right now."
Ohio State got the quarterback play it wanted, and as it turns out, the program also got the person it wants at the forefront, too, at an optimal time.
And now, they're about to embark upon a chase for a national championship together as one.