If you looked at a picture of Grant Toutant four years ago, you probably wouldn't have guessed he'd now be an Ohio State offensive lineman.
At the time, Toutant looked more like a cross-country runner than a football player. Going into his freshman year at De La Salle High School in Warren, Michigan, Toutant weighed only 167 pounds.
Back then, Toutant envisioned himself playing college basketball. But his coaches at De La Salle, specifically head coach Mike Giannone and offensive line coach Gregg James, saw his potential on the gridiron even with his lanky frame at the time.
"Coach Giannone was the one that looked at him and saw him in the summer at workouts and he's like, 'You're gonna be a Division I football player one day. You can count on it,'" said Helena Toutant, Grant's mother. "He just like sized him up, he was like, 'I can see it.' And we're all kind of like, 'Yeah, right.'"
Toutant's coaches could tell he wasn't nearly done growing, and they were right. Over the next three years, Toutant gained about 150 pounds – so much that James actually advised him to shed a few pounds going into his senior year – while stretching to nearly 6-foot-8. He combined that size with his athleticism and work ethic to emerge as one of the top 35 offensive tackle recruits in the class of 2020.
"He was so tall when he came in, you could just tell, with his frame, being as young as he was, you knew he was gonna be something special," James said. "He definitely had the tools. I think I'm relatively a decent coach, but I can't coach 6-8. I can't teach you how to be 6-8.
"So here he had these tools, and he was just a hard worker. He wanted it. He wanted to play college football."
Toutant's initial sport of choice was neither football nor basketball. Toutant started participating in gymnastics when he was just 18 months old, and during his early childhood, he and his family thought that would be his sport for years to come.
As Toutant started to grow taller and taller, however, it became evident that he would be better suited for other sports.
"It was getting to the point where he was potentially gonna hurt himself because when you grow three inches in a month, all of a sudden you have to relearn everything and your body has to refigure it all out, so we kind of got to the point competitively where we sat down with his coach and his coach legitimately looked at him and he said 'Grant, I know you love this, but there's never gonna be a 6-foot-6 gymnast,'" Helena Toutant said. "He just like straight up told him, 'I'd love to have you here, but in the grand scheme of things, you probably need to pick a different sport.' And so that was kind of the wake-up call, and that was like fifth grade."
Toutant's next move was to the basketball court, where his height would be an asset rather than a detriment, and his friends on the basketball team convinced him to start playing football in sixth grade, ultimately leading to where he is now seven years later.
That said, he says he can still flip around a little bit – though "the ground shakes when he lands 'cause he's so big," according to James – and he believes the flexibility he developed while training in gymnastics has helped him become the football player he is today.
"My entire life because of that I've been insanely flexible. So my bend has been really good all throughout high school, even though I haven't done gymnastics in probably eight years," Toutant told Eleven Warriors earlier this month before enrolling at Ohio State. "It just helps your flexibility and helps you get down low for being as tall as I am."
---
With four children who all play sports, Helena Toutant says her grocery bills during Grant's growth-spurt over the past four years often ranged between $700 to $800 per week.
In order to help Grant put on the necessary weight to become a Division I offensive lineman, the Toutants hired a dietician who put together a plan for Grant that required him to eat 8,000 calories per day.
To accomplish that, Grant would eat six meals per day, while he and his mother would prepare meals accordingly to ensure he hit his calorie intake goals while also eating the proper amount of carbohydrates, protein and fat. They put together recipe cards that listed out the macros for each of his favorite meals, and would spend Sundays cooking together to meal prep for the week.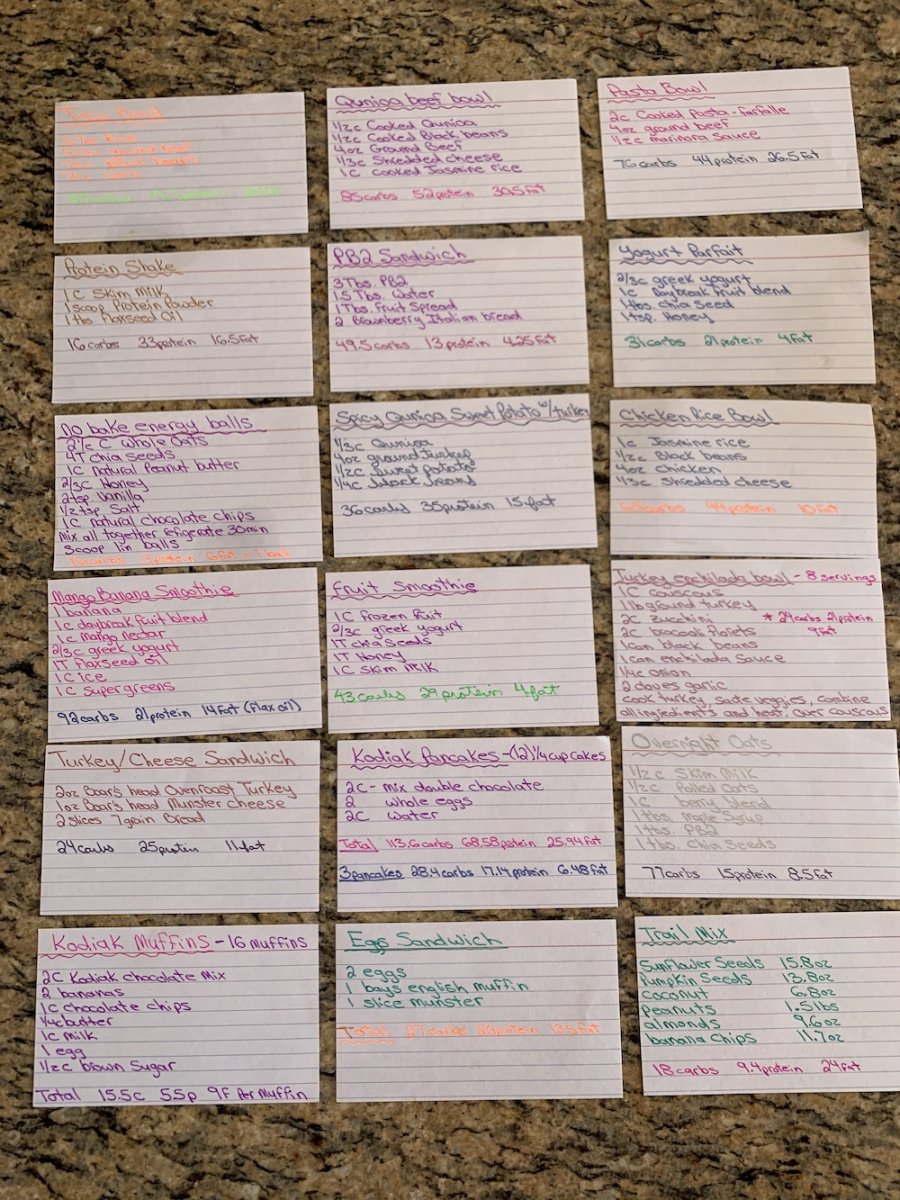 They kept a journal to track how much Grant was eating over the course of each day, and as Helena Toutant said, "it's a lot of math."
"He eats a lot of eggs, especially in the morning, so he'd have like an omelet for breakfast and he's got a six-egg omelet but then he's got spinach and onions and peppers and bacon and cheese that's in it. And then after he'd eat the six-egg omelet, we usually did like a sprouted grain toast with peanut butter, which adds the fiber and the protein to it. So he gets his protein, and then he'd wash it down with a smoothie. So that's breakfast," Helena said.
"And then, throughout the day, through school, I'd send him with peanut butter sandwiches, I'd send him with turkey sandwiches, ham, lunch meat, stuff like that to eat throughout the day at school just to be able to grab. He did a lot of rice, so a lot of like rice bowls – rice and veggies and protein, stuff like that, he'd pack that and have that at school.
"They had the PB&J club, so the moms would give all the boys like peanut butter and jelly and oranges before practice. Then on the way home, he'd usually have a protein bar or something and then come home and eat dinner. And then later at night, he'd eat again. So it was just every couple hours, every two hours, or just kind of having some kind of meal, some kind of food, and he'd get pretty creative with what he was eating and whatnot."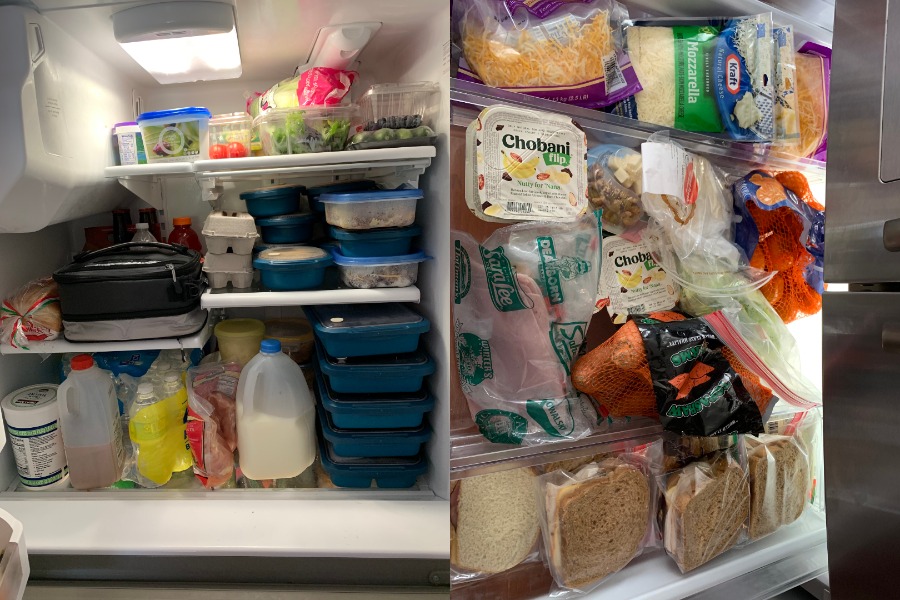 While it wasn't always easy for Toutant to eat that much every day, it did the job. By his sophomore year of high school, his first year on the varsity football team at De La Salle, he was up to 230 pounds. By his junior year, when he became a starter for the Pilots, he was up to 295 pounds. Going into his senior year, Toutant was over 320.
"It was crazy," James said. "His mom and dad are tall people, and him coming in being that young, being that tall, you knew he wasn't done growing yet. You knew it. But just as he progressed, as the years went by, it was like, 'Is he ever gonna stop?' Because he was growing so much. It was just amazing to see. Matter of fact, going into his senior year, I was like, 'Buddy, you gotta cut a couple pounds. I understand big is better, but we don't want to get too big here.'"
---
Toutant's recruitment started to take off during his junior year at De La Salle, and one of his first big offers came from Penn State. In November 2018, just over one month after he received his offer from the Nittany Lions, Toutant announced his commitment to Penn State.
Less than two months later, though, Toutant was starting to have second thoughts about that pledge when Ohio State coach Ryan Day and the coach of his childhood favorite team, Michigan State's Mark Dantonio, both showed up at De La Salle on the same day to watch him play basketball.
Both the Buckeyes and the Spartans offered Toutant before leaving his high school, and he and his family took that as a sign that they should re-evaluate.
While Toutant never publicly indicated that he was decommitting from Penn State or reopening his recruitment, he and his family quietly considered his options, and last June – one year to the day before his first voluntary workout as a Buckeye last week – Toutant flipped his commitment to Ohio State.
Hard to believe 1 year ago today @toutant_grant made the biggest decision of his life, to become a Buckeye! - Now here he is day 1!Lets Go! #GoBucks https://t.co/QGR7JpzNSK

— Helena Toutant (@toutanth76) June 8, 2020
Ultimately, Toutant decided that Ohio State was the best fit for him both on and off the field, from the family atmosphere cultivated by Day inside the Woody Hayes Athletic Center to the university's engineering program, as Toutant plans to pursue a career in the automotive industry after he is done playing football.
He realizes that just having the opportunity to be a Buckeye is special in itself, especially considering how much he grew during his high school career.
"Just being here, I mean, that in itself is nuts," Toutant said. "If you would have told me four years ago, I'd be playing football for Ohio State, I would have told you you were lying."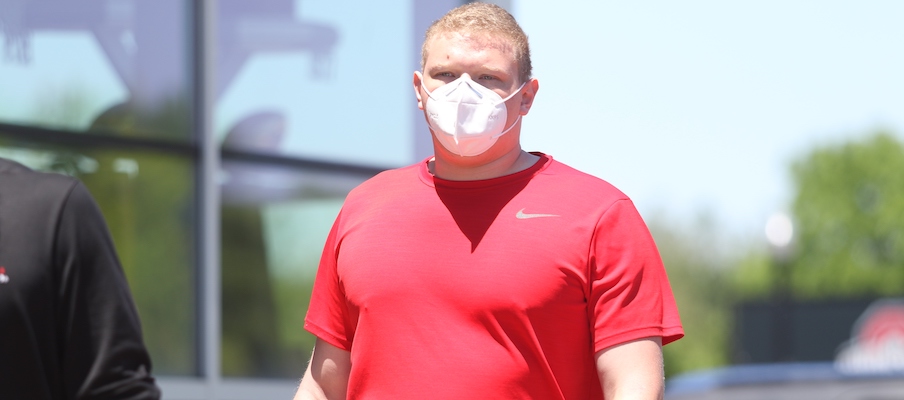 Toutant has had to face his share of unexpected adversity over the past year. His senior season was cut short due to a shoulder injury, and his final few months before enrolling at Ohio State were impacted by the COVID-19 pandemic. While Toutant has been cleared to lift since February and says he is fully recovered from his shoulder surgery now, he had to adapt in order to keep his training going over the last few months while gyms and just about everything else were closed down in Michigan.
"This virus stuff and not being able to go to the gym really, really annoyed me because I love to go to the gym, so I had to find other ways to work out," Toutant said.
Fortunately for Toutant, he had some help from his mother, who took it upon herself to build him a lat pull-down machine so that he could work on building up his back muscles as his doctors had advised.
"He was like, 'You know, I really need like a lat pulldown machine or something of the sort,'" Helena said. "We had looked online a little bit, different things they had where you could just kind of hook a pulley with like basically a bar where the weights dangled that you could buy, but nothing could really hold the weight that he wanted, like 100-plus pounds that he wanted to use. So I just kind of got online and he didn't even know I was doing it, I just kind of like one night sat up and got online, and just started researching it and got up one morning at Home Depot and just kind of put it together, and it all worked."
Thanks to the best mom ever! She built this for me! @toutanth76 #StayReady #NoExcuses #GoBucks #BuckeyeNation pic.twitter.com/Bn0NYSCdj5

— Grant Toutant (@toutant_grant) May 9, 2020
He also had the support of Ohio State's coaches, which solidified the Toutant family's thinking that he made the right choice by flipping his commitment to the Buckeyes.
"With the injury and the surgery and everything else, we couldn't have asked for anything more, really. He was terrified when it happened, he was like, 'Oh my god, what's gonna happen?' They were just great about the whole thing, and kept reassuring him," Helena said. "And now with everything with COVID, like honestly, I don't know if there's another program out there that has taken such good care of their players and families and just like being there like they have for the guys."
Now that Toutant has arrived at Ohio State, he has the resources of the Woody Hayes Athletic Center at his disposal and is able to start learning from his new teammates and coaches while getting acclimated to life as a Buckeye. He's been looking forward to all of that.
"You really don't know where you should be, because you don't have anybody to compete against, when you're at home," Toutant said. "You're competing against yourself, but you don't have somebody to kind of look up to as you're working out to be like, 'I want to accomplish that.' So that's going to be big, especially when we start getting into workouts and stuff, is like, 'All right, this is where I'm at right now. This is where I need to be. And this is where I want to be.'"
As part of a freshman class of six offensive linemen, Toutant knows he'll face stiff competition to work his way up the depth chart and get on the field at offensive tackle, where the Buckeyes also have five-star prospect Paris Johnson Jr. as well as another massive lineman in 6-foot-7, 335-pound Trey Leroux in the class of 2020. But Toutant is embracing that challenge and looking forward to developing under the tutelage of Ohio State offensive line coach Greg Studrawa.
"If you're not getting better, you're getting worse, so I've got to get better every single day," Toutant said. "The knowledge that Coach Stud has is huge … The stuff that he's taught me, and that I'm gonna be learning from him, is huge. And so that will help me propel my game to the next level."