Ohio State's athletic program continues to get it done in the classroom.
Ohio State's athletic teams once again posted impressive multi-year Academic Progress Rate numbers, including the football team's score of 985, which is good for third in the Big Ten and ranks top-20 nationally.
APR is a measure of each team's academic performance, tracking the academic progress of each student-athlete on scholarship. The metric for academic eligibility, retention and graduation. This most recent multi-year score averages the scores from the 2015-16, 2016-17, 2017-18 and 2018-19 academic years.
For the athletic program as a whole, it was a historic year in terms of APR, according to Ohio State Faculty Athletics Representative Dr. John Davidson.
"This was a remarkable year for the Buckeyes in the Academic Progress Rate, a key measure of student-athlete academic success," Davidson said. "The most recent single-year statistics show that 21 Ohio State teams received all the points possible for academic eligibility and retention and our athletics programs as a whole averaged an amazing 995/1000 - by far the highest in recent memory."
The football team's score of 985 is down two points from last year's multi-year average, but is actually just three points shy of the program's highest-ever mark of 988 in the 2010-11 academic term. The score puts Ohio State behind just Northwestern's multi-year score of 995 and Wisconsin's score of 986.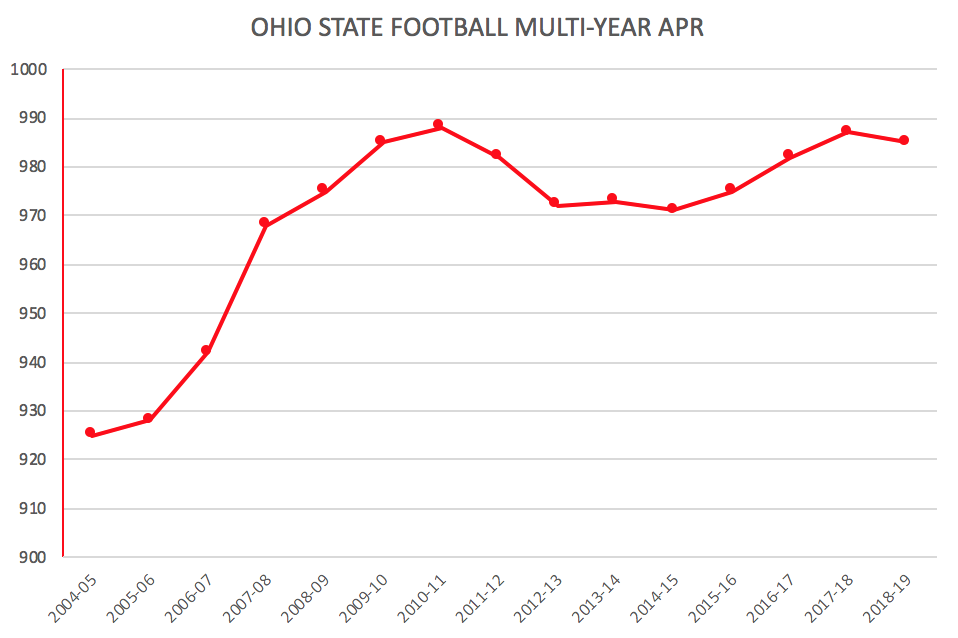 Ohio State's men's basketball program, while still among the bottom half of the Big Ten in terms of multi-year APR due in large part to the transfers that left the program following the 2015-16 season, continues to make massive improvements in its score, improving to a score of 965 from last year's score of 940 – which was the worst in the Big Ten.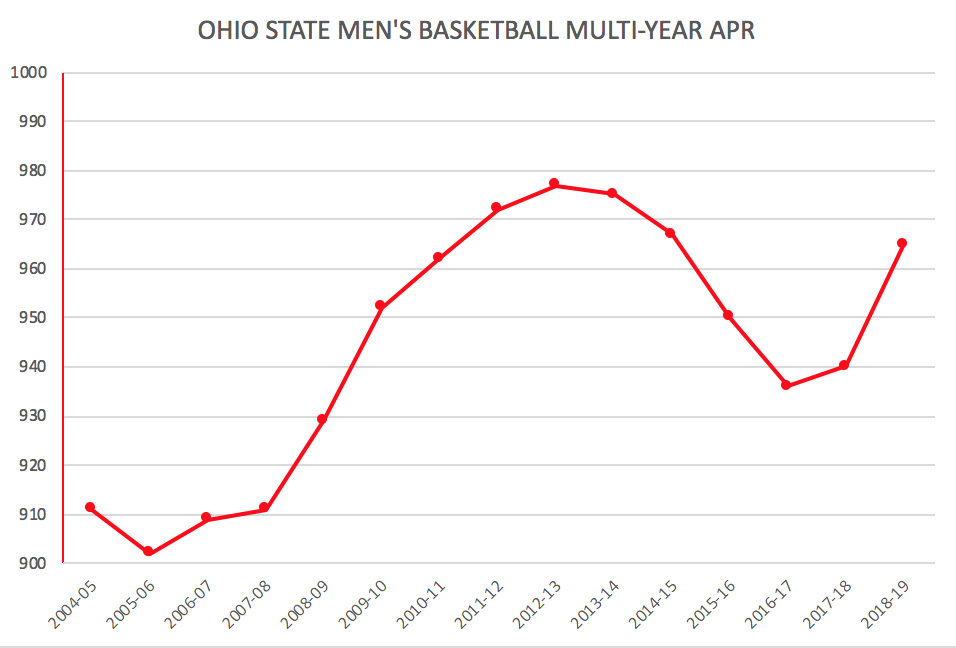 Chris Holtmann's team actually posted a perfect 1000 score for just the 2018-19 academic year, following its 981 for just the 2017-18 academic year, bringing up the multi-year average despite the low numbers a few years ago.
Six Ohio State sports teams currently have perfect multi-year APRs of 1000: men's cross country, men's and women's golf, women's gymnastics, women's soccer and men's tennis.
You can view the NCAA's full APR data here.