Welcome to the Eleven Warriors Barbershop, where the fades are tight, the beard trims are on point, and we will literally argue about anything.
In this episode, we wanted to see how valuable Michigan wins are, and whether there's anything on earth that would give us pause, and maybe consider trading a win in "The Game" for something else.
So, let's start here: Clemson is 4–0 against Ohio State with three of those wins coming recently on big stages. Meanwhile, Ohio State has won 15 of its last 16 against rival Michigan. Gold Pants are among earth's most precious prizes, but if you're an Ohio State fan, would you trade a Michigan win for a Clemson win in 2020 or in the near future?
As the youngest person here, I'm going to break the stereotype right off the bat and say no, I'd want to beat Michigan 10/10 times. I live in a world where Ohio State does not lose to Michigan. I want to keep that forever.
I wouldn't trade it in 2020. Losing at home to a new quarterback while Ohio State has Justin Fields would be too much for me. Plus living where I do in Ohio, dealing with my hometown UM fans, and their $8 tattoos (which have been covered up for the last decade) also impacts my decision.
No. Clemson matters only in the sense that they've stood in the way of a final goal. You don't play Mario because you want to beat Bowser. And while Michigan also seems like just another hurdle, I actually have to be around Michigan fans. They aren't just random usernames on a message board or villains on TV. I'll take a Michigan win over a Clemson win 365 days a year.
I would trade 10 more losses to Clemson complete with bullshit officiating and squandered opportunities for a single Michigan win. Imagine the 2014 season if the Virginia Tech affair was a loss to Brady Hoke instead.
I hate Clemson with the fiery passion of 10,000 burning suns, but Michigan can lose every game from now until the end of time. Right now the only thing Michigan fans have going for them is laughing about Ohio State losing to Clemson.
The three recent Clemson losses have all been painful. The first one broke Braxton, the second one gave Urban his first-ever shutout loss and Ohio State its first since '93. The last one kept maybe the best team I've ever seen from winning the national championship. I'd trade a Michigan win for a Clemson win right now.
Kevin
Virginia Tech fans were insufferable between Ohio State's national championship and the 2015 opener. Imagine that from Michigan fans.
You wouldn't want to accomplish the biggest goal of the season because of one loss, Kevin? I know a lot of Ohio State fans think beating Michigan is the most important thing no matter what, but in my opinion, winning a national championship should be the program's No. 1 objective. Clemson is the team that keeps standing in the way of that. And if Ohio State went 14–1 with its first-ever win over Clemson to win a national title, I think people would get over the Michigan loss. A national championship is a pretty good retort to Michigan bragging rights over winning one game in nine years
Ramzy
Losing sucks, but Clemson as a program doesn't bother me a bit. It's orange Sparty with a richer bagman.
Andrew
Yeah, that's my thing. Clemson as a program doesn't bother me at all even if Dabo has tool tendencies.
Chris
Losing to Clemson a few months ago is the most painful loss I can remember. Even ahead of the '95, '96 or '97 losses to Michigan.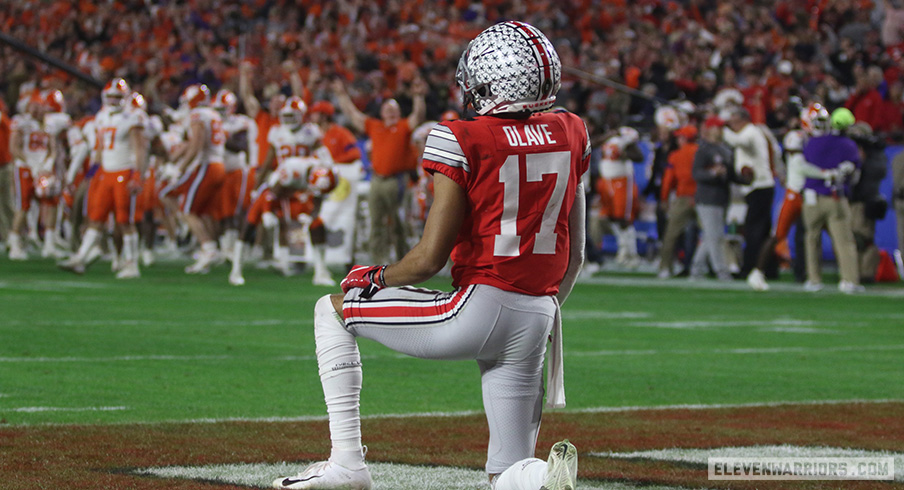 Kevin
Ohio State's lost to Clemson three times since its last loss to Michigan and I think about the last loss to Michigan with much more regret and much more often than the Clemson losses. I don't think you're properly considering how absolutely obnoxious Michigan fans would be if they handed Ohio State its only loss in a national title season.
Andy
I think when Dabo leaves for Tuscaloosa, they go back to irrelevance. Michigan will always be Michigan. I only think about Clemson once a year, or in passing. There are no random Clemson fans in Columbus smugging up the place.
What do you think about more: The last time Ohio State lost to Michigan or the time Ohio State ran through its national arch-nemesis and won the national title? I can't believe so many of you are taking the Michigan win. 
Dan
I don't think a regular-season win over Clemson would mean more than a win over Michigan. But given where the two programs are at right now, most likely any win over Clemson is coming in a CFP game
Ramzy
I think about the Ohio State-Michigan game just about every day. I never think about Clemson. Michigan is a resistant bacteria that you have to obliterate and disinfect every year or else it grows back. Clemson is a cold that will go away on its own
Chris
The program is bigger than beating Michigan now. It's about winning titles and being considered the best program in the nation. Right now, Ohio State is chasing Clemson, not Michigan.
Jason
Guys, I'm forgetting a Michigan loss so quickly if OSU does what they did in January 2015 again.
Kevin
Yeah, I'm not forgetting about it quickly at all. And Michigan fans wouldn't let you.
Again, imagine how insufferable they would be. It's less about what you gain than what you lose, to me. A loss to Michigan is infinitely worse to me than a loss to Clemson in the title game. It's not even in the same galaxy.
Andrew
I would almost feel like the 2020 season needed an asterisk if Justin Fields lost at home to Milton/McCaffrey even if Ohio State did go on to beat Clemson and win the natty.
Dan
I agree, Chris. We spend all offseason talking about trying to get a No. 1-ranked recruiting class, what Ohio State needs to do to be elite at each position, etc. And right now, they don't need that to beat Michigan. They need that to beat Clemson.
Ramzy
Ohio State was undefeated in 1993 and heading to the Rose Bowl when it got shut out in Ann Arbor. With Raymont Harris, Butler B'ynot'e, Joey Galloway, Bobby Hoying, Korey Stringer - guys we barely even talk about that in the pantheon of crippling losses because of the several worse ones that followed
Chris
Feels like some of you are saying straight up you don't care about winning a natty. That's weird to me. Because if OSU is playing Clemson, it's a playoff game. To rather lose that matchup than one to Michigan that may or may not mean anything in the national landscape is interesting.
Dan
But would a loss to Michigan really sting the same if you win a national title 6 weeks later? Are you really gonna be down the entire offseason over one game when you just won the national championship?
Kevin
Yes. 100 percent yes.
Andrew
Yes.
Ramzy
I'll say it: I want no part of a national title that includes a loss to Jim Harbaugh on the schedule. A loss to Michigan becomes their recruiting pitch for four years.
Colin
I think it's more of a debate if the victory over Clemson comes in the semifinals. If you'd trade a national title win against Clemson for another win against Michigan, you're nuts.
Kevin
I also think this is clouded by the fact that I fully expect Ohio State to be a national title contender for the like, the next decade.
Ramzy
I want all of it. Beating Michigan, winning in Indy, winning the playoff. I don't negotiate, but if I cannot have it all the last hostage I'm releasing is the Michigan one.
"I think the reason so many people are hurting from the Clemson losses is because we spend a month building it up and then have nothing to help take the sting off for nine months."
Kyle
I think the reason so many people are hurting from the Clemson losses is because we spend a month building it up and then have nothing to help take the sting off for nine months. But I promise you, that sting is nothing compared to the sting you'd feel from a Michigan loss.
Ramzy
A loss to Michigan makes social media, innocent internet browsing, and casual conversation all potential health hazards for a full year. And M beating Ohio State doesn't just mean a loss, it probably means Michigan is getting a chance to win something bigger. You don't want them justifiably arrogant. You want Michigan comedically arrogant.
Jason
The College Football Playoff has absolutely changed how I view the sport in some regards, including how I view Michigan and the Michigan game. Until the field expands to eight teams, you kind of have to hope the Wolverines are at least somewhat competent these days so the win has value to the committee.
Kevin
I'm fine with Michigan winning all of its games besides Ohio State. I'd even root for that.
Ramzy
62-39 and 56-27 >>>>> 
Give me O-H-I-O around that bathroom-less toilet every other year in the 3rd quarter
Kevin
What game do you think about more, the 2015 title game, or the 2016 Ohio State/Michigan game? I went to both and for me, it's the 2016 Michigan game.
Colin
That's an unfair question, Kevin. The 2015 semifinal game is a more apt comparison and right now, Clemson = Alabama, the giant that can't be defeated.
Andrew
The Alabama game may be approaching 2016 Ohio State/Michigan, but there's still a gap.
Andy
I do think about that 'Bama game a lot. Hell, I'm wearing an 85 Yards shirt right now.
Kevin
Yeah, the Bama game is closer. But, I still pick the 2016 Michigan game.
Ramzy
I think the 2015 CFP is an outlier for Cardale reasons. It was supernatural. That's never going to happen again. Ohio State has not had a normal national title run in my lifetime. 2002 made no sense. 2014 made no sense
Colin
What do you think of more often? That Bama game or the last time Ohio State lost to Michigan?
Kevin
Probably the Bama game, but because I remember it. 2011 is a long ass time ago. And that was a fake season anyway.
Dan
Maybe a better question for people who have followed OSU for more than a decade: What do you think about more, the 2002 national championship win or any win over Michigan from the 2000s?
Andrew
The natty.
Andy
Ohio State killed Miami that night. Jim Tressel ended Larry Coker's whole career.
Chris
I think about winning the title more. It was the first one of my lifetime.
Jason
For me, 2006 lost some luster because of what happened against Florida. I wish that wasn't the case, but if Ohio State finishes that 2006 season with a win, the 2006 Michigan game is perfect.
Ramzy
It's hard to enjoy that game because of a) Florida and b) watching the 2006 Michigan game, you can see all of the cracks
Jason
There were several seasons in the last decade where I wasn't even nervous about the Michigan game. I hate that, but that's Brady Hoke, Rich Rodriguez, and to some degree, Jim Harbaugh for you.
Kevin
I still almost shit my pants in 2013, but I wasn't nervous at all for last year's game.
Ramzy
I almost shit my pants every year. When a full decade of your life is Ohio State getting upset by Michigan, your body can't tell if it's safe or not. It's just like, "Ah, Michigan? We'll prepare the bowels for evacuation."
Chris
Yeah, I'm always nervous but not like 90's nervous. There are definitely different levels.
Andy
I'm nervous now in the sense that you assume the pendulum will swing at some point. See me in a few months, but I have a hard time thinking I'll be nervous about the Michigan game this year. Harbaugh will find some way to do something incredibly dumb.
Ramzy
I don't sit around thinking about if Ohio State can or will beat Clemson. I do wonder what it's going to be like when M finally gets a win again.
Kyle
I think about that daily. It will be my own personal hell when Michigan wins another game in the series.
Colin
But do you sit around thinking about if Ohio State's going to win a natty and be viewed as the best team in the nation? Because that's the other side of this. It's not just one win against Clemson.
Kevin
Ohio State already is seen as one of the best teams in the nation. And they could win the national championship literally any season.
Ramzy
Natty is gravy. I'm too old and my broken brain is thrilled with beating Michigan and winning the conference.
Colin
That's just not true, Kevin. They play Michigan every season and don't play for a natty every season.
Chris
Winning it all rarely happens. Beating Michigan happens all the time.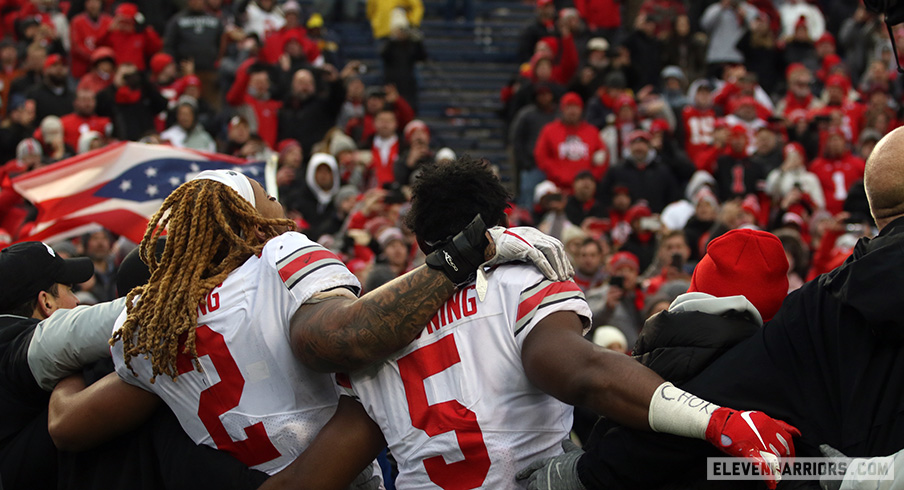 Ramzy
I agree with Kevin. Just knowing they're capable gives me peace. And knowing Michigan is capable of pulling an upset steals that peace.
Jason
I still can't believe some of you would say no thanks to a natty if it meant an L to Michigan.
Ramzy
It would be The Natty When They Lost to Michigan to me. If Michigan won the natty and lost to Ohio State it would be the only thing we ever talked about. We would make a t-shirt.
Chris
Yeah, I'm honestly surprised so many don't care about winning a natty all that much. Kinda like, "well if it happens cool I guess"
Kevin
I mean I'd take the natty if it happened that way. I just wouldn't trade a guaranteed loss to Michigan for it. They would claim the title. Ramzy is right. Their fans would make shirts claiming themselves national champions.
Kyle
Beating Clemson is a means to an end, beating Michigan purely on its own has merit
Colin
Would you prefer to own that t-shirt or a national title ring? 
Chris
Lol, who on earth would wear that t-shirt?
Jason
That would be the saddest t-shirt ever made. Lol is right, Chris.
Dan
I feel like one thing I'm learning here is people might care too much about what Michigan fans think. Michigan fans bragging wouldn't take away from an Ohio State accomplishment.
Kevin
Again, I think part of that, Dan, is that Michigan is kinda ass. Playing for a national title is way more fleeting to Michigan.
Kyle
Change the terms here for a second. If Clemson and OSU were playing in a September non-conf game, which game would you still rather win? Clemson or Michigan that season?
Colin
In that scenario, Jones, I'd have to imagine damn near all Ohio State fans would pick Michigan
Chris
That would be totally different. In this discussion, don't we have to assume the Clemson game is a CFP semifinal or final? I feel like we do.
Jason
Dan, I think you said something insightful. A lot of OSU fans care about what Michigan fans have to say, which is fine, it's a rivalry. But a lot of OSU fans also care maybe too much about what other OSU fans think, and if you're not hating Michigan hard enough, you may be perceived as a fake-ass Buckeye.
Andrew
I want to win four games against Michigan and four national championships. Maybe Clemson can just lose to Wake Forest or something.
Jason
Imagine Cowboys fans chirping at Eagles fans because the Cowboys beat the Eagles in the final game of the 2017 regular season before the Eagles went on to win the Super Bowl. I know you might want to say that the NFL is different, but the CFP is rapidly making the two similar. Once expansion takes place, a single loss won't be as fatal to your odds to make the playoffs, either. Do UNC fans care about Duke beating them in the regular season if they win March Madness that year?
Kevin
Imagine comparing the greatest rivalry in all of sports to an NFL rivalry.
Ramzy
UNC and Duke fans are very much about the season series, and both find Kevinish peace in just knowing they can win it all every year. UNC/Duke is a really tough comparison, the campuses are like 10 miles from each other. They think about it 365 days a year.
Jason
If Purdue went 0–2 to Indiana in Big Ten play? Would their fans care about that if they won the NCAA Tournament? 
Ramzy
They'd hear about it all year. And vice versa. College = rivalries, until the DNA changes.
Jason
I'm sure IU fans would carp, but man if I'm a Purdue fan, I'm satisfied with that outcome.
Chris
That we're even debating this tells you everything you really need to know about the state of the Ohio State-Michigan rivalry lately. 1990s me surely hates 2020 me for even considering a swap this season.
Jason
Exactly. If this is an 8–8 series over the last 16 years, maybe I'm less willing to part with a Michigan win in exchange for a postseason win against Clemson.
Dan
Do you guys think a win over Michigan means more in the scenario when it's an evenly matched rivalry, or is it even more important right now because OSU fans want to keep this streak going for as long as possible?
Jason
I can't lie, Dan. I want to pile up wins over UM to take the series lead. But if a loss to Michigan in 2020 meant a guaranteed national championship this season, I can make peace with that.
Ramzy
I need 10 years to evolve positions. The day Ohio State overtakes that lead, even with Michigan having like a 15-game head start against the Ohio State club team, mannnnnn.
"The day Ohio State overtakes that lead, even with Michigan having like a 15-game head start against the Ohio State club team, mannnnnn."
Chris
Yeah, I want the series lead badly.
Andrew
I just don't think I can take losing at home to Michigan this year considering the rosters.
Kevin
Yeah, I wouldn't go outside for days if Ohio State lost to Michigan this year.
Jason
So Andrew, Kevin, if someone said you have a guaranteed CFP title with wins over Clemson and Alabama, but you have to suffer a home loss to Michigan in November, you're definitely passing?
Kevin
Yeah for sure.
Andrew
I think so, yes.
Jason
Insanity.
Chris
That's wild.
Colin
Y'all crazy.
Ramzy
There's no good loss to Michigan, whether it's a lost season like 2011 or you can still get to the College Football Playoff.
Chris
Like, the program's No. 1 goal these days is to win the national title. It's the highest mountain.
Jason
Yeah, whether we like it or not, natty is the goal these days, not winning the Big Ten. I know winning the B1G is probably necessary to achieve the natty, but I'm just pointing out how the goals are bigger now.
Andy
Yeah, every year feels like Natty or bust now.
Chris
You'll die with dozens of wins over Michigan. You'll die with fewer than five national titles.
Dan
I think beating Clemson for the first time en route to a national title is a game we'd be talking about for a long, long time. Granted, if it came in a national semifinal and they lose the championship game, that maybe takes a little something away from it. It can only truly compare to the Alabama game if they finish the job. But if they did, that becomes one of the epic wins we're talking about for decades
Kevin
Do you think I'll die with more losses to Michigan or more Ohio State national championships in my lifetime? Because right now, we're tied and Ohio State has two additional CFP berths and two more national title game appearances that they couldn't finish.
Colin
Losses to Michigan. Because I believe you're going to live for a long time based on your Arby's diet.
"What's more valuable when it comes to recruiting? Beating on mediocre-to-good Michigan teams or reaching the College Football Playoff consistently?"
Chris
What's more valuable when it comes to recruiting? Beating on mediocre-to-good Michigan teams or reaching the College Football Playoff consistently?
Andrew
CFP
Andy
Definitely the CFP.
Jason
For who and where Ohio State is recruiting now, I think it's 1) NFL pipeline 2) CFP 3) Alt Unis 4) success against Michigan.
Kevin
Oh for sure the CFP. But I don't think Ohio State needs recruiting help. My thinking might change if Ohio State were to start slipping in national perception.
Chris
Right. And for now, you have to assume you'll only see Clemson in CFP, which also happens to be your peer in recruiting. Not Michigan.
Jason
I think that saying OSU doesn't need recruiting help is like saying you're rich and don't need any more money. It never hurts to have more.
Colin
If you're recruiting at this level, you're not going to have to worry about Michigan consistently reaching Ohio State's level anytime soon. 
Chris
Ohio State doesn't need help out-recruiting Michigan but beating Clemson would help it even more nationally. 
Andrew
I would still take the natty with a loss to Michigan and probably buy a hoodie or something and be happy. It just wouldn't feel…quite right.
Dan
There's no question that a natty with a win over UM >> natty with a loss to UM. But I think national championships are too hard to win to actually be picky about how they happen. That said, I also think a natty with a win over Clemson would be sweeter right now than just any natty.
Chris
I agree, Dan. Clemson is the 800-pound gorilla right now.
Where are you at? Is there anything for which you'd trade a win over Michigan?