Welcome to Glory Years, where we rank the top individual seasons in Ohio State football history.
As football has changed shape over the years, different position groups have occupied different roles. While the role of defensive ends has always been to beat their man and hold the edge, modern football has increasingly called on ends to rush the quarterback. This is a major shift from the ends of years' past, who were often among the team's leading tacklers. 
As the years have changed, so has the way to evaluate the play in the trenches. While it is easier than ever to evaluate talent in the trenches, it can still be difficult to look back towards our past. Today, we'll try to do just that, using traditional statistics to evaluate the 10 best seasons by a defensive end in program history. 
Methodology
GLORY YEARS
Ranking the best individual seasons in Ohio State football history.
Instead of the nonparametric approach we have used for the past four pieces in our series, we shifted to a points system for the defensive ends. Using data dating back to 1972, we gave points for each defensive ends' statistics.
Tackles per Game
Tackles for Loss per Game
Sacks per Game
Chaos Factor (Forced Fumbles + Interceptions per Game)
The reason for the switch was the amount of data that was missing for the players. Sacks were not an official statistic until 1981 and forced fumbles were tracked sporadically. For this missing data, the mean for all defensive linemen was used. 
---
10. Matt Finkes, 1996
After coming to Columbus with a highly touted prospect end prospect named Mike Vrabel, Matt Finkes was able to make a name for himself. In his senior year, Finkes averaged 1.33 tackles for loss per game, good eighth among defensive ends in program history. 
He ended his career with two All-Big Ten bids, including one in 1996, playing opposite of Mike Vrabel for the entirety of his career.   
9. Brent Johnson, 2000
As a member of John Cooper's final team at Ohio State, Brent Johnson . More than half of his tackles were behind the line of scrimmage and his 0.75 sacks per game is tied for the eighth-best mark in Buckeye history. 
Johnson was inducted into the Candian Football Hall of Fame in 2018. 
8. Kelton Dansler, 1977
In Kelton Dansler's second and final year as a starter on the defensive line, he was one of the team's leading tacklers despite spending his time on the edge. The junior recorded over 100 tackles and had the fourth-highest chaos factor among defensive linemen in Buckeye history. 
Dansler was a three-year starter and two-time All-Big Ten selection in 1977 and 1978. 
7. Bob Brudzinski, 1976
Playing for Woody Hayes, Brudzinski was a three-year starter on Ohio State's defensive line. The senior recorded over 120 tackles in 1976 and possess the second-highest tackles per game average among defensive linemen in program history. Additionally, his four interceptions are tied for the most in Buckeye defensive line history. 
Brudzinski was a consensus All-American in his senior year and was named to Ohio State's All-Century team in 2000. 
6. Mike Vrabel, 1996
By his senior season, Vrabel was already a household name in the Big Ten. The Ohio native continued to exceed expectations in his final year in Columbus, averaging the fifth most tackles for loss per game in program history. 
Vrabel was named the Big Ten's top defensive lineman following his senior campaign, becoming just the second player to ever win the award twice. He was named to Ohio State's All-Century Team in 2000 and is the program's leader in career sacks. 
5. Joey Bosa, 2014
The first of the Bosa Brothers, Joey did not disappoint. As a sophomore, Bosa joined a fantastic defense and accumulated the fifth-most sacks per game amongst defensive ends in program history. 
Bosa was named the Big Ten's Defensive Player of the Year in 2014. His year helped lead the Buckeyes to the first College Football Playoff, ultimately beating No. 1 Alabama and No. 2 Oregon en route to a National Championship. 
4. Matt Finkes, 1994
Bursting onto the scene as a sophomore, Matt Finkes joined Vrabel as a lethal second-year duo in the trenches. The Piqua native recorded 1.538 tackles for loss per game in 1994, tying his recruiting mate for the third-best mark in program history. 
Finkes earned his first All-Big Ten selection in 1994, recording three more tackles and more highlights plays than his recruiting counterpart. 
3. Mike Vrabel, 1994
Playing next to Matt Finkes, Vrabel's sophomore year is one of the most underrated seasons in program history. His 1994 season saw him average nearly one sack per game in addition to the best tackles per game mark of his career. 
The Cuyahoga Falls native was showing just a preview of his career in his first year as a starter, saving his best for the years to come. 
2. Mike Vrabel, 1995
Appearing for the third and final time on this list, Mike Vrabel's junior season is the best of his career. Vrabel averaged two tackles behind the line of scrimmage per game (No. 1), a chaos factor of 0.462 (No. 2), and one sack per game (No. 3).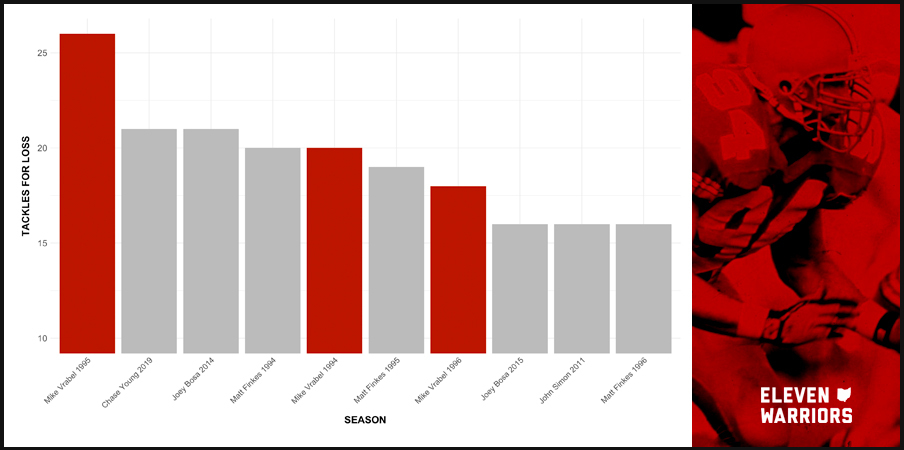 Vrabel was named the conference's Lineman of the Year following the 1995 season. He was inducted into the Ohio State Hall of Fame in 2012. 
1. Chase Young, 2019
Standing above the rest, Chase Young's junior year is still fresh in our minds. Young's record-breaking campaign saw him break Ohio State's single-season sack record with 16.5, pushing him to the top-mark in sacks per game. Additionally, he forced seven fumbles on the season, by far the best mark in program history, for a program-best chaos factor of 0.583. 
Young's final season at Ohio State resulted in an invitation to the Heisman ceremony in New York, where he finished fourth. He was a unanimous All-American and won a slew of individual awards, including the Chuck Bednarik Award and the Bronko Nagurski Trophy. He will likely a top-three selection in this week's NFL Draft. 
---
|   | Player | Season | Tackles/G | TFL/G | Sacks/G | Chaos | Score |
| --- | --- | --- | --- | --- | --- | --- | --- |
| 1 | Chase Young | 2019 | 3.833 | 1.750 | 1.375 | 0.583 | 3.988 |
| 2 | Mike Vrabel | 1995 | 4.846 | 2.000 | 1.000 | 0.462 | 3.908 |
| 3 | Mike Vrabel | 1994 | 5.231 | 1.538 | 0.923 | 0.172 | 2.868 |
| 4 | Matt Finkes | 1994 | 5.462 | 1.538 | 0.846 | 0.172 | 2.852 |
| 5 | Joey Bosa | 2014 | 3.667 | 1.400 | 0.900 | 0.267 | 2.750 |
| 6 | Mike Vrabel | 1996 | 4.667 | 1.500 | 0.750 | 0.187 | 2.715 |
| 7 | Bob Brudzinski | 1976 | 10.500 | 0.833 | 0.192 | 0.333 | 2.646 |
| 8 | Kelton Dansler | 1977 | 9.083 | 0.833 | 0.192 | 0.375 | 2.588 |
| 9 | Brent Johnson | 2000 | 2.917 | 1.250 | 0.750 | 0.187 | 2.290 |
| 10 | Matt Finkes | 1996 | 5.917 | 1.333 | 0.500 | 0.020 | 2.215 |
| 11 | Matt Finkes | 1995 | 4.615 | 1.462 | 0.385 | 0.019 | 2.152 |
| 12 | John Simon | 2012 | 3.750 | 1.208 | 0.750 | 0.083 | 2.125 |
| 13 | Joey Bosa | 2015 | 3.923 | 1.231 | 0.385 | 0.154 | 2.123 |
| 14 | Vernon Gholston | 2007 | 2.846 | 1.192 | 1.077 | 0.000 | 2.015 |
| 15 | Vernon Gholston | 2006 | 3.769 | 1.154 | 0.654 | 0.077 | 2.011 |
| 16 | Jerome Foster | 1980 | 6.917 | 1.000 | 0.192 | 0.103 | 1.994 |
| 17 | Jerome Foster | 1982 | 6.417 | 0.917 | 0.333 | 0.125 | 1.975 |
| 18 | Nick Buonamici | 1976 | 7.917 | 0.583 | 0.192 | 0.250 | 1.971 |
| 19 | Jerome Foster | 1981 | 5.500 | 1.000 | 0.417 | 0.104 | 1.965 |
| 20 | Thaddeus Gibson | 2009 | 3.462 | 1.000 | 0.308 | 0.231 | 1.962 |
LEGEND: TFL/G Tackles for Loss per Game CHAOS Forced Fumbles + Interceptions per Game