Welcome to Glory Years, where we rank the top individual seasons in Ohio State football history.
The evolution of the forward pass has been the best thing for football since the use of helmets. Today, the game is more exciting and high-scoring as ever as teams race to find the next great signal-caller for their program. 
This trend, of course, has come to Columbus. With Urban Meyer and Ryan Day at the helm, the Buckeyes have produced some of the greatest quarterback seasons in program history in the past eight years. The three-season span of J.T. Barrett, Dwayne Haskins, and Justin Fields has virtually rewritten the Ohio State passing record book, the final goodbye to the run-heavy days of years past.
Despite the new trends, which have greatly increased both production and efficiency, some players from the older generations still hold their own in the record books. Because of this, we wanted to see how quarterbacks from different eras with different styles stacked up and have come up with a ranking system that takes it all into account. 
Methodology
Similarly to the past few weeks, we will be using a nonparametric ranking system to determine the greatest quarterbacking season in Ohio State history. This time, we're using eight variables to rank all quarterbacks with at least 50 pass attempts in a season since 1957. 
GLORY YEARS
Ranking the best individual seasons in Ohio State football history.
Total Yards
Total Touchdowns
Yards per Attempt
Passer Rating
Completion Percentage
Interception Percentage
Percentage of Team's Total Yards
Percentage of Team's Total Touchdowns
Because of this new offensive explosion, it is difficult to compare the statistics of the old days, where passing was much less common, to the modern era, resulting in a skew towards the more recent, more productive quarterbacks of the 21st Century. 
Each variable is weighted equally, helping us compare players that stay in the pocket (Dwyane Haskins) and those that like to dance around (Braxton Miller). Altogether, the ranks were averaged out to find a composite ranking. The following outputs were determined to be the ten greatest quarterbacking seasons in Ohio State history.
---
10. Braxton Miller, 2012
One of the most exciting signal-callers in Buckeye history, Braxton Miller began Urban Meyer's first season at Ohio State with a bang. The Huber-Heights native electrified Columbus his sophomore year, rushing for a program-best 1,271 yards as a quarterback. He totaled 3,310 yards in 2012 while accounting for over 65% of his team's total yardage, the second-best mark in Ohio State history. 
Miller holds three of the top-eight rushing seasons by a quarterback in program history, including the top two. He won the Big Ten's Most Valuable Player award in 2012 and 2013. 
9. Bobby Hoying, 1995
As a senior, Bobb Hoying played on one of the greatest Ohio State teams ever. With Terry Glenn out wide and Eddie George in the backfield, the Buckeyes' offense was deadly. Hoying helped Glenn have the greatest season by a wide receiver in program history, throwing for over 9.5 yards per pass attempt (second in school history) with a passer rating of 163.4 (fifth in school history). 
Hoying ended his career with the most career completed passes in Ohio State history (498 completions), beating Art Schlichter's mark by one completion, and passing touchdowns (57 TDs). 
8. Joe Germaine, 1998
The top signal-caller of the 20th Century, Joe Germanine's 1998 season was record-breaking. The senior quarterback, with legendary receiver David Boston as his running mate, threw for 3,330 yards in 1998, the second-best mark in Ohio State history, and was intercepted on less than 2% of his throws, the fourth-best mark in school history. 
Germaine was named the Big Ten's Most Valuable Player after an 11-1 season that concluded with a No. 2 ranking in the AP Poll. He was selected to Ohio State's All-Century Team in 2000 and has the fourth-most passing yards in Buckeye history. 
7. Terrelle Pryor, 2010
After arriving onto campus as the highest-rated player to commit to the Buckeyes in the modern recruiting era, Terrelle Pryor put it all together in 2010. The junior standout contributed over 60% of his team's total yards (fourth in program history) while completing over 65% of his passes (fifth in program history). 
Pryor finished his career with two Big Ten Championships and was Denard Robinson's runner-up to the conference's Most Valuable Player award in 2010. He has the third-most career passing touchdowns in Ohio State history. 
6. J.T. Barrett, 2014
After Braxton Miller's injury, J.T. Barrett beat out Cardale Jones for the starting job in his redshirt freshman season. Barrett's 2014 campaign saw him reach the top-seven in five of our categories, including passer rating (169.8, third), total yards (3,772 yards, third) and yards per attempt (9.03 YPA, sixth). 
The redshirt-freshman finished fifth in Heisman voting that year and was a Third-Team All-American. Barrett ended the 2014 season on the bench, however, as an ankle injury forced third-stringer Cardale Jones into action. The rest is history. 
5. Troy Smith, 2006
Ohio State's most recent Heisman Trophy winner, Troy Smith's 2006 campaign was one of the most dominating seasons in Buckeye history. Smith had the fourth-most accurate season in Ohio State history with a completion percentage of 65.3% and achieved a passer rating of 161.9, the fourth-best mark of all-time. 
The senior accumulated a 12-1 record, including an undefeated regular season against four ranked opponents, and a berth to the BCS National Championship game. Smith was also a unanimous All-American and earned 91.6% of the first-place votes for the Heisman trophy, the second-highest total in the award's history. 
4. J.T. Barrett, 2017
A fitting end to likely the greatest quarterbacking career in Ohio State history, J.T. Barrett's redshirt senior year was better than ever. He accounted for the second-most total yards (3,851 yards) and the third-most passing touchdowns (35 TDs) in program history. 
Barrett finished his career with his second Big Ten Championship and a Cotton Bowl Offensive MVP award. He is Ohio State's career leader in nearly every major passing statistic, including yards (9,434), touchdowns (104), and completions (769). 
3. Troy Smith, 2005
Before he was a Heisman Trophy winner, Troy Smith compiled one of the most efficient quarterback seasons Ohio State had ever seen. With Santonio Holmes as his top target, Smith achieved an incredibly efficient year, staying in the top-11 in seven of our eight categories. Most notably, the junior signal-caller averaged 9.63 yards per attempt and an interception on just 1.69% of his passes, the best and third-best marks in program history. 
Smith and the Buckeyes finished the season at No. 4 with their only losses coming to co-conference champions Penn State and the eventual National Championship-winning Texas Longhorns. Smith would go on to have one of the most seasons in Buckeye history his senior year. 
2. Justin Fields, 2019
Despite coming to Columbus just last year, Justin Fields has already made history in Columbus. The Georgia transfer produced one of the two greatest quarterbacking seasons in program history last year, leading all Buckeye quarterbacks in passer rating (181.4) and interception percentage (0.85%). Additionally, Fields is second in passing touchdowns (41 TDs) and third in completion percentage (67.2%), yards per attempt (9.25 YPA), and passing yards (3,273 yards).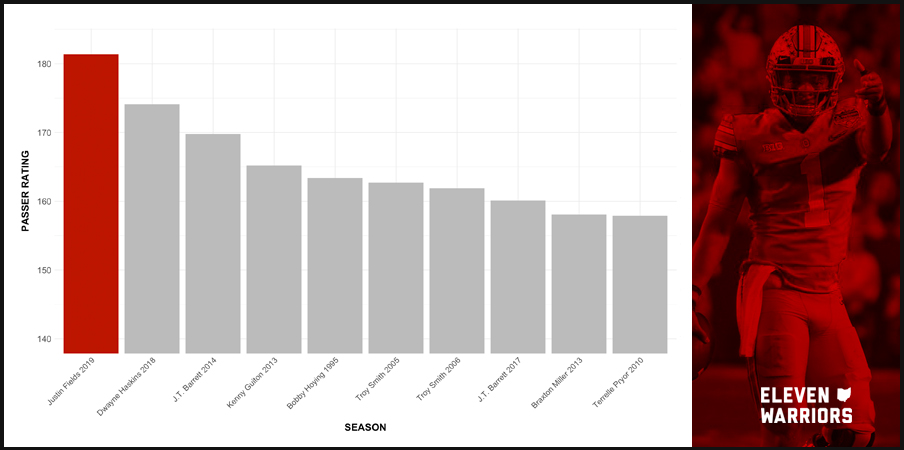 Fields was named the Big Ten's Offensive Player of the Year and finished third in the Heisman race this past season. The junior quarterback ended the 2019 season on a sour note but is an early favorite for the 2020 Heisman Trophy and a second College Football Playoff appearance. 
1. Dwayne Haskins, 2018
This should surprise absolutely no one. Haskins' 2018 season was simply the greatest quarterback display Columbus has ever seen. While he may not have the elite running ability like some of the athletes on this list do, his ability in the pocket more than makes up for it. Haskins is Ohio State's single-season leader in passing yards (4,831 yards), total yards (4,939 yards), passing touchdowns (50 TDs), completion percentage (70.0%), and individual percentage of team's total yards (65.9%).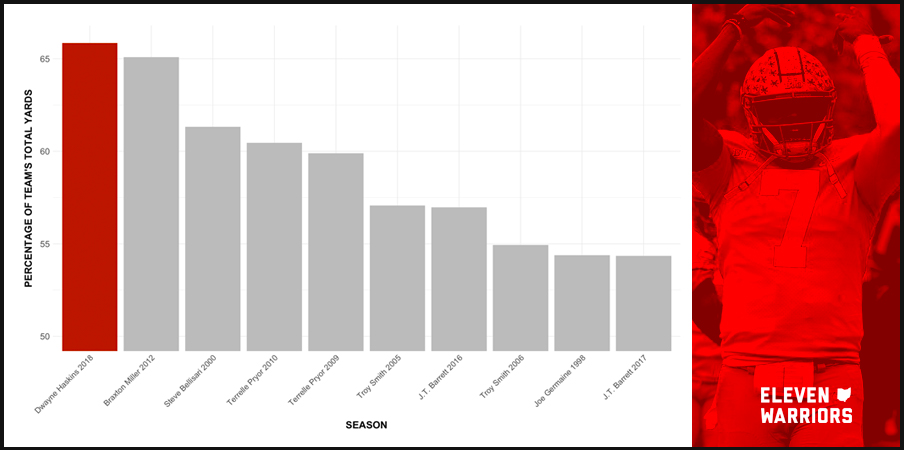 Additionally, he ranks in the top-five in every other category listed above, including second in passer rating (174.1) and interception percentage (1.50%). Haskins ended his year as the Big Ten's Player of the Year, Big Ten Champion, and a Heisman finalist. He was also the Rose Bowl Offensive MVP and ended his career with a 12-1 record as a starter. 
---
|   | Player | Season | TOT YDs | TOT TDs | YPA | PR | CMP% | INT% | % TTY | % TTTD | Score |
| --- | --- | --- | --- | --- | --- | --- | --- | --- | --- | --- | --- |
| 1 | Dwayne Haskins | 2018 | 4,939 | 54 | 9.06 | 174.1 | 69.98% | 1.50% | 65.86% | 72.78% | 1.750 |
| 2 | Justin Fields | 2019 | 3,757 | 51 | 9.25 | 181.4 | 67.23% | 0.85% | 50.60% | 58.76% | 4.625 |
| 3 | Troy Smith | 2005 | 2,893 | 27 | 9.63 | 162.7 | 62.87% | 1.69% | 57.07% | 66.18% | 6.375 |
| 4 | J.T. Barrett | 2017 | 3,851 | 47 | 8.23 | 160.1 | 64.70% | 2.43% | 54.34% | 64.56% | 7.500 |
| 5 | Troy Smith | 2006 | 2,746 | 31 | 8.17 | 161.9 | 65.72% | 1.93% | 54.94% | 55.46% | 9.250 |
| 6 | J.T. Barrett | 2014 | 3,772 | 45 | 9.03 | 169.8 | 64.65% | 3.18% | 49.15% | 54.55% | 9.500 |
| 7 | Terrelle Pryor | 2010 | 3,526 | 31 | 8.58 | 157.9 | 65.02% | 3.41% | 60.46% | 54.20% | 10.125 |
| 8 | Joe Germaine | 1998 | 3,247 | 25 | 8.67 | 150.6 | 59.90% | 1.82% | 54.38% | 52.08% | 11.375 |
| 9 | Bobby Hoying | 1995 | 3,290 | 31 | 9.59 | 163.4 | 61.88% | 3.52% | 52.87% | 50.74% | 12.250 |
| 10 | Braxton Miller | 2012 | 3,310 | 28 | 8.03 | 140.5 | 58.27% | 2.36% | 65.09% | 51.85% | 14.188 |
| 11 | J.T. Barrett | 2016 | 3,400 | 33 | 6.74 | 135.3 | 61.48% | 1.85% | 56.97% | 56.41% | 15.125 |
| 12 | Braxton Miller | 2013 | 3,162 | 36 | 8.21 | 158.1 | 63.53% | 2.75% | 44.12% | 43.58% | 15.125 |
| 13 | Todd Boeckman | 2007 | 2,678 | 25 | 7.96 | 148.9 | 63.88% | 4.68% | 52.32% | 53.42% | 18.125 |
| 14 | Jim Karsatos | 1985 | 2,350 | 21 | 8.00 | 144.6 | 61.25% | 2.77% | 52.19% | 52.47% | 18.438 |
| 15 | Art Schlichter | 1979 | 2,246 | 23 | 9.08 | 145.9 | 52.50% | 3.00% | 45.80% | 53.24% | 19.818 |
| 16 | Terrelle Pryor | 2009 | 2,873 | 25 | 7.10 | 128.9 | 56.61% | 3.73% | 59.89% | 64.10% | 21.125 |
| 17 | Terrelle Pryor | 2008 | 1,942 | 18 | 7.95 | 146.5 | 60.60% | 2.42% | 43.59% | 47.75% | 21.688 |
| 18 | Craig Krenzel | 2002 | 2,359 | 15 | 8.47 | 140.9 | 59.44% | 2.81% | 46.23% | 33.48% | 23.688 |
| 19 | Art Schlichter | 1980 | 2,255 | 22 | 8.54 | 139.7 | 53.98% | 3.98% | 44.08% | 44.72% | 24.813 |
| 20 | Braxton Miller | 2011 | 1,874 | 20 | 7.38 | 138.4 | 54.14% | 2.55% | 45.30% | 53.05% | 25.000 |
LEGEND: YPA Yards per Attempt, PR Passer Rating, CMP% Completion Percentage, INT% Interception Percentage, % TTY Percentage of Total Yards, % TTTD Percentage of Team's Total Touchdowns