Welcome to Glory Years, where we rank the top individual seasons in Ohio State football history.
The Buckeyes have had some of the biggest names in college football history carry the pigskin. Ohio State employed a "three yards and a cloud of dust" gameplan for decades, resulting in massive production while more recently, Urban Meyer's two-man backfield resulted in some of the most efficient runners Columbus has ever seen. 
As the run-heavy strategy of the past gives way to the pass-happy gameplans of the modern era, however, it has become more difficult to compare the great tailback seasons in program history. With more games and an open field, modern players can be more efficient and have more overall production while old-school running backs were the workhorses of their offenses on slightly less efficiency, carrying their respective teams every Saturday. 
Today, we'll try and determine the greatest rushing seasons in program history using a ranking system that encapsulates efficiency, production, and value all in one. 
Methodology
To find the greatest running back season in program history, we relied on a nonparametric ranking system. Specifically, the following eight statistics were chosen and ranked for all tailbacks with at least 50 carries in a season dating back to 1946. 
GLORY YEARS
Ranking the best individual seasons in Ohio State football history.
Rushing Yards
Yards per Carry
Rushing Touchdowns
Touches per Touchdown
Player's Percentage of Team's Total Rushing Yards
Player's Percentage of Team's Total Yards
Player's Percentage of Team's Touchdowns
Difference in Yards per Carry Average for Player and Team
Each variable is weighted equally, helping us compare players with massive production (Archie Griffin, 1974) and unequaled efficiency (Curtis Samuel, 2016). Altogether, the ranks were averaged out to find a composite ranking. The following outputs were determined to be the ten greatest rushing seasons in Ohio State history. 
---
A Notable Snub
Before we get into the rankings, it is important to note that many iconic seasons were not rated as highly as many would think using this system. The most notable such season is Archie Griffin's 1974 campaign, which ranks as the 17th greatest season in program history. 
Griffin's 1974 season was outstanding by all measures, except for one; his touchdowns. Griffin ran the ball into the endzone 12 times that season but his volume of carries suggests that he should have scored more often. His touches per touchdown mark ranks just 124th among qualified tailbacks, dropping him significantly. Despite ranking in the top 11 in three other categories, he dropped to the No. 17 slot. 
10. Ezekiel Elliott, 2014

The workhorse during Ohio State's National Championship run, Ezekiel Elliott ran himself into immortality in 2014. With Elliott has no shortage of highlights, he was a menace on every down, rushing for 1,878 yards while averaging a brutal 6.88 yards per carry in 2014, the third and fifth-best marks in program history. 
Elliott ran for 696 yards in Ohio State's final three games of the year to push the team into the College Football Playoff and, ultimately, win the National Championship, finishing off one of the greatest stretches in college football history. 
9. Bobby Watkins, 1953
Bobby Watkins, one of the first African-American starters in Ohio State history, was also one of Woody Hayes' first stars. He ran for 875 yards in just nine games and accounted for over 34% of the Buckeyes' total yards that season, the sixth-best mark in program history for a running back. 
Watkins won a National Championship splitting carries with Howard Cassady in 1954. He was the team's leading scorer that year, reaching the end zone nine times. 
8. Keith Byars, 1983
With Earle Bruce as his head coach, Keith Byars may be one of the most underappreciated tailbacks in Buckeye history. As a redshirt sophomore in 1983, Byars ran for just under 1,200 yards and scored over 41% of Ohio State's touchdowns. 
Byars returned in 1984 with another impressive season (11th in rankings), finishing with 1,764 yards while earning Consensus All-American honors and a second-place finish in the Heisman Trophy race. In fact, his 1984 season may be even more impressive than his 1983 campaign, but the 1984 season's significantly lower rankings in touches per touchdown and difference in yards per carry average dropped him in this model's ratings while Byars' 1983 season was relatively consistent across the board. 
7. Maurice Clarett, 2002
As a true freshman, Maurice Clarett burst onto the scene in Jim Tressel's second year in Columbus. After replacing Jonathan Wells, Clarett had arguably the most prolific season by a true freshman in Buckeye history, breaking the record for rushing yards by an Ohio State freshman with 1,237 yards. His 16 rushing touchdowns are the 16th-best mark in program history. 
Clarett and the 2002 Buckeyes went on to win the National Championship over Miami (Fl.) that year, with Clarett earning First Team All-Big Ten honors and won the conference's Freshman of the Year award.
6. Chris Wells, 2007
A bowling ball of a man, Chris "Beanie" Wells' sophomore year remains one of the most impressive in Ohio State history. As the feature back under Jim Tressel, Wells led Ohio State back to the BCS Championship Game for the first time since the program's victory in January of 2003. The true sophomore ran for over 1,600 yards and accounted for nearly 63% of the team's rushing yards, the second-best mark in program history. 
Wells earned First Team All-Big Ten honors in 2007 and returned to school his junior year, leading the Buckeyes back to the BCS National Championship in 2008. 
5. Jonathan Wells, 2001
As the first running back of the Jim Tressel era, Jonathan Wells epitomized Tresselball. He was the lead in the backfield as a senior, grinding opponents away for over five yards a carry. Wells accounted for nearly 60% of the team's rushing yards and over 45% of Ohio State's touchdowns in 2001, ranking fifth and eighth in program history. 
Like many Ohio State greats, Wells' legacy is tied to his performance against Michigan, where he ran for over 120 yards and three touchdowns. He was named to the All-Big Ten Second-Team after the season. 
4. J.K. Dobbins, 2019 
After a down year in 2018, Dobbins returned to Columbus his junior year looking for vengeance. In fourteen games, he put up one of the gaudiest rushing seasons in Buckeyes history, breaking the single-season record for rushing yards in a season with 2,003.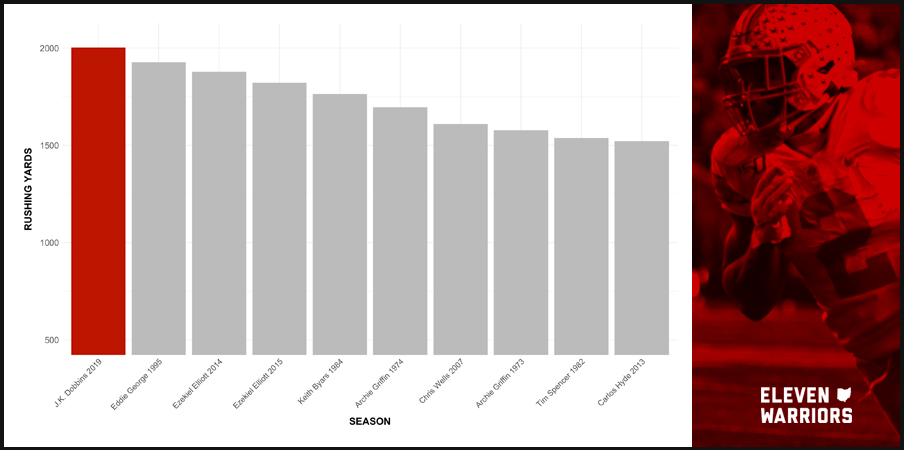 Dobbins's 21 rushing touchdowns in 2019 is the fifth-best mark in program history. He finished sixth in Heisman voting and earned First Team All-Big Ten honors in 2019. 
3. Howard Cassady, 1955
After winning a National Championship while splitting carries with Boddy Watkins in 1954, Howard "Hopalong" Cassady was Woody Hayes' feature back in 1955. Cassady thrived in the role, winning the 1955 Heisman Trophy while amassing 958 rushing yards in nine games. 
Cassady scored 14 of the Buckeyes' 27 touchdowns that season, the second-best rate in Ohio State history. He also recorded over 36% of the team's total yards from scrimmage, the third-best percentage in program history. At the end of his career, Cassady was Ohio State's career rushing leader with 2,466 yards and the scoring leader with 222 points.
2. Ezekiel Elliott, 2015
Ezekiel Elliott is the only tailback to appear on this list twice.  
While his 2014 numbers look more impressive on the surface, the Buckeyes' struggling offense in 2015 was heavily reliant on Elliott (except against Michigan State, of course). Elliott's 2015 season ranks in the top seven in Ohio State history in rushing touchdowns, rushing yards, percentage of team's total scrimmage yards, and percentage of team's rushing yards.  
Elliott was named the Big Ten's Most Valuable Player and was a second-team All-American in 2015. 
1. Eddie George, 1995 
No list would be complete without Eddie.
Eddie George's 1995 season is one of the best in college football history. No. 27 ran for 1,927 yards (second in program history) and 24 touchdowns (second), accounting for over 70% of the team's total rushing yards (first) and 37.7% of the team's total yards (second).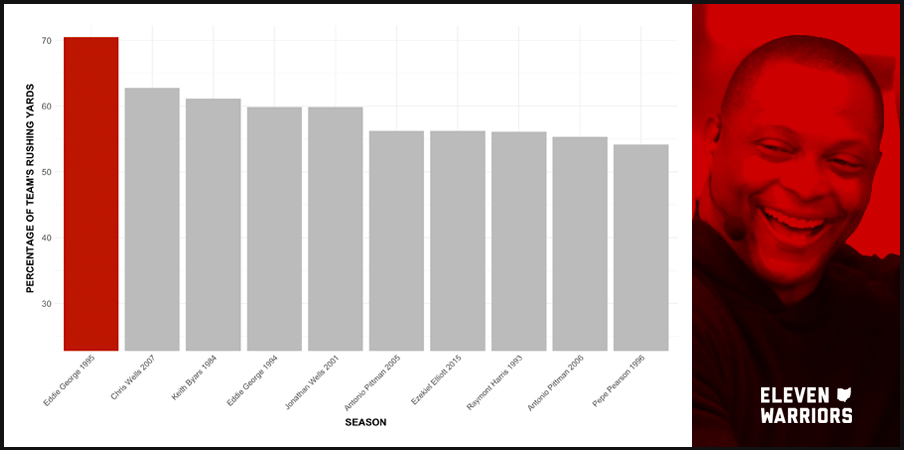 Eddie George was an animal every week, averaging nearly 150 yards per game and eclipsing the 200-yard mark on three different occasions, even hitting a school-record 314 yards against Illinois. George was the Big Ten's Most Valuable Player, won the Heisman Trophy and was a unanimous All-American in 1995. 
---
|   | Player | Season | Rush YDS | YPC | Rush TDs | % TTY | % TRY | % TTD | T/TD | YPC/TYPC | Score |
| --- | --- | --- | --- | --- | --- | --- | --- | --- | --- | --- | --- |
| 1 | EDDIE GEORGE | 1995 | 1,927 | 5.88 | 24 | 37.6% | 70.5% | 40.3% | 15.0 | +1.07 | 16.875 |
| 2 | EZEKIEL ELLIOTT | 2015 | 1,821 | 6.30 | 23 | 35.6% | 56.2% | 39.7% | 13.7 | +0.46 | 24.500 |
| 3 | HOWARD CASSADY | 1955 | 958 | 5.95 | 14 | 36.3% | 38.3% | 51.9% | 11.6 | +1.08 | 25.063 |
| 4 | J.K. DOBBINS | 2019 | 2,003 | 6.65 | 21 | 30.2% | 53.1% | 26.4% | 14.1 | +0.87 | 25.878 |
| 5 | JONATHAN WELLS | 2001 | 1,257 | 5.42 | 15 | 33.7% | 59.9% | 45.5% | 16.2 | +1.26 | 26.688 |
| 6 | CHRIS WELLS | 2007 | 1,609 | 5.87 | 15 | 31.8% | 62.8% | 31.9% | 18.6 | +1.21 | 28.188 |
| 7 | MAURICE CLARETT | 2002 | 1,237 | 5.57 | 16 | 26.1% | 45.6% | 40.0% | 13.0 | +1.21 | 30.625 |
| 8 | KEITH BYARS | 1983 | 1,199 | 5.40 | 20 | 30.8% | 44.3% | 41.2% | 11.7 | +0.83 | 30.938 |
| 9 | BOBBY WATKINS | 1953 | 875 | 5.72 | 10 | 34.2% | 53.0% | 40.7% | 14.4 | +1.32 | 31.188 |
| 10 | EZEKIEL ELLIOTT | 2014 | 1,878 | 6.88 | 18 | 27.2% | 46.8% | 21.7% | 16.7 | +0.95 | 31.623 |
| 11 | KEITH BYARS | 1984 | 1,764 | 5.25 | 22 | 43.1% | 61.1% | 50.0% | 15.8 | +0.55 | 32.688 |
| 12 | TIM SPENCER | 1982 | 1,538 | 5.64 | 14 | 32.8% | 50.3% | 33.3% | 19.1 | +0.79 | 39.188 |
| 13 | BOB FERGUSON | 1960 | 853 | 5.33 | 13 | 30.8% | 40.7% | 44.8% | 12.5 | +0.83 | 39.688 |
| 14 | MICHAEL WILEY | 1998 | 1,235 | 6.24 | 10 | 24.0% | 51.6% | 22.9% | 20.5 | +1.54 | 41.563 |
| 15 | TIM SPENCER | 1981 | 1,217 | 5.38 | 12 | 28.4% | 52.2% | 24.5% | 20.8 | +1.27 | 43.688 |
| 16 | CURTIS SAMUEL | 2016 | 771 | 7.95 | 8 | 27.3% | 24.0% | 25.4% | 11.4 | +2.30 | 43.813 |
| 17 | ARCHIE GRIFFIN | 1974 | 1,695 | 6.62 | 12 | 33.7% | 40.2% | 21.1% | 21.75 | +0.86 | 45.000 |
| 18 | ROBERT SMITH | 1992 | 819 | 5.57 | 10 | 21.5% | 37.0% | 32.2% | 15.6 | +1.47 | 45.563 |
| 19 | EDDIE GEORGE | 1994 | 1,442 | 5.22 | 12 | 32.0% | 59.9% | 30.0% | 24.3 | +0.97 | 46.563 |
| 20 | ROBERT SMITH | 1990 | 1,126 | 6.36 | 8 | 27.3% | 50.9% | 19.0% | 23.4 | +2.03 | 47.6875 |
LEGEND: % TTY Percentage of Team Total Yards, % TRY Percentage of Team Rushing Yards, % TTD Percentage of Team Touchdowns, T/TD Touches per Touchdown, YPC/TYPC Yards per Carry over Team Yards Per Carry