Imagine sitting through that one again.
As we sit here today in a strange world without live sporting events, it's worth remembering that Ohio State football hasn't always been the exciting product that Urban Meyer and Ryan Day deliver to the masses on fall Saturdays. 
It would be a vast understatement to say that the 2011 season was a forgettable one. Luke Fickell was the interim head coach as Ohio State was in that weird little time between Jim Tressel and Urban Meyer. Joe Bauserman's performance against Nebraska was perhaps the lowlight of a 6-7 season, but a 17-7 Buckeye victory in Champaign wasn't too far behind.
Let's start by stating the obvious: there are far worse things than getting a Big Ten win on the road against a ranked opponent. The 2002 season had its share of run-heavy nailbiters, but the 2011 game against Ron Zook and the No. 16 Illini will always have a weird and special place in my heart. 
Breathtaking, isn't it?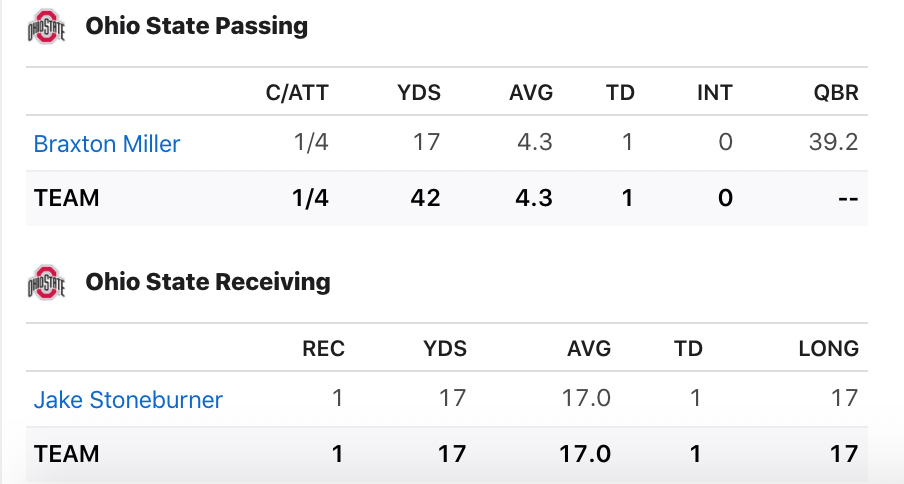 Braxton Miller was a true freshman making his fourth start while bouncing back from an ankle injury he suffered in Lincoln. The winds are often swirling in Champaign, so I suppose it's not a surprise that the offensive brain trust relied heavily on the ground attack. But no one expected the Buckeyes to throw the ball just four times and complete one pass in a game that would make even Craig Krenzel cringe.
This was Jim Bollman's last season in Columbus, and Ohio State's offensive coordinator left a walrus-sized box score that Jake Stoneburner will probably one day tell his grandchildren about. Ohio State ran the ball 51 times for 211 yards and was led by Boom Herron's 114 and a score. Ben Buchanan and his seven punts were the other stars of the show.
93 percent of the Buckeyes' offense came on the ground that afternoon, and the team's lone completion came when Braxton Miller connected with Jake Stoneburner for a 17-yard scoring strike in the fourth quarter. Can you imagine an Ohio State game – or any non-service academy program – in the year 2020 where it takes four quarters to complete a forward pass? 
Besides Bollman's exciting aerial assault, the thing I remember most about the game was Herron's return from his NCAA suspension. The Vegas sharks weren't their usual sharp selves, and somehow the over/under on Herron carries was somewhere around 7.5 or something absurdly low. He had three on the first drive alone and finished the day with 23. 
It was a season that saw the Buckeye defense deliver the occasional victory in spite of whatever Jim Bollman was trying to do on the other side of the ball. Ohio State forced three turnovers and held the Illinois offense to just seven points. Bradley Roby and Travis Howard both delivered with interceptions. 
Remember the sometimes questionable playcalling during the J.T. Barrett era and what it felt like to sit through 15 designed quarterback draws against Penn State? Those games were at least fun to watch and usually a joy to sit through. The 2011 experience – save for a few Braxton Miller moments against Nebraska and Wisconsin – is something I probably wouldn't wish on my worst enemy. 
Hopefully, you've been following Ramzy's latest as he hits on a few of his favorite things. The 2011 season had more than its share of moments that would be filed under an entirely different category. Strange times indeed.