In case you haven't heard, NFL Draft Twitter is relentless. It is full of the most insane #takes, the craziest trends, and the most over-analysis I have ever seen. 
On top of the screen recordings, visual excitement in the commentators' analyses, and biomechanical breakdowns, there are the mock drafts. The oh-so-many mock drafts. How could anyone possibly parse through them all and be able to weigh one person's evaluation more than somebody else's? 
Because of the mess that is Mock Draft Season, Benjamin Robinson, a data strategist in Washington D.C., created the Grinding the Mocks dashboard. The dashboard aggregates mock drafts, classifying each as an expert, fan, or media member's evaluation. The tool can help show how a prospect's draft stock, or more specifically, how a former Buckeye's draft stock, has changed over time. 
Those featured in Grinding the Mocks' database include Chase Young, Jeff Okudah, J.K. Dobbins, Damon Arnette, Malik Harrison, Jonah Jackson, K.J. Hill, Jordan Fuller, and Binjimen Victor. Rashod Berry, Brandon Bowen, Robert Landers, and Austin Mack did not show up in enough mock drafts to be featured. Despite this exclusion, it should not be a surprise to see a number of those names called during the NFL Draft. 
Chase Young
Unsurprisingly, the top defensive prospect in the draft has been Ohio State's best draft prospect all year long. After starting the season with a mean selection of 6.69 (although most credentialed media members had him as a top-four pick), Chase Young's average selection has risen to 2.12. The lowest mock draft has him as the No. 4 overall pick. 
The star defensive end should be the early favorite for Rookie of the Year next season and will likely follow in Nick Bosa's footsteps as one of the best young pass-rushers in the NFL. 
Jeff Okudah
One of the biggest risers this season, Jeff Okudah went from an average selection around pick 20 in May of 2019 to a mean selection of 4.75. His incredible and unsloppy play pushed him up nearly 16 picks throughout the season. Mock drafts have the top cornerback prospect going as high as No. 4 and as low as No. 11. 
Okudah will likely be a starter from Day One for whichever NFL team selects him. His season with Jeff Hafley, a former secondary coach in the NFL, has prepared the top cornerback for a number of different coverages and helped him perfect his footwork. 
J.K. Dobbins
Despite his spectacular season, J.K. Dobbins' draft stock has fallen all season long. After entering August with an average selection of 21.6, the consensus selection puts the star running back around pick No. 44. Grinding the Mocks projects Dobbins to be the third tailback taken in the 2020 draft behind Georgia's D'Andre Swift (pick No. 32.7) and Jonathan Taylor (pick No. 40.0). 
As the league becomes more pass-happy, running backs have become less and less valuable. Despite the trends, Dobbins will be an all-purpose back that can play all three downs, an important commodity for every team to possess. 
Damon Arnette
It looks as if coming back to school really did help cornerback Damon Arnette after all.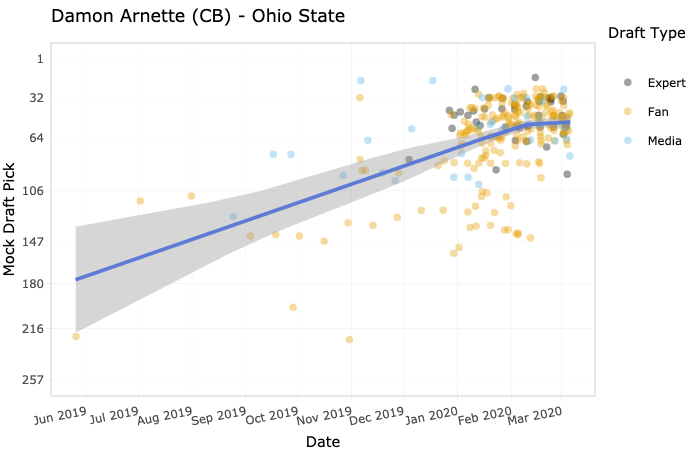 Arnette began the summer as a fifth-round pick. After a great year, he has become a consensus second-round selection with an average selection at pick No. 51.33. Arnette projects to be the ninth cornerback off of the board. 
Arnette's physicality with receivers is probably his best trait, allowing him to disrupt routes before they begin. The NFL allows more contact with the receiver, giving Arnette an even bigger advantage at the next level. 
Malik Harrison
After appearing as high as a second-round pick in last year's Grinding the Mocks projections, Malik Harrison now averages at pick No. 75. Most of his drop-off came during the pre-draft process as he held steady during the season around the 64th pick. Harrison looks to be the twelfth linebacker off of the board. 
Harrison's athleticism should help him contribute to an NFL team early in his career. His sideline-to-sideline play and ability to cover the slot and receivers out of the backfield are becoming valuable skills at the second level. 
Jonah Jackson
Transfer guard Jonah Jackson made the most of his opportunity with the Buckeyes, rising over 100 spots over the course of the season after starting with an average selection of 186.68. As of March 6th, Jackson has a mean selection of 83.86.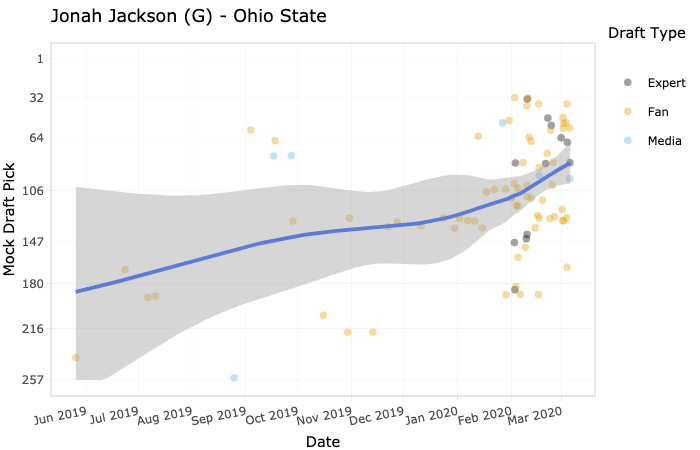 Most of Ohio State's offensive line called Jackson the best lineman on the team. That sentiment has carried over to the draft with many experts calling him the draft's No. 1 offensive guard. 
K.J. Hill
Ohio State's most precise route-runner, K.J. Hill's draft stock was mostly stagnant throughout the season. After starting as a consensus third-round pick, Hill has fallen off slightly and now looks to be on the fringe of a Day Two selection (pick No. 97.74). This year's class of receivers is as good as they come, contributing to Hill's slight decline. 
With Terry McLaurin's spectacular rookie season last year, it should not be a surprise if Hill is able to replicate his success. Although he is not the deep threat that McLaurin is, his ability to separate and consistent hands will help him be a reliable target during the most important plays of the season. 
Davon Hamilton
As a first-year starter, Davon Hamilton was not a consistent appearance in mock drafts until December. Since then, he has flown up the draft boards, gaining nearly a rounds-worth of picks to his current mean selection at pick No. 98.32. 
After recording the most repetitions on the bench press at the combine, there should be no questions about Hamilton's strength and ability to contribute at the next level. He will add interior depth and act as a run-stopper in the NFL. 
Jordan Fuller
Coming into his senior season, Jordan Fuller had an average selection around pick No. 76. After staying stable for most of the year, his stock fell during the pre-draft process and Grinding the Mocks now has Fuller being selected around pick No. 124. 
It is difficult to fully understand Fuller's draft stock, however, as he has only appeared in 62 mock drafts. There is likely some selection bias in this as he is not penalized for being omitted entirely from mock drafts. 
Fuller has been one of the most under-appreciated Buckeyes in recent memory. The safety accumulated 224 tackles in his career and leading the team in tackles in 2019. Fuller may not have the athletic gifts that other safeties in this draft possess but his understanding of the game is second-to-none. 
Binjimen Victor
After starting the season at pick No. 115.59, Binjimen Victor's draft stock took a huge hit throughout the season. With his physical gifts and the pre-draft process, however, Victor has been able to climb back up, sitting at an average selection of 139.5.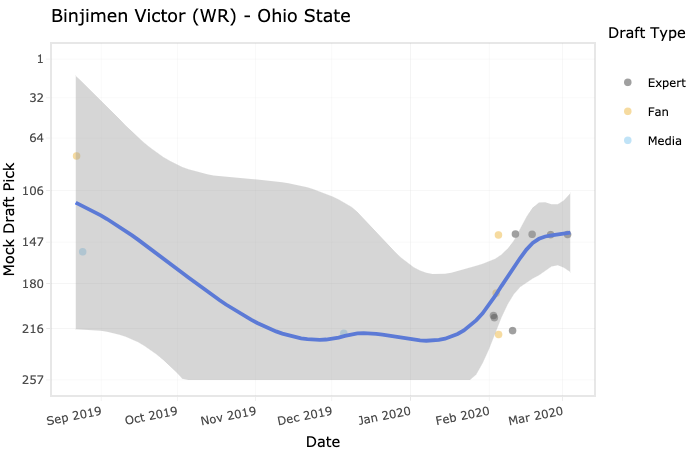 It is important to note, however, that Victor has only appeared in 14 mock drafts. Because of this, it is difficult to tell what his draft stock really is as the mock drafts that omit Victor are not counted against him.
The lanky, 6-foot-4 wideout's inconsistencies have followed him his entire career, but Victor still looks to be a worthy draft pick for a team that can unlock his potential. Given the right situation, he can prove a team right and be a big-play receiver like he was in Columbus.