Unlike 11 of his former Ohio State teammates, Rashod Berry won't get the opportunity to participate in the NFL Scouting Combine later this month. He'll have to wait another month, for Ohio State's March 25 pro day, to get his chance to work out for NFL scouts.
Berry isn't letting that dampen his spirits, though. As part of a deep group of 2020 NFL draft prospects from Ohio State, Berry can rest assured that he'll have an opportunity to impress representatives from all 32 NFL teams when the Buckeyes host their annual workout for pro prospects at the Woody Hayes Athletic Center.
"At the end of the day, that's a combine in itself," Berry said. "So I'm not worried at all."
In the months leading up to April's draft, Berry already had one significant opportunity to put his skills on display for scouts – beyond what he already did at Ohio State – and meet with representatives from NFL teams when he participated in January's NFLPA Collegiate Bowl in Pasadena, California. Berry started at tight end and caught two passes for 54 yards in that game, and he believes he was able to make a good impression there with what he showed over the course of a week of practices.
"I was ahead of most of the tight ends there. I caught onto most of the plays faster, and I started the game," Berry told Eleven Warriors. "I'm not trying to sound cocky, but I kinda know that I'm ahead of a few people."
Despite that, Berry wasn't one of the 30 NFLPA Collegiate Bowl participants who earned an invite to the NFL Scouting Combine. But Berry will still get his chance to prove that he should be drafted, or at least that he's worth scooping up as an undrafted free agent. And he knows from past experience that getting what he wants doesn't always come easily.
As a recruit out of Lorain High School, Berry was ranked as just the 728th overall prospect in the class of 2015. While he ultimately got the opportunity to play for his dream school, he had to work for it, as his offer from Ohio State didn't come until October of his senior year.
Now, he's back in a similar situation, as he looks to prove he deserves an opportunity to play in the NFL even though he isn't one of the more highly touted prospects in the 2020 draft class.
"You really gotta be patient," Berry said. "I feel like it's going back to high school when you have to grind and grind every day and do a lot of stuff on your own just to get a scholarship or go to camps and stuff like that."
Although he spent five years at Ohio State and was one of the most physically gifted players on the entire team, Berry never quite became a star for the Buckeyes. He moved back and forth between defensive end and tight end early in his career, and even after he settled in on the offensive side of the ball, he finished his Ohio State career with only 17 catches for 198 yards and four touchdowns.
Nonetheless, Berry is grateful for the years he spent with the Buckeyes and the lessons he learned in the process, which he believes have ultimately made him a better football player and prepared him for the next phase of his career.
"It made me grow a lot," Berry said of his Ohio State career. "I believe in God, and everything happens for a reason, and just my path or my journey was a little different from everybody else's, being moved around here and there. I still saw a lot of playing time on the field, being moved around still, but I just felt like everything happens for a reason. Every little aspect of my life is for a reason, and I just learned a lot from everything I was doing at Ohio State, every position I was at, every coach I got to sit in the meeting room with."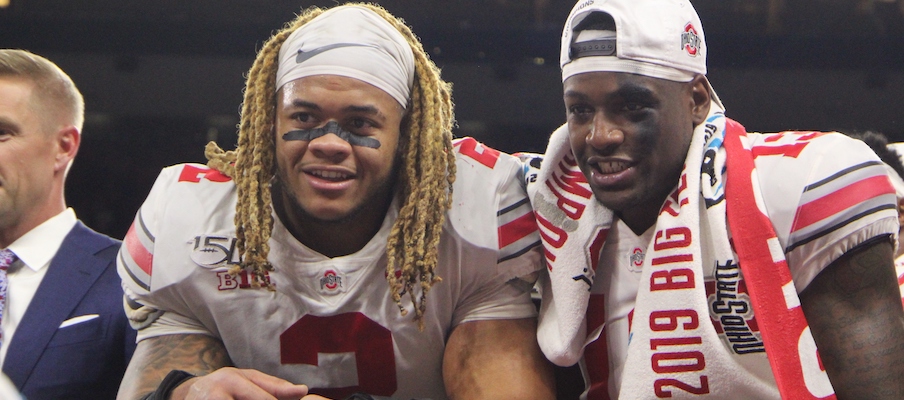 Berry did moonlight at defensive end for a stint this past season, playing 17 defensive snaps over the course of four games, and he said there are multiple NFL teams who have talked to him about potentially playing that position at the next level. His expectation is that he will play tight end in the NFL, though, so that's the position he's primarily focused on.
He believes he has all the skills needed to be a valuable tight end on an NFL roster.
"I'm good at route running, I'm good at blocking, I'm good at pass protection, I can catch the ball," said Berry, who measured in at 6-foot-3 and 263 pounds at the NFLPA Collegiate Bowl. "Whatever aspect they need me in, I'm going to go out there and give it my all."
Berry is currently training at Grossetti Performance, a facility in New Castle, Pennsylvania, owned by Youngstown State strength coach Terry Grossetti, alongside former Ohio State teammate Robert Landers and several other prospects for this year's NFL draft. There, he's working on honing his technique for all of the different measurable tests and football drills that he will participate in at next month's pro day, knowing he needs to prepare to put his best possible foot forward.
"You got to work on all your drills," Berry said Saturday while back in Central Ohio for an autograph signing. "It's impossible to be perfect, but be as perfect as possible in the drills and all the technique. Working your technique every day, and just getting on the board, and just fundamentals on the field."
"I feel like it's going back to high school when you have to grind and grind every day and do a lot of stuff on your own just to get a scholarship."– Rashod Berry on the NFL draft process
Berry's motivation to make it to the NFL isn't only to fulfill his own dream of playing professional football, but also to provide for his two sons – one who is five years old and one who was just born on Feb. 5. On days where his training gets tough, he thinks of them and the opportunities that making it to the next level could create for him and his family.
"It motivates me a lot, to infinity and beyond. Because when I'm feeling like I can't go as much, I think about them," Berry said. "Just being there for my kids and being there with my kids every day, it's a feeling that you can't explain. Once you have one, it's just like, 'Wow.' You're responsible for another life. You're responsible for leading somebody else to be successful in life, and I feel like I'm ready for it."
@NFLDraft I promise you wont regret giving me the opportunity

— RaShod Berry (@Shoddieslime_13) January 30, 2020
Because Berry didn't put up huge numbers or achieve major accolades during his Ohio State career, he'll probably find himself waiting on the final day of the NFL draft on April 25 to either be selected in the late rounds or land a free-agent deal. But he wants NFL teams to know that if they take a chance on him, they'll be getting someone who is ready to put in maximum effort on the field without causing any problems off of it.
"I want them to know they're going to have a high-character guy," Berry said. "Somebody that's goofy, that likes to enjoy time and make people smile but also, knows how to lock in and go on the field and get the work done when need be."