In the two years since Tracy Sprinkle completed his Ohio State football career, his professional football journey has taken him to six different teams and three different leagues.
As an undrafted free agent in 2018, Sprinkle signed with the Carolina Panthers, but was released before the start of the regular season. In 2019, Sprinkle signed with the Atlanta Legends of the Alliance of American Football, which lasted just eight weeks before folding. He spent time with both the Cleveland Browns and Houston Texans last summer, but was waived by the Texans at the end of the preseason. Now, he's back in another new upstart league as a member of the D.C. Defenders.
Despite all of those twists and turns, Sprinkle's love for the game of football hasn't wavered. To the contrary, his journey over the past two years has made him appreciate his opportunities to keep playing football even more.
"I feel like when you become a professional football player, a lot of people lose the love for the game because it's a business, it's your job, this is how you feed your family and how you provide for yourself. But being in the AAF gave me a different perspective," Sprinkle told Eleven Warriors in an interview this week. "I just was having fun, I felt like I was in college again and I've honestly been taking that same mindset. From the NFL to now the XFL, I just want to have fun playing the game that I love to play."
Sprinkle had fun last Saturday with his Defenders teammates, including his former Ohio State teammates Cardale Jones and Doran Grant, when they earned a 31-19 win over the Seattle Dragons in the inaugural game of the XFL's rebirth. Sprinkle started on the Defenders' defensive line and was one of their most disruptive players up front while lining up at both tackle and end.
He is confident that a strong spring playing in the XFL can lead to another opportunity to play in the NFL later this year.
"Man, this experience, it's a blessing," Sprinkle said. "It's a new league that's evolving, and I feel like we have a lot of momentum from the first weekend, as a whole league and then as a team in D.C. To get another opportunity to play professional football was always an honor and a blessing for me to be out here, so I'm just excited to continue to put the best foot forward, continue to grow my résumé and hopefully get back to the next level, which I want to be at."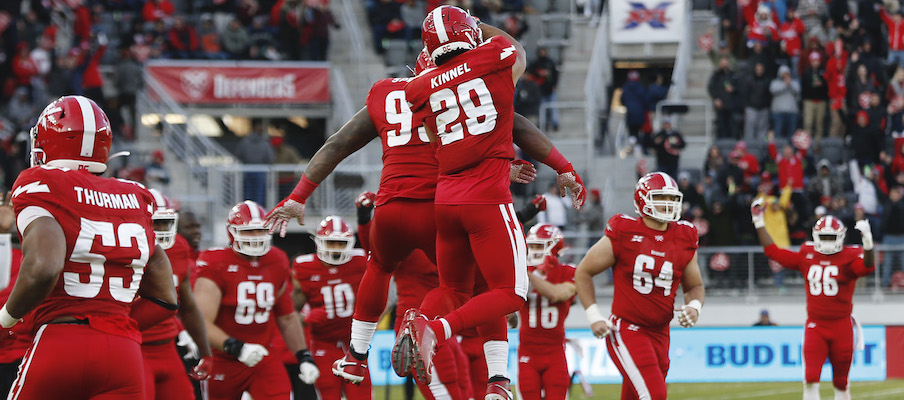 Sprinkle is also optimistic that the XFL, which is owned by multibillionaire WWE chairman Vince McMahon, will have a longer life span than the short-lived AAF. The original XFL lasted for just one season in 2001, but Sprinkle believes the league's heavier focus on football rather than gimmicks will give the new iteration of the XFL more long-term sustainability.
"I believe we have a solid foundation in this league, as to where the AAF was kind of a scramble at the beginning," Sprinkle said. "People didn't know what to expect, people didn't know what it was. The XFL has been around before. I feel like the foundation is set. I believe in our owners. I believe in everybody who's working on the back end, to keep it around for as long as possible, hopefully just to have another league in America for football."
Even though he hasn't yet had the opportunity to play a full season for a professional football team, Sprinkle is appreciative for all the opportunities he has had. He's had a multitude of different teammates and coaches over the past two years, and he's tried to soak in as much knowledge as he can at every stop.
"I started off with the Carolina Panthers, which was my longest stint, and I played with guys like Kawann Short, Julian Peppers, who was my idol growing up as far as football went," Sprinkle said. "Then the Houston Texans with J.J. Watt, seeing Myles Garrett (with the Browns), seeing all of these guys go to work, it gave me a boost of confidence. And being out there and playing and proving that I can play at the same level as them, that's personal confidence that you need. Sometimes you need reassurance in this journey of being released and being signed and being released. You get out there, you're competing with some of the greats to ever play and they're giving you compliments, telling you you're a good player."
"I just want to have fun playing the game that I love to play."– Tracy Sprinkle
That said, he is enjoying the opportunity to play with two of his former Ohio State teammates in Jones and Grant, having also played with Grant with the Legends.
"Ohio State, our bloodline's thick," Sprinkle said. "And for us to have three guys on this team trying to compete at the highest level, it's a great thing. Cardale's a goofy guy, but Cardale's my guy. Doran, me and Doran have been growing closer since we played in the AAF together, and it's a joy to go out there and play with him as well."
Sprinkle has kept busy with more than just football over the past couple years. He's also the manager of sales at Weatherspoon and Williams, a steel manufacturing company owned by his uncle Don Williams, and is in line to be a future owner of the company himself. And on Feb. 20, he and former Ohio State teammates Jalyn Holmes and Tyquan Lewis will celebrate the one-year anniversary of the launch of their apparel company, How She Gone Eat, which he says is "going great."
"We're doing it for fun," Sprinkle said of How She Gone Eat. "We're not really all trying to make millions of dollars off of this business, but it's fun. And I feel like as a business owner, separating your time from our day-to-day professional football, being able to get away and spend a couple hours a day just on How She Gone Eat, it gives me a sense of balance that I need."
Sprinkle doesn't want his life to be defined solely by what he does on the football field, and he wants to inspire other professional athletes to find their own ventures away from their sports, as well.
"We're gonna actually build some type of foundation to make it easier for professional athletes to go off what we use and be able to use it for themselves," Sprinkle said. "We're building from the ground up. And that's something that I want to see in the future, just continue to build and just show professional athletes that you can use your own brand, yourself and make all the profits yourself, and be able to build off of it."
By getting involved in multiple businesses off the field, Sprinkle is working to position himself for a successful future even when his football career is over. He'll continue to pursue his dream of playing professional football, though, as long as he continues to receive opportunities like the one he currently has with the Defenders.
"I've seen a lot of different stuff that a lot of people haven't seen that may not be in my position," Sprinkle said. "So now I've just realized that the love for the game is the most important thing. Love to go out there and have fun and play for as long as you can play, because you never know, your career is never promised. So now I take that approach in my everyday life, and it's been working for me."