MOBILE, Alabama – Even though his Ohio State career is now over, K.J. Hill is still finding ways to motivate his former Buckeye teammates.
One recent example came when Pro Football Focus published an article that listed Chris Olave as the 10th-best wide receiver returning to college football next season. Hill sent the link to that article to Olave with a message to "just go work at it," and Olave took that message to heart.
Not good enough. Back to work. https://t.co/8lKhC0oS0M

— Chris Olave (@chrisolave_) January 15, 2020
Asked whether he believes Olave, who led the Buckeyes with 49 receptions for 849 yards and 12 touchdowns last season, can be the best receiver in college football in 2020, Hill's response was succinct.
"He better be," Hill said with a laugh at Tuesday's Senior Bowl media day.
In the weeks since his Ohio State career ended with the Fiesta Bowl loss to Clemson, Hill said he's continued to stay in regular communication with many of the Buckeyes' returning receivers, including Olave, Garrett Wilson and Jameson Williams – and he doesn't expect that to end anytime soon.
Several other Buckeyes who are participating in this week's Senior Bowl also said they are continuing to provide mentorship for their former Ohio State teammates. Specifically, Malik Harrison said he continues to talk regularly to Baron Browning, who he wants to see following in his footsteps and playing in the Senior Bowl next year.
"I talk to Baron Browning like at least two times a week," Harrison said. "He's that guy, he should be the next star linebacker. I talk to him, I talk to K'Vaughan Pope, I talk to Tuf (Borland) from time to time. But Baron was my roommate back at Ohio State. So I still talk to him a lot, just give him the things that I should have done my senior year or things that he should do just to improve his game."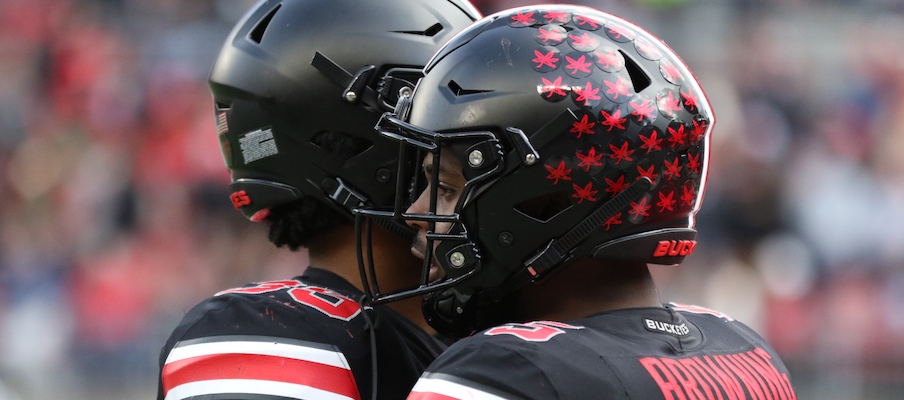 Beyond motivational purposes, the NFL-bound Buckeyes are still texting and calling their former teammates simply because of their friendships – close bonds built through their time at Ohio State together that will last well beyond their careers wearing scarlet and gray.
"It's like we never skipped a beat," Jonah Jackson said. "We pick up the phone, we're making fun of each other. Busting jokes. It's definitely a little sore feeling, because we won't be able to experience the locker room again like it was, but it is what it is.
"We'll text each other like, 'Man, I can't believe it's really over.' We'll never have that team back again. But you know, as life goes on, we'll definitely stay close, stay in touch. Those guys will be at my wedding, I'll be at their wedding. I'm going to Branden (Bowen)'s wedding in June, so it should be a good time."
Moving past the Clemson loss
While Ohio State's returning players aren't going to be allowed to forget about their Fiesta Bowl loss to Clemson – both Mickey Marotti and Ryan Day made that clear this week – the NFL-bound Buckeyes had no choice but to put it behind them. They're never going to play another game for Ohio State, so instead of dwelling on how their careers ended, they had to quickly flip the switch to preparing for their professional football opportunities.
That doesn't mean there aren't still some hard feelings, though.
"I still got a sour taste in my mouth," Hill said Tuesday.
Both Hill and Harrison said it was particularly tough to watch the national championship game, feeling like they should have been there facing off against Joe Burrow and LSU, knowing how close they came to beating Clemson.
"Everybody was thinking that, I can tell you that for sure," Hill said. "But it is what it is, and I'm happy for Joe, my former teammate, and now it's onto the next.

"After that national championship game, I feel like it's gone now. I seen it. College football over. Ain't nobody else playing. So now it's onto the next."
That said, Hill has no doubt that the loss to Clemson will provide motivation to the 2020 Buckeyes all year long.
"I know it gave the guys at Ohio State a chip on their shoulder throughout this offseason, and they're gonna get at it," Hill said. "I feel like they're gonna come out swinging this year."
Holmes praises Coombs
One non-Ohio State player participating in this week's Senior Bowl whose name many Buckeye fans will remember is Darnay Holmes, whose nephew stole the show during his commitment at the 2017 All-American Bowl. While Holmes chose to sign with UCLA, his nephew – pointing to an Ohio State hat that was also on the table – memorably disagreed with his decision.
Five-star CB Darnay Holmes may have picked UCLA, but his nephew was all Ohio State. Chin up kid, you can be a Buckeye some day. pic.twitter.com/Secyq1ZgAu

— Eleven Warriors (@11W) January 7, 2017
Although Holmes, a Southern California native, opted to become a Bruin, he was heavily recruited by Ohio State – specifically by former coaches Urban Meyer and Greg Schiano, and Kerry Coombs, who just returned to the Buckeyes' staff this week – and when rumors emerged in October that Holmes could transfer from UCLA to another school, there was speculation that he could become a Buckeye.
Holmes said Tuesday at Senior Bowl media day that he did give consideration to staying in college and transferring to another school, but ultimately, he decided his best move was to enter the 2020 NFL draft. (Early entrants into the NFL draft typically aren't eligible to play in the Senior Bowl, but Holmes was because he graduated from UCLA in just three years.)
"It was definitely a thought," Holmes said. "But as I laid out all the hands I was being dealt and I set aside, I took notes from Day 1 when the season was over, I did things I had to do to get my body back right, and I thought it was best for me just to take on the next level."
Holmes wouldn't specify which schools he considered transferring to, but he said he keeps in touch with several players who were in Ohio State's recruiting class of 2017 – including Jeff Okudah – and had nothing but praise for the Buckeyes and Coombs when asked about them.
"Salute to coach Coombs for going back home and shoutout to BIA," Holmes said. "If you look at his resume, who can compare with his resume? It was a stat I saw yesterday, 101 interceptions with (17) taken back for pick-sixes (during Coombs' previous six years at Ohio State). And I know that's pure talent as well, but also the coach had a role within those interceptions. So coach Coombs, he knows what he's doing with the defensive backs, for sure."
As for his nephew, Holmes said he's still a fan of Ohio State, but more specifically, one former Buckeye who now plays for the Dallas Cowboys.
"He's from Texas, so he's Ezekiel Elliott," Holmes said. "Everywhere Ezekiel goes, he want to go, which I salute."
Highlights from Day 3 of practice
While I returned to Columbus on Thursday morning, many other media members were still in attendance to document the final day of Senior Bowl practices in Mobile on Thursday afternoon, and Ohio State's representatives continued to make plenty of highlight-reel plays.
Hill, who was named as the North squad's practice player of the week at wide receiver, stole the show once again with a spectacular one-handed catch and a double move that made former Michigan safety Josh Metellus look silly.
K.J. Hill, ladies and gentlemen pic.twitter.com/5Z6Ch1M584

Andrew Mason (@MaseDenver) January 23, 2020
KJ Hill just snagged a beautiful one-handed catch reaching back behind him in stride

Earlier he broke ankles on this double move in the end zone.. Great week for the Ohio State Buckeye pic.twitter.com/BBapULh1Pu

Luke Inman (@Luke_SpinmanNFL) January 23, 2020
DaVon Hamilton, who was named as the practice player of the week among North defensive linemen, put some serious power on display with a bull-rush on which he made Washington center Nick Harris look embarrassingly overmatched.
For the second straight day, #OhioState DT Davon Hamilton got the best of #Washington OC Nick Harris.

Pure power and drive from Hamilton. And theres nothing Harris can do about it. pic.twitter.com/R4SZynhz8h

— Dane Brugler (@dpbrugler) January 24, 2020
Harrison also made his biggest play of the week of practices on Thursday, showing his coverage ability by snagging an athletic interception during a team drill.
Jordan Love picked off by Malik Harrison. pic.twitter.com/y4lwqtVkoy

— Jon Ledyard (@LedyardNFLDraft) January 23, 2020
Hill, Hamilton, Harrison and Jackson will all put on their Ohio State helmets one last time and suit up for the North squad, while Austin Mack will play for the South team, in Saturday's Senior Bowl, which kicks off at 2:30 p.m. at Ladd-Peebles Stadium in Mobile, Alabama. The game will be broadcast live on NFL Network.