The attention for Chase Young in 2019 came in the form of Heisman Trophy votes, celebrity shoutouts and triple teams. Social media followers, endless highlight loops and NFL draft analysts fawning.
None of the wide-reaching focus on Ohio State's stud defensive end came unjustly, either. He led the nation with 16.5 sacks, which also happened to be the program's single-season record. Despite a two-game suspension near the end of the regular season, Young earned a trip to New York City as a Heisman finalist and captured a bevy of other honors, including the Bronko Nagurski Trophy and Chuck Bednarik Award.
Spotlights followed Young. And while they shined on him, Ohio State's defensive tackles consistently produced on the outskirts of the radar.
DaVon Hamilton turned into a third-team All-Big Ten selection with 28 tackles and six sacks, unexpectedly developing into a possible Day Two pick in the 2020 NFL Draft. Beside him, Jashon Cornell had the most productive season of his career with 30 tackles and four sacks. Robert Landers, Hamilton's backup, recorded 14 tackles, including six tackles for loss.
To those outside the Woody Hayes Athletic Center, Young's presence on the defensive front made the trio of fifth-year senior defensive tackles easy to miss. But now that the graduated interior linemen have departed to pursue careers in the NFL, they're missed by those inside the building.
In place of the reliable, productive veterans come a tantalizing – yet still somewhat unproven – group of defensive tackles: Tommy Togiai, Taron Vincent, Haskell Garrett, Antwuan Jackson and Jerron Cage.
You've probably heard this story before. Welcome to what has been the theme of Ohio State football for as long as most of the current players have been alive.
"How will the Buckeyes replace such outgoing talent?"
"I don't know. What about the group of returners, a couple years removed from being big-time recruits, who haven't been starters yet but look like they might be ready to come into their own?"
That once again applies to what the Buckeyes will try to do this offseason as they begin to figure out how to fill in the gaps at defensive tackle opened up by the loss of Hamilton, Cornell and Landers. 
At nose tackle, a clear succession plan exists.
Togiai, at one time a top-60 recruit, will enter spring practices in pole position to replace Hamilton as the starter, and it's difficult to imagine a deviation. The rising junior, who has long held the title as "by far" the strongest player on the team, parlayed his physical gifts and high motor into more than 100 snaps as a freshman and 250 snaps as a sophomore. At nearly any other program in the country, he would have started in 2019. Instead he rotated in, remaining behind Hamilton and Landers on the weekly depth chart.
With their time in Columbus finished, the starting spot is finally Togiai's for the taking. What he can do with extended playing time will remain a key question until the season kicks off on Sept. 5. Hamilton played 399 snaps as the starter, though the Buckeyes rotated three nose tackles and were able to sit players in blowouts throughout the season. With what might be a two-player rotation, Togiai's snaps could potentially double in 2020.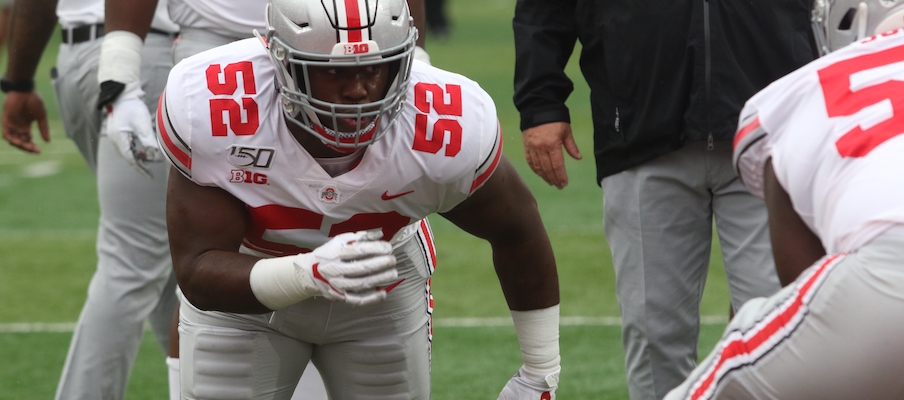 Along with Togiai, the Buckeyes need Jackson to finally make a long-awaited leap.
The rising fifth-year senior joined the program in 2018 as the nation's top-ranked junior-college prospect. After spending a year at Auburn and a year at Blinn College, Larry Johnson brought him to Columbus as a defensive tackle who could make an early impact. That didn't happen, though; he played only 24 snaps in 2018.
Last season, Jackson had a notable uptick in playing time, getting on the field for 201 snaps while playing both defensive tackle spots. His future in 2020, strictly due to positional need, likely will be at nose tackle. There, he could have a chance to rotate with Togiai. Really, they're the only two 1-techniques on the roster.
Beside them at 3-technique, Vincent and Garrett will enter the spring as the two most likely candidates to start.
Vincent, the team's only former five-star defensive tackle, played 98 snaps as a freshman before missing the entirety of his second year due to a torn labrum in his right shoulder. Given the opportunities opened up by Cornell's graduation and his pedigree as the top-ranked defensive tackle recruit in his class, which earned him offers from Alabama, Clemson, Georgia, Michigan and Texas out of Florida's IMG Academy, there's reason to believe Vincent could have a breakout season. 
Neither Garrett nor Cage seem to have quite his potential, which makes Vincent the player who could determine the ceiling of Ohio State's 2020 defensive tackles.
Garrett, a rising senior, has the most experience of any interior defensive lineman on the roster, making him Vincent's main competition to start. Once a top-75 overall recruit, he has steadily increased his playing time each season, reaching 218 snaps last year when he served as Cornell's backup. Garrett, who doesn't have a sack yet in his career, is more of a run stopper, which makes him a potentially optimal foil to Vincent.
Cage, and even rising redshirt freshman Jaden McKenzie, are others to watch at 3-technique. Cage, a rising redshirt junior, played 88 snaps as a reserve last year, and McKenzie played 11 snaps before redshirting.
Unlike at this time last year, Ohio State doesn't have multiple players with starting experience back. It doesn't return players quite as experienced and old as Hamilton, Cornell and Landers.
Instead, the next wave of defensive tackles features a quintet of former highly regarded recruits who have each spent a couple years in the program. This spring, with the three defensive tackles who got the most snaps in 2019 gone, their opportunities await.
Johnson will have to find a way to effectively turn their potential into production.