It's probably too early to start ranking teams ahead of the 2020 season, but that's not going to stop us.
As is the tradition in college football, collection of way-too-early rankings for the 2020 season sprang up just days after the 2019 season concluded, and folks are already high on Ohio State.
Even though they lose quite a bit of talent on both sides of the ball and have to replace one of the top defensive coordinators in college football, the consensus is that the Buckeyes are once again a top team heading into next season and will compete for a national title.
Here's how the various outlets are ranking Ohio State and how they view the Buckeyes heading into the 2020 season.
ESPN: #2
Ohio State was one of the most dominant teams in college football this season, and despite some roster shakeup and coaching transitions, ESPN expects the Buckeyes to be one of the nation's top teams again next season, ranking Ohio State No. 2 in its way-too-early top-25 for the 2020 season, behind only Clemson.
Here's ESPN's early outlook on the Buckeyes:
Outlook: Quarterback Justin Fields, a Georgia transfer, was very good in his first season as a starter. He might have to be even better in Year 2, without Dobbins and the bulk of a much-improved defense. In coach Ryan Day's first campaign, the Buckeyes went unbeaten during the regular season and came up just short in a 29-23 loss against Clemson in a CFP semifinal at the PlayStation Fiesta Bowl. The Buckeyes should again be potent on offense, even without Dobbins, a 2,000-yard rusher in 2019. Ohio State will have to rebuild its defense, however, with Young and Okudah leaving for the NFL draft. There will be changes on Day's coaching staff as well after Boston College hired co-defensive coordinator Jeff Hafley as head coach and co-offensive coordinator/quarterbacks coach Mike Yurcich left to become Texas' offensive coordinator. The Buckeyes will play a challenging nonconference game at Oregon on Sept. 12.
ESPN also ranks Oregon, Ohio State's week two opponent, as the No. 5 team in the country, which would set up a potential top-five matchup early in the season. Three more the Buckeyes' 2020 opponents cracked ESPN's list with Penn State checking in at No. 9, Michigan at No. 15 and Iowa at No. 23.
Wisconsin is listed at No. 14 and Minnesota at No. 19, giving the Big Ten six teams ranked on ESPN's list.
USA Today: #3
USA Today falls into the consensus belief that the Buckeyes will again compete for a national title in 2020, but has the Buckeyes at No. 3, behind No. 1 Clemson and No. 2 Alabama.
Here's what USA Today thinks about the Buckeyes heading into 2020:
There are going to be several key holes to fill, notably with the departures of stars Chase Young, J.K. Dobbins and Jeff Okudah. But the Buckeyes are in steady hands in second-year coach Ryan Day and quarterback Justin Fields, and very likely motivated to leave no doubt after feeling robbed by officiating during the Fiesta Bowl loss to Clemson.
USA Today has four of Ohio State's 2020 opponents ranked in its way-too-early top-25, headlined by No. 6 Oregon, which hosts the Buckeyes for a week two matchup in Eugene, Oregon. Next comes No. 7 Penn State, No. 10 Iowa and No. 12 Michigan.
Wisconsin checks in at No. 18 to give the Big Ten five total teams ranked on USA Today's list.
CBS Sports: #2
As Ryan Day enters his second season in Columbus, CBS Sports views the Buckeyes as the second-best team heading into 2020, ranking them just behind Clemson in the way-too-early top-25.
Here's what CBS Sports had to say about Ohio State heading into the 2020 season:
Year 2 of Ryan Day will dawn with the same expectations: win the Big Ten and challenge for a national championship. Most of the pieces are there. Heisman Trophy finalist Justin Fields returns. Watch Master Teague at tailback. He's sneaky good. The offensive line will be loaded with the return of All-America guard Wyatt Davis. There won't be a Chase Young on defense. That defense needs a new coordinator now that Jeff Hafley has departed.     
CBS Sports ranks four of Ohio State's 2020 opponents on its list with No. 7 Oregon ranked the highest. Penn State follows at No. 12 with Michigan and Iowa checking in at No. 14 and No. 21, respectively.
No. 11 Minnesota and No. 15 Wisconsin crack the list, as well, giving the Big Ten a total of six teams on the list.
Sports Illustrated: #3
Sports Illustrated was another outlet that ranked the Buckeyes outside of the No. 2 slot, but unlike USA Today, SI has Ohio State in the No. 3 slot trailing No. 2 Georgia instead of Alabama.
Here's what SI said about the Buckeyes:
Justin Fields is back after a Heisman Trophy–finalist season, but he's going to need a lot of reinforcements at skill positions. The Buckeyes lose four of their top six receivers, and that includes leading rusher J.K. Dobbins. Defensively, end Chase Young and cornerback Jeff Okudah depart and will be likely top-five draft picks. Of course, the cupboard is never bare in Columbus, so Ohio State still looks like the class of the Big Ten.
SI has five other Big Ten teams cracking their way-too-early top-25 with Penn State checking in with the next-highest ranking at No. 5. Minnesota is next at No. 11, followed by No. 13 Wisconsin, No. 20 Michigan and No. 24 Purdue.
Ohio State's premier non-conference matchup, Oregon, also cracks SI's top-10, checking in at No. 6 in the rankings.
Yahoo! Sports: #2
Yahoo! Sports is high on the Buckeyes entering the 2020 season, ranking Ohio State No. 2 in its absurdly early college football top-25, behind only No. 1 Clemson.
Here's what Yahoo! Sports had to say about Ohio State:
Ohio State came up just short of the College Football Playoff title game in Ryan Day's first season as head coach, and there's no reason to think the Buckeyes shouldn't be back playing on that stage next season. OSU is losing a lot of talent to the NFL, but Justin Fields will be back at quarterback and the next wave of recruits is always ready to step into bigger roles in Columbus. The Buckeyes will have a big test early next year too when they travel to Eugene to face Oregon in Week 2. The Penn State game will also be on the road. 
Four of Ohio State's 2020 opponents made Yahoo! Sports' list with both Penn State and Oregon cracking the top-10 at No. 7 and No. 8 respectively. Michigan also makes the list at No. 15 while Iowa checks in at No. 21.
Yahoo! also ranks Wisconsin at No. 12 and Minnesota at No. 13, giving the Big Ten six teams on the list.
The Consensus: #2
Ohio State's position is fairly consistent throughout the way-too-early rankings.
The Buckeyes were ranked No. 2 on most major lists, but were never ranked higher than No. 2 or lower than No. 3. As a result, Ohio State is the consensus No. 2 in the way-too-early rankings, as displayed in a handy table put together by Matt Hinton on Twitter.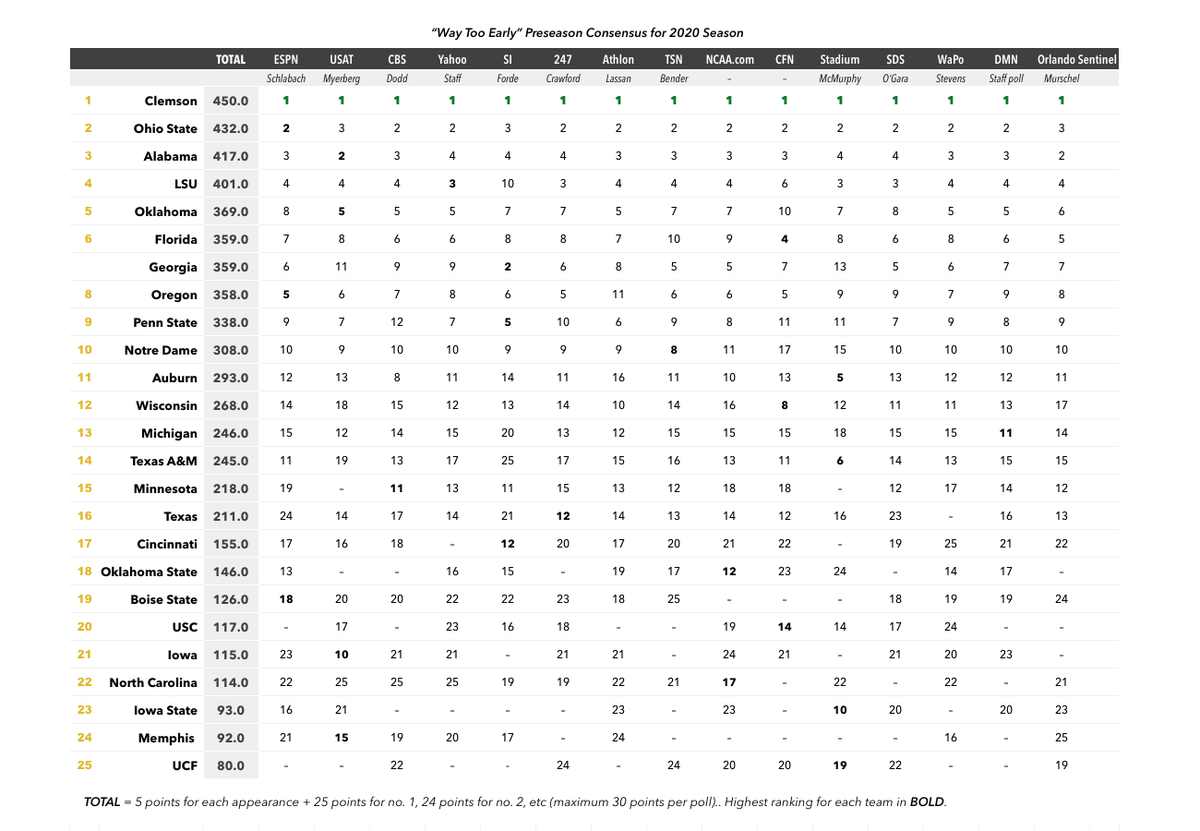 On Hinton's consensus table, Ohio State has four 2020 opponents among the way-too-early top-25 teams headlined by No. 8 Oregon. The Ducks are followed by No. 9 Penn State, No. 13Michigan and No. 21 Iowa.