The rivalry with Michigan, Urban Meyer always said, takes respect. Tremendous respect from Ohio State of the annual challenge posed by the Wolverines.
Thus, within the walls of Woody Hayes Athletic Center, it's a constant focus, regardless of the time of year or who's the head coach. The Buckeyes purposely keep Michigan on their mind because to them, that focus has played a significant role in their 14-1 record in The Game the past 15 years.
"The big thing that strikes me is the preparation," Pete Werner said. "You have to prepare harder than that team, you have to work harder than that team. That all starts in practice. Preparation, there are just so many things to take into account to win this game. We've beaten them with preparation in the past, and that's what showed in the outcome of the game."
Having spent the past year working on beating the Wolverines once again, Ohio State hopes that preparation proves to be the difference when the ball gets kicked off at noon on Saturday in Michigan Stadium.
In the offseason, the Buckeyes' preparation for Michigan doesn't deal with specific intricacies of a game plan. Instead, the coaches and the strength staff work to ingrain a healthy dislike of Michigan in the players. As the game nears, Ohio State's personnel scouting and decisions of how to schematically attack Michigan naturally ramp up.
"Right now the focus is on getting our guys ready, preparing, making sure practice is right, making sure our guys are healthy, making sure everything is in place to give our guys the best chance to be successful," Ryan Day said. 
Ohio State's goal, at this point in the season, is to be able to fall back upon all of the Michigan preparation that has taken place in the past year.
"It's going to be another great challenge for us, but this is something that we've been preparing for even before football season during the offseason," Wyatt Davis said. "So it's just going to come down to all the hard work and preparation that we do even before the season started, it all comes down to this game now."
Defending Michigan's Aerial Attack
The calls for Dylan McCaffrey to take over as Michigan's quarterback grew early in the season. Yet as the Wolverines approach Saturday, those have been long silenced in favor of a belief that Shea Patterson has finally begun to play at the level expected of him when he transferred from Mississippi.
Here are his stat lines the past two games:
In a 44-10 win against Michigan State: 24-for-33 for 384 yards with four touchdowns
In a 39-14 win against Indiana: 20-for-32 for 366 yards with five touchdowns and one interception
To put that into perspective, until the past two games, Patterson had never thrown for more than 282 yards or three touchdowns as a Wolverine.
"I do see him being more confident," Day said. "I see a group that feels like they've found an identity. They got really good receivers, by the way. Those receivers are talented. Offensive line is giving them time. I don't know exactly what made them all click, but it seems like it's going well right now for them."
Patterson's strong arm, ability to extend plays with his legs and penchant for keeping his eyes down the field have stood out to Jordan Fuller, who said he's playing at a "high, high level right now."
"He's one of those guys who is kind of tricky," Werner said. "He's got a lot of different options, he scrambles very well, throws a great ball and if you're (caught) lacking around, leave a guy open, he's going to make a play from it."
Along with Patterson, Michigan's receiving corps could challenge Ohio State's defensive backfield in a way no team has tested it yet.
Four wide receivers – Nico Collins (6-foot-4, 222 pounds), Ronnie Bell (6-foot, 184 pounds), Donovan Peoples-Jones (6-foot-2, 208 pounds) and Tarik Black (6-foot-3, 215 pounds) – have caught at least 24 passes for 300 yards, and tight end Nick Eubanks has 21 receptions for 187 yards and three touchdowns. Bell leads the team with 38 catches. Collins has a Michigan-best 649 receiving yards and seven touchdowns.
"Really, they can do it all," Fuller said. "They have guys that have great hands, that can go up and get the ball but also, when they have the ball in their hands, they can they can make something happen with it. They can attack you in every which way. So that's something you've got to be prepared for."
Potential Breakouts in The Game
Nobody will soon forget Chris Olave's freshman performance against Michigan, which included a pair of touchdown receptions and a punt block to help crush the Wolverines, 62-39, in Urban Meyer's last rivalry game. In the days leading up to it, he admitted on Tuesday, Olave didn't foresee what transpired.
"I had no sense at all," Olave said. "I just came into every week, trying to make a play when I get on the field, and that's the game I got a huge opportunity, and I took advantage of it."
That, he did. A year removed and just days ahead of the next Ohio State-Michigan game, Olave's performance begs the question of whether anyone can break out in a similar fashion on Saturday.
"This year, who is going to be the guy that steps up and becomes a legend in Ohio State football history? That's what is fun about playing in a game like this," Day said.
Let's run through some potential candidates who could have an Olave-esque performance on Saturday.
It's hard not to immediately think of freshmen Garrett Wilson and Zach Harrison. Wilson has made his share of plays this season, catching four passes and a touchdown against both Maryland and Miami (Ohio) earlier this season. But he hasn't had a true breakthrough performance in a big-time game yet. Harrison has flashed, too, and could make a play on a major stage against the Wolverines, a team that he once strongly considered attending.
If Day calls more passes to the tight ends, there's Jeremy Ruckert, Rashod Berry or Luke Farrell. Maybe Master Teague, if J.K. Dobbins needs somebody to spell him more than he did last week. Baron Browning could further his profile as an athletic, physical linebacker with a strong performance against Michigan. If we're looking for players with slightly lower profiles, cornerback Cameron Brown and defensive tackle Tommy Togiai could be candidates. 
"This is the game they've had checked on their calendar"
Day shook his head. No, he said on Tuesday, he did not target Greg Mattison and Al Washington as defensive assistants partially so the former Michigan coaches could help this week. Rather, he had prior relationships and felt like he could trust them, making him willing to pluck Mattison and Washington off of Jim Harbaugh's staff. 
"I know sometimes that's hard to swallow, but that's just the way it was," Day said.
Mattison spent the 1992-96 seasons as Michigan's defensive line coach and defensive coordinator, and then he returned to the sidelines with the Wolverines from 2011 to 2018. Washington, conversely, hadn't even graduated from Bishop Watterson High School by the time Mattison's first stint in Ann Arbor had ended. He spent one year with the Wolverines, coaching linebackers during the 2018 season.
Day hired both of them to join his inaugural coaching staff in January. Nearly 11 months later, they're about to head back to Michigan to coach on the visiting sideline.
"Oh yeah. I can already tell. This is the game they've had checked on their calendar since the time they've been here," Werner said. "They have something to prove. I've learned so much from them. Some of the best coaches I've ever been around. I've become so much of a better player because of them too. This game is going to mean a lot. We're going to prepare harder than we ever have and that starts with them."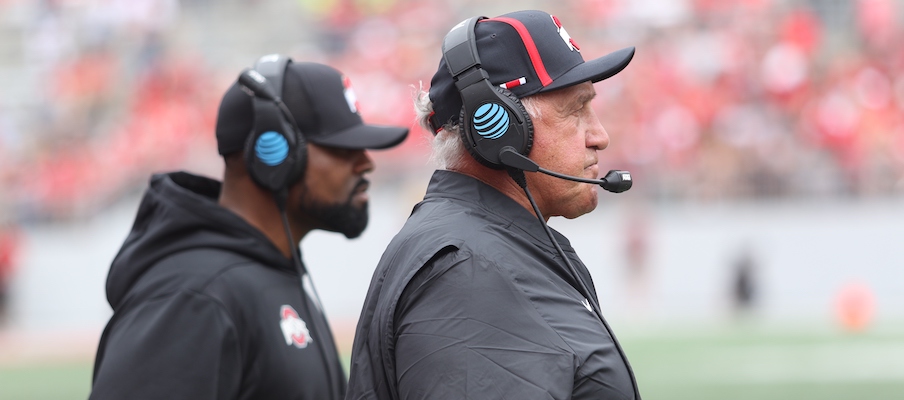 Neither Mattison nor Washington were made available for interviews in the week leading up to Saturday's game. Day said he's sure "there's a range of emotions" for the pair of assistants.
Regardless of their personal feelings, there's no doubt they have confidence in a defense that leads the nation in both points and yards allowed per game. Tuf Borland said both Mattison and Washington have "contagious" energy and mentalities that have aided in a wholescale defensive turnaround.
"I just think communication, they've talked to you more in the game, let you know what keys you're seeing based off the opponent throughout the game," Werner said. "In years past, we didn't really have that communication. We're always taught and connected through communication, which I think has helped. Coach Washington is a guy that motivates you super well. You're always on the edge of your seat in meetings with him. Just that intensity with both of them has changed and helped a lot."
"We Expect Him To Be Fine"
Any time Fields stays on the ground for longer than expected, Ohio State fans, players and coaches hold their collective breath. The team's national title dreams have always rested on him staying healthy.
So when he laid on the ground after getting sacked on 4th-and-5 drop-back pass late in the fourth quarter of the 28-17 win against Penn State, a feeling that the Buckeyes might be watching their season slip away pervaded Ohio Stadium. Fields soon sat up and jogged off the field to applause that felt more like relief than anything else.
"For sure any time you see your starting quarterback on the ground, it's not a good feeling," Day said on Tuesday. "He was able to shake it off, run off the field. We expect him to be fine."
To continue winning at the rate is has through 11 games, Ohio State needs him healthy.
A gifted passer with a cannon of an arm, Fields can make more than enough plays through the air. He has completed 69.4 percent of his passes for 2,352 yards with 37 touchdowns and one interception in 11 starts. But for him to maximize his ability, the Buckeyes need to feel comfortable having him use his speed and pick up yards on the ground.
"When we play in big games like that, we certainly rely on him to run some," Day said. "It's not typically quarterback design runs, although we have some of those. A lot of them were reading somebody. He can either keep it or run it. Some of those are scrambles when you look at his numbers. He does a great job extending plays. But Penn State kind of forced him to run the ball a little bit. He did a great job. Other than the two turnovers, I thought he was unbelievable. We'll continue to do that when we think it's appropriate."