Wisconsin will be one of the toughest teams Ohio State will face this season, but one of the easiest to hate.
10 ) Photoshopping an African-American student 
Starting things off with a bang.
Wisconsin is not the world's most diverse school. Today, just 2.2 percent of the student population is African-American and it's not much better for other minorities. Now, you you can imagine how things were 20 years ago, when Wisconsin decided to address this problem.
Only, they didn't actually address the problem, they just took to the ol' Photoshop machine to hide the issue.
To mask its lack of diversity, the university photoshopped former student Diallo Shabazz onto its cover. The incident was very embarrassing for the university and it should have been.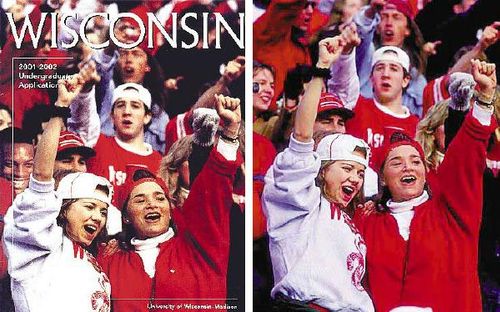 Also, it's just a bad photoshop. That natural light does not match the setting at all. Horrible edit. 
9 ) Bucky the Badger 
If you put a Christmas sweater on a skunk, you'd get Bucky the Badger.
Happy Birthday to the Day 1 homie.... @UWBuckyBadger pic.twitter.com/128fmAeKJh

— Wisconsin Football (@BadgerFootball) October 2, 2019
8) Alex Hornibrook 
Do you remember when PFF continually ranked Alex Hornibrook ahead of Dwayne freaking Haskins last year? 
Hornibrook, who has perhaps the ugliest release in football, isn't better than any of Ohio State's quarterbacks this millennium, let alone the one who torched the country for 4,831 yards and 50 touchdowns. 
Lucky for him he doesn't have to face the Scarlet and Gray this weekend, because he peaced out of Madison to be a backup quarterback at Florida State.
7) Russell Wilson 
You might not have expected to see Russell Wilson on this list, but he is and it's for three reasons.
For one, he's the Badgers most successful quarterback and has accomplished what no Ohio State quarterback has ever done: Win a Super Bowl.
Two, in the midst of playing in his second Super Bowl, down by four with 26 seconds remaining and the go-ahead touchdown a yard away, he did not call the most important audible in football history. The thought did not occur to him that "Wow, we have the best power running back in the game, Pete Carroll must be out of his gum-smacking mind if he thinks I'm going to throw this ball." Because of that carelessness, Tom Brady — who went to that school that shall not be named — has another ring thanks to supernatural unexplainable events. 
On this date in 2015, Malcolm Butler made one of the greatest defensive plays in Super Bowl history

(via @nflthrowback) pic.twitter.com/FLcCBUB1hl

— ESPN (@espn) February 1, 2019
Last but not least, the third reason to hate Russell Wilson is personal. He stole my girl. I've loved Ciara since she was automatic, supersonic, hypnotic, funky fresh and he waltzed into her life right before I was about to make my move. 
That's not cool, bro. 
6) Bo Ryan 
I tip my cap to Bo Ryan. He's one of the many basketball coaches that represented the Big Ten well. He lead the Badgers to great heights and was one of the top coaches in the Big Ten for many years. 
Now that's out of the way. We hate you. Deal with it.
In early 2011, the Badgers beat a top ranked Jared Sullinger lead Buckeyes. After the game, Sullinger said that he was spat on by a Badger fan. Ryan's response: "There is absolutely nothing that has come to my attention. All I know is, we won the game. Deal with it."
Way to poke a sleeping bear, Bo. 
The next time the two teams met, Ohio State laid a 93-65 butt-whuppin on Wisconsin, while 1,400 students waived red towels that read "Deal with it."
Deal with that, Bo. 
5) Overrated 
Don't you ever just get this feeling that the Badgers are so overrated. Year after year they're ranked in the top ten somewhere just after a few notches behind the Buckeyes, when in truth they have never been on Ohio State's level. The Buckeyes have won the last 6 meeting against the Badgers. Ohio State is considered a National contender, the Badgers? A Big Ten West contender. 
Don't get me wrong, Wisconsin is a proud program that has seen some success and has even given the Buckeyes the run for their money a few times. But there are levels to this. Stop pretending and get out of the way. 
4) Melvin Gordon
There were two high-leveled NFL running backs that held out for contract extensions this offseason.
Only one got attention. 
On one side there's Ezekiel Elliott. A Buckeye legend that's lived up to the hype that comes with being the fourth overall pick in the 2016 draft. Since being drafted by the Cowboys, he's led the league in rushing twice and was paid handsomely for his troubles (6 year, $90 million extension) . 
On the other there's Melvin Gordon III. A Badger great, who's shown promise in the NFL despite a slow start. 
Gordon's rookie year, unlike Zeke's, was horrendous. After 184 carries, 641 rushing yards, 33 receptions, 192 receiving yards, six fumbles and no touchdowns in 14 games,  people were starting to throw the B word around the struggling Badger. 
But since then, the almost-bust has blossomed into one of the league's premier backs, however, when he decided to hold out, the LA Chargers laughed in his face while a backup flourished in his spot.  
Gordon did not get his raise, he chose to give up and walk back into the locker room like a dog with his tail between his legs. 
Keenan Allen was hyped for Melvin Gordon's return

(via @Keenan13Allen) pic.twitter.com/ApD9DnO4PD

— ESPN (@espn) September 26, 2019
Rough. 
3) Polka 
If you challenge someone from Wisconsin to a dance battle you'll probably have a good chance of winning. 
The state dance is the polka for crying out loud. 
So unless you're Steve Urkel, you should win. Just stand still and just bob your head to show that your still breathing and coherent. 
2) Lee Evans 
It doesn't happen often, but when Wisconsin beats Ohio State it's pretty painful. 
It's 2003 and Ohio State is in the midst of a 19-game winning streak before having its heart broken in Madison to the No. 18 Badgers and Lee Evans.
1) 2010
Remember the last time Wisconsin beat Ohio State? It's been some time, but the loss still stings. Ranked No.1 in the country, Ohio State walked into Madison and took a Badger beatdown. 
From David Gilreath taking the opening kick back 97 yards for a touchdown to John Clay running all over the Buckeyes defense, that day was the last time Wisconsin took it to the Buckeyes. 
Since then: 33-29, 21-14, 31-24, 59-0, 30-23, 27-21.