Justin Fields dropped his head, smiled and started laughing. He couldn't help himself.
How do you think Georgia played on Saturday?
Of course he knew what happened. And of course he knew the question was coming.
His former team, the Bulldogs, got upset at home by South Carolina, losing in double overtime by a score of 20-17. Jake Fromm, the quarterback who held off Fields as the starter, completed 28-of-51 passes for 295 yards with one touchdown and three interceptions.
Because of the loss, Georgia fell to No. 10 in the Associated Press Top-25 poll.
"I do feel for those guys," Fields said on Tuesday night. "I know all those guys worked off all week, so I definitely feel for those guys, especially my boy (kicker) Rodrigo (Blankenship) because he's probably one of the hardest workers on that team. When I was there, he stays in the treatment room acting like he was a D-lineman or in the trenches like that. I definitely feel for those guys, and I hope those guys can bounce back."
Yes, Justin Fields saw Georgia lose to South Carolina this weekend. I definitely feel for those guys, and I hope those guys can bounce back. pic.twitter.com/JdcKRp9kzG

— Colin Hass-Hill (@chasshill) October 15, 2019
The possibility remains that Ohio State and Georgia could end up facing each other in a bowl game later this year, which is a matchup that certainly wouldn't lack storylines.
The Bulldogs' loss also served as a bit of a reminder for the Buckeyes, who have steamrolled to victory in all six games this season. 
"I think any time you see something like that, it gets your attention and reminds you of how fragile this is," Ryan Day said. "All it takes is one game where we're not following the plan to win. We turn the ball over, we don't tackle, we don't show up to play, and there you go. We know all about that. 
"Do we spend a lot of time talking about it? No, but it's always out there as a reminder.
DBU? Nope. BIA.
Five days ago, the official Ohio State football Twitter account clapped back at the SEC Network Twitter account by photoshopping the Buckeyes into a graphic comparing Florida and LSU, asking which is "the real DBU," or Defensive Backs University.
If that's not the most 2019 sentence…
https://t.co/iPdL1wOKpR pic.twitter.com/55bm8jcue1

— Ohio State Football (@OhioStateFB) October 11, 2019
Naturally, it got the attention of plenty of current and former Ohio State players, including Jeff Okudah, who will soon give his program even more of a standing in the argument. However, he's less interested in DBU than another three-letter acronym.
"We saw that," Okudah said. "But we don't really entertain that just because we feel like we're BIA. Everyone else claims DBU, but we just claim BIA.
For the unaware, BIA means "Best In America," which has been the tagline of the defensive backfield dating back to the Kerry Coombs era.
Okudah, along with others in the secondary, felt like the Buckeyes slipped out of BIA status last year. After the first half of the 2019 regular season, though, he thinks the group is back on track.
"I definitely think so," Okudah said. "I think we're going to have a lot of more tests in the latter half of the season, so we'll have a chance to really prove who we think that we are."
"They remember the ones that have trees planted in the grove"
At the midpoint of the season, seemingly every national media company dropped their midseason All-American team on Tuesday, and several Buckeyes were represented. Chase Young, Jeff Okudah, Wyatt Davis and Jordan Fuller were all listed as first-team All-Americans by at least one outlet.
Davis, who had no idea he was even picked by anybody as an All-American, had to be told of the midseason honor by a reporter on Tuesday evening.
"I really wasn't aware of that until this point," Davis said. "No, not at all. Thank you for telling me. That's really cool."
As a first-year starting right guard, Davis has helped steady an offensive line that includes four players who didn't start for Ohio State a season ago. SEC Network's Cole Cubelic got Davis' name further into the public sphere – and likely helping him get onto All-American teams – by sending out a Tweet featuring one of his blocks and calling him possibly the "best OG in college football the first 6 weeks of the season."
Wyatt Davis; 52 RG for @OhioStateFB might be the best OG in college football the first 6 weeks of the season. Got one off the ground here. pic.twitter.com/6GgmkwRCgu

— Cole Cubelic (@colecubelic) October 7, 2019
At the midpoint of his first year as a starter, despite the All-American recognition, Davis didn't want to make any bold proclamations about his play.
"If it was the end of the season, I would probably have this conversation with you," Davis said. "But it's only midway season, and I'm not really focused on that now. At the end of the season, if I'm still on all that stuff, then I'll probably acknowledge it up to this point just because we've still got work to do."
Davis wasn't alone in taking that tact.
Sitting in the same seat Davis occupied just minutes before, Okudah also wanted to wait before accepting praise for his play.
"I think it means a lot to be recognized by those websites, whichever websites they were," Okudah said. "But at the same time, we have a lot of more ball to be played. We're only six games in. It's a long season. You guys have all heard it's not how you start, it's how you finish. 
"I think they don't ever remember the midseason or preseason All-Americans. They remember the ones that have trees planted in the grove."
Nearing 100 percent healthy
During the off week, Day had every position coach give each player lists of three positives from the first half of the regular season and three areas that need improvement. 
Cooper didn't necessarily need a list, though. His could have been two words: get healthy.
After missing the first four games of the season with an ankle injury, he returned to action as a starter against Nebraska and then played versus Michigan State in the following week. Between the pair of games, he played 46 snaps. However, even though his ankle had healed enough for him to get back on the field, it still wasn't feeling perfect.
That's where the off week came into play. It gave him a chance to rest his ankle further and get closer to full health.
"I feel a lot better now," Cooper said on Monday afternoon. "Obviously I wasn't 100 percent. Obviously the injury still is lingering. It's still there. But I feel, especially having this bye week, I feel a lot better and I feel like I'm finally getting close to being 100 percent."
Cooper entered the season feeling unsatisfied and that he had plenty still to prove as a senior. With his ankle limiting opportunities in the first half of the season, it's important for him that he gets back to full health as quickly as possible.
There's a chance that he has to play through pain the entire season. But he's hoping the off week aided his return time.
"I want to get back to feeling like myself out there on the field and not letting the ankle limit me as much," Cooper said. "I just want to get back to feeling good and feeling like I can do everything and everything I want to do out there without it hurting."
"Great things are still in store for this guy"
During Christian Brothers College High School's football game on Friday, head coach Scott Pingel got a surprise. He turned around and all of a sudden there was Kamryn Babb, one of his former wide receivers who's now a redshirt freshman at Ohio State.
"We embraced, had a big ole hug," Pingel told Eleven Warriors on Monday. "He said things are going well. Kam is probably the best young man I've ever met in my life. He was like that as a high schooler. He's kind. He's one of those superior athletes who just treats everybody absolutely awesome. Great things are still in store for this guy."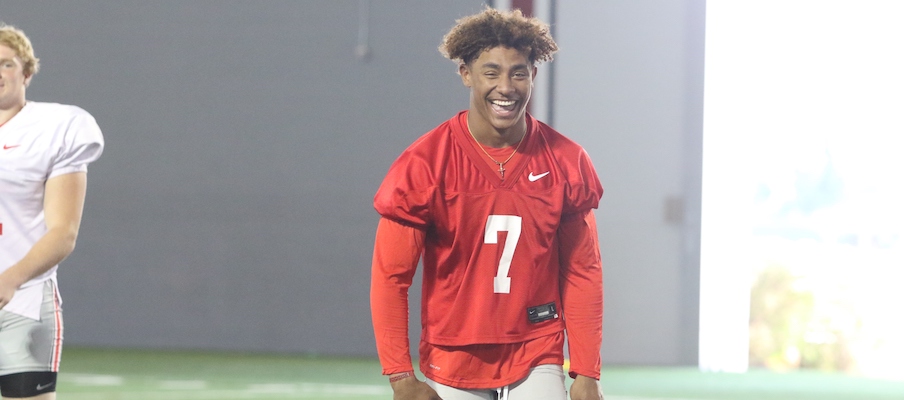 Those "great things" haven't happened yet, though. Few players have had such poor injury luck as Babb.
For the third year in a row, he's dealing with a major knee injury. He suffered a torn ACL as a senior at Christian Brothers College in St. Louis, and then he tore his ACL again shortly after arriving at Ohio State in 2018. This spring, he suffered another knee injury that has kept him out for his second college season in a row.
"Kam wants to keep going because he understands that there's a limited time to play football, and if it takes rehabbing again, he'll do that," Pingel said. "That's the type of person he is."
Ohio State's wide receiver room will continue to load up with talent in the offseason when the team brings in four top-100 recruits at the position, which means Babb will have his work cut out to earn a role when he finally returns to the field from injury. However, he wasn't exactly an under-the radar prospect last year.
In the class of 2018, Babb entered Ohio State along with his high school teammate and current backup cornerback Cameron Brown as the No. 73 overall prospect and the 13th-ranked wide receiver. 
"Once Kam Babb gets healthy, it's ridiculous," Pingel said. "Even Brown says his speed's increased from where it was before. So I'm thinking, 'Boy, if Kam Babb's getting faster...' And then they argue about who's faster between the two. Once he gets right, he's unbelievable."