In the months leading up to his final season at Ohio State, Jonathon Cooper made it clear that he wanted to go out with a bang.
The No. 33 overall prospect in the recruiting class of 2016 when he arrived at Ohio State, Cooper was a starting defensive end for the Buckeyes for the entire 2018 season, but he acknowledged that his career hadn't quite lived up to expectations thus far – and he wanted to change that.
"Even though I came in with this high expectation or being a five-star recruit and everything, I always prided myself on how hard I work," Cooper said at Big Ten Media Days in July. "I was never patient. It was just finding that confidence in myself and knowing that I am one of the best defensive ends in the nation, and I just need to play like it."
Cooper's senior season, however, hit a significant setback before it even began.
During a practice in late August, less than two weeks before the season, Cooper was participating in an inside drill when another player rolled up on the outside of his ankle. After meeting with a team doctor, Cooper learned he had suffered a high-ankle sprain and would need to undergo surgery.
"What's crazy is I didn't even fall," Cooper recalled this week. "So I got hurt, and I'm like limping off or whatever, but I'm like, 'Oh yeah, I'm good, I'm good.' I go see the doc, doc's like, 'Yeah, you're gonna need surgery.' So it was a shocking moment for me."
Cooper's recovery from that surgery forced the senior defensive end to miss the Buckeyes' first four games of the season against FAU, Cincinnati, Indiana and Miami (Ohio). As he thought about the dwindling amount of time he has left in his Ohio State career, watching those games from the sidelines was tough for him to accept.
"It beat me up, man," Cooper said. "I'm not gonna lie. It had me pretty low and pretty upset, just 'cause I knew where I was at. I was playing my best football and it is my last year here and I wanted to go out and show the nation what I could do. But things happen. Things happen, and the only thing you control is what you can control."
Cooper tried not to wallow in his disappointment, though, because he knew he still had an important role to play for this year's team whether he was on the field or not. Elected as a team captain this summer, Cooper did his best to continue being a leader by encouraging his teammates and staying engaged during games and in practices and meetings.
"I treated gameday as if it was a game for me," Cooper said. "When one of my players got a tackle, I felt like it was me out there. Watching the offensive linemen, watching the offense, they come off the field, I'm coaching them up, I'm cheering them on, I'm all up into this thing like I'm playing. I'm still that leader and that guy. As soon as game time starts, I was a different person. I didn't think about my injury, didn't think about anything, I thought 'How could I help my team in any single way to help them win?'"
"I was playing my best football and it is my last year here and I wanted to go out and show the nation what I could do. But things happen. Things happen, and the only thing you control is what you can control."– Jonathon Cooper on emotionally dealing with his injury
Seeing Ohio State win its first four games of the season and dominate on defense in the process, even without him, helped lift his spirits.
"I was happy, every single week, that my defense was going out there and doing what I said we were going to do at Big Ten Media Days," Cooper said. "Really happy for them."
Still, Cooper badly wanted to be out on the field with his teammates and playing, and he finally got that opportunity last Saturday at Nebraska, when he returned to the Buckeyes' starting lineup and played his first 22 defensive snaps of the season.
Cooper had already said before the season that he didn't want to take anything for granted this year, but being able to play for the Buckeyes again meant even more to him after being relegated to just watching for most of September.
"It was emotional," Cooper said. "I had to keep my emotions in check. And realize, there's a game to play. Against a very good opponent. So I was just very focused on that the whole entire time. But it was very emotional to me, and I think it hit me after the game, definitely."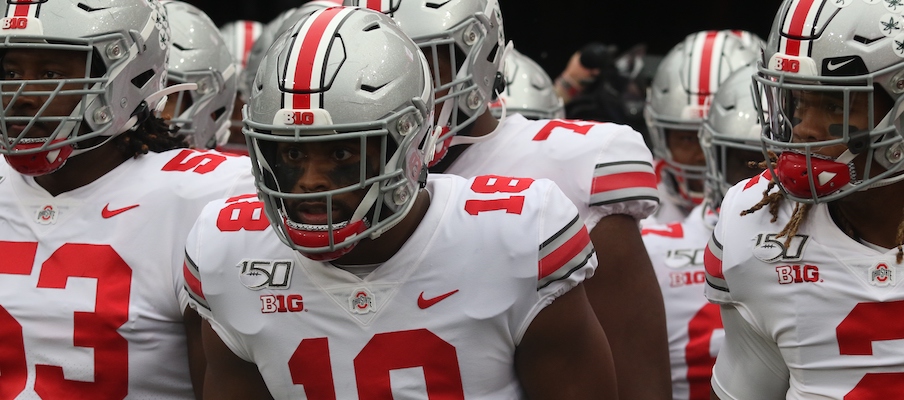 His coaches and teammates, including co-defensive coordinator Jeff Hafley, are certainly glad he's back on the field, too.
"Attitude, toughness, leadership, speed, relentlessness; I can't say enough about that guy," Hafley said of Cooper. "When he's around, you feel better. He just brings that certain way about him that everybody feels confident. How he's battled through the injury, rehabbed, how hard he works; from the moment I got here, he's (been) one of the most impressive guys."
Ohio State head coach Ryan Day said "when he's on the field, everybody's better off."
"I know I'm a better coach when he's around," Day said of Cooper. "He's a beautiful kid, and we're so excited to have him back."
Cooper certainly wanted to play in as many games as he possibly could and make as many plays as he possibly could this season, knowing that this is his final season at Ohio State before he exhausts his collegiate eligibility and moves on to pursue a career in the NFL. But he also wanted to make sure he was healthy before he got back on the field so that he would not hurt his team or himself.
"Don't get me wrong, if I could play through this, I would have definitely," Cooper said. "But also, I want to make sure that when I get out there that the film that I'm putting out is good film. I don't want to just be out there limping around and be like, 'Ah, what's he doing?' It's not even that I want to be back with my teammates. I want to make a difference when I come back."
The good news for Cooper is he still has most of his senior season in front of him to make that difference; depending on how much the Buckeyes keep winning, they could potentially play in up to 10 more games this year, beginning Saturday night at Ohio Stadium against Michigan State.
Now, Cooper knows it's up to him to make the most of the games he has left.
"Every day I'm getting a little bit better, and getting back to that 100 percent status, and I feel like even though my season didn't start the way that I wanted it to, I can make sure that it finishes the right way," Cooper said.