Going into his final season at Ohio State, Joshua Alabi faced the possibility of never starting more than one game in his collegiate career.
Even though he was named to ESPN.com's all-bowl team for his performance in last season's Rose Bowl, in which he made his first career start filling in for Thayer Munford at left tackle, Alabi did not get the first nod to be the Buckeyes' new starting right tackle this season.
That nod went to fellow fifth-year senior Branden Bowen. While Bowen started the first four games of the season at right tackle, Alabi served as Munford's backup at left tackle.
When an injury prevented Bowen from playing in last week's game at Nebraska, however, the Buckeyes called on Alabi – over redshirt freshman Nicholas Petit-Frere, who has been the second-team right tackle all season – to move across the line and make his second career start against the Cornhuskers.
Alabi took advantage of his opportunity, earning Ohio State's offensive player of the game honors after helping to lead the Buckeyes to 48 points and 580 yards – including 368 rushing yards – in their bludgeoning of the Cornhuskers.
He impressed his coaches and teammates, who recognize the sacrifice he's had to make as a senior backup and trusted him to step in and fill in effectively.
"Josh Alabi played well, and it was a tribute to his attitude and what he's done up to this point," Ryan Day said this week. "In the world of people just wanting to go to another school or transfer and go to the portal and try to run to some place else, this is a guy who stuck with it, kept a great attitude, and when the team called on him, he stepped up and played really well. I thought we all felt he deserved to be player of the game."
Right guard Wyatt Davis, who lined up next to Alabi on Saturday, said he felt Alabi "definitely deserved" the player of the game award.
"We were all really happy for Josh 'cause he's gone through a lot of ups and downs through this program, and just for him to kind of stay in tune and not give up in practice, even though things weren't going his way initially during the season, just the fact that he could come out there and play like how he did, just really tells you a lot about his character," Davis said Wednesday. "He's a guy that never stops going, no matter what the circumstances are, and that's why I believe he's probably going to be really successful in life, whether it's football or off the field."
"In the world of people just wanting to go to another school or transfer and go to the portal and try to run to some place else, this is a guy who stuck with it, kept a great attitude, and when the team called on him, he stepped up and played really well."– Ryan Day on Joshua Alabi
Alabi would prefer to be a full-time starter in his final season as a Buckeye, and he acknowledged this week that it has been frustrating not to get that opportunity. But he's embraced his role as the Buckeyes' third offensive tackle and kept his focus on making sure he was ready when his number was called.
"It's not gonna be easy, and I tell myself that all the time," Alabi said Tuesday. "Just because stuff's going bad right now or say you're not starting, you still have a job to do, you still have a role on this team, so just keeping that mindset just keeps me locked in."
Alabi is also a devout Christian, and he credits his faith with keeping him on course spiritually and emotionally even when things haven't always gone his way on the football field.
"I just keep my faith in the Lord," Alabi said. "I know that he guides my footsteps."
Not much has come easy for Alabi in his Ohio State career. He was originally recruited to Ohio State as a defensive lineman, and spent his first two years as a Buckeye playing defensive tackle – appearing in just five games as a redshirt freshman – before moving to offensive tackle. He's seen playing time in 29 games since moving to offense, but most of that playing time has come in backup duty or on special teams.
Even so, Alabi never looked to transfer to another school where he could have had a better opportunity to start on either side of the ball. He's just continued to work hard to improve so that when a chance to play like that which he had on Saturday in Lincoln came along, he would be prepared to perform at a high level.
"My expectation is just to always stay ready, no matter when my number is called," Alabi said. "Because if you're not ready, things can go bad."
Last week came with a challenge of its own for Alabi, who has played and practiced primarily at left tackle in his three years on the offensive line, as he had to prepare to play right tackle after learning at the beginning of the week that he would fill in for Bowen. That meant having to change his stance and do everything in the opposite direction, but by Thursday, Alabi started to feel comfortable on the right side and confident that he would be able to get the job done.
"I told myself like 'Wow, you're really about to go out here and play another position on the other side on the line.' So I tried just different stances, and then I found a stance where I felt pretty comfortable, and I said 'You know what, just stick here,' and prayed about it, and I was fine," Alabi said.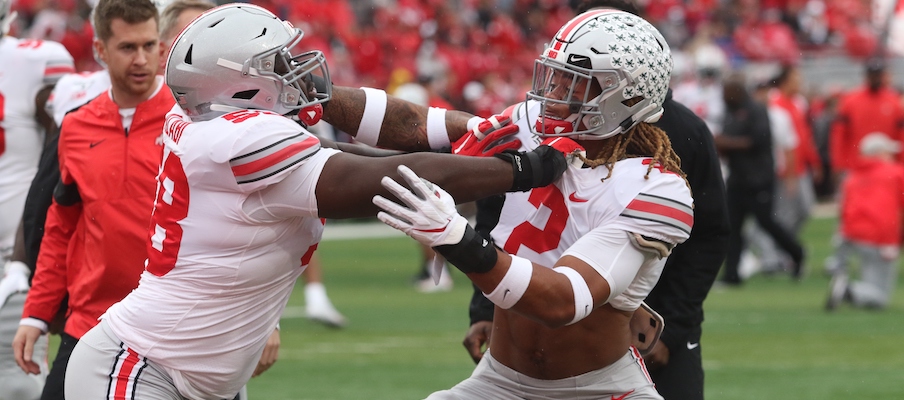 Ohio State hasn't disclosed any information about Bowen's injury or how long he could be sidelined, so it's unknown whether Bowen or Alabi will be the starting right tackle on Saturday against Michigan State. Now that he's started games and performed well on both edges of the line, though, the Buckeyes can feel confident calling upon him any time they need him at left or right tackle.
"It's huge for us, because he can either play right or left and just that versatility alone is a good trait to have as an offensive lineman because you never know what's going to happen during the season," Davis said.
No matter what happens, Alabi plans to continue trusting in his faith and working hard every day to put himself in the best position possible to succeed.
"I just always tell myself, 'Stay the course, things are gonna work out,' and I'm just gonna continue to do that," Alabi said.