If Nebraska was Ohio State's first test, Ryan Day must have found Scott Frost's answer key a long time ago.
The Buckeyes thoroughly controlled the contest against the Cornhuskers, beating Big Red into submission for the largest win by a visiting team in College Gameday history. With 368 yards on the ground, there was not much the away team could not do, imposing their will at the line of scrimmage for most of the night. 
In today's Inside the Box, we'll take a look at how the coaching staff uses each receiver's unique skills to help them succeed, Dobbins' position among Ohio State's royalty, and the much-improved play of the linebackers. 
Buckeyes Spread the Wealth, Take Advantage of Mismatches
For the second year in a row, Ohio State is throwing all over opponents. 
The offense rarely relies on a single receiving threat, opting instead to spread it around based on the matchups they face. So far, this strategy has been run to perfection; in five games this year, three players have already surpassed the 200-yard mark and five players have multiple touchdown catches. 
To further illustrate this point, let's take a look at the target share of some key receivers. A receiver's target share depicts how the rate at which he is the intended receiver. For example, a target share of 10% means that that player is targeted on 10% of all pass attempts.
Now, let's look at the home team. Ohio State's top five pass-catchers this year have been Chris Olave, Binjimen Victor, K.J. Hill, Austin Mack, and Garrett Wilson. Has Justin Fields been relying on a single target?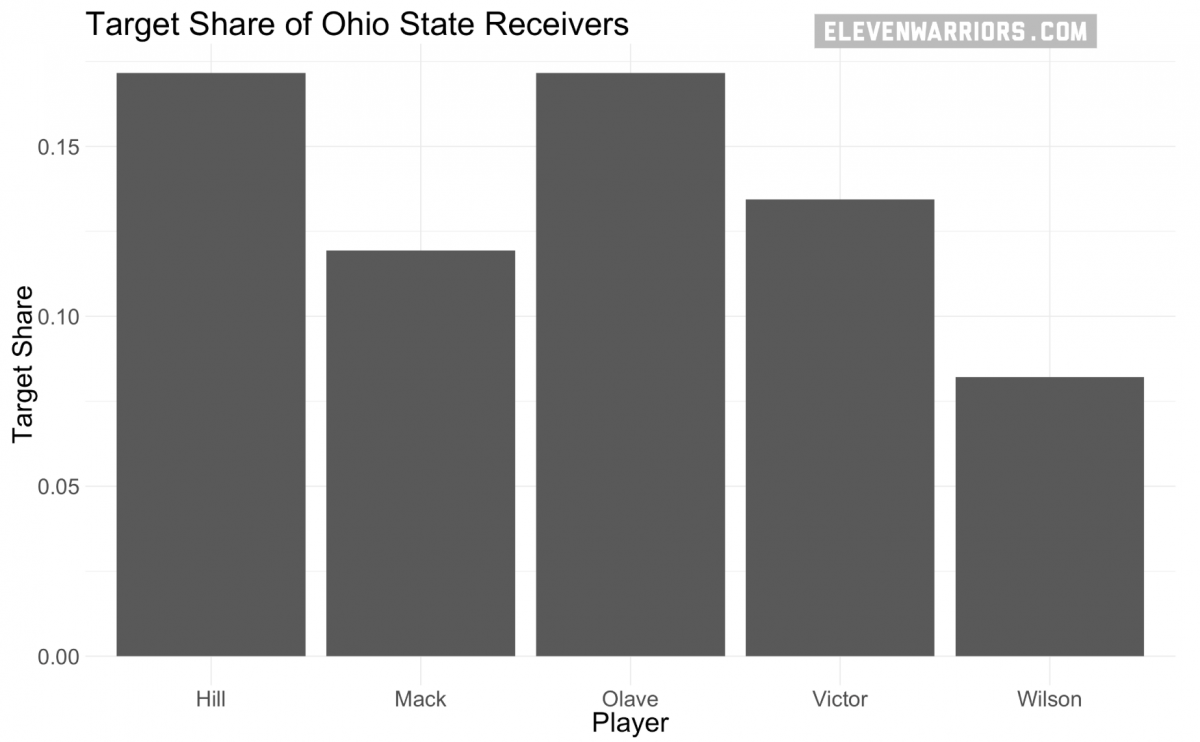 Well, not really. Hill and Olave each have a target share of about 17% while Victor third with a target share of around 13%. Even though these five receivers have been the Buckeyes' top pass catchers this year, their combined target share is just 67%, meaning a third of passes goes to someone not in this group (most likely a tight end, J.K. Dobbins, etc). 
Target share is a great metric, but it gets more interesting when you contextualize it with other statistics. For example, Garrett Wilson has a target share of just 8.2%, but scores on 27% of his targets. This likely means that the coaching staff is mostly using him in the red zone and trusts him to run fades in the end zone, like this: 
This just aint fair. pic.twitter.com/iJXxJE6qtZ

— Eleven Warriors (@11W) September 29, 2019
Now, let's take a look at Binjimen Victor: he has a target share of 13.4% and averages nearly 15 yards per target, telling us that he is mostly utilized for big, explosive plays. 
Overall, these metrics can help us put each receiver into a different archetype. K.J. Hill (17% target share, 87% catch rate, 9.5 yards per target) is a reliable receiver that specializes in short-to-intermediate routes. Chris Olave (17% target share, 16.25 yards per catch) is incredible at creating space and running after the catch. 
These numbers and archetypes bring us back to the original point: the coaching staff looks for different matchups that they can take advantage of and Day can consistently put receivers in a position to succeed. Fields is rarely asked to make throws into tight windows as the coaching staff and receivers have been able to find combinations that help the pass catchers get open. 
Ohio State's offensive scheme has simplified the quarterback's job, gets the ball to athletes in space, and puts every player in the best position to succeed. The 
Dobbins is One of the Best to Ever Do It
Junior tailback J.K. Dobbins broke 3,000 career rushing yards against Nebraska, becoming the 11th Buckeye to ever do so. Barring injury, he will likely end his career as one of the four most prolific running backs in program history. 
Dobbins is just 658 yards away from Eddie George's mark of 3768 career rushing yards, which is the third-best rushing career in Ohio State history. At his current pace, he will surpass that total against Penn State in mid-November and would pass Zeke (3961 career rushing yards) against Michigan. 
While Dobbins will never win a Heisman like some of his counterparts, he has a chance to end his career with the second-best rushing average of all time. He currently sits at a career average of 6.03 yards per carry, good for fourth-best among Ohio State ball carriers with over 2,000 rushing yards. Ezekiel Elliot (6.69 yards per carry), Carlos Hyde (6.11 yards per carry), and Archie Griffin (6.04 yards per carry) are the only Buckeyes above him.
Dobbins' average yards per carry this season of 7.10 is raising his career average each and every week. If he can maintain this average over his next 46 carries, he would become the second most efficient ball carrier in program history. 
The running back's struggles last season made many (including myself) that he was a one-year wonder. Dobbins has certainly roared back should be in the conversation as one of the best backs in the nation and one of the best in the history of Ohio State football. 
The Linebackers Came to Play in Lincoln
With superstars like Chase Young and Jeffrey Okudah on defense, it can be missing to forget about some of the "other guys". One group of "other guys" includes the linebackers, which was by far the most criticized position group a season ago. 
The Buckeyes have returned their top four linebackers from the previous year, yet the difference in play has been absurd. With Ryan Day's staff change and a quick swap in the middle linebacker position, Ohio State's linebackers are looking better than they have in years. 
The unit has been gobbling up opponents all season long by attacking the line of scrimmage and hogging all of the tackles. Against Nebraska, the linebackers had one of their best performances of the season.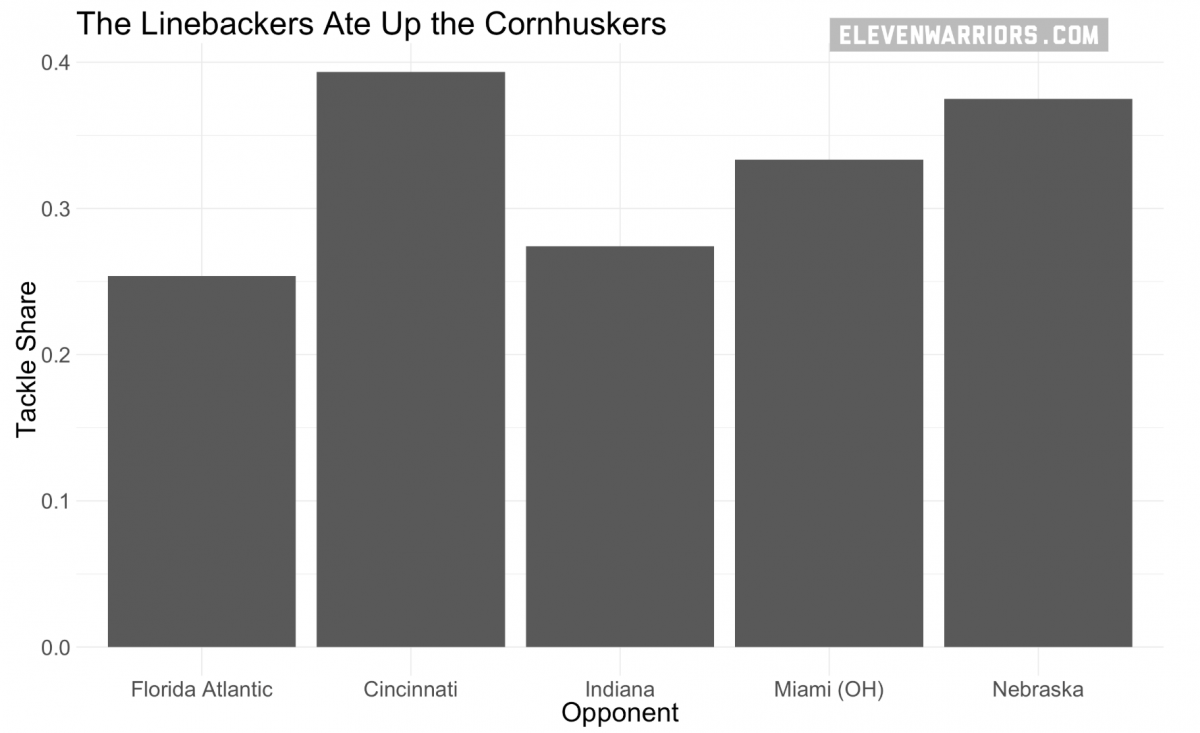 This linebacker play has made a huge impact on one of Ohio State's biggest issues last year: big plays. Last season, the defense allowed 67 plays of over 20 yards and 23 plays of over 40 yards. Through five games this year, the Bucks have allowed just 13 plays of 20+ yards and only three of 40+ yards. 
With Michigan State's unimpressive offense coming to Columbus on Saturday night, the linebackers should have another field day under the lights.