Ohio State improved to 4-0 on the season with a 76-5 dismantling of the Miami RedHawks behind another big day from Justin Fields and more havoc created by Chase Young off the edge. 
The Buckeyes tallied 42 points in the second quarter alone – Ohio State's most points in a quarter since at least 1960 – while churning out 252 yards of offense while holding Miami to -7 yards. 
The mismatch allowed Ryan Day to empty his bench and rest all of his key guys ahead of next week when the Buckeyes resume Big Ten play with a roadie in Lincoln against Nebraska in prime time. 
Before we turn our attention to what could prove to be Ohio State's toughest test of the young season, here are Five Things from yesterday's blowout win. 
---
DEFENSIVE DOMINATION
The Silver Bullets just keep doing the damn thing.
Ohio State built a 49-5 halftime lead thanks in large part to a defense that wouldn't give Miami any room to maneuver after an early 66-yard field goal drive. 
The defensive line was the catalyst as the Buckeyes gave up just 106 total yards on 2.4 yards per play over the game's first 30 minutes. Fifty of those yards came on the ground via 1.8 yards per carry which swelled to 2.6 yards when adjusted for sacks. 
Through the air, the RedHawks' Brett Gabbert completed just 5-of-15 throws for 48 yards and a pick with a long completion of 13 yards. 
On nine first-half possessions (not counting a kneel possession to end the half), the RedHawks turned it over three times, went 3-and-out three times and generated less than 10 yards on six drives. 
For the game, the Bullets held Miami to 4-of-17 on third down conversions and over the last three games the Buckeyes have surrendered just 10 total third conversions in 48 opportunities (20.8%). 
Ohio State held the RedHawks to 15 yards or less on each of their last 13 possessions and forced three turnovers which the offense converted into 21 points. 
Hat tips to Jashon Cornell (4 stops, 1 TFL), Malik Harrison (4 stops, 1 TFL), Haskell Garrett (4 stops, 1.5 TFL), Baron Browning (3 stops, 2 TFL) and Davon Hamilton (3 stops, 2 TFL), among others. No, I'm not leaving out Chase Young – I'll get to to him a minute.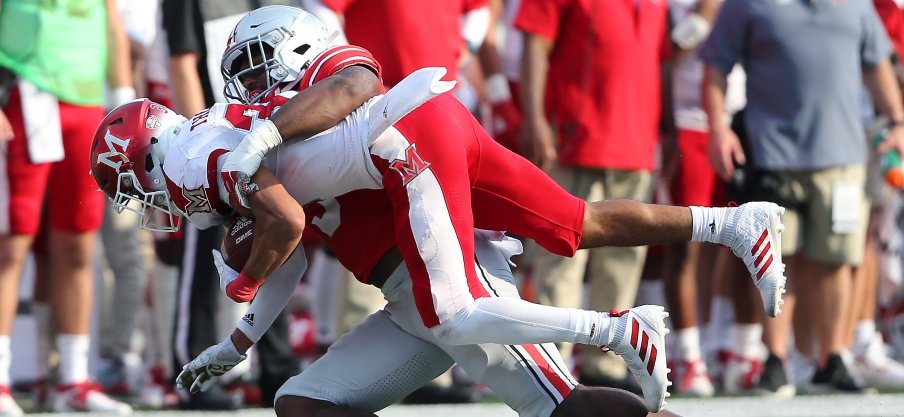 JUSTIN DOES IT AGAIN
Justin Fields lost a fumble for a Miami safety on Ohio State's opening possession but after that miscue the dude shredded the RedHawks with both his arm and legs in another dazzling performance. 
Fields threw for 223 yards and four scores and added another 36 yards and two touchdowns on the ground bringing his season total to 19 total touchdowns (13 pass, 6 rush) with zero interceptions. 
I'm not a fan of him ending up with nine carries in the first half considering the score but a few came via scrambles. I'm less a fan of him spinning in traffic, allowing backside pursuit to blast him twice but no question he did work with his feet including touchdown runs of seven and six yards in the second quarter and, gasp, a 4-yard quarterback sneak from under center to move the chains on 4th-and-1. 
Through the air, he had a few errant tosses but was largely on the money. The two most notable throws for me were a 13-year touchdown toss to Chris Olave on a rollout to the right to make it 35-5 and a 30-yard laser for six to Binjimen Victor on 3rd-and-20 pushing Ohio State's lead to 42-5. 
How is this dude this good after just four starts? 
NO. 2 MAKING A BID TO BE NO. 1
Chase Young should be illegal. 
After racking up 5.0 sacks over the first three games, Young terrorized both edges of Miami's line in a first half performance tallying three tackles, two sacks, two forced fumbles on those sacks, and a quarterback hurry. 
His first strip sack came off the right edge on a 3rd-and-10 play. Malik Harrison pounced on the fumble at the RedHawk 28 yard line and Ohio State's offense scored four plays later to make it 35-5. 
Two defensive series' later, Young's second strip sack came on a 1st-and-10 play around the left edge and Tyler Friday jumped on it giving the offense the ball at Miami's 33. This time it took Fields and company five plays before hitting paydirt as the quarterback hit Olave again this time for a 10-yard touchdown giving OSU a 49-5 cushion. 
Through four games, Young now has 7.0 sacks which means he's halfway to Vernon Gholston's single-season school record of 14.0 set back in 2007. He's also just 3.0 sacks from becoming the first Buckeye to post double-digit sacks in back-to-back seasons.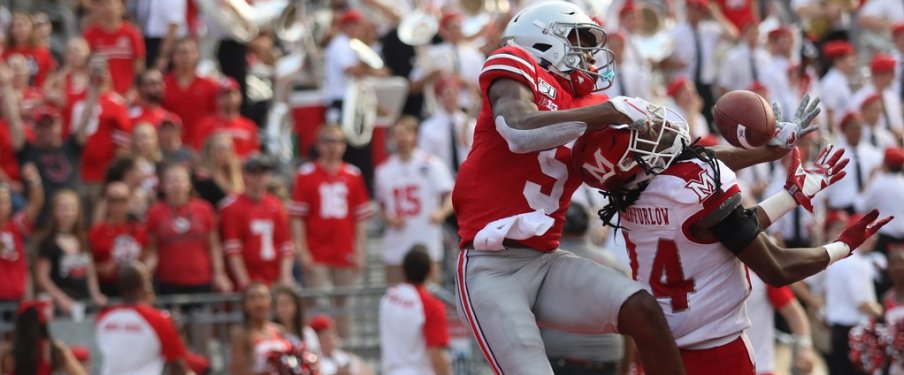 WILSON (KING OF PRUSSIA)
True freshman five-star wide receiver Garrett Wilson came into yesterday's game with three catches for 17 yards including a sweet 9-yard touchdown grab against Cincinnati and had yet to have an opportunity to show his stuff as a punt returner. 
Against Miami, Wilson was a big play machine returning a punt 52 yards to the Miami 12 early in the third quarter and a few minutes later, hauling in a 38-yard touchdown pass from Chris Chugonov putting Ohio State in front 56-5 midway through the third quarter. The acrobatic touchdown grab showcased Wilson's body control, hands and concentration as part of a four-catch, 54-yard day for for the Austin, Texas product. 
The big plays and stats are certainly eye-catching and a sign of even better things to come but what didn't show up in the stat sheet is what gave him a chance to have those playmaking opportunities in the first place. 
On J.K. Dobbins' 26-yard touchdown run giving Ohio State its first lead of the day at 7-5, Wilson contributed an excellent downfield block ensuring the score. Wilson also helped spring Dobbins for a 12-yard carry to the left side right before Fields hit K.J. Hill for a 53-yard touchdown putting the Buckeyes in front 14-5. 
Overall, it looked like a complete day from a kid who is just scratching the surface. 
TURN ON YOUR HARTLINE
Ohio State's lowest-paid assistant coach is doing some of the heaviest lifting. 
Brian Hartline is newer to the profession and isn't a coordinator so this isn't to suggest he's getting robbed or anything but at a salary of $345,000 for this year, Hartline is earning every penny which is exactly what he did last year, his first as the wide receivers coach, when he earned $240,000 while helping Terry McLaurin and Parris Campbell prepare for the NFL. 
This year, he's picked up right where he left off. Chris Olave's continued growth into a future NFL player in the mold of McLaurin has been fun to watch and wow is Benjimen Victor stepping up after the last two years of middling production with flashes here and there. 
Hartline continues to develop Hill and the sky is the limit for Wilson under Hartline's tutelage. 
And wait until next year when Hartline gets his hands on five-star Julian Fleming and four-stars Gee Scott Jr. and Jaxon Smith-Njigba, in particular.