The Buckeyes have started Big Ten play 1-0.
In recent years, the Indiana Hoosiers have been a pesky opponent for Ohio State. The local team made sure to avoid any questions about a red-and-white thorn in their side, blowing out Indiana 51-10. 
In today's Inside the Box, we will take a look at just how effective Ohio State's ground game was, how Chris Olave is no longer a secret weapon, the defense's immense improvement, and Damon Arnette's huge game.
Rushing Attack
J.K. Dobbins loves Bloomington. 
In his Ohio State debut, Dobbins put up 181 yards on a Thursday evening at Memorial Stadium. In his return on Saturday, he recorded 193 yards and two total touchdowns. 
In regards to this year, his performance against Indiana is a statement. 
It was not just Dobbins that got it going, however, as Master Teague III was able to slice up the Hoosiers for 106 yards on just 10 carries. Together, they put in the best performance on the ground since Oregon State came Columbus last season. 

Altogether, the Buckeyes gained 314 yards on the ground. What was most encouraging, however, was the dramatic increase in yards per rush and lowered the total number of rushes. Ryan Day got more production with fewer attempts, which is always a good sign. 
While the big plays are always the most memorable, the running back duo's ability to avoid negative yardage was arguably their most impressive metric. Together, they were only stopped for no gain or negative yardage twice in 32 carries. On the contrary, Dobbins and Teague combined for seven runs of 10+ yards, breaking a big play on a whopping 21.9% of their total carries. Each running play involving either Dobbins or Teague had a higher chance of going for 10+ yards than it did for no gain. 
Olave Lives up to the Hype
Chris Olave is no longer Ohio State's secret weapon. 
His three catch, 70-yard performance, in which he added a touchdown and a blocked punt, is just the latest instance of his all-around impact. In his past seven games, he has led the team in receiving yards and receiving touchdowns. 
Stats and plays for @chrisolave_ the last seven games: 20 receptions, 376 yards, 5 TDs, 2 blocked punts, punt downed at the 1 and KOR tackle inside the 20.

— Jerry Emig (@BuckeyeNotes) September 14, 2019
The second-year wideout is second on the team in receiving yards and has a team-high two receiving touchdowns. Olave was poised for a breakout season and he is living up to the hype. 
Bullets are Back
I have been hesitant to say it for the first two weeks this season. After their performance against Indiana, I have to officially declare: 
The Silver Bullets are back, baby. 
In every facet of the game, Ohio State's defense is back to their old ways. 
| Metric | National Rank |
| --- | --- |
| Yards per Play Allowed | 6 |
| Points Allowed | 7 |
| Third Down Conversion Percentage | 7 |
| Red Zone Scoring Percentage | T-5 |
| S&P+ Defensive Rating (ESPN) | 13 |
These numbers are dramatic improvements from last year's defense. In fact, the Bucks have allowed as many points through three weeks as they allowed in the season opener against Oregon State last year. 
One of Ohio State's biggest advantages has been their pass rush. The defense is currently third in the nation in sacks per game (4.7) and sack percentage (12.28%) with Chase Young leading the way with five sacks. 
While Ohio State's opponents have been pretty weak thus far, the defense has been as dominating as advertised. At worst, the confidence and experience through three weeks should give the Bullets a swagger to take into conference matchups. 
Arnette is Ready
While the whole defense played other-worldly against the Hoosiers, Damon Arnette's game was truly special. His two pass breakups and interception matched his single-game career highs and his pick-six was one of the longest in school history. 
That 96-yard interception return by Damon Arnette Jr.: it represents the 4th longest INT return in school history after 100-yarders by Will Allen (SDSU 03), Marlon Kerner (at PUR 93) and David Brown (at PUR 86).

— Jerry Emig (@BuckeyeNotes) September 14, 2019
The fifth-year senior struggled in last year's scheme but has turned it around under new coaches Jeff Hafley and Greg Mattison. The Bucks were playing zone on Arnette's big play, a coverage rarely utilized under the former staff. 
Arnette's improvement this offseason coupled with the new coaching staff has taken him to new heights.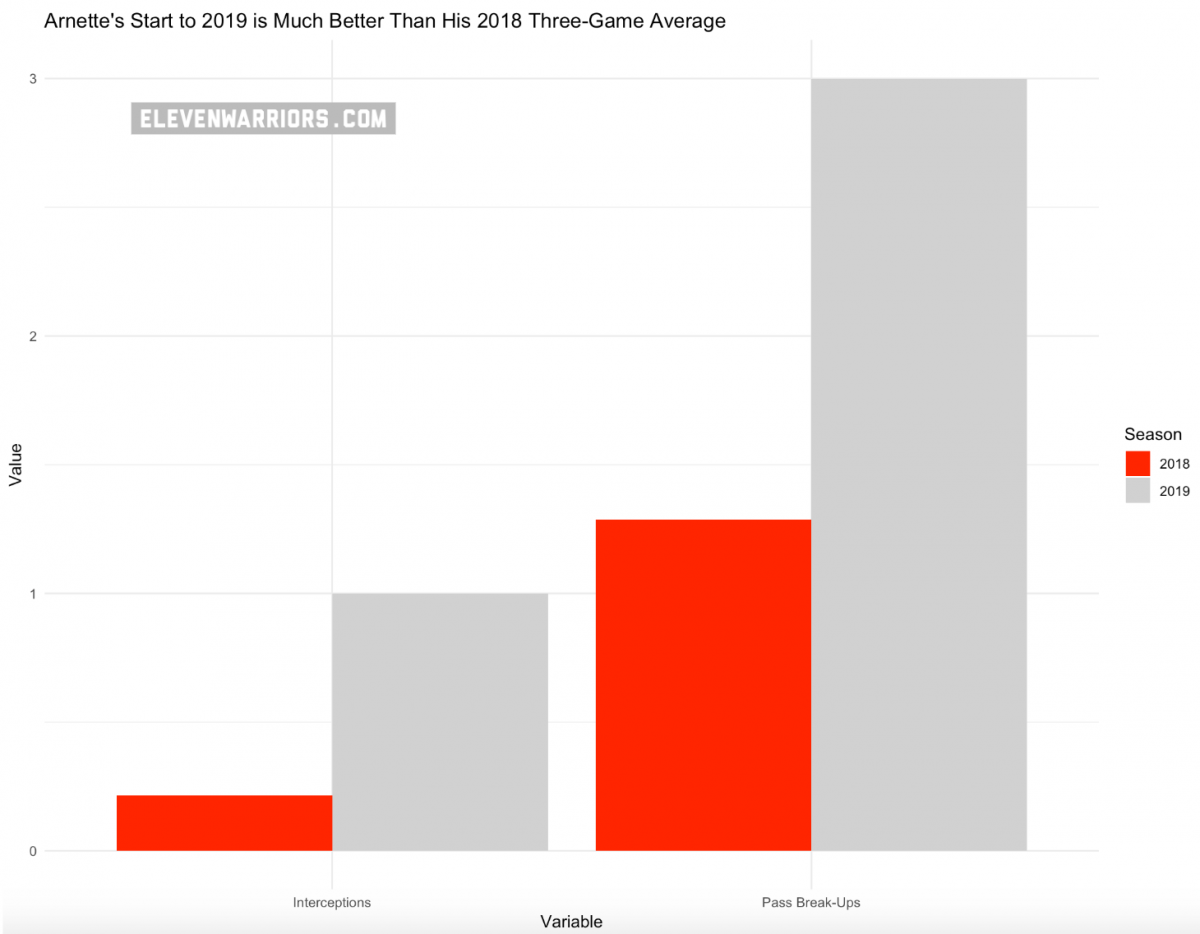 The cornerback has not received the same praise as his counterpart but together, along with Shaun Wade, Brendon White, and Jordan Fuller, the secondary looks as if they could be back to their ball-hawking ways. 
Gus Johnson would be proud to hear that Arnette's performance has not been forgotten. The fifth-year senior has earned a spot on Pro Football Focus' Team of the Week and was named Ohio State's Defensive Player of the Week. 
With Miami (Ohio) leaving Oxford for a date in Columbus, look for the defense and ground game continue to dominate as the Bucks get ready for conference play.