When Ohio State began fall camp, the coaching staff didn't feel it had a true backup running back.
Master Teague had an undisclosed injury holding him out of action. Demario McCall lacks ideal size for the spot and still seemed to be finding his role. Steele Chambers didn't join the team until this summer. Marcus Crowley suddenly seemed to be a dark-horse option to win the job because he enrolled in January.
Thirty-nine days after preseason camp began, the Buckeyes still haven't named a backup to J.K. Dobbins, but Teague has begun to position himself as the backup.
In the season opener against Florida Atlantic, Teague had eight rushes for 49 yards, including a 21-yard scamper that was longer than any of Dobbins' 21 carries. The following week, Teague carried the ball 11 times for 61 yards against Cincinnati. Through two games, he's averaging 5.7 yards per rush.
"(Teague) didn't practice all that much this pre-season," Day said on Tuesday. "It was hard for him to get into a rhythm. He has run hard on film the last two weeks. If he can continue to practice the way that he has the last couple weeks, I think he's going to only improve as he goes on. We'll feel more comfortable with him handling more snaps in the game."
With Dobbins in the picture as the clear No. 1 running back, which Day again reiterated on Tuesday, Teague's amount of carries could have a cap. However, if he continues running like he has in the first two games, he could find himself with a bigger role.
"He runs really hard. He does a great job. The kid is a powerful kid. He can run. He's big and strong. He attacks defenders when he makes a decision."– Tony Alford on Master Teague
Think back to what Day said in the first week of fall camp when asked about what he wanted in a backup to Dobbins.
First, he said, the coaches wanted somebody with ball security who won't fumble. Next, they were looking for somebody who could block. Mainly, though, Day said he wanted a backup running back who would make the "hard" runs of five or six yards.
"We want those guys to get good pad level, we want them to run the ball where it's supposed to be run and then win on contact," Day said on Aug. 6. "So if a linebacker is there to make a tackle or if a safety comes up with a tackle, we want them to run through contact, like a lot of running backs have done here in the past, and play with toughness and great pad level."
A month after making that comment, Teague has run the ball precisely in that manner.
The 5-foot-11, 220-pound back who runs in the range of a 4.4-second 40-yard dash carries the ball with a ferocity, planting his foot and taking off downfield with speed. He's not afraid of contact, keeps his feet churning on contact and often finishes runs for an extra couple yards.
"It's clear to see once he gets a momentum going, he can run through contact," Day said on Tuesday. "That's what we're looking for."
And that's what they got in the first two games.
So, what's holding him back? Reps. It's that simple, per the coaches. Teague missed the majority of preseason camp with an undisclosed injury, which held him out of the daily competition with McCall, Crowley and Chambers. Both Day and running backs coach Tony Alford mentioned that issue throughout fall camp, and they continue to bring it up whenever anybody has asked them about Teague and his impressive performances over the past two weeks.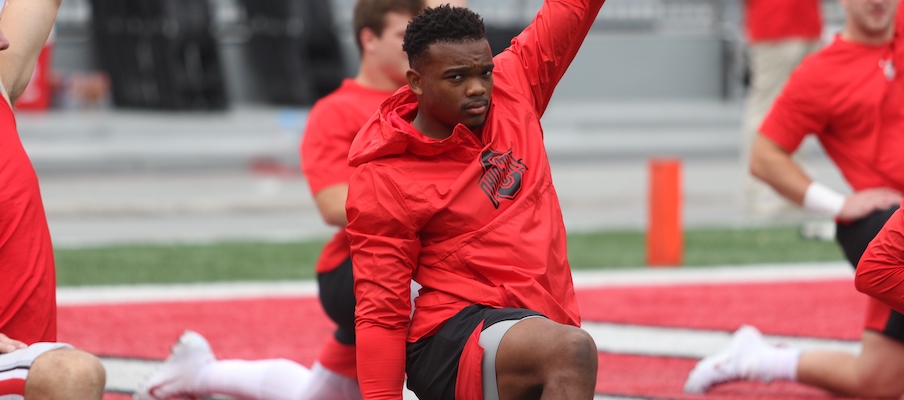 With Teague out of action, an opportunity existed for others to step up and claim some of the backup running back snaps. That didn't happen, though, which led to him getting the most carries the first two games by anybody not named Justin Fields or J.K. Dobbins.
Back to full health, Teague has taken advantage of his carries, many of which have come in the second half of games when he can come off the bench and use his physicality to go at defensive players who could be tiring.
"He runs really hard. He does a great job," Alford said on Tuesday. "The kid is a powerful kid. He can run. He's big and strong. He attacks defenders when he makes a decision. I think we're becoming more and more comfortable every single day with him. He missed a lot of training camp. 
"So the evaluation process is still ongoing. But what he's doing right now, he's earning himself more playing time."
Unless Dobbins unexpectedly falls apart, the backup role won't look anything like it did a year ago with Mike Weber splitting carries as a co-starter. This is Dobbins' job, and the coaches don't seem intent on even considering a two-back system.
Instead, as Alford said on Tuesday, the Buckeyes could find areas on the field or points in the game to turn to Teague and McCall rather than just use them to spell Dobbins when he gets tired.
"I know everybody wants to know who's the No. 2 back, this, that and the other," Alford said. "I think it's kind of situational, much like the game of football."
How that affects Teague's touches, Alford wouldn't say. But based on how Teague has played in the first two games, it would behoove the Buckeyes to find a way to keep him involved in the offense.