A base defense won't mean much to Ohio State this fall.
Sure, Greg Mattison has something he could refer to as a base set, which would include four defensive linemen, three linebackers, two cornerbacks, a safety and either a nickelback or safety. But given how much the Buckeyes intend to match personnel with what offenses throw at them, they're building a defense that could rely on different packages throughout the season.
"Remember now, in our scheme there's a lot of different packages," Mattison said Wednesday. "There's a nickel package, regular package, bullet package, penny package, there's all kinds of things."
The only constant, in all likelihood, will be the defensive line. 
With Larry Johnson on Ryan Day's inaugural coaching staff, nobody had any reason to make any major adjustments up front. They'll still trot out two defensive ends and two defensive tackles. Behind the front four, though, Ohio State's defense could look significantly different depending on the week and the style of the opponent.
Two linebackers, four cornerbacks and one safety? Possible. Three linebackers, two cornerbacks and two safeties? Possible. Two linebackers, one bullet, three cornerbacks and one safety? Possible. Just about any iteration of linebackers, cornerbacks, safeties and a bullet could play together on the field.
Usually the Buckeyes will play at least two linebackers – middle linebacker and weakside linebacker – in whichever package they use, but even those positions will have players who can line up at either spot.
"There are two inside linebackers. It's a Mike linebacker and a Will linebacker, and they could be very interchangeable," Mattison said. "And that's what Al (Washington) has done a very good job of that we talked about doing is that you don't want to pigeonhole a guy when they are talented. You want to be able to say, okay, if the next best guy is this guy, then he's got to be able to play Will and Mike, for example and that's what he's working with on them right now."
Malik Harrison returned for his senior year, and his starting weakside linebacker spot appears secure. As Mattison said, he could play middle linebacker, if necessary. The Buckeyes have significant depth at that position, though, beginning with Tuf Borland. Teradja Mitchell and Baron Browning have impressed, but it seems likely that Borland gets his 21st career start on Aug. 31.
"I like everything about Tuf Borland's game," Mattison said. "Tuf Borland is another one that comes out to practice every day, extremely intelligent. Takes great pride in getting the front lined up."
In nickel packages, the Buckeyes have primarily worked with Harrison and Browning as the two linebackers on the field.
When they go with three linebackers, they'll also have a strongside linebacker, which, based on Mattison's comments on Wednesday, will almost certainly be Pete Werner, making it likely the Buckeyes run it back with last year's three starters.
Unlike the situation at middle linebacker and weakside linebacker, though, Werner's strongside linebacker snap count could drop due to the defensive schemes implemented by Mattison and Jeff Hafley. The potential decrease in playing time wouldn't come due to the coaches' lack of belief in him, but rather due to the creation of the bullet, a hybrid safety/linebacker that seems to be more linebacker than safety.
Both Brendon White and Jahsen Wint have practiced as bullets since the spring. Even though they were safeties in past years, they have worked almost exclusively with the linebackers throughout preseason camp. Effectively, they're more athletic strongside linebackers who can allow the Buckeyes to have more speed on the field against teams that will 
"The bullet position is a position that when teams want to try to spread you out and try to use a very, very athletic tight end possibly to get you a mismatch on what most people would be a big, strong Sam linebacker," Mattison said. "The thing that we have, as I mentioned, is we have a Sam linebacker that is very, very athletic and very, very fast. So the bullet position ends up being a way for us to have great depth at the Sam position. They could be interchangeable.
"But the bullet position has been very good for us. It gives us a lot more flexibility to be able to play a lot of different positions. Brendon White has done a really good job of that, and Jahsen Wint, both of them have had very good camps so far."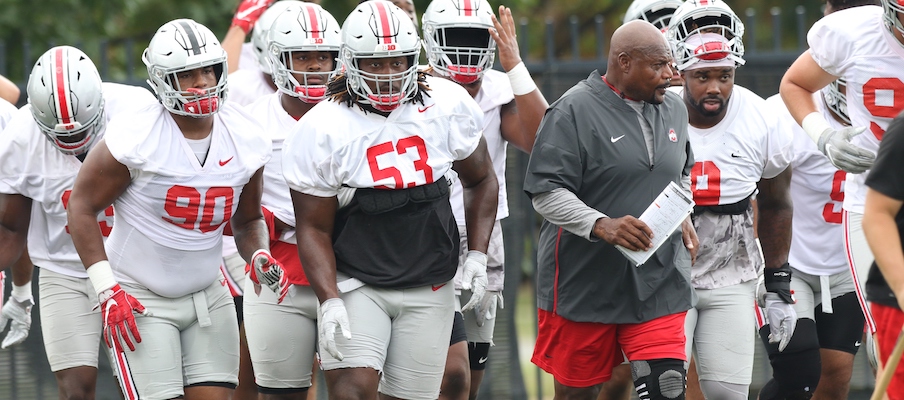 Mattison said a bullet must be a "really, really fluid, fast player" who is physical enough to play near the line and can blitz when called upon to do so.
Does that eliminate the possibility of White dropping back and playing safety beside Jordan Fuller? That's not the case, per Mattison.
"Good thing about Brendon White is you have a lot of experience, one," Mattison said. "Two, he is very, very intelligent and he's very athletic ... Brendon has the athleticism and the experience at two different positions to be able to fit in and that's what it's allowed us to do. He can fit in as a safety in one package and fit in as a bullet in another package, so there's a lot of different places."
Though Mattison said White might play safety, he hasn't lined up there much throughout preseason camp.
Instead, Ohio State has often used a lineup with Fuller as the sole starter as a deep safety, along with Jeff Okudah and Damon Arnette at cornerback and Shaun Wade at nickelback. But Hafley has mixed it up, too. In the past two open practice windows, Arnette has taken some snaps at nickelback with Okudah and Wade as the outside cornerbacks. Wade has also lined up at safety at times.
A base defense would include Okudah, Arnette, Wade and Fuller. But do we even know how they'll line up? We don't, which is exactly what Ohio State wants.
"We want to surprise you and (other) people," Hafley said this summer. "I'm not saying that to be a smartass or anything. That's just the truth."