If you're trying to figure out exactly what Ohio State's defense will look like this season, there's no short answer to that question.
While the Buckeyes' new defensive coordinators have said they want to keep the defense relatively simple in order to allow defenders to play fast, they've also experimented with a variety of packages – some of which we probably don't know about yet – in their preparation for the 2019 season.
Ohio State doesn't want us – and more importantly the teams it will play this season – to know exactly what's coming.
"We want to surprise you," co-defensive coordinator Jeff Hafley said during a June interview session. "I'm not saying that to be a smartass or anything. That's just the truth."
Hafley said that specifically in regard to whether the Buckeyes' defensive lineup would feature one deep safety or two deep safeties this season – one of the variables that appears to be coming to Ohio State's defense. While Ohio State's previous defensive scheme coordinated by Greg Schiano primarily utilized two deep safeties, Hafley said this year's Buckeyes could use two deep safeties in some packages and one deep safety in others – and potentially even three deep safeties at times.
The Buckeyes often lined up in single-high safety formations during spring practices that were open to the media and in the spring game, but it's likely that the Buckeyes will use a variety of alignments throughout the season – potentially varying week-to-week based on opponents' strengths, weaknesses and style of play – dependent upon their game plans, game situations and to keep opponents guessing.
Ohio State added a new position to its defense this spring, the bullet position, which is modeled after the viper position at Michigan, where new co-defensive coordinator Greg Mattison and linebackers coach Al Washington previously coached. Brendon White is set to play that position after starting at safety last year, but it remains uncertain how exactly and how often the Buckeyes will deploy the bullet. In the spring game, the bullet substituted in and out of the lineup with the Sam linebacker (Pete Werner), with White lining up as both a linebacker and a safety in different formations.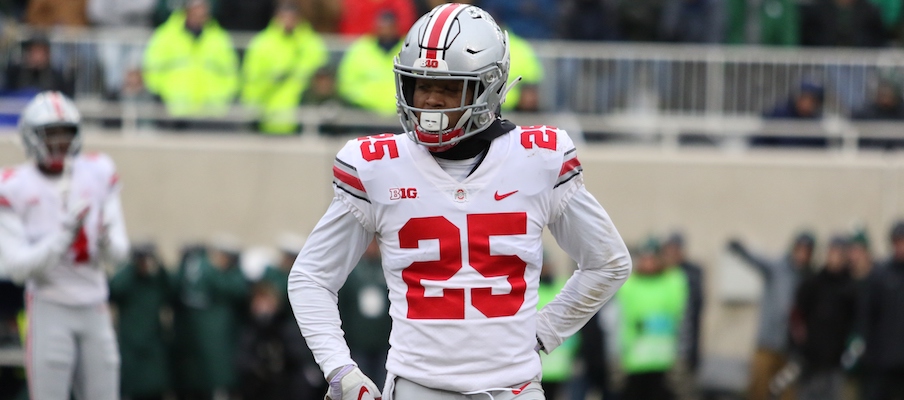 Another variant that could be seen in Ohio State's defense this spring was the use of a slot cornerback as more than just a subpackage player. With the move to more single-high safety alignments, the Buckeyes often lined up in formations that featured four defensive linemen, three linebackers, three cornerbacks – with Shaun Wade playing inside and Damon Arnette and Jeffrey Okudah playing outside – and one deep safety.
For Ohio State's new defensive coordinators, the goal is to strike the right balance that allows them to have as many different packages as they can without slowing the players down. One way the Buckeyes could do that is to call upon players who aren't in their primary lineups to play package-specific roles, instead of moving starters from one role to another based on formation. How much they do that will depend on how many defensive players prove they belong on the field in some capacity.
"You've got to be really, really conscious of, what's going to allow Chase Young to play the best he can play?" Mattison said this summer. "If you have three other guys like him up front or two-deep of guys like that, what's going to allow them to play the best they can play? If it's five defenses instead of 10, then you play five. There's also the part where you'd love to get a young freshman or a young sophomore that's really, really starting to prove himself, without having to do everything, plugging him into one or two defenses where you have a better athlete running the stuff."
Hafley offered a similar assessment when asked about how many defensive packages the Buckeyes would like to have.
"I was around some systems where you had like 10 packages in a game, I think that's too many," said Hafley, who spent the past seven years coaching in the NFL before joining Ohio State's coaching staff in January. "What I think is important that we do is with players that deserve to play and have proven they deserve to play – they're doing all the right things in the weight room, in school, off the field and on the field – I think you can create simple packages and just plug in a guy to have a role. I think the more guys that have a role on the team, then the more ownership they'll have, the more they'll feel part of it. And I think that's really good for a football team and really good for a defense."
While it's hard to predict exactly what Ohio State's defense will look like until this year's Buckeyes – which have an entirely new defensive coaching staff with the exception of Larry Johnson – actually play a game, and there will likely be new wrinkles from week to week as the Buckeyes face different offensive schemes, we can analyze what we've seen and heard about Ohio State's defense so far to get a general idea of what their primary packages might look like.
Up front, Ohio State is expected to continue using a four-man defensive line in the vast majority of formations. The Buckeyes occasionally used three-man fronts in a 3-3-5 nickel alignment last season, so there could still be a package for that, but the Buckeyes will continue to use a four-man defensive line in most situations.
"We had long discussions about what that was, but just felt like if we went to a three-down scheme too much that we're taking one guy off the field that maybe we shouldn't," Ryan Day said this spring. "So that was kind of the one thing we started on. We're going to be a four-down front for the most part, and then where do we go from there."
With Larry Johnson still on board coaching the defensive line, the Buckeyes are expected to continue to rotate players regularly at both defensive end and defensive tackle spots along the line. It's also likely that the Buckeyes will continue to deploy a Rushmen package in pass-rushing situations. During the spring, Ohio State experimented with a four-defensive end lineup of Young, Jonathon Cooper, Tyreke Smith and Zach Harrison for that package.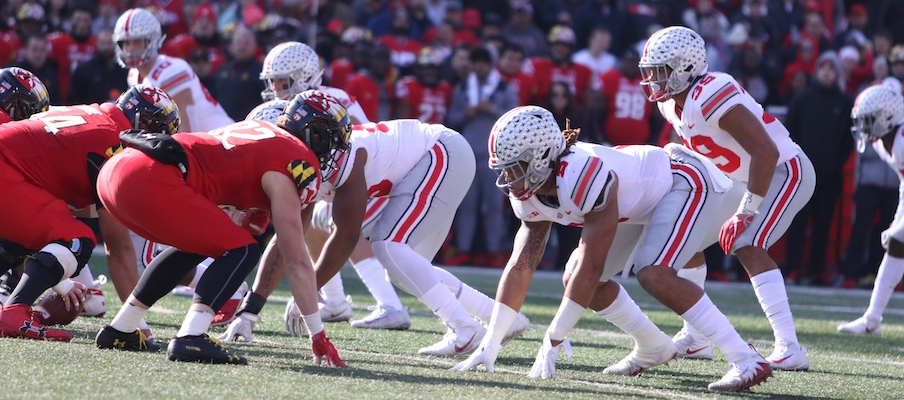 It's likely that the Buckeyes will also have their two inside linebackers, the Will and Mike, on the field in a vast majority of packages, though Ohio State could potentially rotate players more regularly at those spots than it did last season; Malik Harrison should play most of the snaps at Will, but Dallas Gant is also pushing for playing time there while Tuf Borland, Teradja Mitchell and Baron Browning are all vying for playing time at Mike. 
It appears likely that in most situations, the bullet will take the place of the Sam linebacker in the lineup – or vice versa – depending on whether the Buckeyes want to have three traditional linebackers on the field or another player with more speed and coverage ability. In true nickel packages, the Buckeyes might not have either on the field, though they could also be inclined to play the bullet alongside just one traditional linebacker in some passing-down sub-packages.
With the exception of goal-line situations in which the Buckeyes might load up on defensive linemen and linebackers, it's safe to assume that Ohio State will have at least two cornerbacks and one deep safety on the field in every package. In most situations, the Buckeyes will have at least one other defensive back on the field, but there will be moving parts based on opponents' personnel and tendencies. Unlike the past three years with Greg Schiano as defensive coordinator, the Buckeyes are also expected to alternate between man and zone coverages instead of having their cornerbacks play strictly press man.
Having versatile defensive backs like Wade, who can line up anywhere from slot cornerback to outside cornerback to safety, and White, who can still drop back and play as a deep safety even though his new role will have him mostly playing closer to the line of scrimmage, will go along the way in enabling the Buckeyes to have a multifaceted defense. 
"It lets us be more creative," Hafley said of their versatility. "It lets us do more things, especially situationally. Maybe third down, you can get a little bit more creative. It gives you more depth in certain areas. If a guy gets hurt here, he can go there, but he can also go there. You can move around guys. So it's good to have guys that can do multiple things."
While players like Jordan Fuller and Harrison are probably less likely to come off the field than others, there's definitely the potential for the Buckeyes to make more situation-specific player substitutions this year than they have in years past, as they look to play every defender to their strengths while also finding roles for players who might not be in line to play regularly. Even newly arrived freshmen like Cade Stover and Craig Young could be candidates to earn small package-specific roles if they demonstrate immediate ability to make an impact in a specific capacity.
The Buckeyes have to be careful about doing that too much, though, because the tempo that some offenses will play at could prevent them from regular substitutions – which means defenders have to be able to adjust on the fly when they are in the game.
"With the way teams run tempo now, what teams are trying to do is they're trying to make sure you can't get a lot of separate packages in there," Mattison said. "They would love nothing more than for Ohio State to be sending in two skilled, fast guys during a play and them getting ready to snap the football."
Given all of that, Ohio State must walk a fine line between implementing too many packages or being too simple, and relying on too many different players or not getting enough involved. While immediate improvement is both expected and needed for a defense that is coming off the worst season statistically in school history, it will likely take playing some actual games to iron out the optimal balance and figure out which packages work better than others in certain situations.
Nevertheless, here's a rough look at some of the personnel alignments we are most likely to see the Buckeyes utilize this year:
Base Defense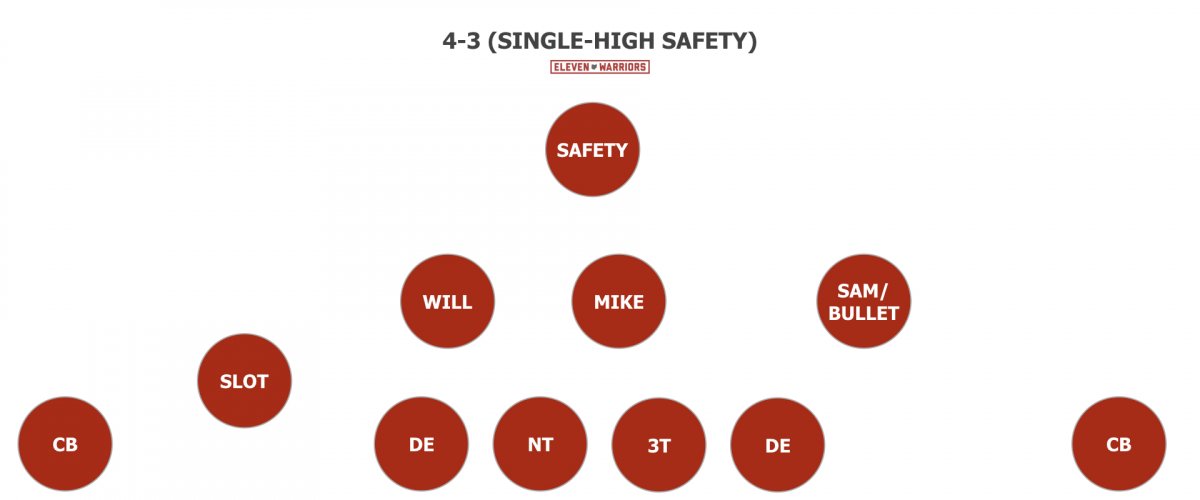 The package above was the one that Ohio State used primarily as its base defense in the spring game, though it's really two packages. Pete Werner started the spring game at Sam linebacker, but Brendon White alternated in as the bullet, which sometimes means also lining up as a linebacker but other times means dropping back to play as a safety.
Up front, Chase Young and Jonathon Cooper are expected to start at defensive end, but Tyreke Smith is expected to rotate in regularly while Tyler Friday, Zach Harrison and Javontae Jean-Baptiste are also among the candidates to crack the rotation. Inside, Robert Landers, Davon Hamilton and Tommy Togiai are all expected to rotate at nose tackle while Jashon Cornell, Taron Vincent and Haskell Garrett are all expected to rotate at 3-technique.
Malik Harrison is expected to start at Will linebacker while the middle linebacker could be Tuf Borland, Teradja Mitchell or Baron Browning (or a combination of them). In the secondary, Jeffrey Okudah and Damon Arnette are expected to start at the outside cornerback spots with Shaun Wade at slot cornerback and Jordan Fuller as the middle safety.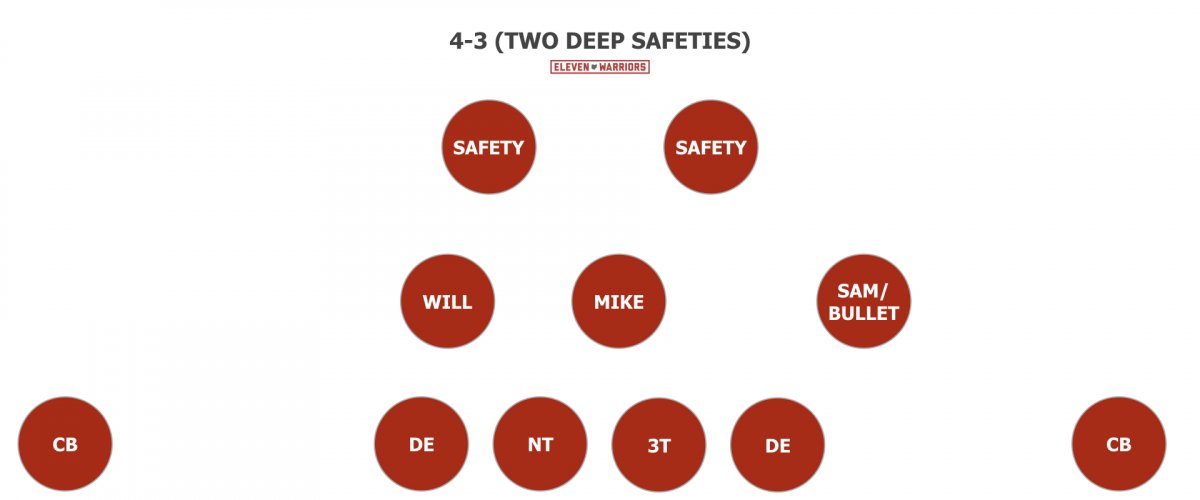 It's likely that Ohio State will use a more traditional 4-3 defensive alignment in some situations, particularly against pro-style or run-heavy offenses. In those formations, White could ultimately be the top candidate to play as the Buckeyes' second safety, with Werner playing Sam linebacker; that said, there could also be an opportunity for another safety such as Josh Proctor or Isaiah Pryor to earn a spot in the lineups with two deep safeties. Wade could also potentially play as a deep safety in this formation, as well.
Nickel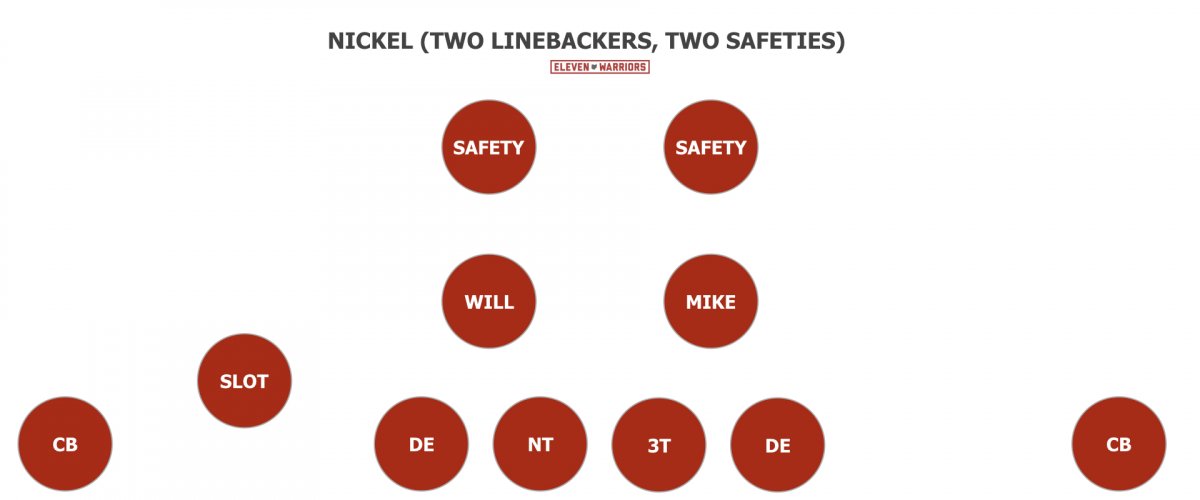 Once again, this defensive formation could simply mean playing White alongside Fuller in the safety spot that he played last season. 
Up front, the Buckeyes are likely to sometimes move away from their regular defensive line rotations in favor of the Rushmen lineup of Young, Cooper, Smith and Harrison (or whoever Ohio State chooses to round out that unit). If Borland or Mitchell starts at middle linebacker, the nickel defense could also be Browning's opportunity to substitute into the game, much like he did in nickel packages last season.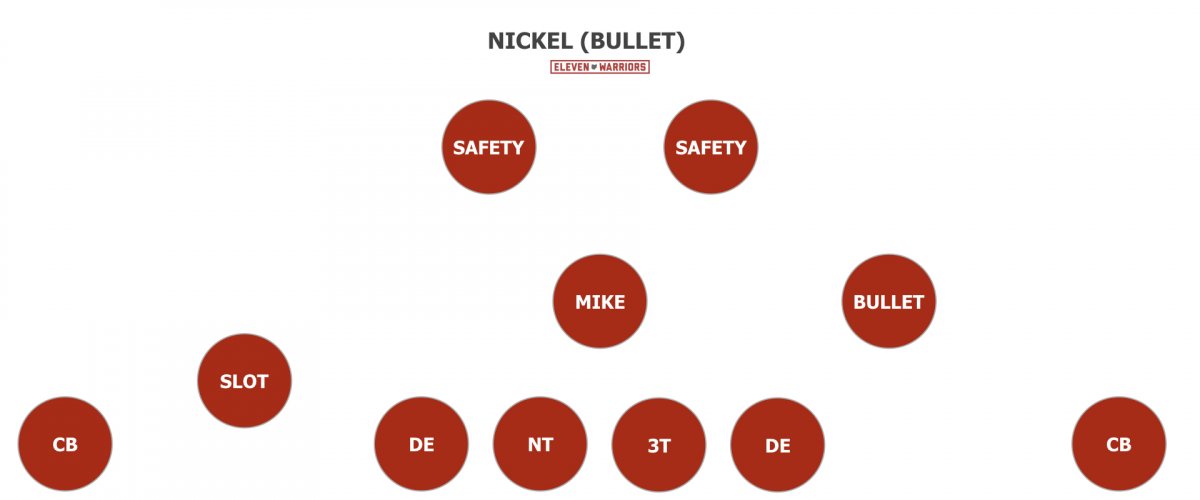 In situations where the Buckeyes want to maximize their speed and pass coverage ability on the field, this formation could serve as a hybrid version of a nickel/dime defense, with White playing the bullet position in addition to five other defensive backs on the field. Harrison, as Ohio State's top traditional linebacker, could likely serve as the Mike linebacker in this package, which the Buckeyes would likely only use in obvious passing situations.
Other Possible Packages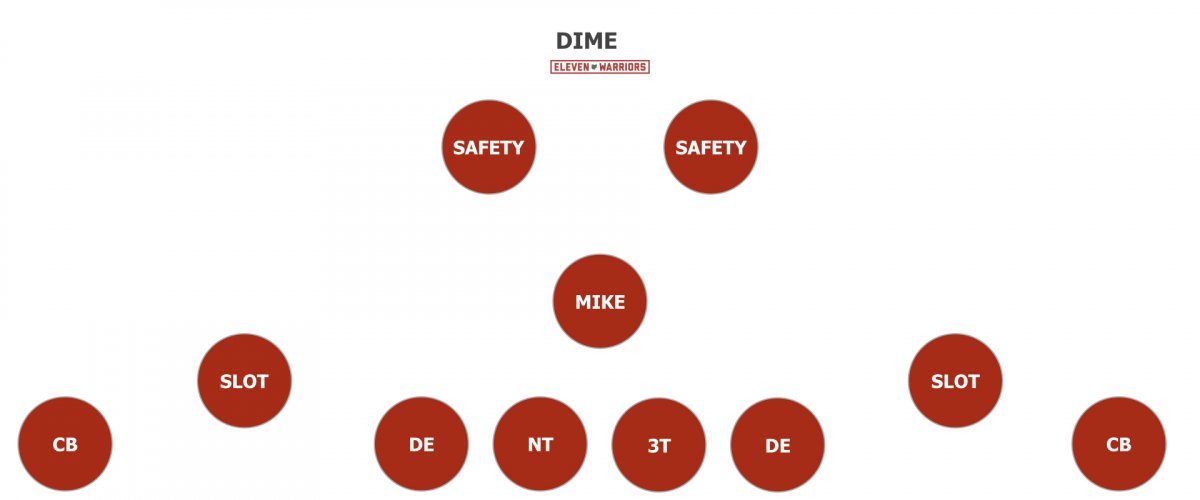 The Buckeyes are probably more likely to use the nickel package with the bullet above than they are to use a true dime package this season, but this could still be an option against more pass-heavy spread offenses – especially if a fourth cornerback such as Amir Riep, Sevyn Banks or Marcus Williamson proves they belong on the field as well. White would likely play as the second safety in this package, and another variation could be to play the bullet as a second linebacker with a single-high safety and four cornerbacks.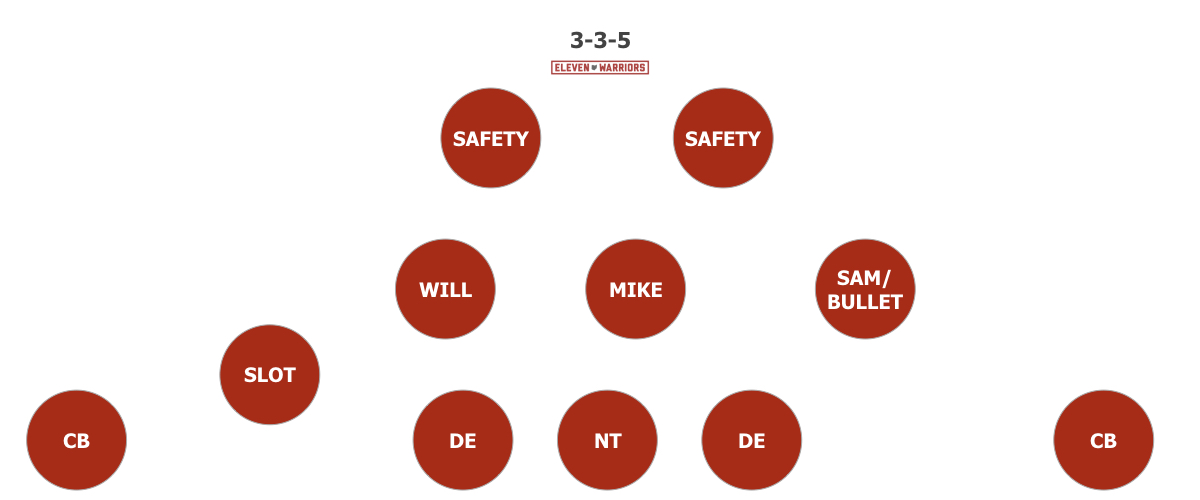 Based on what Ohio State has said this offseason, we shouldn't expect to see three-man fronts often, but this package is one that could still be in the Buckeyes' arsenal. When the Buckeyes went to this package last year, the defensive line typically consisted of Vincent at nose tackle with Dre'Mont Jones and Young as the defensive ends. Cornell or Garrett, or potentially another defensive end, could be a candidate to take Jones' place in that lineup this year.