Among all the members of the Buckeyes' recruiting class of 2019, Craig Young's eventual role at Ohio State might be the most difficult to pinpoint.
Young played everywhere from defensive end to cornerback during his career at Wayne High School in Fort Wayne, Indiana, and even worked out at three different positions – safety, linebacker and defensive end – at the Ohio State camp where he earned the scholarship offer he ultimately accepted.
Even now that Young is on campus and preparing for his first season with the Buckeyes, Ohio State's coaches aren't ready to commit to him playing a specific position.
That's not a bad thing. The versatile athlete could be capable of lining up at multiple defensive positions for the Buckeyes, so they don't want to pigeonhole him into just one.
Young is expected to primarily play linebacker under the guidance of position coach Al Washington, but co-defensive coordinators Greg Mattison and Jeff Hafley didn't want to specify what Young's role could be when they were asked about him earlier this month, given that they haven't even had the opportunity to coach him in an actual practice yet.
One thing they do already know, though, is that they are getting an elite athlete.
"Boy, he's a great athlete," Mattison said on June 5. "I was watching him run the other day; wow, he's a great athlete."
Listed at 6-foot-4 and 200 pounds, Young might be too tall to be a full-time defensive back and too light to be a defensive end at the collegiate level, but he could still be tasked with covering receivers in certain situations yet could also be a situational pass-rusher off the edge, which Wayne High School coach Derrick Moore believes is where Young is at his best.
"He's dynamic with his hands and with his speed, and I know they're going to beef him up, make him stronger," Moore told Eleven Warriors. "So I think they got it right when they put him on the defensive side of the ball, and let him come off the edge, which is a trend right now in the NFL and college football."
That could perhaps make Young a fit for the new bullet position at Ohio State, a hybrid safety-linebacker position that will also include a pass-rushing element, but it could also lead to a yet-to-be-named role – and potentially immediate playing time.
Mattison and Hafley have both expressed that they went to keep Ohio State's defense simple for the players, yet they also want to be able to deploy a wide variety of different looks. In order to do that, the Buckeyes could groom defensive players who aren't starters to play package-specific roles, and Young's athleticism and versatility makes him a dynamic chess piece who could be a valuable role player as early as this season if he proves he is ready to play.
"He would be an example right now, he's got a lot of athleticism, that you might put him in for one or two defenses if you could do that, or one or two packages where you could get him to do some things that use his skill level," Mattison said of Young.
Asked where he believes Young can be most successful at Ohio State, Moore simply said "somewhere on the perimeter of the defense," citing how effective Young – who also played wide receiver for Wayne's offense – was in that capacity for the Generals.
"For us, he shut down one side of the field, whether that was at corner, outside linebacker or defensive end," Moore said. "Wherever we put him, teams couldn't go that way."
As the No. 610 overall prospect in the class of 2019, Young was one of the lower-ranked recruits among Ohio State's new freshmen. Moore recalled that when Young received his scholarship offer from Ohio State last summer, then-coach Urban Meyer told Young that he had to get better to play for the Buckeyes – and that actually sold Young, who Moore said "hates to lose," on committing to Ohio State just three days later.
"He actually told Craig, 'You're not good enough to play here right now, and you're going to have to go back to Fort Wayne and put some work in,'" Moore recalled. "I don't know if Coach Meyer meant that or if he's just so good at recruiting that he knew that that's what he had to do to get this kid's attention."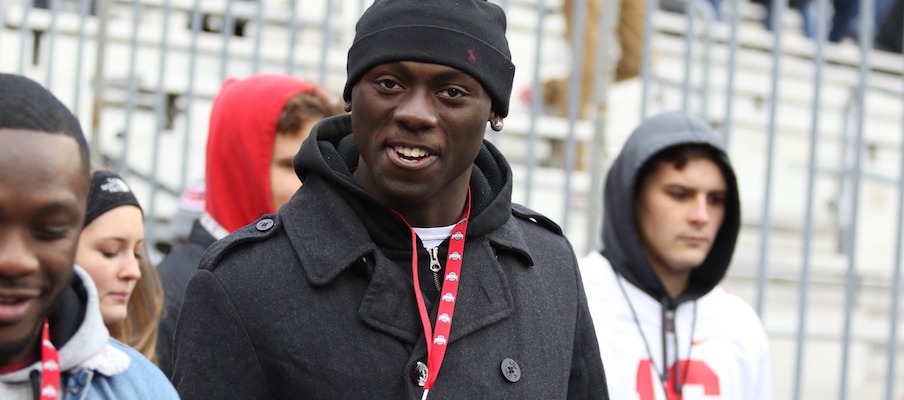 Either way, and even though Ryan Day is now Ohio State's head coach, Moore expects Young to be driven by the goal of proving that he is capable of playing for the Buckeyes, and to work hard to make that happen.
"You combine his athleticism with his hate of losing, and you get something dynamic," said Moore, who played high school and college football with Young's father Shabaka and has known Young since he was a child.  "He hates, he absolutely hates to lose. And that's in position drills, that's in scrimmages, games, regardless. If we're trying to see who can throw a quarter the closest to the door and Craig loses, we're going to play again until he wins."
"For us, he shut down one side of the field, whether that was at corner, outside linebacker or defensive end. Wherever we put him, teams couldn't go that way."– Derrick Moore, Craig Young's high school coach
Now that Young has arrived at Ohio State, it's on him to demonstrate that he belongs on the field and on Ohio State's coaches to determine how they can best utilize his skill set within their defense.
Most importantly, the Buckeyes want to make sure they utilize Young – who also starred in basketball and track at Wayne, finishing third in the state finals with a 10.58-second 100-meter dash as a junior – in a way that allows him to take full advantage of his elite physical traits.
"You gotta make sure when you have very talented athletes that you don't give them so much that you slow them down," Mattison said. "That's happened to a lot of people where you know a lot of football and you try to put all that football in and pretty soon that 4.6(-second 40-yard dash time) becomes a 4.8, and that's not good coaching."
Presumably, Young's top-notch athleticism should make him an immediate candidate to contribute on special teams. With a multitude of veteran linebackers on the depth chart in front of him and a long way to go in his development, he isn't likely to see much playing time in Ohio State's base defense as a freshman.
Young just might earn some playing time on defense in a situational capacity if he proves to be a quick study, though, and the Buckeyes believe his long-term potential is sky-high.
"An excellent athlete that can do a lot for us," Day said of Young on National Signing Day.