For years, Urban Meyer's offense was based on the dual-threat quarterback.
Tim Tebow? Heisman Winner and two-time National Champion. Braxton Miller? Two-time Big Ten Offensive Player of the Year. Cardale Jones? Ran over Landon Collins en route to a CFP Championship. J.T. Barrett? Holds every major career quarterback record in the Big Ten and finished his collegiate career with over 3,000 rushing yards.
Dwayne Haskins? Finished his career averaging 1.4 yards per carry and some pretty decent passing numbers. 
Haskins' style-breaking play might have been a cause for concern before the season, but as he carried the team through a number of rough showings, it became clear that he would thrive as part of a new offensive scheme under Ryan Day. 
Day, as offensive coordinator and head coach for the first three weeks of the 2018 season, strayed away from the zone reads of years' past and focused on Haskins' ability to sling it.
Ultimately, it was a symbiotic relationship; Haskins broke every record imaginable and the Bucks went 13-1 while winning the Big Ten during a tumultuous, Murphy's Law-esque season. 
Despite Haskins' once-in-a-lifetime year, Ohio State's offense was only marginally better than the 2017 offense. The 2018 Buckeyes scored 42.4 points per game, just an extra point more than the previous year's offense. 
The real difference between the two offenses came in the red zone. Even with the best quarterback in conference history at the helm and two well-established running backs splitting time behind him, Ohio State managed points on just 77.78% of their red zone drives, finishing the year ranked 112th in the nation in red zone efficiency. In 2017, however, J.T. Barrett and co. put together one of the most lethal offenses in the nation once within the 25-yard line, converting on 89.71% of their trips to the red zone. 
So what changed in a year? Like most things in college football, it all starts with the quarterback. Haskins, a pocket passer that rarely looked to scramble, went against Urban Meyer's typical offensive scheme, which calls for the quarterback to be an additional running threat. As a result, the Bucks struggled to get anything going in the red zone without the read option, a staple of the Barrett era. 
Barrett's running ability gave his teams an unparalleled advantage in the red zone. Teams would be forced to pick their poison: stuff the box and play man on the outside while risking one-on-one opportunities for Ohio State's receivers or play zone and hope for a missed block or a rare incorrect read. 
In 2018, opposing defenses could focus on stopping the pass; Haskins did not present himself as a threat to run the ball. The red zone offense became so painful to watch that the coaching staff even experimented with Tate Martell during goal line situations. Although Martell's role was short-lived, the coaching staff's willingness to play an inexperienced, redshirt sophomore because of his athleticism further proves that dual-threat quarterbacks are more effective than strict pocket passers in the red zone. 
This hypothesis is not just supported by coaching decisions and shifts in play style, however, but also in the numbers. Ohio State's red zone touchdown efficiency was over ten percentage points higher with Barrett than it was with Haskins.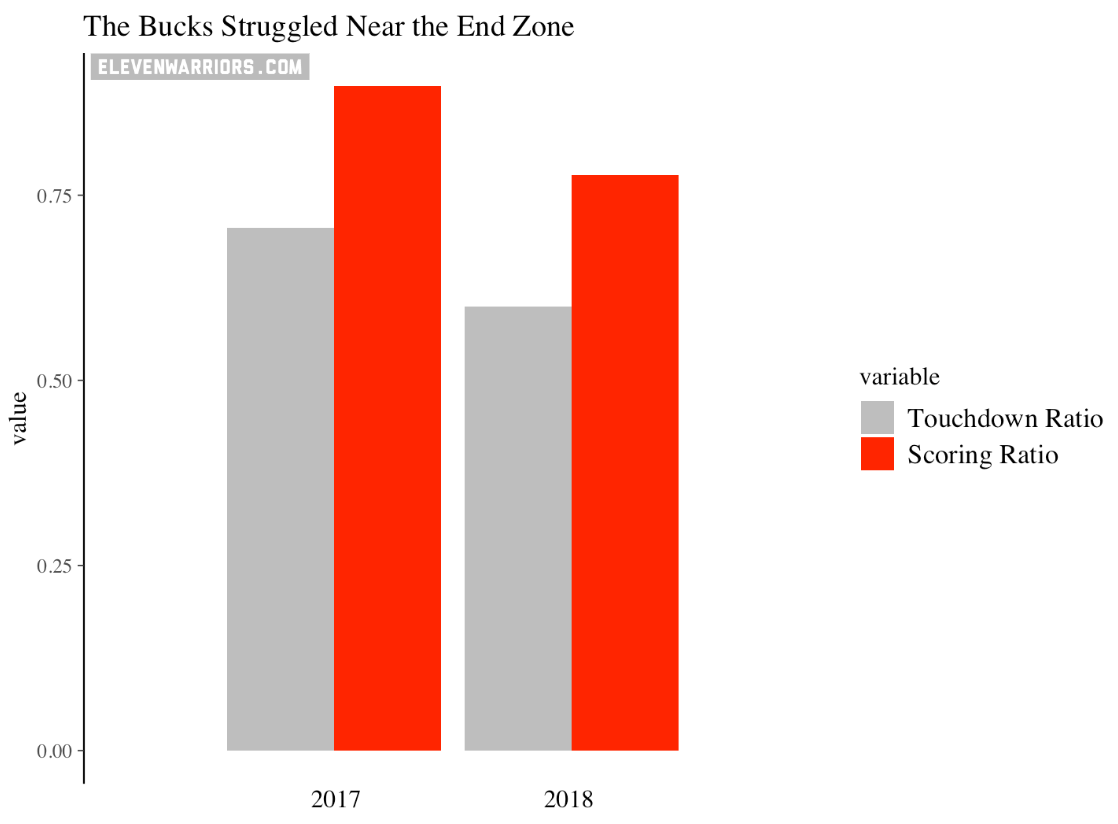 Despite this downgrade, Haskins should not shoulder all of the blame for his teams' red zone deficiencies; nearly 45% of his red zone throws resulted in either first downs or touchdowns, about a nine percent upgrade from Barrett's 35.7% mark.
Haskins' arm talent was crucial to Ohio State's success but his rushing ineffectiveness stunted the Buckeyes' opportunities near the end zone. This deficiency in his game spread to his backfield-mates, providing them with less-than-stellar numbers despite their high volume.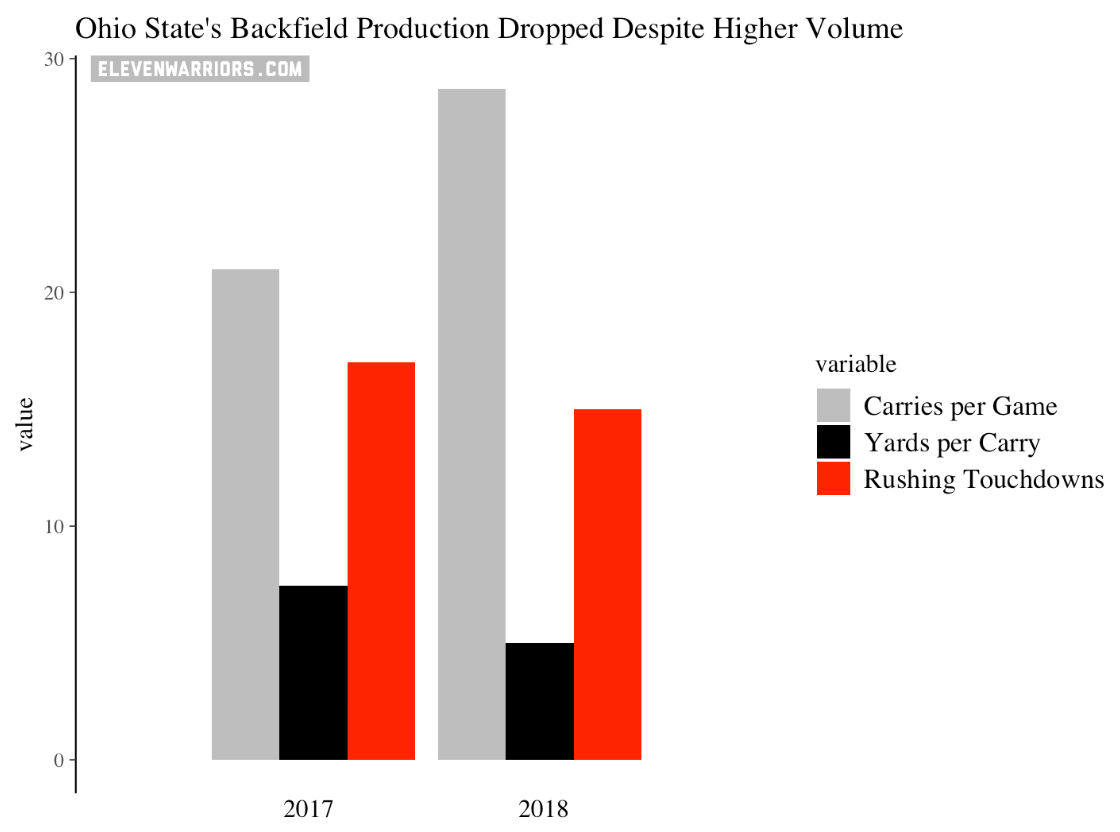 Ohio State scored more touchdowns and averaged more yards per carry on fewer attempts last year. Missing from this graph, however, is the drop-off in quarterback running production. In 2017, Barrett added almost 800 yards on the ground and 12 touchdowns on almost five yards an attempt; Haskins barely hit 100 yards on 1.4 yards a carry. 
The dual-threat era is still very much alive and it is the most efficient in the red zone. Next year, Ohio State's red zone offense should be something to watch. Ryan Day's scheme suggests that presumptive-starting quarterback Justin Fields, who was the No. 1 dual-threat quarterback recruit coming out of high school, will act more like a pocket passer between the 20s with some read options mixed in near the red zone. Fields' ability to attack all areas of the field with his arm and legs should be more than enough to keep opposing defenses on their toes.