When Matthew Baldwin made the decision to leave Ohio State following the end of spring practices, he left Ohio State with a severe lack of depth at quarterback.
Fortunately for the Buckeyes, there just so happened to be another quarterback hitting the transfer market who had dreamed of playing for Ohio State since he was a kid.
A Central Ohio native whose father, uncle and cousin all played for Ohio State, Gunnar Hoak had already been thinking about leaving Kentucky when Baldwin made his decision to move on from Ohio State on April 18. Just five days later, Hoak announced that he entered his name into the NCAA transfer portal, and four days after that, he announced that he would be continuing his career at Ohio State.
As a graduate transfer, Hoak is immediately eligible to play. He has three years of experience within a Power 5 offense, and he has two remaining seasons of eligibility.
That's exactly what the Buckeyes needed.
Following Baldwin's departure, Ohio State was down to just two scholarship quarterbacks: Justin Fields and Chris Chugunov. The Buckeyes landed a commitment Friday high school senior quarterback JP Andrade as a preferred walk-on, and have another walk-on in Danny Vanatsky who has been with the team since last summer, but they desperately needed to add another scholarship quarterback who would be an option to play this season if anything happened to Fields.
With only four months to go until the season opener, Hoak was the best option Ohio State could get.
Despite growing up in Ohio State's backyard with dreams of becoming a Buckeye, Hoak didn't receive an offer from the state's flagship program out of Dublin Coffman High School. He was rated as the 40th-best pro-style quarterback in the recruiting class of 2016; Dwayne Haskins, who of course proved to be the right choice for the Buckeyes, was ranked seventh.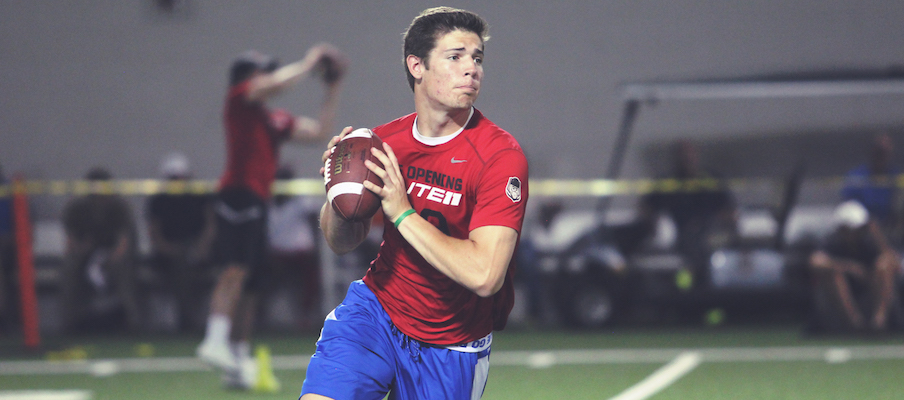 Hoak did not play in any actual games in his first two years at Kentucky, redshirting his freshman season, and completed just 13 of 26 passing attempts for 167 yards and two touchdowns with one interception in five game appearances (with no starts) for the Wildcats last season.
Hoak doesn't come to Columbus with the credentials that scholarship quarterbacks recruited by Ohio State typically have. But at the end of April, the Buckeyes had no chance of adding anyone with those qualities who would be eligible to play in 2019 – no quarterback looking to transfer with those credentials was going to transfer to another school where he wouldn't be the frontrunner to start.
Although Hoak is expected to get an opportunity to compete for the starting job when he arrived this summer, Fields' health is still likely crucial to Ohio State's success this season. Fields is the only quarterback on Ohio State's roster with the elite physical tools that an Ohio State quarterback typically has, and the Buckeyes' potential to have an elite offense once again this season is dependent upon his development.
Unlike Fields, Hoak won't have the benefit of going through spring practices to adjust to Ohio State's offense and build rapport with the Buckeyes' receivers, so he's going to have to be a quick learner just to be ready to play in September.
The reality before Saturday, however, was that the Buckeyes had no real fallback option at the quarterback position. Chugunov would have been the first quarterback off the bench if Fields was injured or otherwise unable to play for any reason, but he was brought to Ohio State last summer as a graduate transfer with the intent of strictly being a third-string option. The Buckeyes certainly didn't want to have to turn to a walk-on to see significant playing time at quarterback.
Now, the Buckeyes have another quarterback with a strong arm and experience at the Football Bowl Subdivision level who should at least be capable of making some plays in the passing game and getting the ball into the hands of Ohio State's talented receivers to allow them to make plays.
If the Buckeyes are going to be a national contender this season, that's almost certainly going to be because Fields plays at a level that allows them to make that happen. An injury to Fields could still be devastating in that regard, and it's still just as important as ever for him to be ready to lead Ohio State's offense when the Buckeyes take the field for their season opener against Florida Atlantic on Aug. 31.
Ohio State can at least feel better now, though, that it has another quarterback who can provide competition to Fields as he continues to develop, and who is capable of keeping the season alive if he is called upon to play. With Chugunov entering his final year of eligibility and only one quarterback committed for 2020 (Jack Miller), Hoak and his two remaining seasons of eligibility could also be crucial to the Buckeyes' quarterback depth next year, too.