Dwayne Haskins knew exactly what he was doing.
At 10:47 a.m. on Saturday, he entered Ohio Stadium for the spring game through the exact same gates he walked though 364 days before. But instead of the cut-off scarlet sweatshirt, headband, headphones around his ears, backpack and rolled-up gray football pants with pads underneath he wore last year, Haskins rocked a black sweatshirt with black sweatpants and a watch befitting of a fashion-conscious, soon-to-be first-round NFL quarterback. And rather than swing his knee brace around in his right hand as he headed toward the locker room, he had his right arm draped around Justin Fields.
Photographers snapped photos of the quarterback duo. Reporters captured videos of them smiling and chatting as they walked into the stadium together.
A complete and total spectacle. Exactly what Ryan Day hoped. And things were just getting ramped up.
Even with Urban Meyer nowhere to be found, Ohio State managed to turn the spring game into what at times early in the afternoon felt like more a recruiting extravaganza and former player reunion than an actual football game. A seemingly endless supply of high-school prospects surrounded the field with dozens of NFL players.
Maximizing brand awareness is as important of a task as anything for a college football head coach at a powerhouse program. While everything on the field on Saturday was aimed at preparing the Buckeyes for the 2019 season, what was happening around it served to put the program in an advantageous position moving forward.
The tunnel in the south-east corner of Ohio Stadium served as a de facto red carpet of the stars – or, effectively, the four-stars and five-stars.
First came a trio of 2020 commits: five-star offensive tackle Paris Johnson Jr., four-star cornerback Lejond Cavazos and four-star quarterback Jack Miller.
Johnson, the No. 4 overall prospect in his class, has worried Ohio State fans recently, taking a tour of the SEC complete with visits to Tennessee, Alabama, LSU and Georgia. But ever the showman, the towering lineman descended down the tunnel with Miller – the team's quarterback of the future – and Cavazos, who committed to the Buckeyes for a second time on Friday evening.
Johnson has seemingly flirted with decommitting from Ohio State due to Meyer's retirement, but he remains in the eight-player 2020 class. Miller, whose dad is friends with Meyer, committed to play for the Buckeyes in part due to the now-retired head coach, yet he remains in the class. Cavazos actually did decommit when Meyer announced his impending retirement, but Day helped bring him back into the fold.
Meyer wasn't at Ohio Stadium on Saturday. But those three prospects were, and they opened the floodgates.
Lejond Cavazos, Paris Johnson and Jack Miller are in Ohio Stadium for the spring game. pic.twitter.com/f0LGNYyYhd

— Colin Hass-Hill (@chasshill) April 13, 2019
Cade Stover, a four-star linebacker signee from Lexington, made an appearance along with 2020 commit Jakob James, a three-star tackle from Cincinnati. Trey Leroux, a three-star tackle from Norwalk, took the walk into the stadium.
Darrion Henry, an uncommitted four-star defensive end from Cincinnati, ventured down the tunnel 10 minutes after Johnson, a fellow Cincinnatian, arrived.
More and more kept coming.
Five-star 2021 defensive end commit Jack Sawyer. Four-star 2021 defensive end target Najee Story. Four-star 2021 quarterback target Kyle McCord. Four-star 2020 wide receiver target LV Bunkley-Shelton. Four-star 2020 wide receiver target Marvin Harrison Jr. Four-star 2020 wide receiver commit Jaxon Smith-Njigba. Four-star 2021 offensive tackle target Donovan Jackson. Four-star 2021 wide receiver target Jayden Ballard. Five-star 2019 center signee Harry Miller. Four-star 2021 linebacker target Yanni Karlaftis. Four-star 2021 linebacker target Reid Carrico, who received an offer from the Buckeyes on Saturday before the spring game.
And that's just a taste of the procession of prospects. They littered the field before the game.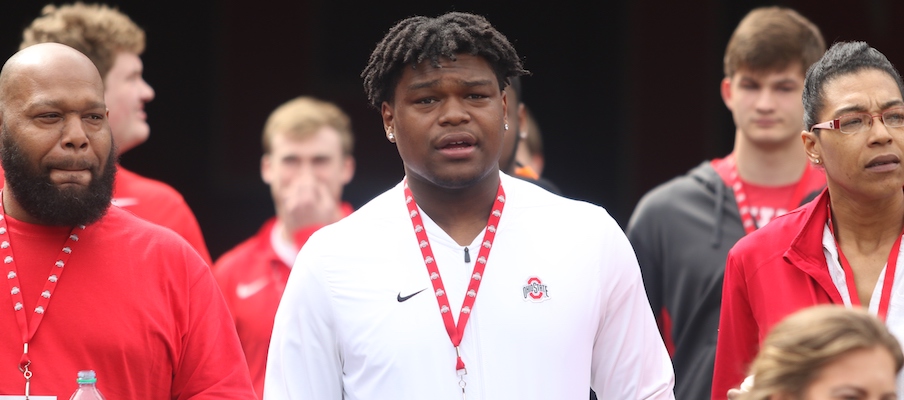 Sawyer and Henry stood on the grass to watch the defensive linemen warm up. Stover chatted up Sam Hubbard. Jack Miller walked onto the field with Haskins to stand with Justin Fields and Matthew Baldwin as they warmed up. 
All of them made the trip to Columbus to see the Buckeyes play their first game of the Day era, so Ohio State made sure they got a taste of star power by hosting as many former players as possible. 
During a timeout in the first half, a group of players from last year's team – Haskins, Dre'Mont Jones, Johnnie Dixon, Michael Jordan, Mike Weber, Terry McLaurin, Isaiah Prince and a few others – walked out to midfield to receive their part-Big Ten championship, part-Rose Bowl rings.
Braxton Miller, Ezekiel Elliott, Curtis Samuel, Malik Hooker, Ted Ginn Jr. and Michael Thomas brought the allure. A pair of recent first-round NFL draft picks – Marshon Lattimore and Denzel Ward – were accompanied by Pat Elflein, a former Rimington Trophy winner. Bobby Carpenter worked as Big Ten Network's sideline reporter, and Eddie George was the honorary team captain.
Parris Campbell, Curtis Samuel, Terry McLaurin and Johnnie Dixon. pic.twitter.com/2rUDvzIEjt

— Colin Hass-Hill (@chasshill) April 13, 2019
The Buckeyes might have had enough former players in attendance to consist of a full team, but they weren't there to take part in the game. Ohio State wanted them in Columbus to recruit, for their presence alone attracts future talent that hopes to be the next version of the pros.
"Mike Thomas came into my office yesterday and had a recruit in there, and he spent 15-20 minutes with us just talking about what that means and the NFL and the brotherhood that they have of Ohio State Buckeyes in the NFL, and then those guys coming back and supporting the guys who are here right now," Day said. "It's a special group. You can see it. When you go around, you go from guy to guy. It's not just former Buckeyes. It's NFL greats. It's former Buckeye great and All-Americans, all-conference players. It's just remarkable when you get around those guys, the excellence that you're around."
Before the game even finished, photos of recruits posing with former Ohio State players began to trickle out onto social media.
This was crazy... I got the opportunity to meet @Cantguardmike a couple of times this week. Someone I look up to as a player and a person. Appreciate the encouraging words. Unforgettable moment. #Zone6 #GoBucks pic.twitter.com/5c5H3HSS6V

— Marvin Harrison Jr. (@MarvHarrisonJr) April 13, 2019
Meyer understood the recruiting game. Everything, including the spring game, became a recruiting showcase. Anything to get prospects interested while building the Ohio State football brand and either winning or preparing to win games.
Day followed Meyer's lead on Saturday. He invited former Buckeyes and top recruits to watch the current team, a formula with proven success.
Winning, ultimately, will determine where the program ends up. But in combining past, present and future, Day did what he could to make Ohio State a desirable program in his first game, even if it was just an exhibition.