Malcolm Pridgeon knows that getting what he wants doesn't always come easy.
While Pridgeon had the opportunity to play football at Ohio State, that opportunity didn't come right away – he first spent two years at Nassau Community College, on Long Island near his hometown of Central Islip, New York.
Then, after Pridgeon arrived at Ohio State as a highly touted recruit from the junior college ranks, he suffered a knee injury that forced him to redshirt his first season as a Buckeye. In his second season as a Buckeye, Pridgeon competed for the starting right guard job but didn't win the battle, relegating him to spend most of his time on the bench for another year.
Finally, with just one year of collegiate eligibility remaining, Pridgeon earned a spot in the lineup as Ohio State's left guard last season, starting all 14 games and playing every meaningful snap on the offensive line.
Now, he has a shot to potentially play in the NFL. But he'll have to do it the hard way.
Unlike 10 of his Ohio State teammates, Pridgeon was not invited to the NFL Scouting Combine. He'll get his chance to impress NFL scouts, though, when Ohio State holds its pro day at the Woody Hayes Athletic Center on Wednesday.
He believes he can make a good impression, and prove that he is worthy of being drafted.
"Just want to show teams that people that slept on me," Pridgeon said. "Starting for just one year was kind of tough, but definitely took a chance and ran with it."
Ohio State's offensive line had an up-and-down year in 2018, but Pridgeon believes he showed his ability to fight through adversity – something he has had to do his whole life, as his father died when he was just 11 years old and his mother has been in a nursing home since he was 13.
He also acknowledges that he still has to improve if he's going to make it in the NFL, and he's been working hard at that in the months leading up to pro day. He spent time at PRIME Athlete Development in Kennesaw, Georgia, and has since been working at Xceleration Sports Training in Deer Park, New York, near his hometown, working out three times per day to prepare for the lifting, athletic tests and position drills that he will go through at Ohio State on Wednesday.
Pridgeon said he wants people to know that he has the desire to work on his craft every day, "whether it's a matter of staying late or coming early," and that he has the attitude needed to succeed at the next level.
"I still have a lot of improvement and learning in the game to do, and I'm willing and I have the desire to learn new techniques and new schemes," Pridgeon said.
While Pridgeon played guard for the Buckeyes, he arrived at Ohio State as an offensive tackle, and says he is comfortable playing both positions. He's also been learning how to play the center position, and wants to show NFL teams that he has the versatility to play any spot on the offensive line.
At 6-foot-7 and 310 pounds, Pridgeon certainly has the size to be an NFL offensive lineman, but now, he has to demonstrate that he has the strength and athleticism to go along with that size to convince an NFL team to take a chance on him.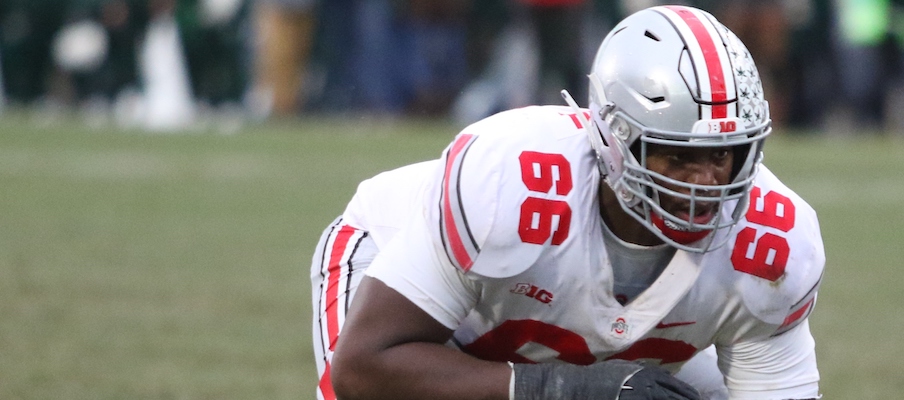 Pridgeon's path to becoming a starting offensive lineman at Ohio State came with plenty of challenges along the way, and he knows that achieving his goal of playing in the NFL won't be easy either. But he believes his opportunity to play for the Buckeyes helped put him in position to be successful.
"If you can make it at Ohio State, then really, you can make it anywhere," Pridgeon said. "They teach you so much, and the competition just keeps going and going and going and going, it just never stops. And I feel like it was a good stepping ground for me."
While Pridgeon was disappointed that he didn't get to join his teammates at the combine, including fellow offensive linemen Michael Jordan and Isaiah Prince, he said he watched every one of his teammates' combine workouts to cheer them on from afar. And as they have each gone through the NFL draft process separately, Pridgeon says he and the other draft hopefuls from Ohio State's offensive line – also including Demetrius Knox in addition to Jordan and Prince – have kept in regular contact with each other.
"We FaceTime probably four times a week, at nighttime after our workouts," Pridgeon said. "We just talk about workouts and talk about life, just getting help with each other and hanging out. It's unique. The bond that we had in our O-line room is something that can never be broken. Our brotherhood is real strong."
"If you can make it at Ohio State, then really, you can make it anywhere."– Malcolm Pridgeon on how Ohio State prepared him for his chance to play in the NFL
Pridgeon is looking forward to seeing all of them again, as well as the rest of Ohio State's draft prospects, on Wednesday, when he hopes that they will all make a big impression on the NFL scouts in attendance.
"Can't wait to reunite with them at pro day and just show out," Pridgeon said.