With spring football set to begin at Ohio State on March 6, Eleven Warriors is previewing the Buckeyes ahead of their first practice of the year.
Spring practice is a time when young players emerge as challengers at many positions, and with solid performances, they could set themselves up to be contributors this year. 
The following seven young players are among those who will bear watching this spring as players on the rise.
Matthew Baldwin, redshirt freshman, quarterback
Matthew Baldwin's career has progressed insanely fast since 2017, when he played his first and only year as the starting quarterback at Lake Travis High School in Austin, Texas.
He backed up his four-star rating with nearly 4,000 yards passing and 44 touchdown passes and then came to Ohio State on an ACL injury that he repaired after arriving on campus in January 2018. He redshirted his first year behind future NFL quarterback Dwayne Haskins, and now, with former four-star quarterback Tate Martell transferring to Miami and sophomore Justin Fields transferring in from Georgia, Baldwin is expected to be the Buckeyes' No. 2 quarterback in 2019.
That makes him a young Buckeye to watch because he will be seeing an exponential increase in reps this spring.
Lake Travis has sent out six Division I quarterbacks in 12 years, including Baker Mayfield, and Baldwin was recruited primarily by new Ohio State head coach Ryan Day. If there is in fact a quarterback battle, Baldwin will surely get his reps in, and even if there isn't, Baldwin will need to be prepared to enter the game at any time.
Baldwin has added weight and gained mental reps during his time at Ohio State with players like former wide receiver Parris Campbell giving him and his arm some praise. If the opportunity arises at any point during the season for Baldwin to take snaps on gameday, he could become one of the most important players of Ohio State's 2019 season.
Garrett Wilson, freshman, wide receiver
When Parris Campbell, Johnnie Dixon and Terry McLaurin graduated, the Buckeyes lost 47.7 percent of their production from pass-catchers in the offense. Even with those three receivers leaving the program, though, there are four seniors left in the room, including K.J. Hill, who has been a consistent contributor at the position for the last two years.
Hill recorded 885 yards and is 50 catches from breaking the Ohio State career receptions record. He will certainly be in the mix, as well as seniors Austin Mack and Binjimen Victor. Sophomore Chris Olave, who filled in for Mack when the then-junior needed foot surgery and caught a few touchdowns passes, will also be expected to get some reps during the spring and be part of the passing attack when the season starts.
There is still expected to be at least one spot available in the rotation for a young player to fit into, though, and true freshman Garrett Wilson might be the guy for the job.
Wilson measured in at 6-foot-1 and 180 pounds, which isn't a ton of size, but the five-star wideout – also from Lake Travis – was the No. 2 receiver in the 2019 class and is said to have intangibles at the position that take quite a bit of time for other receivers to learn. Those intangibles include crisp route-running, a natural understanding of positioning and hands — he can make those highlight-reel grabs.
If he has a solid spring campaign, Wilson could find himself in an immediate position to contribute in the passing game.
Nicholas Petit-Frere, redshirt freshman, offensive tackle
Redshirt freshman Nicholas Petit-Frere is caught in a position battle at right tackle, one of the most significant position battles of the spring.
The five-star offensive tackle out of Tampa, Florida, was the top-rated offensive tackle in the Class of 2018, but he redshirted his first year after playing in three games for Ohio State. The goal for his redshirt season was to add weight to his frame. He measured in at 288 pounds on Ohio State's 2018 spring roster – a 16-pound increase since signing with the Buckeyes.
Whether that was enough weight is yet to be seen but will be put to the test this spring as he battles redshirt senior Joshua Alabi, who got some experience against Washington in the Rose Bowl, for the starting job. Redshirt senior Branden Bowen, who has been out since suffering a broken leg in 2017, will likely now be caught in the battle as well, with Rutgers graduate transfer Jonah Jackson spending his last season with Ohio State at an undetermined interior line spot.
Zach Harrison, freshman, defensive end
With Ryan Day saying five-star 2019 defensive end signee Zach Harrison could eventually become one of the "Bosas of the world," it's hard to believe he won't at least see the field during his first year at Ohio State.
But with four defensive ends – Chase Young, Jonathan Cooper, Jashon Cornell and Tyreke Smith – having played in 10-plus games in 2018, it will be tough for Harrison to find his way into the rotation.
Young is almost certainly a 2020 NFL draft pick, while Cooper started every game at defensive end last season and Smith played the most snaps of any true freshman for the Buckeyes in 2018. Cornell is also a senior and has been a regular on the line, and even Tyler Friday, a sophomore defensive end, saw his snaps last season.
So how does Harrison find his time on the field or even jump some of these ends with footholds on playing time? By flashing his playmaking ability during the spring.
If he is the playmaker that Day believes he can be, then Harrison will certainly provide a spark for the Buckeyes. Several people around the program have marveled at his speed already, as he's been clocked at a 4.47-second 40-yard dash and ran a 10.7 100-meter dash and 21.5 200-meter dash in high school.
He already had the size to pair with the speed too, as he measures in at 6-foot-5 and 243 pounds. The ceiling is incredibly high for Harrison. Depending how how quickly he reaches that potential will determine how often he sees the field in 2019.
Teradja Mitchell, sophomore, linebacker
Of Ohio State's three starting linebackers in 2018, senior Malik Harrison is the only player to be nearly guaranteed to start again at his position after this spring and summer. He will likely be at weakside linebacker when the season begins. The other two linebackers, redshirt junior Tuf Borland and junior Pete Werner, will certainly need to defend their jobs this spring.
That gives a few young linebackers, particularly true sophomore Teradja Mitchell, a chance to see the field in 2019. 
Fellow sophomores Dallas Gant and K'Vaughan Pope will be battling to earn playing time, too. Mitchell is probably the one with the head start, though, and could push for Borland's job as the next middle linebacker. Borland was third on the team with 67 tackles but saw his struggles throughout the course of the season, as well as battled an Achilles injury for much of the year.
Mitchell and the other two are still young linebackers, so moving any of them to the middle of the pack could be a risk. It's more likely there will be some type of rotation, whether between Borland and Mitchell or Borland and another young linebacker.
In order for Mitchell to find the field for an extensive amount of time, he would need to show not only strong physical ability but also a good understanding of the defensive philosophy at the middle linebacker position.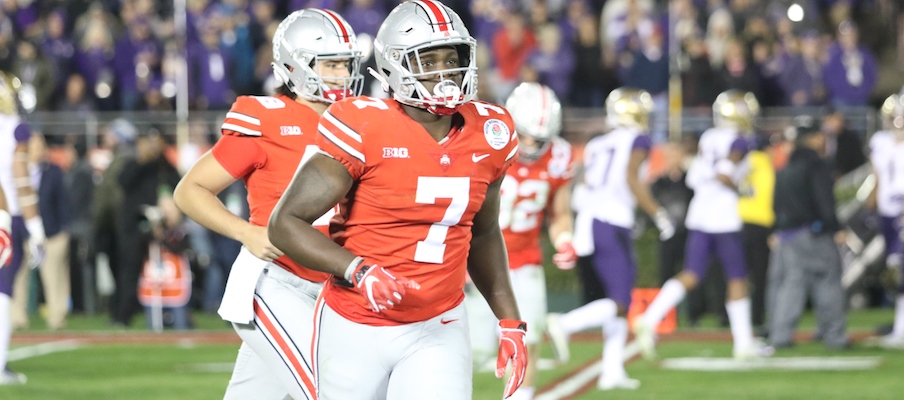 Sevyn Banks, sophomore, cornerback
Sevyn Banks didn't play a single defensive snap in his freshman year last season, but he did return a blocked punt for a touchdown against Michigan. Banks was also mentioned several times in the practices leading up to the Rose Bowl as a cornerback that could eventually take the reins at the position in the future. The question is whether he is ready to begin that transition this season already and grab some playing time.
Redshirt senior Damon Arnette returned for his fifth season at Ohio State instead of going to the NFL, junior Jeffrey Okudah ended his season with a stellar performance in the Rose Bowl and redshirt sophomore Shaun Wade enters his third year with a strong enough portfolio to garner guaranteed playing time as well. So whether or not new secondary coach Jeff Hafley rotates his cornerbacks could determine the fate of Banks' time on the field.
If the cornerbacks are rotated, Banks could play himself into a full-time spot as a nickelback, but if they aren't, Banks could back up at both positions.
Jeremy Ruckert, sophomore, tight end
Will this be the year that sophomore Jeremy Ruckert finds his way into the passing attack? Former head coach Urban Meyer and offensive coordinator/tight ends coach Kevin Wilson continued to express a desire to get the ball in his hands during his freshman year, and that was after Meyer said Ruckert was "the best tight end prospect that I've ever seen and recruited."
Understanding why Ruckert wasn't given the ball more often is more of a macro-offensive question, but looking at it from a micro-offensive perspective, the tight end position is crowded. The 2019 season won't be much different. There was no tight end that graduated or left for the NFL, so the same players return with more experience and more incentives to all play at a higher level.
Redshirt junior Luke Farrell was the most active in the passing game in 2018 with 20 catches for 205 yards and a touchdown, and he will likely start at the position, while redshirt senior Rashod Berry returns as the No. 2 tight end.
Ruckert was the third tight end on the depth chart last year, but with a strong showing in the spring, there's a possibility that he could push his way up the depth chart and see more passes in his direction.