The. Game. Is. Almost. Here. 
Yes, the defense has been a dumpster fire. Yes, there have been far too many underwhelming performances and yes, the College Football Playoff committee doesn't think much of this year's squad. 
But Ohio State still sits at 10-1 with a chance to win the Big Ten East if it can pull off the mild upset against No. 4 ranked Michigan. 
And keep in mind, no matter how worried you might about Ohio State's flaws, the best team on paper doesn't always win The Game. As I child of the John Cooper era, I know this far too well. 
So think positive. Michigan isn't a dominant squad, Jim Harbaugh is 0-3 against Urban Meyer and the Wolverines haven't won in Columbus since 2000. 
With my diatribe complete (I'm taking OSU to win 28-27, btw), please welcome Ramzy Nasrallah, David Regimbal and Derrick Webb to the most important roundtable of the season. 
---
Which matchup in this game worries you the most and why? This could be a one-on-one battle, a positional matchup such as Ohio State's offensive line versus Michigan's front four or simply the fact Greg Schiano runs the defense against any living offensive coordinator. What's keeping you up tonight?
Ramzy: This is an opportunity to be picky and choose a particular unit, but I'm having a hard time getting any more granular than "Ohio State's defense, every player from every unit and every position coach and its coordinator vs. whatever Michigan decides it wants to do." Dishonorable mentions: the Slobs in both run-blocking and not-getting-penalties and the Ohio Stadium crowd vs. making Michigan feel as threatened as possible.
David: I'm just imagining the brutal competency of an Ed Warinner-coached offensive line against Bill Davis' linebackers and also why scientists haven't found a way to stress-eat bourbon. It's 2018!
Statistically speaking, Michigan's rushing offense only checks in 10 spots behind Maryland nationally, and the Wolverines enter Saturday's contest with the benefit of their first-string quarterback. If you're wondering what that smell is, it's just me trying to soak these goldfish crackers in the Woodford Reserve Ramzy recommended this week.
Derrick: Michigan's receivers against Ohio State's secondary. The Buckeyes' secondary has been very underwhelming this season and Donovan Peoples-Jones is a big time deep threat in the vertical passing game. Kendall Sheffield hasn't been great all season so he has a tall task anytime he's lined against Jones.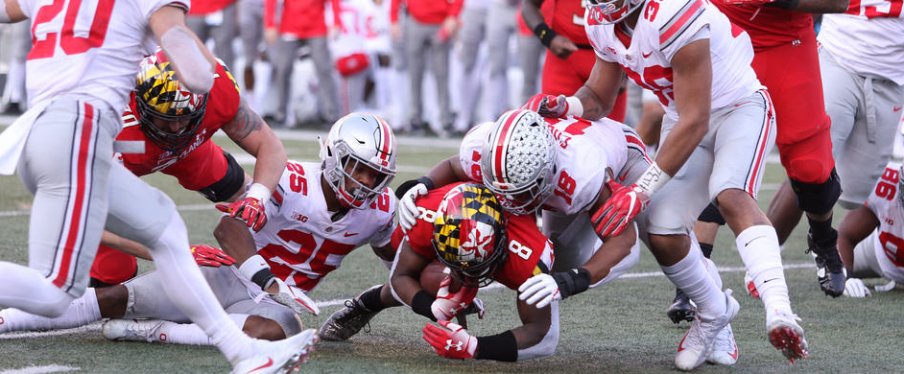 Thinking more positively, which matchup or factor gives you the greatest reason for optimism and why?
David: I want to say the running game, which has slowly come along since the post-Purdue bye-week. But I'm giving the edge to home-field advantage. 
The atmosphere hasn't been stellar in Ohio Stadium this year, but that should change Saturday. Michigan has struggled on the road this season, losing at Notre Dame, falling behind 17-0 at Northwestern before coming alive for a 20-17 win, struggling in a 21-7 slugfest at Michigan State and then LOL okay Rutgers. The home-crowd could be a big difference maker.
Derrick: The fact that some Michigan players have guaranteed a win honestly makes me think Ohio State will pull this game out. Urban Meyer being 6-0 as an underdog certainly helps, but when you've never beaten the Buckeyes and you have to travel, well the odds aren't in your favor. While part of me admires and respects the confidence, LeBron James was in high school the last time Michigan won at the Shoe. 
Ramzy: It's a legacy-defining game for Dwayne Haskins and Brian Hartline's closing argument. This is the first season I can remember where Meyer getting nervous isn't going to result in a bunch of QB keepers. Success against the strength of the team has the potential to get Jim Harbaugh over-adjusting, over-meddling and overthinking, which is exactly what the Buckeyes need to do.
The angst over how this season has unfolded has been pretty amazing considering the Buckeyes are 10-1 and a win over Michigan away from playing for a B1G championship. Weighing how the season started with the Zach/Urban stuff, the up-and-down rushing attack and the shocking defensive issues, what would it take for you to consider this season a successful one? Beat Michigan? That plus a B1G title? More?
Ramzy: I'm old enough to remember the 2002 season, which was a mostly unenjoyable experience outside of Chris Gamble's pick-six against Penn State and up through the waning moments of the Purdue game prior to Holy Buckeye. The following week they barely beat a screamingly mediocre Illinois team before doing everything possible to keep Michigan in the game. That team was 13-0 and frustrating for entirely different reasons. They won the BCS Title. I watched old men crying and hugging each other in Tempe that night, after months of agonizing over the rocky path to a 14-0 season and a crystal football.
This team has breached an unexplored plane of OSU homer frustration, where they are just so painfully stupid and clumsy with everything from strategy to performance. They're not allowing opponents to stay competitive due to being overly conservative as that and many Tressel teams did; they're keeping them off the mat by being dumb and bad. Anxiety comes in many flavors. The 2018 one is, personally, my least favorite. Give me commanding 20-17 win over a four-TD underdog; you can keep your 52-51 OT Ws.
But beating Michigan does not cede importance to anything. No one comes to Columbus to shine in the Maryland game or beat Indiana. Everywhere you go in the WHAC you see icons who earned their way onto the wall from how they performed in this game. There's a literal shrine to The Game. If you haven't seen that, or if you're too young to remember how awful this time of year used to be all of the time - it's easy to lose sight or be blind to how critical Saturday is. This is the epitaph game. Nobody cares about breaking school records against Tulane. Just beat Michigan.
David: Of course, a run to and through the playoffs is the perfect ending to a season, but perfect and successful aren't synonymous. Any season capped by a win over Michigan is a successful one in my book. Five years from now when I'm looking back on the 2018 season, I won't be thinking about the 36-31 nooner against Nebraska. I'd be remembering how Michigan's starting running back guaranteed a victory over Ohio State and then took a big fat L back to Ann Arbor.
Derrick: The College Football Playoff is the standard Ohio State has set for itself. However, a Big Ten championship is what should be considered a success, considering how the Buckeyes have looked this season. The defense hasn't been what fans have been accustomed to seeing over the past four years, and that's somewhat understandable after all the NFL draft picks the Buckeyes have lost over the past 3-4 years. Still, Greg Schiano's men have to show up and show out on Saturday. If not, then Indianapolis won't be a travel destination either.
Hit us with your most-loathed Wolverine of all-time and painfully describe why.
Derrick: I wasn't fond of Jabrill Peppers. All of the hype around him and all the smack he talked, he was 0-4 against Ohio State. I still laugh at the complete whiff he had against J.T. Barrett is 2015. 
David: This is a tough question for me. As a 32-year old man, Ohio State has dominated this series since I was an early #teen. I was of course indoctrinated in the rivalry at a young age, but during the time when Michigan was torturing Ohio State, I was too young to identify individual villains. I was just angry with the blue and yellow team that made my family sad around Thanksgiving. 
Because of that, I'm going with... Braylon Edwards. He played a big role in one of the two losses Ohio State suffered to Michigan this century, and then went on to cause me angst as a long-suffering Cleveland Browns fan. Younger Buckeye fans have been so spoiled and I'm very thankful for that.
Ramzy: It's a tie between Desmond Howard and Charles Woodson, both of whom Ohio State decided to make immortal. Everyone watched them both return kicks all year. They were Heisman candidates in the weeks prior to The Game. The only mystery in the history of this rivalry is Tim Biakabutuka; everyone else who has shined in this rivalry was already a known threat to become the hero. 
And yet OSU handed two native Ohioans - Heisman candidates, All Americans - the opportunity and platform to become statues for all of eternity. Of course they both took it. Just kick the fucking ball out of bounds. Don't let their studs become heroes. Make all of them into Jabril Peppers - a player whose highlights in this game involve getting turned inside out.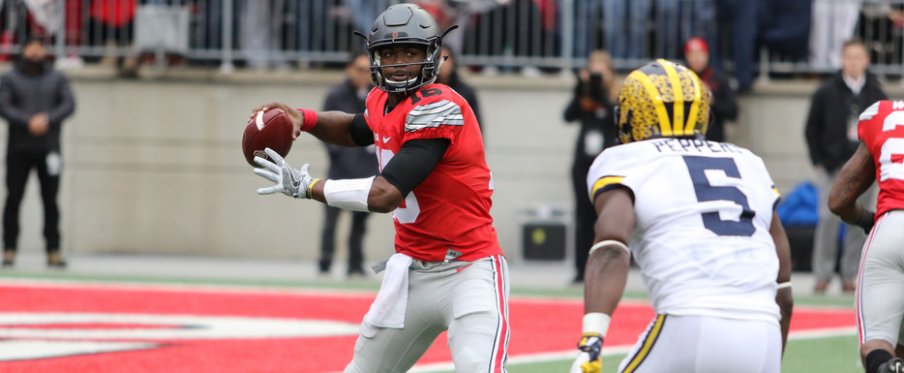 What is your most favorite version of the The Game? Why does that one stand at the top of the heap?
Ramzy: This is like choosing a favorite child. The games in Ann Arbor have a little extra spice to them, so I'll choose one from each field: 2005, when Ohio State came from behind and forced its will while making road wins less mythical after having such a lengthy drought. In Columbus, 2012 when a team with nothing to play for completed the regular season sweep and the new guy took the reigns from his predecessor and kept the chokehold firm. But really, I love all of my children equally.
David: Give me the 2006 game on a loop for eternity. I had the original broadcast of that game on my DVR for six years before my wife (whom I had just married three months earlier) unknowingly erased it. I found the strength to forgive her. My marriage is bulletproof. 
The season-long lead up to that game, and then the matchup itself, was just too perfect. After Ohio State beat Texas in Week 2 and Michigan trounced Brady Quinn and Notre Dame in Week 3, it just felt like that game was guaranteed to feature two undefeated teams. That kind of erotic anticipation shouldn't last more than four hours, let alone three months.
Derrick: The 2001 matchup easily stands out as my favorite. It was the beginning of the Craig Krenzel era, not to mention the momentum building game towards a national championship the following year. That was the beginning of Ohio State getting back to the dominance that they've show over the last 16 years. Not to mention, beating Michigan is ALWAYS fun. 
Ohio State enters Saturday's game as a 4.5-point underdog but as we know, when it comes to The Game, the spread is pointless so I won't ask you if the Buckeyes cover. Just hit us with your final score and game MVP prediction.  
Derrick: Ohio State 38, Michigan 35. MVP: J.K. Dobbins 
David: I keep going back and forth on this, but I picked Michigan to win 27-24 earlier this week and I'm sticking with it. I just have no faith in this defensive staff, and forecasting 27 points for Michigan is as much optimism as I can muster. 
Ramzy: I've given five or six different predictions to people this week including two different ones to Dan for the 11W aggregate prediction and to Andrew for House Money. For here, let's go 31-26 home team. Let's have this one be the one that's right.