Ohio State hasn't pulled off many blowout victories this season outside of early season matchups against three overmatched opponents: Tulane, Oregon State and Rutgers.
The Buckeyes needed overtime to beat Maryland and had a five-point win versus Nebraska. Even multi-touchdown wins against Indiana, Minnesota and Michigan State remained tight for much of the game.
Many factors contributed to the unusually large amount of close games. An offense led by a classic pocket-passing quarterback took a while to mesh. Urban Meyer missed fall camp and the first three games of the season while on suspension. The defense, filled with first-year starters, has struggled to maximize its talent.
But don't overlook the lack of discipline by the No. 6-ranked team in the nation.
Ohio State has made games immensely more difficult by putting itself in poor position with self-inflicted wounds. Yellow flags have littered the field this season – and for most of Meyer's tenure in Columbus. Since he was hired in 2012, Meyer has never coached a team that has ranked better than 45th in the country in fewest penalties per game.
On the list of penalties per game, the Buckeyes are found nearly at the bottom of the page. They average the sixth-most penalties committed in the nation per game (8.2) for the fourth-most penalty yards per game (76).
Good luck trying to find Northwestern, Ohio State's opponent in Saturday's Big Ten championship, on that list of penalized teams. The Wildcats aren't about as far away from the Buckeyes as possible; they are the furthest possible team.
Scroll up.
Keep scrolling.
Further.
Even further.
There they are.
Northwestern averages both fewer penalties per game (2.8) and fewer penalty yards per game (28.7) than every other team in the nation. Against Notre Dame, the Wildcats didn't commit a single penalty, and they were only flagged once for five yards against Nebraska and once for 15 yards against Illinois.
This season, Ohio State has been penalized at least four times in every game and has at least 30 yards of penalties each game. In eight of Northwestern's 12 games, the Wildcats have committed fewer than four penalties, and they have had fewer than 30 penalty yards in seven games.
Northwestern has also drawn opponents to commit 7.2 penalties per game for 68.5 yards per game, which is 10th-best in the nation.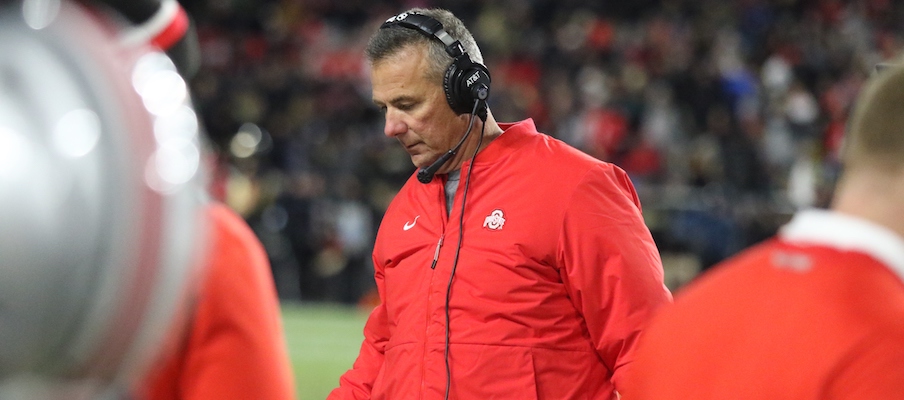 The Wildcats will hang around longer than what might be comfortable for the Buckeyes if Meyer's team doesn't minimize mistakes, and he's aware of the disparity.
"The matchup I see, No. 1, is the field position matchup, especially against this team that never has penalties," Meyer said. "Very disciplined. Very few fumbles. That's why the matchup to me is going to be field position in this game. Most championship games, it is."
Pat Filzgerald's Wildcats just don't seem to make mistakes.
Northwestern has fumbled just six times in 12 games and has lost two of them. Both numbers are best in the nation. Clayton Thorson tossed 12 interceptions in the regular season, but Greg Schiano called him an NFL-level quarterback and attributed multiple interceptions to tipped passes and other factors out of his control.
Meyer's Buckeyes have constantly kept opponents in the game due to their unforced errors.
Just last week, Ohio State committed season highs in penalties (12) and penalty yards (150). It had 100-plus penalty yards in three regular-season games and has committed double-digit penalties in five games. The Buckeyes have 16 fumbles, which puts them middle of the road in the country. Dwayne Haskins has tossed seven interceptions, though that number pales in comparison to his 41 touchdown passes.
Ohio State thrives on big plays, and Northwestern has done a solid job keeping opponents in front of them. The Wildcats have allowed the 25th-fewest plays that went for more than 30 yards in the country this season, but they haven't faced an offense as explosive as the Buckeyes'.
"It's no secret that that's one of our principles of offensive football is get fast in space," Meyer said. "That will be part of it tomorrow. We're playing a team that also believes in not allowing that to happen. I mean, that's about countless hours trying to figure out how to do that because they don't give up many big hits. You look at statistics, they just don't do that," Meyer said. "We like fast tracks, but it's going to be a chess match and a challenge, a way to get our guys in space against this defense."
Too many times this season, Ohio State has kept its overmatched opponents in games not by getting beat on the field, but by beating itself.
In a game that will not only determine the conference champion, but go a long way to decide whether they will make the College Football Playoff, the Buckeyes can't afford to allow that to happen on Saturday.