Don't tell Ryan Day and Urban Meyer, but Greg Studrawa is not particularly the biggest fan of run-pass options. And, no, it's not because he doesn't see the benefit to the style of play or understand why the play is called. He just knows how difficult it can be on the offensive line.
Dwayne Haskins becoming the starting quarterback made the offense more explosive, but it also changed how linemen think about RPOs.
Last year, when Ohio State called an RPO, J.T. Barrett would almost always either run the ball himself or hand it off to either Mike Weber or J.K. Dobbins. That made it easy for the offensive line. Sure, Barrett technically had the option to pass, but more often than not, the play ended up as a run.
"Now, when Dwayne looks at that, he looks out there and sees a one on one that with our wideouts, he's going and giving those guys on opportunity when before, (Barrett would) hand that to Mike, we'd get four or five or six, get in a groove and drive the ball," Studrawa said. "That's been an adjustment to us, a running play and then we try to get more and it's three or four RPOs. That's been difficult the past few games, and we're trying to adjust and make it more consistent. That's something that bothers me."
With more explosive passes, drives have shortened, Studrawa said, lessening the offensive line's ability to get into a rhythm.
"We're making more big plays in the pass game. If you go back and look at our drives the past few years, it's a 10-, 12-, 14-play drive and eight of them are runs," Studrawa said. "Now, we get a run, we get a pass, then it's a 40-yard or 50-yard pass and you go back to the sidelines and, 'Hey, I wonder how that run would have looked. I don't know because we haven't gotten to it.'"
What Studrawa called "gut shots," which happen when a line blocks defenders over and over to wear them out in the run game, no longer exist. It's a trade-off, of course.
Ohio State allows Haskins to toss the ball around the field because it often leads to big plays for the offense, and he's one of the best passers in the country. It's just, at its core, different for the offensive linemen, who have been used to quarterbacks who pull the ball to run or hand it off when RPOs are called.
The more passes on RPOs lead to more opportunities for linemen to be called for penalties for being illegally downfield, which happened to Isaiah Prince on Saturday. That's just a casualty of the type of play, Studrawa said.
"Kid, you drove the guy four yards down the field. You're trying to finish a block. Great job," Studrawa recalled telling Prince.
Bill Davis evaluates himself and the linebackers

He's in just his second year as an assistant coach at Ohio State, but Bill Davis has garnered a fairly sizable chunk of heat for how he has coached the linebackers.
Last season as a first-year position coach at the college level, the NFL lifer caught criticism for how his unit played at times, especially after Iowa diced the second level of Ohio State's defense with its tight ends. Chris Worley was moved inside before heading back to outside linebacker at midseason, and Jerome Baker seemed to regress after entering the season with high expectations.
Davis' linebackers have once again had some up-and-down moments early in this season. So, how would Davis evaluate himself?
"I'm always trying to improve and get better," Davis said. " I think I'm a better coach this year than I was last year. I'll say that every year of my career no matter where I'm at – the NFL or college. College is a little bit different. Like everybody, I had to adjust, and I think I made some good adjustments to my coaching style. I'm always striving to be better."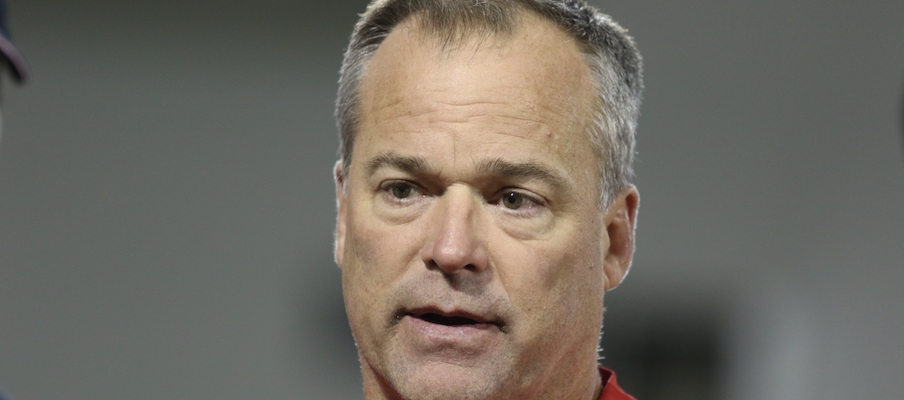 None of the key contributors – Malik Harrison, Tuf Borland, Pete Werner and Baron Browning – entered the season with a full season as a starter already under their belt, and all of them will be back next season. That gives Davis optimism about the unit moving into the future.
"The future of the linebacker group is really in a healthy place," Davis said. "These young men are getting a lot of reps. We're young. We have one senior, only one guy who's leaving. It's a good thing, and they're getting better every week. So, I continue to strive to get better myself."
Greg Studrawa searching for consistency up front

Despite having Dobbins and Weber, one of the better combinations of running backs that exists in the country, Ohio State has struggled to spark a run game that has decreased its yard-per-rush average in every game this season.
The struggles are not lost on Studrawa, who said he is bothered by how the line has blocked in short-yardage situations and by the run blocking consitency in general.
"I think there's times where we are blowing people off the ball, and I think there's times that one guy breaks down and misses a block," Studrawa said. "That's what happened in those short yardage. Thayer (Munford) missed one. (Demetrius Knox) missed one. So, there's been times where it's one breakdown. It's not the whole thing. It's a guy breaking down at a critical time and not doing his job, and that's the consistency that I'm talking about. That's what bothers me. I want it to be more consistent."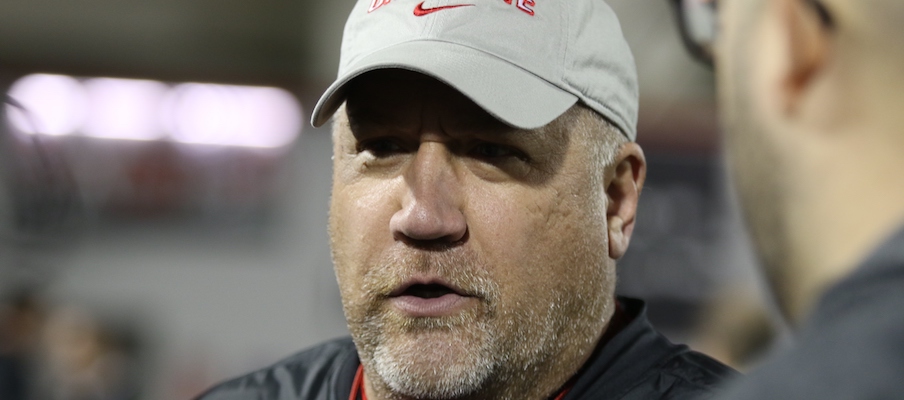 Meyer said defenses have been loading the boxes against Ohio State, making it difficult to run the ball. Studrawa said the Buckeyes have seen that "at times."
"They want to stop Mike and J.K. from gutting them and getting them worn out. So, they'll say, 'Hey, you know what, maybe they're off in the throwing game in some of those games.' We have to do a great job when it's not stacked, when the box is in our favor, to run the football."
Isaiah Prince's rough stretch

Pass rusher Carter Coughlin has given many offensive linemen difficulties in his time at Minnesota, and he did just that on Saturday against Isaiah Prince. In the third quarter, he beat Prince for a sack and Prince was called for a penalty, then things quickly went downhill. Prince seemingly self-combusted on the field in a similar fashion to his early career streaky play.
Before the downhill stretch, Prince was "destroying people," Studrawa said. He said that led to Prince trying to be "too perfect."
"Arguably had one of his better games early in the game, and then 45 had a couple good plays against him and he struggled," Meyer said. "But, he rallied back and finished well. That happens. You move on and you have a great week of practice and back at it."
It's not the first time Prince has battled play-to-play steadiness. Two years ago as a first-year starter, he had more than a few bouts of inconsistency. But this season, he seemed to be playing at a high level.
Studrawa agreed with Meyer, saying he liked how Prince battled back to have a fourth quarter that compared with his positive first half, but noted he must continue to work with Prince to not let those stretches happen.
"That's one of the things we have to work on with him is you've got to keep your cool and just stay consistent," Studrawa said. "It's like anything else: if a bad play happens, you have to let it go. You have to go to the next play. When we get between the series, we'll get it fixed and move on. He didn't let that go."
Health updates

Ohio State got bad news early this week when it learned Nick Bosa would continue his recovery with eyes on the 2019 NFL Draft instead of a possible return either late in the season or in a bowl game. The unfortunate injury luck might not end there for the Buckeyes.
Thayer Munford, who left in the third quarter of Saturday's game against Minnesota, has not practiced this week. Studrawa said he hopes to have Munford back for practice before the weekend, but wasn't sure if he will be able to overcome the hip issue that has bothered him.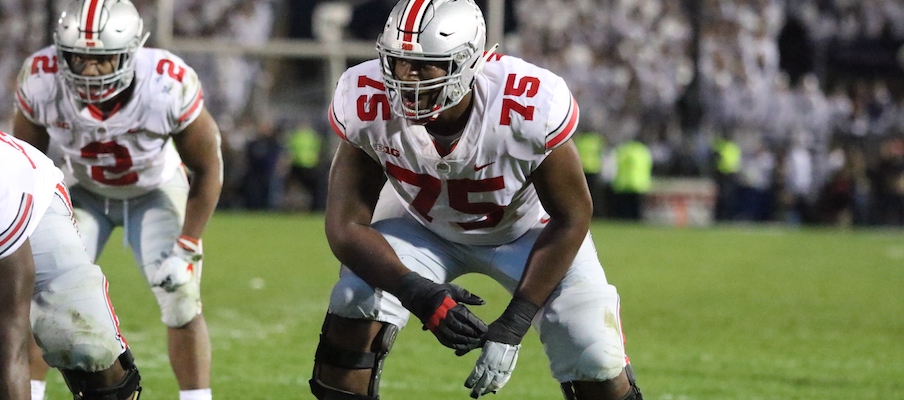 If Munford is unable to play, Joshua Alabi will earn his first career start at left tackle. He entered the game for Munford when the starter left with his injury and impressed his position coach.
"He played really well," Studrawa said. "He had one guy, the guy spun around inside. But other than that, he came in at a good time and did a pretty good job. I was proud of him."
Damon Arnette remains questionable for Saturday's game against Purdue. Meyer said he did not know how the cornerbacks would rotate if Arnette was unable to play. He typically rotates with Kendall Sheffield and Jeffrey Okudah on the outside with Shaun Wade playing nickelback, but Wade might move outside more often if Arnette cannot go.
Dre'Mont Jones will play on Saturday, but he'll be hindered by a sprained foot that has bothered him for a while. The pain might not go away for the remainder of the season, Jones said.
"Shoot, I don't know," Jones said. "Hopefully it does. It's like one of those nagging little injuries."
He said he has "got to keep going" and does not plan to sit out any future games.