Ohio State's defense has performed well in spurts this season. At times, the unit has looked impenetrable with a chaos-creating defensive line combined with high-level athletes in the back seven.
Indiana dropped 26 points on the Buckeyes and Peyton Ramsey tore up the secondary for 300-plus yards and three touchdowns. However, Meyer noted the improved second half after the game, and Tuf Borland brought that up again on Wednesday as something to build on.
"The positive is we gave up right around 100 yards in the second half, made some plays, were able to force some turnovers," Borland said. "So, I think things are heading in the right direction."
Sometimes, midway through seasons when injuries pop up and fatigue sets in, players and coaches adopt new slogans to fit the first half of the season. Defensive coordinator Greg Schiano did just that by discussing "chopping the tree" with the defense that has surrendered big plays, yet feels like improvement will soon be noticeable.
"It's just a matter of time before the results start to show, before the tree falls," Borland said.
Borland, who has 19 tackles, 3.5 tackles for loss, two sacks and two forced fumbles in six game, believes in the motto.
"I think it's true. I think it's going to show," Borland said. "The last few weeks, we've had really good days at practice and it's about time that the results come."
Status of Malik Harrison and Jonathon Cooper unclear
Both Malik Harrison and Jonathon Cooper have started every game this season, but their streaks might come to an end on Saturday. Urban Meyer, when asked about each player's status on Wednesday, said he did not have an update. Then, when questioned about whether they were in concussion protocol, he responded, "Maybe," then followed that up with "yes" a few seconds later.
If Harrison were unable to play, Justin Hilliard would likely slide into the start lineup with Tuf Borland and Pete Werner. Though Hilliard is a former five-star prospect who has battled injuries yet is finally healthy, the loss of Harrison would be a big blow.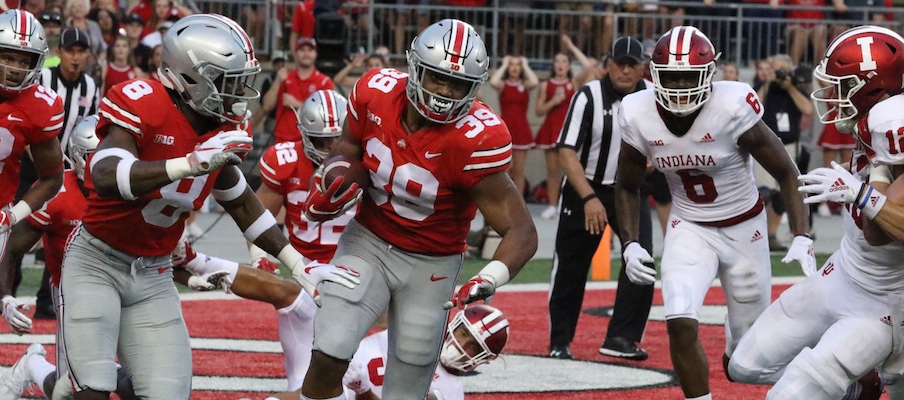 A 6-foot-5 linebacker who is so big that his teammates jokingly call him "260," in reference to his weight, Harrison has 25 tackles, including a team-high 18 solo stops. Without him, the Buckeyes would lose athleticism from the second level of the defense.
A Cooper-less defensive line would further thin out a unit already hurting for depth. Chase Young has played more snaps in each of the past two games than any Ohio State defensive end played in any game last year.
Jashon Cornell would slide into the starting lineup if Cooper can't play, but Larry Johnson might be forced to play freshmen Tyreke Smith and Tyler Friday more than usual. Johnson said he doesn't play freshmen linemen in situations that could expose them to failure in close games. But if Minnesota keeps the game in reach, Johnson might have to go against his policy in order to keep Young and Cornell fresh.
Not fans of kickoff rule
This season, the first under the newly implemented rule that players in side the 25-yard line can fair catch a kickoff and begin the drive at the 25-yard line, Ohio State has returned fewer kicks than in recent years.
Through six games, the Buckeyes have returned nine kickoffs – five from Johnnie Dixon, two from Demario McCall and two from C.J. Saunders – compared to 28 kick returns in 2016 and 2017. Ohio State abides by a simple rule that determines whether or not the returner fair catches the kickoff or not.
"Feet on the three (yard line), but if you have to back up at all, fair catch or sit it down," Dixon said on Tuesday.
Just because the rule is simple doesn't mean Dixon and Parris Campbell have to like it, though.
Dixon said, "I want to return everything, but…"
Campbell interjected: "It sucks."
Then, Dixon continued, saying, "Yeah, it sucks so bad. I want to return everything. But right now, sometimes it's just like if you back up just a little bit, just fair catch it."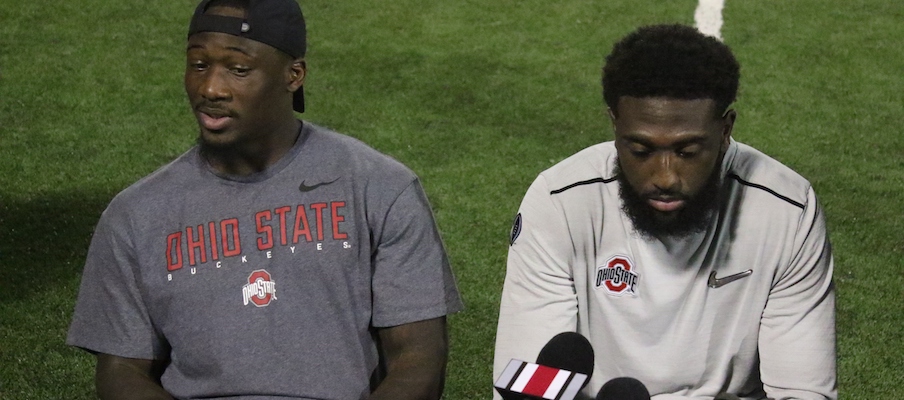 It's tough luck for Dixon, who averages 23.6 yards on his five kick returns. McCall averages 26 yards per return and Saunders averages 12 yards. Dixon admitted he backed up "a little bit last week," but opted to take off with it and not signal for the fair catch.
"One week, C.J. came to stop me. I acted like I didn't hear him," Dixon said. "That rule is crazy. I mean, it's kind of helpful, I guess, at times."
Pass rush sans Nick Bosa
Everyone knew Ohio State's pass rush would take a step back without Nick Bosa in the lineup. But as he recovers from his core muscle injury that will keep him out until at least November, it's become even more apparent how much he meant to the defensive line.
Urban Meyer called the pass rush since Bosa left the lineup "average."
"I think we need to get a little better," Meyer said. "That ties in with our pass defense. Today was an excellent practice. To see guys like Tyreke and Jashon, we need more from him. I think, obviously Chase Young is a very good pass rusher and so is Dre'Mont. So, we just need a little bit more."
In the past three games against Tulane, Penn State and Indiana, Ohio State has 11 sacks and four hurries. During the stretch, Chase Young has two sacks and Dre'Mont Jones has 1.5 sacks. Freshmen Tyler Friday and Tyreke Smith each picked up a sack apiece in the past three games.
Meyer admitted it has been frustrating to not get to opposing quarterbacks as much as he and Larry Johnson would hope.

"That is the strength of our team. I wouldn't say it's not any more. But you start taking those names right up there out of the lineup, especially that first name you mentioned, and that's a difference maker, obviously. Every school is dealing with it. Every team is dealing with it. It's just keep going."