Ohio State wasted no time involving Parris Campbell in the offense one week after he caught just two passes.
It took just one drive in the Buckeyes' 49-6 win against Tulane for him to match his total of receptions from his team's win TCU last Saturday. Less than six minutes into the game, Campbell set his season-high in receiving yards. By the end of the first half, Campbell set single-game career highs in receptions (eight) and yards (147). He also caught a career-high two touchdowns. The redshirt senior did not play in the second half.
Since Campbell became a starter two years ago, his electrifying speed that helped him set the high-school state record in the 60-meter dash in 2014, has been obvious. Campbell, though, hasn't always played with the all-around skillset he showcased throughout the first and second quarters.
"That touchdown to Parris Campbell over his left shoulder, what a beautiful throw and catch, and I'm proud of Parris," Meyer said. "That was a catch he has struggled with over the years, and he has really worked so hard at it."
The play Meyer referred to in his postgame press conference, a deep fade down the left sideline, seemed foreign to what Campbell customarily offered Ohio State's offense the past couple seasons. From the slot position, Campbell ran directly at the defender tasked with guarding him in one-on-one coverage, took a jab step to the right, then raced to the back-left corner of the end zone.
And as he has done consistently throughout the first four games of the season, Dwayne Haskins hit his target with a high-arcing toss that hit Campbell in stride for to give Ohio State a 21-0 lead late in the first quarter.
"I feel like that, in the past, it's been my weakness," Campbell said. "I've been working on that all offseason. Today was testimony."
Couldnt have handed it to him any better.pic.twitter.com/kIzdQ61j0l

— Eleven Warriors (@11W) September 22, 2018
Last year, Campbell had receptions of 74, 69 and 57 yards, but most long gains came on short passes or dump-offs from J.T. Barrett to Campbell that allowed the speedster to get in space and manufacture catches close to the line into major gains.
Games like Saturday's were missing from last season's performance. It's what kept him at Ohio State for a fifth season.
"I've said earlier that one of my main goals is to become a more polished receiver, whether that's routes, whether that's catching deep balls," Campbell said. "I honestly came back with that goal, with that mission."
After watching Campbell's most productive game in his five-year career, Meyer said Campbell's ball skills have improved.
"He made a decision — he should have come back," Meyer said. "I think he's a top first-round draft pick at some point, but he had to improve his ball skills, especially down field. He's improved the crossing routes and bubbles and those types of things. The execution today on that pause route was perfect. He's really playing well."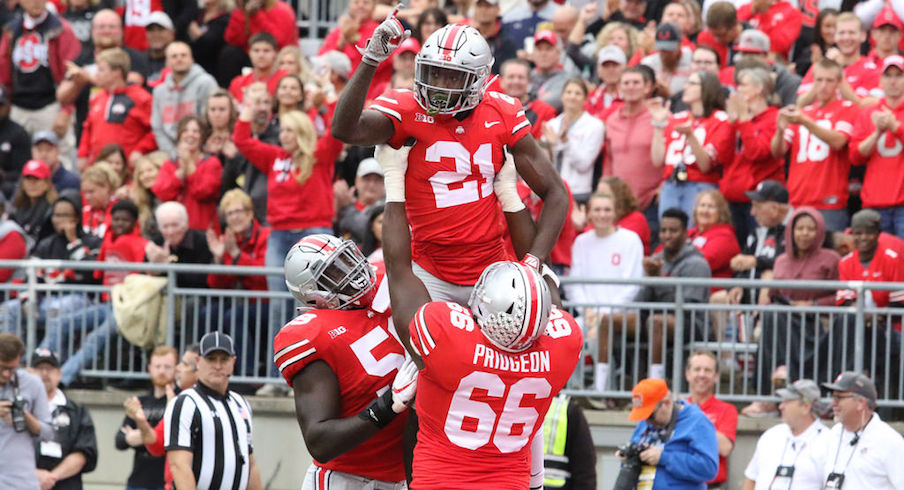 That decision wasn't easy for Campbell, who almost certainly would have been drafted, though likely not in the first round where Meyer believes he will be selected in April. He only wanted one thing: to have no regrets. The moment he decided to return, Campbell said, he was content and turned his focus back to Ohio State.
Campbell is no stranger to seeing future NFL receivers come through Columbus.
He played with Michael Thomas, who became one of the top wideouts in the NFL, and Devin Smith, a second-round pick. He watched Braxton Miller transition from quarterback to wide receiver, then get taken in the third round, and saw Noah Brown get selected in the seventh round in 2017.
Campbell didn't return to Ohio State to become the next Smith, Miller or Brown, though. He decided to remain a Buckeye to chase the goal of becoming one of the best players at the next level.
"You look at the best receivers in the NFL, you see their strengths," Campbell said. "It's not many weaknesses that a lot of the top NFL receivers have, so you compare yourself to the best at all times, and that's how I am. Whether that's comparing myself to my other teammates or the best receivers in the league, I want to be the best at what I do, so I knew I had a lot of work to do."
Interim wide receivers coach Brian Hartline has helped the receiver whom Haskins called "dynamic" to figure out how he will eventually translate his college production to the NFL.
Having known for a while what he needed to improve to make that next step, Campbell has worked with Hartline to enhance the areas that have held him back.
"I knew my weaknesses. I knew what I needed to work on," Campbell said. "Obviously, the next level is something you dream of. But coming a place like here, you know it's kind of always there. But, I knew I needed to get better, become a more polished receiver. I'm working on that."
That work — combined with the opportunity offered by Haskins targeting him nine times — led to a career day against the Green Wave. Even LeBron James, a fellow St. Vincent-St. Mary High School graduate, tweeted out his congratulations to Campbell.
@PCampbell21 I you today lil bro!! Keep shining #OH #GoBucks #AkronBoys

— LeBron James (@KingJames) September 22, 2018
But Hartline has impressed the importance of never "getting comfortable" with a performance so Campbell turned his focus to the impending top-10 matchup against the Nittany Lions in front of a whiteout in Happy Valley.
"Obviously, you know, had a good day today," Campbell said. "But once you're around the corner, it's Penn State. I need to be consistent and need to continue to get better."