Unless you've been paying really close attention this week, it's been easy to miss who the Ohio State football team is playing on Saturday.
There's a reason for that. Tulane is just 1-2 to start the season, with losses to Wake Forest and UAB and its only win against Nicholls State, a Football Championship Subdivision team. The Green Wave aren't expected to pose any real threat to the Buckeyes on Saturday, and it doesn't help that one of Ohio State's most anticipated games of the season – its Sept. 29 primetime clash at Penn State – looms just one more weekend away.
The big reason why Tulane has been overshadowed, though, is that the big storyline going into Saturday's game has nothing to do who Ohio State is playing.
It has everything to do with who will be back at Ohio Stadium.

TULANE GREEN WAVE
1-2
ROSTER / SCHEDULE
---
3:30 P.M. – SATURDAY, SEPT. 22
OHIO STADIUM
COLUMBUS, OHIO
---
BTN
BTN2Go
After serving a three-game suspension to start the season, Urban Meyer will be back on Ohio State's sideline Saturday as the Buckeyes play their fourth game of the year.
When the university announced its suspension of Meyer on Aug. 22, with the reasoning that he "failed to take sufficient management action" relating to misconduct by former wide receivers coach Zach Smith, some wondered whether that would leave a sour taste in Meyer's mouth, and if it would ultimately be the beginning of the end of his time at Ohio State.
As he prepared for his return to the Shoe this week, however, Meyer made it clear that having the opportunity to coach the Buckeyes means as much to him now as it ever has before.
"My love for this university is unwavering and so real," Meyer said on his radio show Thursday. "My love for the fans is unwavering and so real. I've been a Buckeye since as far back as I can stand, and I'll forever love to be on that sideline.
"Between the third and the fourth quarter, when The Best Band in the Land plays Hang on Sloopy, that's that moment that I always stare down there and just say, 'I'm very grateful to be a part of it.'"
Buckeye Breakdown
Even though Meyer wasn't on the sidelines for the first three games, Ohio State didn't miss a beat. The Buckeyes enter this week's game with a 3-0 record after earning their biggest win of the season with a 40-28 victory over TCU at AT&T Stadium in Arlington, Texas last weekend.
While Meyer was able to coach the team in practice for the past two weeks – he just wasn't able to be at the games – he expressed gratitude to his coaching staff, players and Ohio State fans for leading the way to a strong start.
"There's three groups of people that are to be appreciated," Meyer said Thursday. "No. 1, our coaching staff. Ryan Day, I knew when we hired him, he was elite, and his record shows for himself, 3-0. And he had Greg Schiano, Kevin Wilson, Alex Grinch, (Greg) Stud(rawa), (Tony) Alford, everybody, Coach (Bill) Davis, did such a phenomenal job.
"Obviously the most importantly group, the players," Meyer continued. "And the leadership, the character and the brotherhood. And then finally, Buckeye Nation."
"My love for this university is unwavering and so real. My love for the fans is unwavering and so real. I've been a Buckeye since as far back as I can stand, and I'll forever love to be on that sideline."– Urban Meyer
A big reason why the Buckeyes are 3-0 has been the spectacular start to the year for their offense. With Dwayne Haskins passing the ball, J.K. Dobbins and Mike Weber leading the running game and Day and Wilson calling the offensive plays, Ohio State ranks third in the Football Bowl Subdivision in offensive yards per game (608.7) and second in points scored per game (56.3).
The biggest question surrounding the offense going into this week's game is whether Meyer's return to the sideline will have any influence over which offensive plays are called – and whether that's a good or bad thing. Meyer insisted this week, however, that he plans to be "more of a game manager" this season, in turn allowing Day and Wilson to continue calling the shots.
"I have not been that involved in the offense," Meyer said. "I give my ideas. And I think they're doing exceptional. So I'm trying to just help, do the best I can."
That said, Day – who will remain on the sidelines this week, after coaching from the booth last year, even though he has completed his run as acting head coach – still expects Meyer to exert his influence on in-game decisions, and is looking forward to working with Meyer on Saturdays once again.
"Coach has got a great feel for the game and always had a great feel for the situation," Day said. "So that's been a huge part of this thing from the beginning. And Coach always had a great feel for the offensive balance that we have in terms of run and pass and has a great mind for the offense. So his input's always very, very important, and there will be a lot of input as we go into the meeting room and input on the field during the game day and constant communications."
Ohio State's defense also played a key role in the Buckeyes' 12-point win over the Horned Frogs, as the defense actually scored two of the Buckeyes' five touchdowns in the game – first, in the first quarter, when Davon Hamilton recovered a fumble forced by Nick Bosa in the end zone, and secondly, in the third quarter, when Dre'Mont Jones intercepted a pass and returned it 28 yards to the end zone.
That said, the defense also continued to struggle with allowing big plays against TCU, giving up five plays of 28 yards or more, including two touchdowns of 50 yards or more – one of which, a 93-yard run by Darius Anderson, was the longest play allowed from scrimmage in Ohio State history.
While Meyer gave praise this week to players like Jones, Hamilton, linebacker Malik Harrison and safety Jordan Fuller for how they have stepped up for Ohio State's defense this season, he acknowledged that the allowance of big plays to opposing offenses – which was also a problem in the Buckeyes' season-opening 77-31 win over Oregon State – is an area in which they must improve.
Schiano expressed the same sentiment when he met with the media this week.
"We can't give up those plays," Schiano said. "In three games, we've given up three gigantic runs and a couple big passes. We can't do that."
Additionally, Ohio State must now overcome the loss of its best defensive player for Saturday's game – and likely many of the rest of its regular-season games – after Bosa underwent surgery for a core muscle injury on Thursday, leaving it uncertain when he will be able to return to the field. The Buckeyes have faith that they will be able to overcome Bosa's injury by other players stepping up, but they don't deny the fact that they'll now be without one of the best players in college football until Bosa is able to return.
"The fortunate thing is we have good players in addition to Nick, but Nick's special," Schiano said.
Tulane Breakdown
While Tulane has only won once and lost twice to start this season, the Green Wave have been competitive in all three of their games. They took Wake Forest to overtime before losing 23-17 in their season opener, while they only lost by a touchdown in their 31-24 defeat to UAB last week, giving them some reason for confidence about their ability to win more games going forward.
2018 Statistical Comparison
 
OFFENSE
56.3
2nd
POINTS FOR
27.7
85th
260.7
17th
RUSHING OFFENSE
199.3
52nd
348.0
9th
PASSING OFFENSE
217.0
77th
608.7
2nd
TOTAL OFFENSE
416.3
71st
.610
3rd
3rd DOWNS
.375
80th
.875
63rd
RED ZONE
1.000
1st
DEFENSE
20.7
45th
POINTS ALLOWED
23.7
64th
156.0
71st
RUSH DEFENSE
199.7
105th
189.7
47th
PASS DEFENSE
265.7
100th
105.0
28th
PASS EFFICIENCY DEFENSE
116.5
50th
345.7
52nd
TOTAL DEFENSE
465.3
109th
.370
66th
3rd DOWNS
.479
120th
.800
47th
RED ZONE
.714
33rd
SPECIAL TEAMS
7.3
75th
PUNT RETURN
6.0
84th
24.0
31st
KICKOFF RETURN
20.5
68th
42.1
18th
NET PUNTING
33.5
107th
MISCELLANEOUS
+1.7
9th
TURNOVER MARGIN
+0.7
29th
7.3
84th
PENALTIES
6.7
68th
15
EDGE
3
"We're a couple plays from being 3-0 and feeling really good about ourselves," Tulane coach Willie Fritz said earlier this week. "But that's not the reality. Reality right now is we're 1-2."
Neither of the teams that beat the Green Wave are at the same caliber as Ohio State, though, so the fact that they couldn't beat either of those teams is a likely indicator that Tulane – who is playing its first-ever game against the Buckeyes – will be overmatched in Columbus this weekend.
With many other topics to answer questions about upon his return, Meyer never talked specifically about Tulane in his media appearances this week – not during his press conference on Monday, on the Big Ten coaches' teleconference on Tuesday or even on his radio show Thursday. Day and Schiano weren't asked about the Green Wave when they met with the media on Wednesday, either.
A few Ohio State players did give their impressions of their upcoming opponent this week, though, with left guard Malcolm Pridgeon describing them as being "probably kind of like Rutgers" – a team the Buckeyes beat 52-3 – though he said they are "a talented team."
Fuller said that what caught his eye about the Green Wave's offense this week is their speed.
"They've got a whole bunch of guys who can run, so we definitely got a challenge coming up," Fuller said.
Wide receiver K.J. Hill said the way Tulane's defensive backs play stood out to him on film.
"I feel like they got aggressive defensive backs coming downhill, trying to hit, so we expect an aggressive game," Hill said.
Tulane's offense is led by Jonathan Banks, a 6-foot-2, 230-pound quarterback who has both a big arm and the athleticism to make plays with his feet – in some ways, similar to the quarterback Ohio State faced last week in TCU's Shawn Robinson – but has struggled so far this season, completing just 48.1 percent of his passing attempts, though he has thrown for 651 yards and five touchdowns with only one interception.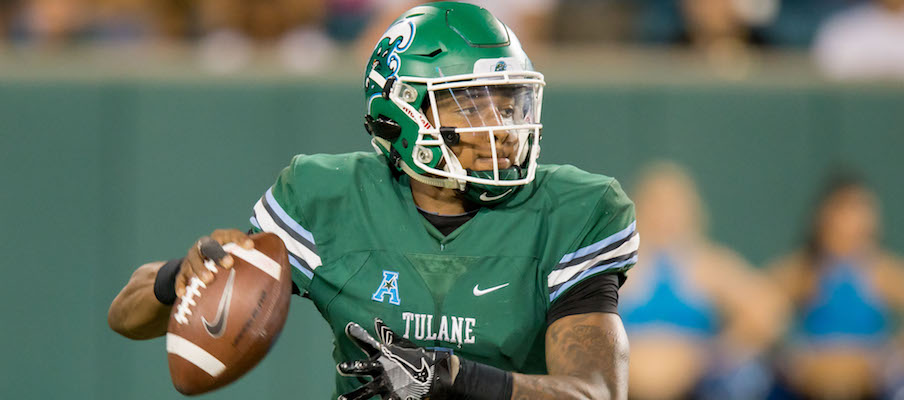 The Green Wave also have a solid trio of running backs in Darius Bradwell, Stephon Huderson and Corey Dauphine. While Dauphine is listed as the third-string running back on the depth chart, the Texas Tech transfer is the most dangerous playmaker of the group, offering elite speed that enabled him to run for three touchdowns of 35-plus yards against Nicholls State, which could pose a real threat to an Ohio State defense that has now allowed three touchdown runs of 70-plus yards – making the Buckeyes the only time in the FBS that has suffered that fate.
At wide receiver, Tulane has a pair of experienced playmakers who also have field-stretching ability in Terren Encalade and Darnell Mooney, who were also the Green Wave's leading receivers in 2016 and 2017.
Tulane's offensive line, however, has struggled this season, allowing 12 sacks – tied for the third-most in the FBS – through its first three games.
On the other side of the ball, the Green Wave run a hybrid 4-2-5/3-3-5 defense, with a "Joker" defensive end/linebacker position that allows them to switch between even and odd fronts.
Their star on that side of the ball so far this season has been cornerback Donnie Lewis, who has intercepted two passes and also recorded six additional pass breakups – tying him for the most passes defensed among all FBS players so far in 2018. Other top performers on defense include linebacker Zachery Harris, who leads the Green Wave with 25 total tackles, and nose tackle Jeffery Johnson, a highly recruited true freshman who was limited by a hamstring injury last week against UAB, but has the size (6-2, 320 lbs) and athleticism to be a real difference-maker when he is in the lineup.
Fritz and his team know they are in for a big challenge as they make the trip to Columbus to play Ohio State at Ohio Stadium on Saturday. But as they look to take steps in the right direction after a pair of early September losses, he says they're still trying to approach this week's game like they would any other game.
"The main thing is we've just got to worry about us," Fritz said Tuesday. "I'm sure our guys will enjoy the atmosphere. Heck, I'm looking forward to it. It's a big venue, you always hear a lot about playing in The Horseshoe. So you've got to soak it in for a little bit. And then it's over, and you play between the white lines."
How It Plays Out
Under normal circumstances, it would seem likely that the Buckeyes might not be in line for their sharpest performance of the season on Saturday. Given that they've barely even participated in the usual routine of pumping up their clearly inferior opponent in media interviews, it's easy to imagine that they might already be thinking past Tulane and ahead to their pivotal showdown with the Nittany Lions next weekend.
With Meyer's well-publicized return to the sideline, however, Saturday's game will be more than just the typical non-conference finale against a C-list opponent. And it's hard to imagine the Buckeyes being anything less than incredibly motivated to put on a show in their head coach's first game back in Ohio Stadium.
Ohio State might not need its offense or its defense to play at its best to beat Tulane, considering that the Buckeyes are 37-point favorites to win Saturday's game, according to Vegas Insider. Considering that Saturday's game is the Buckeyes' final non-conference game before they resume Big Ten play in Happy Valley, however, it is an important tune-up opportunity for them to work out the kinks – especially on defense – before the competition ramps up once again.
If Saturday's game plays out as expected on the scoreboard, it could also be one of the biggest opportunities of the year for Ohio State's backups – including Tate Martell at quarterback, as well as the many true freshmen who the Buckeyes are still deciding whether to redshirt or not, among others – to see extended playing time. That could make Saturday's game a good opportunity to evaluate some of the Buckeyes' young potential stars of the future, and see what they are ready to do in game action, though it could also potentially lead to a final score that isn't quite indicative of Ohio State's advantage over the Green Wave.
Even in that event, though, it's hard to imagine this game being anything but a lopsided victory for the home team. The Buckeyes are exponentially more talented than Tulane, and as long as their offense continues to make plays by both air and ground and their defense can cut down on big plays, Saturday's contest shouldn't be close.
---
ELEVEN WARRIORS STAFF PREDICTION: Ohio State 63, Tulane 10